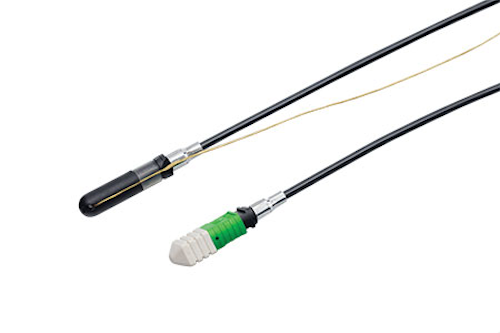 Compiled by Matt Vincent
TIA moving forward with wideband multimode fiber standard
During its most recent meeting, held the week of October 6-10, the Telecommunications Industry Association's (TIA) TR-42 Engineering Committee accepted a project request to initiate a standard document to specify a new performance level for multimode fiber. As we reported on cablinginstall.com in late September, CommScope and partner companies are developing a multimode fiber that will support the transmission of 100G over one fiber pair. Such transmission will be possible because the fiber will support wave-division multiplexing (WDM) applications. CommScope is using the term "wideband multimode fiber"-or WBMMF-to refer to this in-development multimode fiber technology.
At its October meeting, TR-42 approved a request submitted by CommScope to initiate a project that ultimately will result in the publication of a standard specifying multimode fiber that can support WDM. The multimode fiber specified will enable transmission of at least 28 Gbits/sec per wavelength, totaling at least 100-Gbit/sec total transmission capability.
In an entry posted to CommScope's blog shortly before the TR-42 meeting, the company's engineering fellow, Paul Kolesar, explained, "Existing OM3 and OM4 multimode fibers have a rather limited ability to support high-speed transmission using wavelengths different than the 850-nm wavelength for which they are optimized. However, a new generation of multimode fiber greatly expands that ability while retaining support for legacy 850-nm applications." The project approved by TR-42 will specify just such a multimode fiber.
We will follow the development process of this cabling standard and report on it as progress is made.
Pushable MPO connector is field-installable
Clearfield Inc. recently introduced the FieldShield MPO Pushable Connector, which the company says is "designed to simplify the deployment of fiber where multiple fibers are required. Ensuring fiber protection and optical reliability, the field-assembled FieldShield MPO Pushable Connector greatly reduces installation costs for fiber-to-the-home installations, business-class services, cell backhaul or any other small-count delivery application."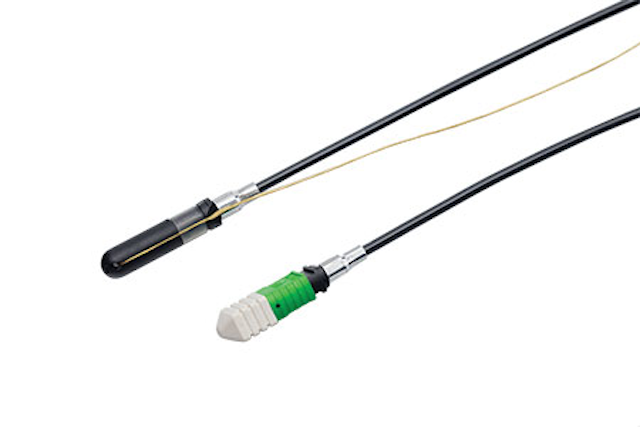 The company describes the connector as both factory-terminated and field-assembled. It explained the connector is "factory-terminated and designed to be terminated on 6- or 12-fiber FieldShield Pushable Optical Fiber. After being pushed or pulled through the 14/10 microduct, the smooth wall protective sleeve is easily removed, and an outer housing is snapped into place, creating an industry-standard connector without mechanical or fusion splicing."
It added that, "Unlike today's stiff, flat drop cables that require extensive pre-engineering, are labor-intensive and difficult to slack-store, FieldShield MPO Pushable Connector and fiber reduces pre-engineering needs and eliminates in-field splicing. These 'labor-light' deployments enable operators to maximize resources and investment." Clearfield claims that the connector, combined with FieldShield Pushable Fiber and FieldShield SmarTerminal, reduces the amount of pre-engineering, splicing, and slack storage space required, which thereby lowers the time, labor, and equipment needed for installation. It said the connector's design also makes it possible for technicians to achieve restoration easily and quickly.
"As subscriber demands continue to push the limits, operators must find a way to achieve the cash flow to meet the need for fiber," commented Johnny Hill, Clearfield's chief operating officer. "Deployment can be a very expensive and labor-intensive undertaking; however, our small, flexible, connectorized deployment products simplify fiber installation and maintenance. And our new connector is tech-friendly and labor-light, resulting in much faster deployment and restoration time while reducing the prohibitive costs associated with broadband deployment."
Clearfield says the FieldShield Pushable MPO Connectors meet and exceed Telcordia GR-CORE requirements, and are available in singlemode 4-, 6-, 8- and 12-fiber terminations.
Category 8 field-terminable plug is commercially available
Optical Cable Corporation (OCC) announced the commercial availability of a field-terminable plug that complies with the latest draft specifications of the TIA's Category 8 standard. The Cat8 Field Terminable Plug "is designed to provide the highest level of performance for direct-attach, high-speed applications when used in conjunction with a Category 8 copper cable," the company said when announcing the plug's availability, "providing data transmission speeds of up to 40 Gbits/sec."
The TIA continues to develop ANSI/TIA-568-C.2-1 Balanced Twisted-Pair Telecommunications Cabling and Components Standard, Addendum 1: Specifications for 100 ohms Category 8 Cabling-referred to by many simply as the TIA's "Category 8 standard." OCC said the standard is expected to be completed and released for publication in late 2015. The standard defines performance requirements that will enable Category 8 cabling to support-also under development-the IEEE's 40GBase-T.
The Cat8 Plug from OCC "uses the same shielded housing used in the company's Category 6A Field Installable Plug," OCC explained, "a design that enables simple terminations with no specialized tools. These products are ideal for direct-attach, high-speed links and data center server connections." The company also said the plug "provides consistent and reliable terminations that are guaranteed to meet and exceed the proposed Category 8 standard when paired with compliant Category 8 cable. And OCC's Cat8 plug is fully backward compatible with existing RJ-45 infrastructure, including Cat 6A, Cat 6 and Cat 5e cabling."
OCC's chairman, president and chief executive officer, Neil Wilkin, lauded the technical accomplishment: "Our introduction of the industry's first Category 8 plug is another example of OCC's industry leadership and the strength of our team-in both copper and fiber-optic cabling and connectivity products." The company also noted it "has a long history of active leadership in product and standard development for Category connectivity products, as well as the design and manufacture of test fixtures used by the industry to verify cable and connectivity performance in accordance with TIA Category standards."
Derrick Stikeleather is an OCC product design engineer and a member of the TIA's TR-42.7 Engineering Subcommittee, which is developing the Category 8 specifications. He commented, "OCC's Category test fixtures provide manufacturers and other members of the telecommunications industry a better methodology and better process control for guaranteeing Category-level performance in connectors and cabling. We are proud of our active contributions over the years to the Category connectivity and cabling standards development within the TIA committees."
Dr. Ian Timmins, vice president of engineering for enterprise connectivity with OCC, concluded, "We are known for our thoughtful design, exceptional performance, and reliable product craftsmanship at OCC. These qualities are at the heart of OCC's engineering and development of the next generation of fiber-optic and copper cabling and connectivity technologies and solutions."
Out-of-the-box IP video recording, HD surveillance for mid-sized installations
At the recent ASIS International tradeshow (Sept. 29-Oct. 1) in Atlanta, Axis Communications unveiled its AXIS Camera Station S10 Recorder Series. According to the company, for the new product line, the AXIS Camera Station software is preloaded on high-quality servers, available in desktop and rack- models, and configured to match Axis's wide range of IP network surveillance cameras, providing both ease of installation and reliability.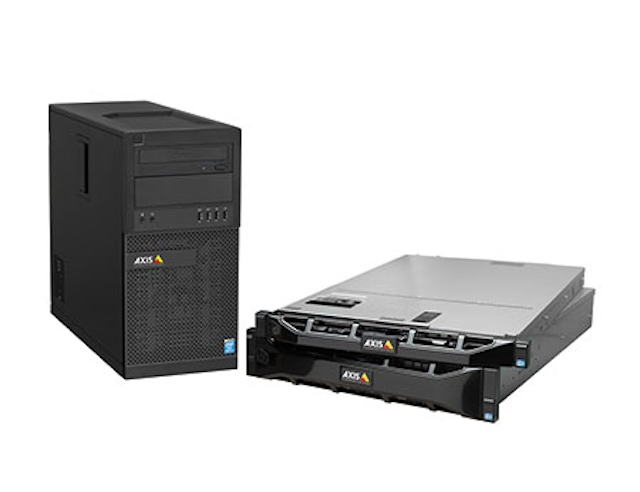 "Small and mid-sized installations have traditionally been analog, but users are increasingly seeing the benefits of IP video, including its image quality, and scalability," said Fredrik Nilsson, general manager, Axis Communications. "To help meet this demand, the AXIS Camera Station S10 Recorder Series presents packaged, plug and play solutions that help our customers easily get up and running with their mid-sized video surveillance installation."
The AXIS Camera Station S10 Recorder Series comprises the following components: the AXIS S1016, workstation model for use in office environments for installations up to 16 video channels (3 TB using RAID1); the AXIS S1032, rack server model for installations of up to 32 video channels (9 TB using RAID5); and the AXIS S1048, rack server model for installations of up to 48 video channels (15 TB using RAID5).
For each model, the AXIS Camera Station video management software is pre-installed. The company notes that the software offers an intuitive user interface with features to meet the demand for effective and active surveillance such as a flexible live view layout, site maps, powerful event configuration, efficient alarm management and responsive PTZ control. System settings such as camera and storage are configured to further simplify system setup and maximize performance.
The AXIS Camera Station S10 Recorder Series is powered by Dell technology. Hardware components such as hard-discs, graphic card and CPUs, as well as storage capacity are optimized to meet the demands for reliable high-definition surveillance. To further safeguard system uptime, the package includes hardware and software support for three years. Dell support is included from one-day to four-hour on-site support for the rack server models.
The AXIS Camera Station S10 Recorder Series also features pre-installed system software including Windows 7 Pro, and support for multiple screens. The recorders are easily scalable with additional AXIS Camera Station licenses. The AXIS Camera Station S9001 Desktop Terminal is available as an option for monitoring up to 64 video channels.
The AXIS Camera Station S10 Recorder Series is expected to be available in Q4 2014 through Axis' standard distribution channels. Suggested retail price for AXIS S1016 is $3,999, AXIS S1032 is $10,999, AXIS S1048 is $15,999 and AXIS S9001 is $1,999.
Preconfigured data center cooling container from Rittal houses modular infrastructure
Rittal has added a fully preconfigured data center cooling container to its RiMatrix S line of modular, standardized data center equipment. The new cooling solution works primarily with indirect free cooling technology, and as a result, it is extremely energy-efficient, claims the company, with a Power Usage Effectiveness (PUE) rating as low as 1.15.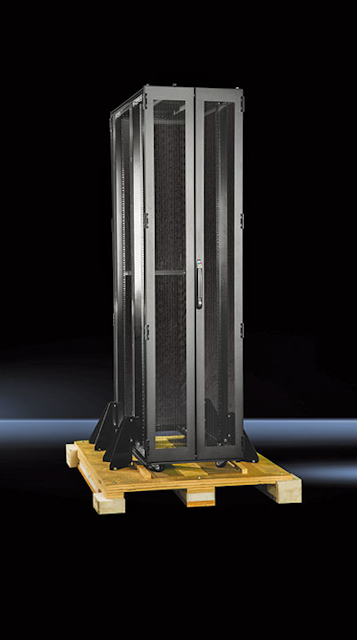 Rittal asserts that the new cooling container can be installed in less than a day - arguably much faster than a conventional climate control solution. Available now, the new product consists of a high cube-type container frame (6.06 m length x 2.44 m width x 2.89 m height). A hydraulic enclosure, two cooling units and a free cooler are mounted onto the frame, while two cooling pipes and a power supply connect the climate control solution to the RiMatrix S data center.
As the container works primarily with indirect free cooling, there is no need to use an energy-intensive chiller (compressor) when the outside temperature is sufficiently low. Speed-controlled EC (electronically commutated) fans, redundant pumps, and a controller then automatically adapt output to the RiMatrix S server module's cooling needs, ensuring very high energy efficiency - i.e. with a PUE as low as 1.15 in operation.
The heat exchanger for indirect free cooling is filled with a water/glycol mixture and is capable of dissipating a heat output of 70 kW for the Single 6 version of RiMatrixS, or 100 kW for the Single 9 version. The two chillers are hooked up if outside temperatures rise - each of these redundant devices is rated 70 or 100 kW, respectively, ensuring a highly available cooling output. Three operating modes are possible, depending on the outside temperature: indirect free cooling alone, a hybrid mode using both free coolers and chillers, and chillers alone. Either the free coolers or the chillers, or both, use the redundant central pumping unit, depending on the operating mode.
The cooling container is mass-produced, notes Rittal. Its smart controller ensures that the generated cooling output adapts to the changing requirements of the RiMatrix S server module. A network interface transmits recorded temperature data via SNMP (Simple Network Management Protocol) to Rittal's RiZone management software, or to another DCIM (data center Infrastructure management) platform. In addition, this interface creates a link to a web server, where the user can adjust the cooling solution's parameters and monitor its current status. In the event of a fault, floating signal contacts alert the administrator, enabling a rapid response.
Sumitomo debuts WiFi-enabled fiber-optic fusion splicer
Sumitomo Electric Lightwave recently introduced its next generation single-fiber core alignment fusion splicer, the Quantum Type-Q101-CA -PLUS. As one of the first models in the industry to include WiFi connectivity, the fusion splicer is designed to enhance speed and user-friendliness, while maximizing advanced splicing performance for cost-efficiencies in FTTx, data center, and other communication network applications, says the company.
According to Sumitomo, to meet the needs for increased productivity and faster connectivity for network installations, restorations, and moves, adds, and changes, the fully navigational touch-screen of the Quantum CA-PLUS maintains all of the qualities and features of its predecessor, the Quantum Type-Q101-CA, while reaching new standard levels in speed and cost efficiency by reducing heater shrink time by half, from 28 to 14 seconds. This new speed, coupled with the product's patent-protected dual independent ovens, makes the QuantumCA-PLUS among the fastest fusion splicers in the industry, contends the company. The dual independent heat shrink system eliminates the heat waiting time for streamlined, consecutive splices, and may increase splicing efficiency by over 80 percent, claims Sumitomo.
In response to technicians' needs for synchronization and user friendliness, Sumitomo says it also designed the new unit with WiFi capabilities for important splice data transfer and other interactive work related features via mobile apps. Other key features of the new Quantum CA PLUS fusion splicers include: an Internet interface for 24-7 remote diagnostic and maintenance with Sumitomo service technicians; video playback capability; and an SD port for external data storage for software, training, and video uploads/downloads.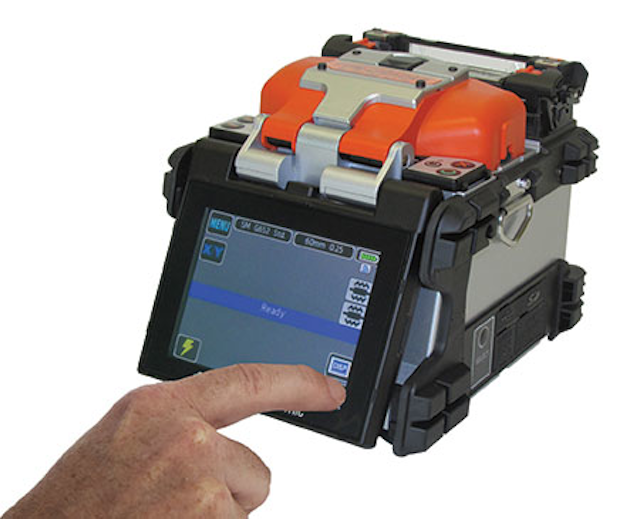 With a small, light footprint for a core-alignment splicer, the company says its Quantum CA-PLUS also incorporates a rugged design that complies with the most stringent shock, waterproof, and dust resistance requirements. The splicer is also compatible with Sumitomo Electric Lightwave's Lynx2 CustomFit Splice-On connectors for real-time and on-site field installable connectivity. The Quantum CA-PLUS is available now for delivery.
Fluke Networks introduces cloud-based cabling-test-result-management platform
Fluke Networks has introduced LinkWare Live, a cloud-based service that enables users of the company's Versiv family of certification testers to upload, manage and analyze certification test results from cabling projects-"anywhere, anytime," the company pointed out when unveiling the service at the BICSI Fall Conference. "LinkWare Live works with DSX-5000, OptiFiber Pro, and CertiFiber Pro certification testers to optimize project management and safeguard contractor profitability by providing real-time access to testing results," the company said, "extending support to technicians in the field, and eliminating costly truck rolls simply for tester transport back to the office." LinkWare Live service is offered free to all of Fluke Networks' Versiv customers. The service is browser-based, and available to any user with a browser/Internet connection. While the service can be viewed on a mobile device, Fluke Networks pointed out there is no need to download an app in order to access the results.
When introducing the service, Fluke Networks cited a survey it conducted of more than 1,000 cable installers. Collectively, the survey respondents had installed approximately 1 million cabling links in the month prior to completing the survey. The company said that for these 1,000 installers, "poor test results management creates a significant drag on productivity and profitability." It specifically cited these stats.
• 83 percent reported having one or more test results management issues in the previous month.
• The average time contractors spent dealing with test result issues in a single month was 15.2 hours, not including the hours necessary to get the test results back to the office for analysis and reporting.
• Half of the respondents said it would be beneficial to access project status information from any location.
"Collecting certification test results is a significant challenge because they are stored in testers that frequently move from one job site to another," Fluke Networks noted. "These job sites can be hundreds of miles away from one another, as well as from headquarters. Accidentally erased or failed memory cards can negate several days' worth of work, leading to costly truck rolls, lowered profit margins and delayed payment.
"By uploading test results to LinkWare Live regularly, project managers can save trips solely to collect results, prevent data loss and continuously track project progress," Fluke Networks explained. "LinkWare Live also automatically organizes test results by job, eliminating the painstaking task of manually compiling results from multiple testers."
The company spelled out these five concrete advantages of using the cloud-based LinkWare Live service to manage test results.
1. Productivity increases because technicians no longer need to manually transport testers from the field just to download test results.
2. Time is saved by reducing the time spent categorizing and compiling test results by automatically consolidating them into the correct job.
3. The amount of rework is reduced by decreasing the likelihood of losing test results when testers or memory cards are lost, stolen or erased.
4. Troubleshooting is a quicker process because instant access to results is available anywhere.
5. Real-time visibility into project status is available from any location.
Fluke Networks added that through the use of LinkWare Live, contractors can achieve greater project profitability, increase the potential for project wins, and use the service's analytics and benchmarking to improve installation, certification and troubleshooting efforts in the field.
Chris Tracy, a project manager with Skyline Properties, has used the LinkWare Live service. He commented, "One of the biggest benefits we've seen is the ability to upload test results from the field so we can actually keep our testers in the field, where they are making us money. We have to provide regular testing reports to show our progress and get paid for the work we've completed. With LinkWare Live and Versiv, we don't have to stop testing to bring the tester back to the office each week, so we not only save valuable time, we can also invoice sooner and get paid more quickly."
Vice president and general manager of Fluke Networks' datacom installation business, Jason Wilbur, added, "From the introduction of our first cabling certification solution in 1997, we've meticulously designed our products to meet the ever-evolving needs of cabling contractors. One need that hasn't changed is fast, accurate certification results that contractors and their customers can trust. Our primary objective is to increase contractor profitability by helping streamline workflows. LinkWare Live is the next step in the evolution of cable testing and certification, offering the industry's first 'anywhere, anytime' visibility, ensuring every project is done right-the first time, on time."
FOA certifies 50,000th technician
The Fiber Optic Association (FOA) recently announced it has certified its 50,000th fiber technician. Bradley Salmon, an electrical technician with the Royal Canadian Navy since 2010, completed the Certified Fiber Optic Technician-CFOT-training course and received his certification during the Camosun College phase of his Electrical Technician Journeyman Maintainer coursework.
"Since its founding in 1995, FOA has been following its charter to 'promote professionalism in fiber optics through education, certification and standards,'" the FOA said when announcing the milestone. "FOA programs have been accepted worldwide based on our wealth of technical information and high standards for training organizations, instructors, training and students."
Camosun College-FOA-approved school #330-offers the CFOT fiber training as part of its curriculum for the school's contract with the Canadian Department of National Defense. Camosun also includes the CFOT and CPCT certifications as part of the one-year technician program. "The idea was to give the civilian students a handful of certifications, including Microsoft, Cisco, electronics, and security, to give them an advantage against job candidates with a number of years of experience," the FOA explained. Camosun instructors Trevor Curtis and Gurbinder Dhade administer the training programs, and instructed Salmon during his coursework.
As of the 2012-2013 academic year, Camosun had more than 18,500 students between its Landsdowne and Interurban campuses in Greater Victoria, British Columbia. The FOA added, "Each year Camosun welcomes over 1,000 Aboriginal students from 50 nations including Metis and Inuit groups, and over 800 international students from 40 different countries."
BICSI's professional development program renamed BICSI Learning Academy
BICSI has rebranded its professional development program with the unveiling of BICSI Learning Academy. The new name and look were revealed by BICSI president Michael Collins in a recent issue of the member newsletter BICSI Insider. In his message to the membership, Collins said, "The BICSI Learning Academy, as a whole, allows us to provide better, more-focused training to fit your needs. Made up of three distinct facets designed to work in harmony, BICSI Learning Academy gives you the ability to choose where and how you receive training."
The three facets are: BICSI World Headquarters, BICSI Connect, and BICSI Local. "As the name suggests, BICSI offers courses on site at our world headquarters location in Tampa, Florida," Collins added, further describing the training environment at the Tampa facility. In BICSI Connect, he noted, "No matter the field of study, more and more training has become available online. BICSI is keeping up with this trend via the online learning platform, BICSI Connect. A variety of technical and professional courses are available online ..."
With respect to BICSI Local, Collins said, "BICSI offers its entire training suite at facilities around the world. We take great care to schedule classes in areas most convenient to you, such as major metropolitan areas and conference sites. These facilities are set up with a mobile lab and technical equipment to provide an educational experience comparable to that at BICSI World Headquarters. BICSI Local also includes on-site courses, where a BICSI training delivery specialist and course materials are sent to a company's facility in order to train multiple employees at one time."
As part of the new initiative, BICSI has also created its Authorized Design Training Provider and Authorized Training Facility programs, where BICSI-certified instructors teach BICSI courses at various locations throughout the world.
ASIS, SIA launch joint learning management system for security professionals
ASIS International and the Security Industry Association (SIA) have launched my Global Portal for Security (myGPS), a learning platform for security industry professionals, according to a joint news release from the organizations.
MyGPS is a professional development tool as well as an information resource for those considering a career in the industry, offering a compilation of classroom and online training options for those seeking to close knowledge and performance gaps through education and training. With the foundation in place, the system will evolve over time to include career tracking and management of SIA and ASIS certification.
Additionally, the organizations plan to add a host of new courses, education materials and career planning tools to the new portal, further supporting security professionals in attaining their career potential.
"A competency-based workforce is becoming more critical to performance. This is especially true for the security industry as many professionals transition from other business sectors to assume responsibility within an organization," ASIS President Richard E. Widup, Jr., CPP, said in a prepared statement. "MyGPS is an invaluable tool for practitioners from across our industry, as well as others considering careers in security. In the future, it will aid professionals in planning a career path and in identifying the required competencies to excel and achieve success. Working together with SIA in its development seemed a natural, synergistic partnership."
Currently, SIA's library features 31 project management courses for security project managers, the release noted.
"MyGPS is a great example of high-quality offerings produced through the unique collaboration between the security companies of SIA and the protection professionals of ASIS," SIA Chairman John Stroia, chief operating officer, The Will-Burt Company, said in the release. "All security professionals will find value in the educational opportunities available through the myGPS learning management system, particularly those seeking to deepen their knowledge of security project management and perhaps start down the road of becoming a Certified Security Project Manager."
VSU awarded $3.25M U.S. Department of Labor grant to develop wireless network training
PCIA-The Wireless Infrastructure Association has commended the federal Department of Labor (DoL) for awarding Virginia State University (VSU) a $3.25 million grant to help develop a training program for "the wireless workforce of the future," focused on educating veterans, displaced workers, and others for careers in building and maintaining America's wireless networks. Awarded through DoL's Trade Adjustment Assistance Community College and Career Training initiative, the grant will allow VSU, an historically black university, to strengthen a new program aimed at building a network of colleges to train students for high-wage, high-skilled careers in wireless infrastructure.
"The American educational system has not kept pace with the fast growth of the wireless industry," contends PCIA's president and chief executive officer, Jonathan Adelstein. "This grant is part of our effort to jumpstart the academic community, with VSU in the lead, to develop training programs and curricula that will produce graduates that have the precise preparation we need to meet our burgeoning workforce needs. This will give veterans and displaced workers opportunities to be trained, certified, and employed in wireless infrastructure."
PCIA, which helped VSU develop and submit the grant application to DoL's Employment and Training Administration, will assist in managing the program under the terms of the grant. As part of the award, DoL approved $750,000 which is specified in the application for PCIA to help create nationally recognized competencies and credentials in the field of wireless infrastructure deployment. The grant will extend through 2018 and is aimed at enabling trainees to receive hands-on technical and safety training at VSU and partner schools. PCIA, which together with its member companies has partnered with the Departments of Labor and Veterans Affairs to support the veterans job training program known as Warriors4Wireless, has been working in close concert with VSU to shape and launch the program.
PCIA's Adelstein adds, "Right now, there are thousands of high-skilled, high-wage American jobs that are hard for our members to fill because workers haven't received proper training. PCIA will help professionalize the wireless workforce with direct input from the industry to target our needs with a state-of-the-art program. We need to develop a workforce that can safely and properly install and maintain wireless networks that can meet the growing demands of consumers, businesses, schools, health care, governments, public safety agencies, and countless others to enjoy the life-changing benefits of wireless broadband."
The VSU program offers workers training and certification and a pathway toward competitive compensation, generous benefits, a positive work environment, and career advancement opportunities. It offers a college-accredited course for wireless facility technicians, a program that PCIA hopes to replicate through a network of community colleges and four-year institutions across the country, Adelstein noted.
"The private and public sectors need to continue working together to give our trainees life-changing opportunity that challenges their abilities, seeks to transfer their skills to wireless infrastructure, and rewards their contributions in an atmosphere that encourages personal and professional growth," concludes Warriors4Wireless President Kelley Dunne. "That's the mission of the VSU program and why the Department of Labor would like to see it expanded."
University, training organization team up to offer master's degree in data centers
CNet Training and Anglia Ruskin University recently jointly announced they are collaborating to develop a master's degree program in the study of data centers. CNet is a global provider of network-infrastructure training; Anglia Ruskin has main campuses in Cambridge, Chelmsford, and Peterborough, U.K., with approximately 31,500 students and 1,000 academic staff.
"Leadership and management skills are just as important as technical skills for keeping data centers running, making the new master's degree absolutely essential to further develop and enhance skills and ultimately form the elite group of data center professionals," the organizations said in the joint statement. "The aim of the collaboration is to unite two exceptional educational organizations to introduce new top-level learning within the data center industry to benefit both individuals and the industry itself."
The university's head of degrees, Jan Skene, said, "People working as data center leaders are often technological wizards who have been fast-tracked to the top, but have not necessarily undergone training relevant to a leadership or management position. Anglia Ruskin is working with CNet Training to find a solution to this skills gap through Degrees at Work. This partnership demonstrates once again how Anglia Ruskin is at the forefront of innovative learning in the workplace, and that employers are benefiting from this flexible method of working with a university."
CNet Training's chief executive officer and managing director Andrew Stevens added, "This global first, and unique opportunity, is a result of the combination of CNet Training, recognized as the global leader in data center training and education, and Anglia Ruskin University's award-winning high-quality work-based learning. It provides a unique education and personal-development opportunity for those working within a data center to advance their knowledge to master-degree level.
"Working with Anglia Ruskin University offers the perfect partnership for both highly skilled individuals working within the data center environment, and the data center industry itself. Individuals can become part of the ultimate elite group of highly qualified data center professionals, and the industry can benefit from the enhanced knowledge and expertise that will be channeled into it."
Dell, Emerson, HP, Intel join to create new data center management specification
Dell, Emerson Network Power, HP and Intel have announced the creation of Redfish, a specification under development for data center and systems management that the companies say delivers comprehensive functionality, scalability and security. In a joint press release issued by the companies, Redfish is billed as "one of the most comprehensive specifications since the Intelligent Platform Management Interface (IPMI) was launched in 1998."
Redfish reportedly uses "a modern network interface style, allowing access to data using even simple, script-based programming methods." The companies say that, going forward, "the specification will be designed to improve scalability and expand data access and analysis, help lower costs, and further enable feature-rich remote management while ensuring a secure solution that protects investment."
The companies collaborating on the Redfish specification development say they are "focused on ensuring the specification enhances interoperability across multiple server environments and significantly simplifies management, to allow administrators to speak one language and be more productive. Additionally, Redfish will enable access to massive amounts of information and efficiently translate the data into actionable insights for system monitoring and management," say the companies.
The specification effort leveraged the combined experience of the collaborating companies in IT systems hardware, microprocessors and data center infrastructure management (DCIM) technologies. The organizations say they are working with industry standards bodies and associations to further accelerate the spec's development process, in anticipation of broad adoption of Redfish. The specification will be submitted to the Distributed Management Task Force for consideration by the recently created Scalable Platform Management Forum, which has been chartered to publish a standard in this space. Once the specification is approved, it will be publicly available.
JDSU separating into two companies
The board of directors of JDSU unanimously approved a plan to separate JDSU into two publicly traded companies; JDSU said the split is expected to be completed by the third quarter of calendar-year 2015. The two companies will be a network and service enablement (NSE) company as well as communications and commercial optical products (CCOP) company. Network and cabling test equipment will be part of the NSE company, as will JDSU's current optical security and performance (OSP) products business. When announcing the planned split, JDSU said the NSE company "will be a leader in its core businesses, addressing an approximate $7-billion network and service enablement market expected to grow at 6 to 8 percent annually.
"The NSE company will primarily focus its investments in higher-growth markets, particularly software supporting virtualized and software-defined networks." The CCOP company, "with its long-standing reputation for optical innovation and quality," the company said, "serves a $7.4-billion optical communications market expected to grow at a compounded rate of 11 percent over the next four years. It also addresses an approximate $2.5-billion commercial lasers market, growing at a forecasted 7 percent annually."
The company said it expects the separation will "enable NSE to continue its leadership in network enablement, while continuing to transition to a more software-centric company aligned with the industry's rapid shift to software-defined networks.
"Driven by the proliferation of connected devices and applications running on the network, and the need for increased network visibility, SDN is expected to influence 30 to 40 percent of all network spending over the next six years," JDSU continued, citing SDN Central for that spending projection. "Included in this new company will be JDSU's OSP business, a leader in anti-counterfeiting solutions for currency authentication and high-value optical components and instruments for security, safety, electronics and other applications. The combined revenue for NSE and OSP in FY14 was $949.5 million."
JDSU's president and chief executive officer Tom Waechter will continue in that role with the standalone NSE company.
Leviton acquires AV-control provider BitWise
On September 9, Leviton announced that it had acquired BitWise Controls LLC, which designs and manufactures control and monitoring solutions for commercial and residential facilities' audio-video systems. Leviton said it "has been carrying BitWise Controls' automation controllers for some time and is excited to welcome them into Leviton."
The company also stated that the acquisition brings BitWise's entire product line into Leviton, "including their iPhone/iTouch/iPad and Android app-based GUIs that are easy to use and simple to install, with drag-and-drop programming, and the recently launched handheld remote control. Additionally, Leviton will offer the BitWise app on the popular OmniTouch 7 for application when fixed touchscreens are required."
BitWise's chief executive officer Jay McLellan said the acquired company and Leviton are "a perfect fit ... We look forward to providing continued innovation to our customers."
Leviton's chief operating officer Daryoush Larizadeh said the deal "demonstrates Leviton's commitment to strategic growth and innovation through acquisitions."
The deal came a month after Leviton acquired ClickOn Technology, a South Africa-based manufacturer of automation technology for commercial and residential applications. Among the products brought into Leviton's portfolio with the ClickOn acquisition is a remote-control system "that provides convenient, secure and reliable control of any electrical system and appliance from a single remote control," Leviton said when it announced that deal on August 4.
Greenlee acquires telecom-test manufacturer Guisys
Greenlee recently announced its acquisition of Guisys Corporation, which manufactures Android-based handheld telecommunications test solutions. Guisys is based in Campton Hills, IL. "The founders of Guisys-Mike Petersen and Steve Robbins-have joined the Greenlee Communications engineering team and will lead ongoing Ethernet research and development projects," Greenlee said in the announcement.
Jason Butchko, general manager of Greenlee Communications, added, "We are excited to have Mike and Steve join our team. We look forward to the expanded range of products and new capabilities this brings to future products as we expand our presence in the Ethernet market."
Greenlee simultaneously announced the launch of the DataScout 10G, an addition to the company's DataScout family of Ethernet/Transport multi-protocol network analyzers. "The DataScout 10G combines a familiar Android tablet interface with a wide selection of test interfaces capable of testing everything from 10-Gbit Ethernet, DS3/DS1 legacy transport, and even TIMS into a single, simple-to-use, fast-to-learn platform," Greenlee said. "The DataScout 10G is used by many Tier 1 and Tier 2 communication service providers, utilities, enterprise and network equipment manufacturers."
Cleaning tool for MPO connectors
Sticklers has added the MPO CleanClicker to its portfolio of fiber-optic cleaning tools. The company characterizes the new product as "designed to perfectly clean MPO type ribbon connectors in any size, any scale fiber-optic network." The company's executive vice president, Tom Tattersall, said, "With the addition of the new Sticklers MPO CleanClicker connector cleaner, a technician can now use a Sticklers brand product to quickly clean any MPO array-style connector at any network in any company.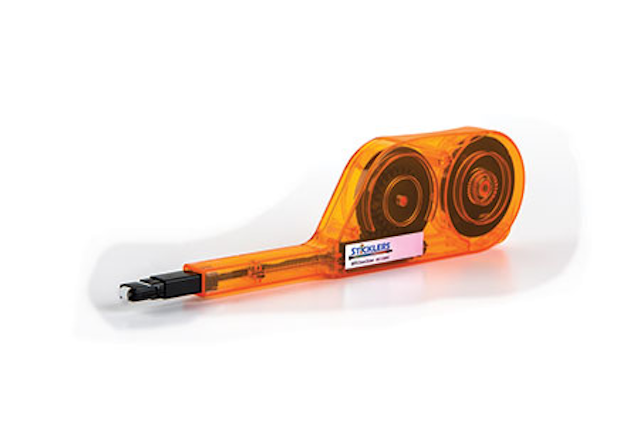 "Each MPO CleanClicker provides 600 cleanings using a gentle action that minimizes risk of damage to the endface. A technician can clean particulate, oil and dirt from ribbon-style connectors in two seconds, and literally for pennies per clean."