From the February, 2014 Issue of Cabling Installation & Maintenance Magazine
Enhancements to splicers include accommodating a new generation of splice-on connectors.
By Patrick McLaughlin
The practically invisible optical connections accomplished through fusion splicing used to be the domain of carrier-grade long-distance singlemode networks, almost exclusively. It was a rare occasion when an enterprise would cost-justify the use of fusion splicing its optical network, for several reasons. One was that in most cases, when fiber-optic cabling was used in an enterprise environment it was multimode, which has a significantly larger core than singlemode and therefore is much more forgiving of a slightly off-center mating.
Another reason, hand-in-hand with the first, was that the transmission speeds the cabling had to support also had a certain level of forgiveness, in the form of an allowable loss budget. So with the occasional exception of a campus-style, singlemode-based network, fusion splicing was the stuff of public, rather than private, networks.
Those days have melted away, thanks to a combination of shrinking loss budgets associated with higher-speed multimode transmission, innovations in fiber-optic connectivity hardware, a migration of fiber-to-the-home technologies to enterprise environments, and advancements in splicer technology that accommodate these trends. And while many typical commercial office buildings may not have much more use for fusion splicing today than they did 10 years ago, the data centers upon which these enterprise heavily rely are environments in which much more fusion splicing is taking place.

Sumitomo's Quantum Type-Q101-VS V-Groove Fusion Splicer is compatible with the company's Lynx2 CustomFit Splice-On Connectors. The splicer also offers a 640x320 fiber view in its 120x154x130-mm frame.
Fusing connectors
One driver of fusion splicing in the data center is the use of fuse-on or splice-on connectors, which has emerged recently as an alternative to preterminated fiber-optic cabling systems in these environments. They are offered by several vendors in several interface options, including SC, LC, ST and MPO.
When describing its Lynx2 CustomFit Splice-On Connectors, Sumitomo Electric Lightwave (www.sumitomoelectric.com) explains that with these connectors, "You can now achieve cable builds with exact lengths, eliminating the short and excess slack and logistic delays associated with preterminated cables. Lynx2 connectors provide the ultra-reliable, permanent, non-mechanical terminations that facilitate better performance, reliability, quicker installations, and faster MAC [moves, adds and changes], while solving prior bottlenecks for mission-critical quick repairs and restorations-essential for the most minimal downtime of the network."
AFL (www.aflglobal.com) is among the fuse-on connector providers to emphasize the relative simplicity of their use. The company says its "FuseConnect MPO fusion-spliced, field-terminated connectors are uniquely designed and feature just six components. With a factory prepolished ferrule, its innovative field-termination process eliminates polishing, adhesives, and crimping in the field, minimizing the potential for operator error and expensive connector scrap."
When introducing the Jacketed MPO Splice-On Connector into its Lynx2 CustomFit line in late 2012, Sumitomo Electric Lightwave noted, "The company's decision to design and launch the Lynx2-MPO Ribbon Jacket splice-on connector addresses the growing network migration from 10 Gbits/sec to 40 and 100 Gbits/sec and the subsequent accelerated use of optical-fiber ribbon cables that meet the larger fiber counts, real-time scalability, speed of installation, and cost efficiencies required for the migration.
"As high-density networks and data centers make the transition from single-fiber and loose-tube to the more-compact optical ribbon cables for trunk cable and jumper applications, jacketed ribbon is the preferred choice to maintain protection of the fiber and tensile integrity. In the case of optical-fiber ribbon trunk cables, furcation is used to provide the added fiber protection in patch panels since the cables are often re-entered for network MACs. The Lynx2-MPO Ribbon Jacket 12-fiber splice-on connector facilitates the quick and easy connectivity of the jacketed ribbon cables and jumpers by allowing exact-length cable builds and terminations to be performed on-site."
Joshua Seawell, Sumitomo Electric Lightwave's director of its lightwave network products division, commented, "As the company to have designed and introduced the industry's first MPO splice-on connector, we understand the importance of continuous innovation, ensuring that our customers have the latest and most-advanced solutions that are vital for the success of their network." The ribbon-jacket version of the splice-on MPO connector joined the company's existing offering of MPO unjacketed ribbon, MPO for round cord and SC, LC, FC and ST splice- on connectors.
Corning Cable Systems (www.corning.com/cablesystems) also offers splice-on or fuse- on MPO-style connectors. The company describes its FuseLiteMTP-Compatible Splice- On Connectors as enabling "fast, reliable fusion splicing repair, restoration or connectivity for data center cabling systems or other applications where MTP connectivity is required.
"As part of the Pretium Edge SE Solutions for data centers, the FuseLite MTP-Compatible Connector pairs with Pretium Edge modules and hardware for high-density data center connectivity without pre-engineered trunk lengths-ideal for applications with conduit limitations or where cable slack management is a concern. TheFuseLite MTP-Compatible Connector is also ideal for emergency repair and restoration of data center cable trunks and other MTP-based connectivity."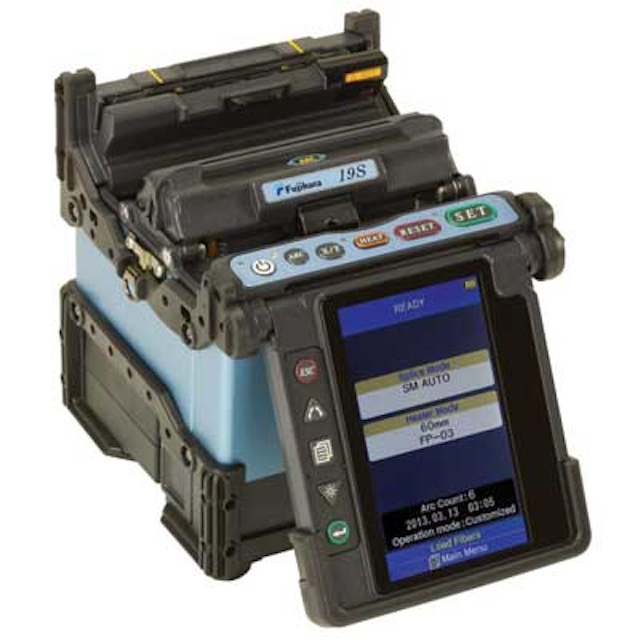 AFL's Fujikura 19S fusion splicer is compatible with the company's FuseConnect line of splice-on connectors, and includes sheath clamp or fiber holder operation.
Splicer innovations
Of course, accomplishing the fusing-on or splicing-on of these connectors requires a fusion splicer. As Eric Pearson of Pearson Technologies (www.ptnowire.com) informs in his recent book Professional Fiber Optic Installation – The Essentials For Success, Version 8.0, some manufacturers of fuse-on connectors "require use of a custom splicing machine. Others require use of a special holder with a standard machine. These latter machines must have removable holders. Such connectors are useful in situations of replacement or limited space."
Two providers of fuse-on connectors-AFL and Sumitomo Electric Lightwave-also offer fusion splicers, and both recently introduced splicers with specific capabilities for these connector types.
AFL describes its Fujikura 19S fusion splicer, introduced in July 2013, as "a fixed v-groove single-fiber splicer" that "retains proven ruggedized features but incorporates automated and enhanced user control capabilities to further increase splicing efficiency."
Among the characteristics of the 19S, AFL noted its full compatibility with the FuseConnect line of splice-on connectors. Other characteristics include an automated and programmable wind protector; full "ruggedization" for shock, dust and moisture; lithium-ion battery with 180 splice/heat cycles per charge; 5-mm cleave length for splice-on connectors or small package needs; sheath clamp or fiber holder operation; on-board training and support videos; Internet software upgrades and a multi-function transit case with integrated workstation.
Also in July 2013, Sumitomo Electric Lightwave introduced its Quantum Type-Q101-VS v-groove fusion splicer, stating the splicer's design is "based on the market demand for an advanced yet economically affordable fusion splicer that provides the speed, performance and efficiencies for data center, enterprise, FTTx, OEM and communication network applications." The company explained the splicer has dual independent heat-shrink ovens "that eliminate the heat- waiting time for streamlined, consecutive splices," saying that attribute increases splicing efficiency by 70 percent.
The Quantum VS has a fully functional touch-screen interface, Sumitomo added, "making splicer function navigation more intuitive, faster and easier than traditional keypad interfaces." Additionally, an Internet interface offers 24/7 remote maintenance, Sumitomo Electric Lightwave added, also noting characteristics including an SD port for data storage and the ability to download and upload data, training videos, audio and software. The splicer is compatible with the company's Lynx2 CustomFit Splice-On Connectors.
Patrick McLaughlin is our chief editor.
More CIM Articles
Archived CIM Issues