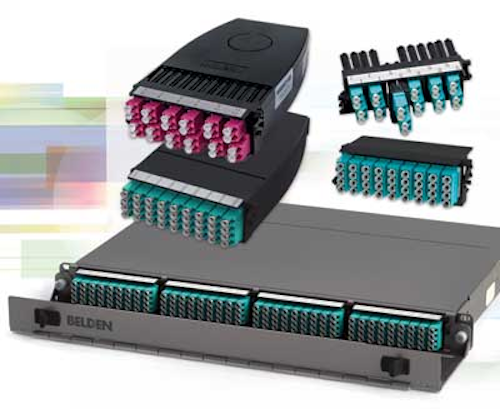 From the February, 2014 Issue of Cabling Installation & Maintenance Magazine
FiberExpress Adapters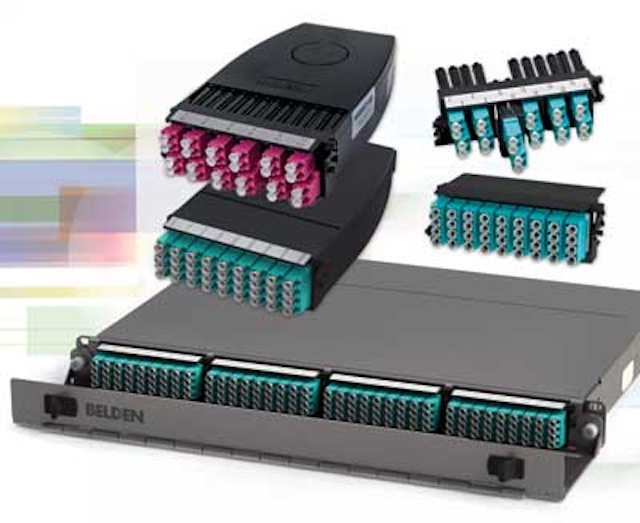 Belden says its FiberExpress Adapters are ideal for versatile high-performance fiber connectivity in data centers and LANs. The adapters support legacy ST and SC connectivity as well as LC duplex and MPO-12 connectivity, ensuring a cost-effective upgrade from current 1- and 10-Gbit networks to advanced 40- and 100-Gbit applications, the company says.
Users can achieve maximum density with preterminated adapter cassettes and frames that support up to 72 LC duplex connectors per rack unit. Available in Om3 multimode, Om4 low-loss multimode and singlemode versions, the FX UHD adapter cassettes feature 18 LC duplex connectors on the front and 3 MPO male connectors on the rear, while the Ultra HD adapter frames offer 18 LC duplex or 18 MPO connectors per frame. Belden's Om4 low-loss fiber adapters offer a 0.2-dB loss for MPOs and 0.15-dB for LCs.
The adapter cassettes and frames are for use with FiberExpress UHD and Ultra patch panel systems.
Belden
www.belden.com
Optical multiplexer

FiberPlex Technologies' WDM-16 multiplexes 16 optical channels into a single fiber pair, which the company explains provides bandwidth improvement on existing fiber infrastructure while eliminating the costs associated with trenching new fiber runs. Adding a WDM-16 multiplexer to an existing optical network can consolidate up to 16 separate 3-Gbit/sec devices onto a single pair of singlemode fiber, reducing bandwidth-improvement costs significantly, Fiberplex says.
FiberPlex Technologies
www.fiberplex.com
One-piece-design SC and LC adapters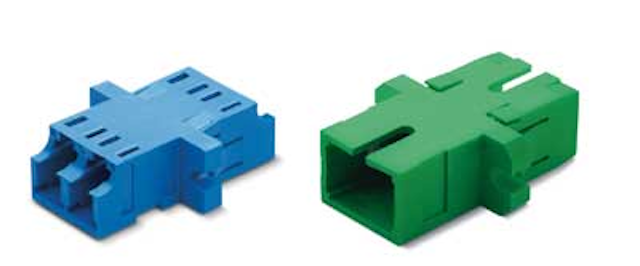 SENKO has introduced a new line of True One Piece (TOP) adapters in SC and LC versions, with enhanced rattle-free wings. They are available in both flange and no-flange configurations. The TOP design has proven increased side loading performance over conventional adapters, SENKO says. The patented one-piece housing solution prevents breakage of the adapter due to the absence of ultrasonic weld-type construction, the company says. The TOP housing eliminates this welded seam and results in an adapter housing that will survive side forces that will break adapters with welded seam-type construction, SENKO adds. The breaking strength of the TOP design also surpasses the current one-piece design with a welded cover, the company adds.
The adapter's four anti-rattle wings prevent the adapter from wiggling in a top-to-bottom direction when snapped into adapter panels. Additionally, an integrated panel clip is molded into the adapter's plastic housing, eliminating the need for any added metallic panel clip. The integral panel clips also prevent wiggling in a side-to-side direction.
SENKO
www.senko.com
Skinny-Trunk Fiber Modules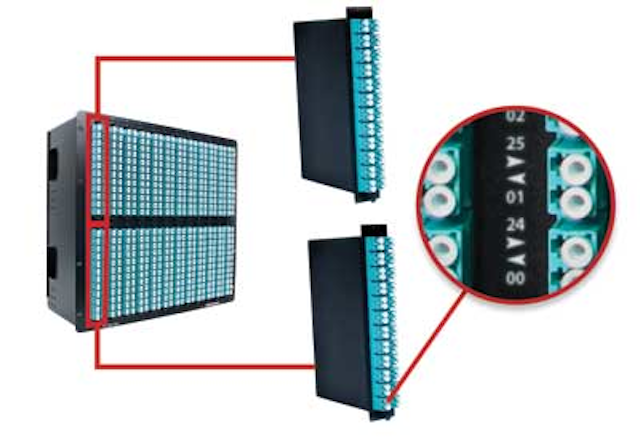 CABLExpress has enhanced its H-Series product line to include optional, silkscreened custom port numbering. This numbering enables easy identification for exact port replication of any major hardware manufacturer, the company says, and allows users to fully replicate director-class switches in the main distribution area (MDA), as recommended in the TIA-942 standard.
One of the main challenges users face during moves, adds and changes in the data center is correlating the ports on switches to the ports on patch panels, CABLExpress explains. Appropriate port numbering and port replication reduces cable-management issues by eliminating opportunities for patching errors and lessening the wear-and-tear on active ports.
H-Series fiber modules are available with 16-, 24-, 32-, 48- or 64-port options to provide full port replication for any density. The modules feature MTP-to-LC adapters; low-loss components for increased performance; and molded, angled MTP brand couplers to facilitate rear cable management. H-Series modules and enclosures are part of the complete CABLExpress Skinny-Trunk solution.
CABLExpress
www.cablexpress.com
Fiber technology for video security applications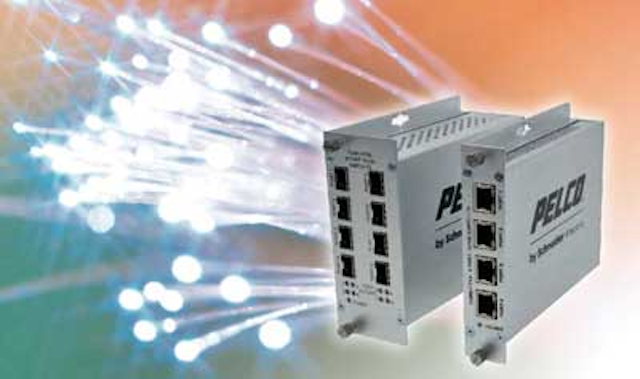 IP fiber-optic and Ethernet adapter and converter products from Pelco by Schneider Electric deliver the high-level performance that video security applications demand, the company says. They offer reliable, robust transmission systems and overcome long-distance transmission challenges, Pelco adds. They make use of customer-installed, small-form-factor pluggable transceivers for compatibility with a wide range of optical fibers, optical connector types, and transmission distances.
MSA-compliant small-form-factor pluggable transceivers allow for an optical or copper interface when using a Pelco unmanaged switch or media converter. Interchangeable transceivers are available for use with unshielded twisted-pair cable, multimode optical fiber or singlemode optical fiber. The optical FSFP Series transceivers are available in Fast Ethernet one- and two-fiber versions, and Gigabit Ethernet one- and two-fiber versions.
Pelco by Schneider Electric
www.pelco.com
MPO and LC fiber-optic adapters

A line of MPO and LC fiber-optic adapters from Cablesys is designed to reduce space requirements by more than 50 percent compared to conventional connectivity for high-density fiber-optic installations. The adapters comply with ANSI/TIA-568-C.3 industry standards and support the high-speed data transmission that networks require, the company says.
The adapters are designed with feed-through female openings on the front and rear to join two fiber-optic jumpers together. They are compatible with both multimode and singlemode fiber-optic assemblies; no termination is required. Cablesys explains the adapters easily snap into blank fiber-optic adapter plates or patch panels to flexibly meet installation requirements. They are available with ceramic or metal sleeves for precision alignment, and are available in a variety of colors, including aqua for 10G applications.
Cablesys
www.cablesys.com
NG4access Universal Adapter Pack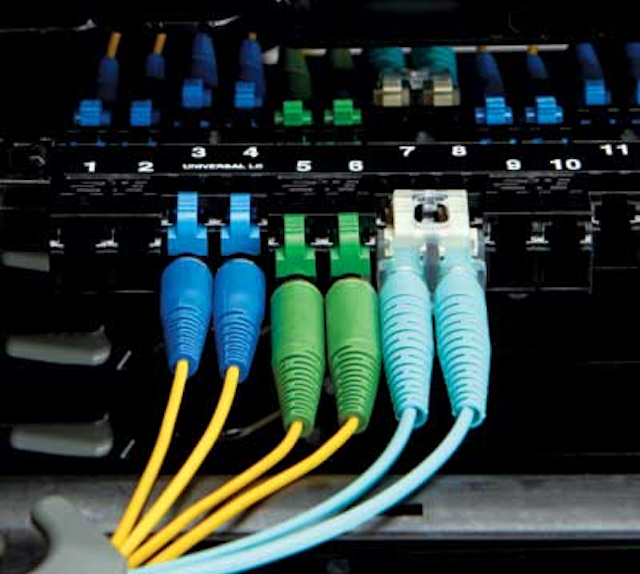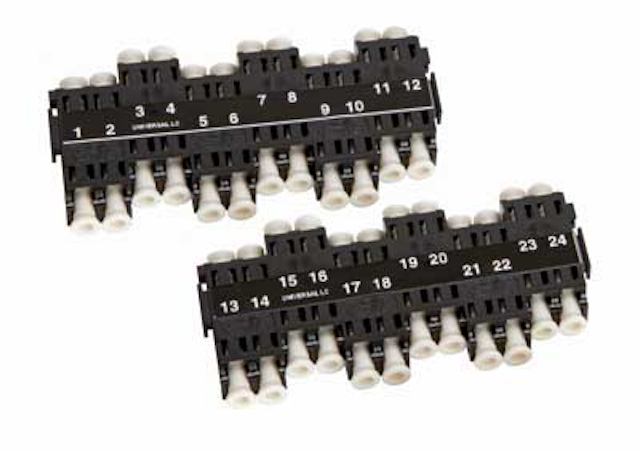 TE Connectivity's NG4access Universal Adapter Pack solves density challenges in modern networks, the company says. It explains, "With more optical connectors in today's data centers and central offices, the challenge becomes how to add optical density to the fiber frame while still maintaining proper accessibility, flexibility and manageability at the lowest possible cost. Achieving high density in a fiber panel or frame, from a pure physics standpoint, is not inherently difficult. A lot of adapters and connectors can be crammed into a very tight space. The challenge is, in two words, accessibility and identification. Can the technician find the correct port and connector to access, and can it be accessed without damaging adjacent fibers or without using a special tool? Due to their small size, packing many LC connectors side-by-side makes it difficult for a technician to access one connector without touching and risking damage to adjacent connectors."
TE Connectivity has introduced the NG4access Universal Adapter Pack in response to this challenge. The product set staggers every two connectors from front to back, to provide visual separation and identification. Whether accessing the front or rear of the chassis, the technician can actually see the connector on the other side, the company explains. So whether it is an ultra-polish, angle-polish, singlemode or multimode connector, the technician can quickly identify and access the correct connector every time, TE Connectivity concludes.
TE Connectivity
www.te.com
More CIM Articles
Archived CIM Issues