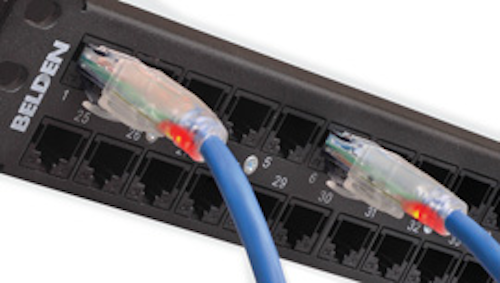 From the March, 2014 Issue of Cabling Installation & Maintenance Magazine
Traceable patch cords
The Traceable Bonded-Pair Patch Cords from Belden feature an integrated LED light that the company says is exceptionally bright and offers easy identification. "With just the simple press of a button on the low-profile plug, the LED flashes on both ends of the patch cord, providing the ability to locate specific switch-to-server connections within high-density patching environments," Belden says.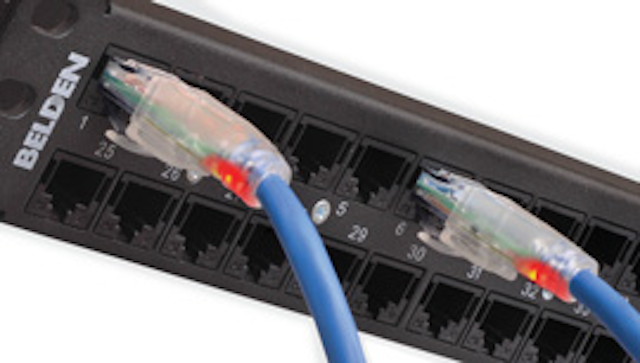 It adds the cords also are ideal for locating connections in congested office areas. They are offered in Category 6A and Category 6 performance levels. "The highly efficient and bright LED features a replaceable battery with a battery life of 7 years or 1,000 activations," the company explains. "When activated, the LED blinks for 20 seconds and can be stopped at any time with a second press of the button. Because the LED and its tracing wires are integrated into the patch cord, there is no need for special patch panels or a separate power source." Each cord has a unique serial number and bar code on each end, making them DCIM-ready for full locating ability, Belden concludes.
Belden
www.belden.com

Intelligent port management system
Leviton describes its Intact Intelligent Port Management System as "a solution for fiber and copper networks that monitors port status and manages network changes. The system sends alerts and real-time information to IT managers, allowing them to diagnose problems and handle changes quickly using Intact software."
The Intact Patch Cord works through a programmable microchip with a unique identifier applied to one or both ends, Leviton described. The cords combine with Intact Patch Panels to communicate the port status to the Intact Device Manager through USB cable. LED lights on panels indicate each port's status and serve as visual guidance for work-order execution, the company further explained. The Intact Device Manager hosts the system's software, which is accessible on any standard web browser over a corporate network; it is optimized for PCs, tablets and smartphones.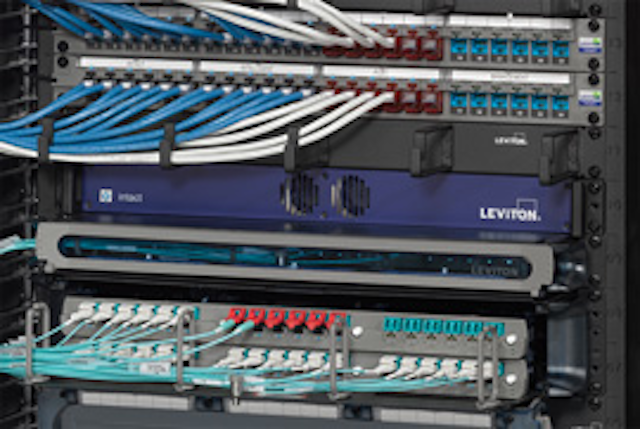 USB Intact Device Hubs are available to expand the number of Intact Patch Panels that can connect to an Intact Device Manager. Also, multiple Intact Device Managers operate together seamlessly, Leviton said, allowing the system to scale easily.
Leviton also said its existing QuickPort Copper Panels (1RU, 24-port) and Opt-X Ultra Fiber Enclosures (1RU, 2RU) are "intelligent-ready" and can be upgraded with Intact Panels on the rack to become Intact intelligent devices.
Intact software allows users to assist technicians with changes and troubleshooting by managing work orders, logging events and creating network topologies, Leviton noted.
Leviton
www.leviton.com
More CIM Articles
Archived CIM Issues