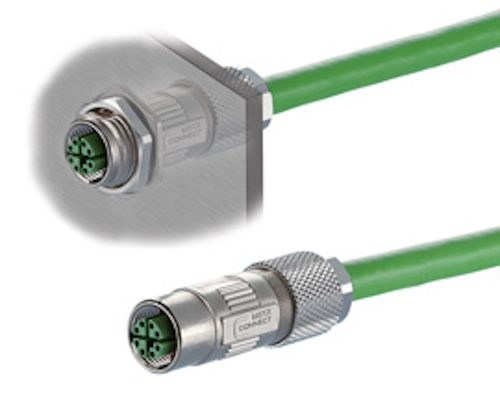 From the March, 2014 Issue of Cabling Installation & Maintenance Magazine
In order to carry information successfully, the cable and connectivity components must withstand their unfriendly surroundings.
By Patrick McLaughlin
In most environments in which structured cabling systems reside, a circuit's ability to successfully transmit data at the specified speed to the required distance has a lot to do with what happens on the inside of the cable and connecting hardware. As countless articles in this magazine and elsewhere have detailed, the construction of a cable--be it twisted-pair, fiber-optic or otherwise--has a significant effect on its performance capability.
From more-tightly twisted pairs to a higher grade of optical fiber (i.e. Om3, Om4), what is inside a cable largely determines its performance. Along with cables, connecting hardware also achieves a certain performance level based primarily on the inner details of its design and construction. Of course, the installation of these systems is a professional craft, and the manner in which the cable is terminated to connecting hardware to create a cabling circuit is critically important to performance as well.
Standard references
While those manufacturing and workmanship factors generally hold true in any location, in physical environments that are particularly harsh or unfriendly, what is on the outside of the cable and connectivity is also of key importance to the entire cabling system's ability to carry information a given distance at a designated speed. An ANSI standard, originally created and recently revised by the Telecommunications Industry Association (TIA; www.tiaonline.org), specifically addresses the ability of cabling components and systems to perform under harsh conditions--particularly those in an industrial environment. In May 2012 the TIA published ANSI/TIA-1005-A Telecommunications Infrastructure Standard for Industrial Premises. It is the first ("A") revision of the 1005 standard, which was completed in 2008.
ANSI/TIA-1005-A includes information organized into the following topics: Industrial Areas, Telecommunications Spaces, Telecommunications Pathways, Firestopping, Backbone Cabling, Horizontal Cabling, Work Area, Grounding and Bonding, and Industrial Cabling Performance Requirements. The standard's annexes include information on two-pair 100-ohm twisted-pair cabling, the use of more than four connectors in a channel, and the extension of fiber-optic channels.
One of the most recognizable standards-centric elements associated with industrial cabling is the MICE table. MICE is an acronym for Mechanical, Ingress, Climatic and Electromagnetic. These four characteristics in combination define how harsh a particular environment is. For each of the four characteristics, the number 1, 2 or 3 is assigned based on the environment's severity. The higher the number, the more severe the environment. By the same measure, a component or complete cabling system is assigned a letter-number combination that defines its ability to withstand the rigors of such environments. The rather docile environment of most commercial office buildings, for example, rate m1I1C1E1. The most-extreme environment would weigh in at m3I3C3E3.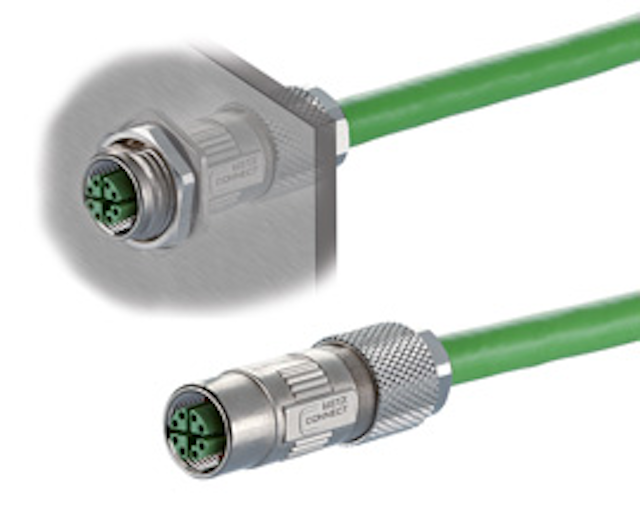 These recently introduced M12 jacks from Metz Connect achieve Category 6A performance and Class IP67 protection. Jacks with flanges are suitable for installation in equipment, machines or plant, the company says, while jacks without flanges are used for free-plug "inline" connections.
Although the MICE table is most often associated with industrial environments, it does not reside in the ANSI/TIA-1005-A standard; its most recent update can be found in Addendum 2 to ANSI/TIA-568-C.0. The rationale for the table's inclusion in 568-C.0 is that these rugged conditions can exist in any number of environments or facilities, not necessarily strictly in industrial plants. (ANSI/TIA-1005-A, 568-C.0, its addenda and other standards produced by the TIA can be found at http://global.ihs.com/?rid=TIA.)

OFS's Graded Index HCS (GiHCS) Industrial Cabling Solution includes SC crimp-and-cleave connectors and termination kits.
What it takes
In addition to the formal standards that address harsh-environment cabling, other resources exist to help guide planners, installers and managers of cabling systems that have to hold up in adverse conditions. For example, a white paper authored by cable manufacturer C&M Corporation (www.cmcorporation.com) sizes up the ability of cables to support 1000Base-T in industrial environments. "Adapting Gigabit Ethernet for the Industrial Manufacturing Environment" discusses construction differences between standard Gigabit Ethernet and the performance specifications required for similar cables used in the manufacturing environment. The paper also looks at other applications for cables with ruggedized designs.
Early in the paper, which can be downloaded from C&M's website, are listed the characteristics of cable and other networking products that are necessary for them to perform acceptably in manufacturing environments, but are not required in typical commercial-office space. It points out the following.
The ability to resist dust, solvents, oils and fuels
Abrasion resistance
Functionality in flex applications, such as C-tracks, rolling flex applications or robotics
The need to be flexible for routing around equipment or other similar obstacles
Resistance to environmental noise such as electromagnetic interference
Later, the paper explains that the characteristics "flex life" and "flexibility" are not synonymous. "Some cable constructions may appear to possess limited flexibility, but perform very well in continuous flex applications, such as robotics," the paper explains. "Other cables may seem to enjoy maximum flexibility, yet possess a very limited life when it comes to continuous flexing applications."
The paper also provides detail on cable-construction characteristics including conductor construction, shielding, and jacketing materials.
Cable and connectivity advancements
Recent product introductions by several cabling manufacturers exemplify the different requirements made of components that will be placed in "harm's way" and expected to perform. For example, the Hub-Link cable line from Comtran (www.comtrancorp.com) is a set of low-smoke zero-halogen (LSZH) telecommunications and data-transmission cables designed for mass-transit applications. When announcing the cables' availability in late 2012, Comtran explained they "have been designed to provide extremely low toxicity levels under fire conditions while meeting UL CM-LS and IEEE 1202/FT4-LS flame and smoke requirements."
The company also explained that the product line is extremely stable in mass-transit applications such as fixed guideway or passenger railway tunnels and stations, as well as cable trays in airports or any mass-transit hub location where reduced toxins and reduced flame spread are required. The cables are rated 90-degrees Celsius and are available in 2- to 400-pair versions for Category 3, and in 4-pair Category 5e and Category 6 versions.
In late 2013 Comtran announced it had expanded the Hub-Link product line to include a cable designed specifically to support the New York City Transit (NYCT) Authority. The company said the cables are used in telephone, data and control networks throughout the entire NYCT infrastructure, including underground stations and subway tunnels. "The cables are routed through the full spectrum of pathways and spaces and terminated with splice boxes, closets and entrance facilities," the company said. "These cables are subject to rugged conditions, exposed to extreme temperatures, moisture, salt air, various fluids, rodent damage and even sunlight."
Metz Connect (www.metz-connect.com) recently introduced an M12-style jack that meets Category 6A performance requirements. The M12 jack for field assembly was "developed for futureproof and high-performance 10-Gigabit Ethernet cabling and for automation control units," the company said when announcing the new connector in January. "The jack has two X-coded variants: with or without flange. The flange variant is suitable for installation in equipment, machines or plant, and the one without flange is used for free plug 'inline' connections."
The connector's complete metal shielding, using a zinc die-cast housing, enables its Category 6A performance, the company noted. "The M12 jacks for field assembly can be used for applications experiencing difficult transmission conditions," Metz Connect explained. "When mated, the M12 jacks offer class IP67 protection, and while unplugged, jacks should be protected with dust caps."
In November 2013 OFS launched its SC Crimp and Cleave connectivity solution for industrial networks. When formally introducing its GiHCS Industrial Cabling Solution, OFS noted, "The rapid adoption of Industrial Ethernet has led to significant changes and new demands in factory automation and industrial networking applications requiring the introduction of industrialized communications systems. 100-Mbit/sec Fast Ethernet and 1000-Mbit/sec Gigabit Ethernet data rates demand higher bandwidth and real-time, low-latency communications. The increasing use of intelligent electronic devices, utility-grade rugged IP routers and Ethernet switches is driving IP-based communications on the production floor.
"A high-bandwidth, rugged and reliable cabling solution is indispensable for industrial networking as adoption of increased data rates emerges," the company continued. "To meet this need, OFS offers Graded Index HCS (GiHCS) optical fiber in a low-smoke zero-halogen cable construction and easy-to-use crimp-and-cleave SC connectors." The company added that using its SC crimp-and-cleave hand tools, technicians can learn to install fiber connectors in industrial spaces. "Taking just minutes to learn, installers can rapidly repair damaged optical fiber cables without messy adhesives or tedious polishing procedures."
OFS lists the following among the advantageous characteristics of the GiHCS Industrial Cabling Solution.
Operating temperature range of -20 to +105 degrees Celsius
Resistance to abrasion, vibration and industrial chemicals
Indoor and outdoor use
High tensile strength
Fast Ethernet and Gigabit Ethernet compatibility
Compatibility with most common GBIC transceivers
No requirement for specialist fiber-optic installation skills
No requirements for power, epoxy, gel or polishing to accomplish termination
Whether the environment is a factory floor, an outdoor space, a non-air-conditioned warehouse in a desert or any other that is unkind to the components within it, several places where structured cabling systems exist require extremely high performance of the components' "outsides" as well as their "insides." For those environments, standards, best practices and technologies are available to professionals responsible for the specification, design, installation and management of cabling systems.
Patrick McLaughlin is our chief editor.
More CIM Articles
Archived CIM Issues