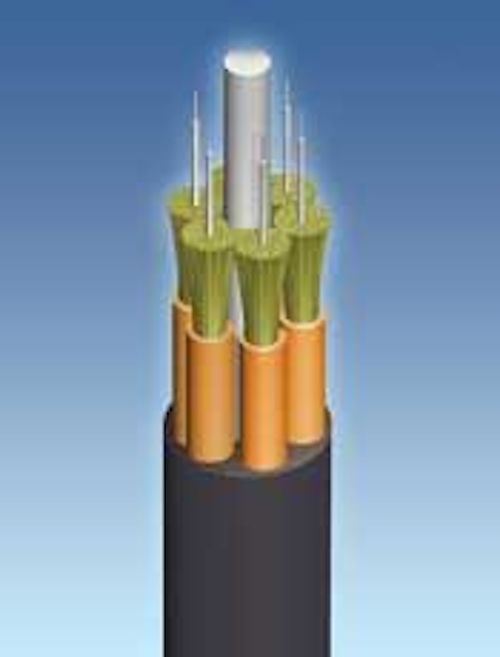 Indoor/outdoor breakout; ruggedized splicers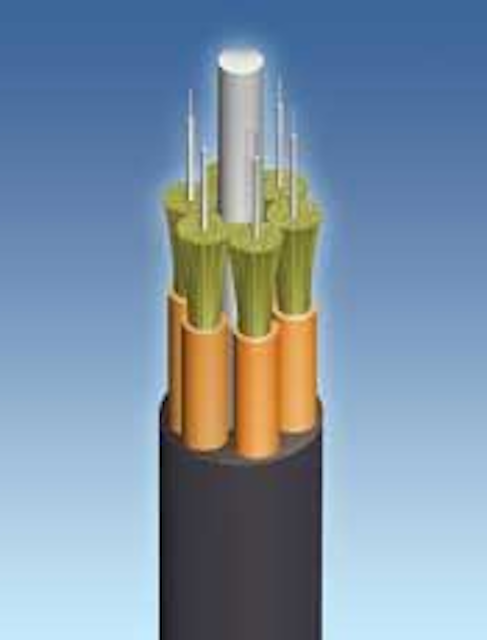 Click here to enlarge image
Suitable for harsh environments, these indoor/outdoor breakout fiber-optic cables features a UV- and fungal-resistant semi-pressure extruded outer jacket. According to the company, the jacket extrusion technology is designed to provide superior crush resistance, protecting a helically-stranded core of sub-units that measure 2.5 mm and feature a water-blockingaramid. These riser-listed cables are available in fiber counts from 2 to 12.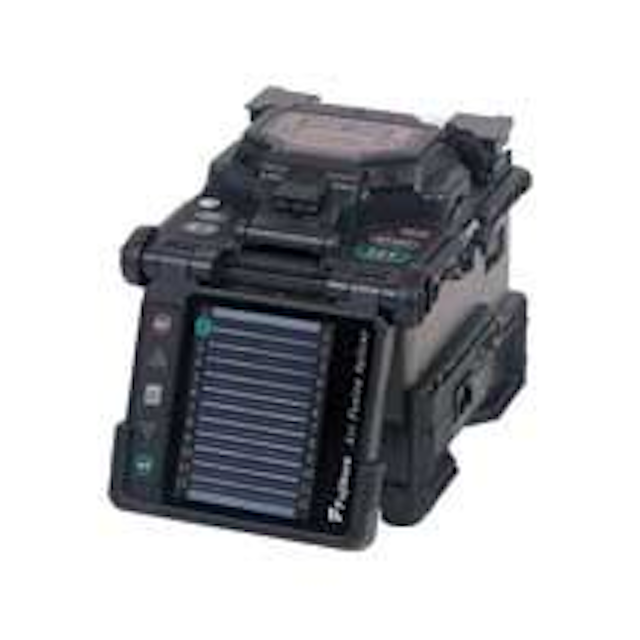 Click here to enlarge image
FSM-60 (pictured) and FSM-18 core alignment and fixed V-groove fusion splicers are designed to withstand a 30-inch drop test and continue splicing. Ruggedized construction includes shock, dust, and moisture resistance, while new software provides the ability to download splice data and video images to a PC. Other features include user-selectable fiber clamping, simultaneous battery charge and splicer operation, automatic arc calibration and fiber identification, and auto-start tube heater.
AFL TELECOMMUNICATIONS
www.afltele.com
Data center cabling

Click here to enlarge image
For data center networks using Category 6 and 6A cabling, the SYSTIMAX InstaPATCH Cu solution includes pre-measured cable, pre-terminated connecting hardware, pre-placed source/destination labels, prepared port configuration, and pre-bundled cables. Each system is designed to meet a customer's specific requirements. Harnesses and ports are tested to ensure that each component meets performance requirements. Source/destination label, pre-termination, and plug-to-plug capability are designed to significantly reduce installation time. The flexible harness system is available in assemblies ranging from 1 to 24 ports on each end, while a SwitchPack combines multiple plug ends (4, 6, 8, 12, or 16)into a single unit that can bequickly plugged into a high-density switch or server.
COMMSCOPE ENTERPRISE SOLUTIONS
www.commscope.com
Shielded RJ-45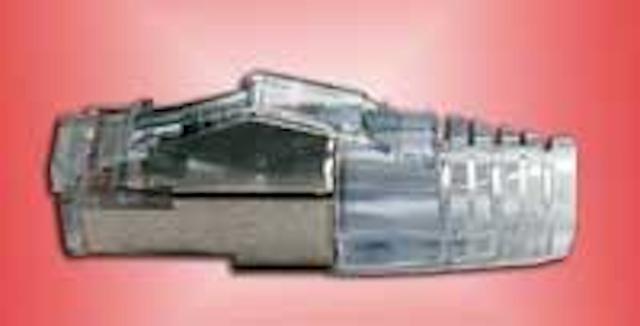 Click here to enlarge image
This shielded version of the Category 6 EX-RJ45 connector with snagless boot is designed to exceed TIA/EIA-568-B performance requirements. It is suited for high-speed residential, telecommunications, and broadband applications where outstanding insertion loss, near-end crosstalk, return loss, and equal level far end crosstalk are required. In addition to preventing cable retraction snags, the snagless boot provides an extended release mechanism for the connector, plus supplementary strain relief. Boots are installed before crimping and become permanently affixed to the connectors.
BOMAR INTERCONNECT PRODUCTS
www.bomarinterconnect.com
Braided copper trunk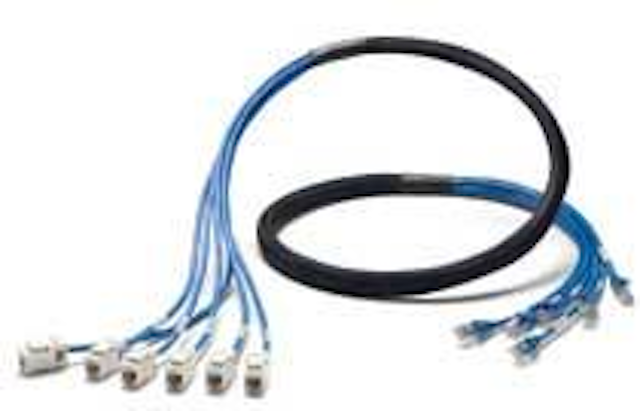 Click here to enlarge image
CABLExpress braided copper trunks for data centers are designed to reduce installation time by up to 80%. These plug-and-play products can be ordered with "staggered" ends to reduce excess cable. Trunk lengths range from 10 to 295 feet in 1-foot increments, and can be designed with "breakout" lengths that can be ordered in 1-inch increments. The assemblies are designed with a snagless boot designed to reduce wear on Ethernet ports. Cables come labeled, with customizable labels available. In addition, high-density patch panels are available in 24-port 1U or 48-port 2U versions.
CXTEC
www.cxtec.com
Thin Category 7A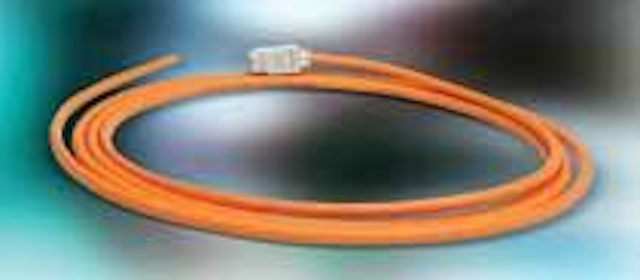 Click here to enlarge image
The Uninet 7120 Category 7A cable has a wire diameter of 0.58 mm (AWG 23). In combination with high-performance connectors, this high-speed cable can be used for up to 1000 MHz, enabling transmission of 10 Gigabit Ethernet. It is suitable for applications involving digital and analog voice, images, multimedia, and data signals, and as a space-saving solution in data centers. Attenuation is less than 60 dB, and NEXT value is 90 dB.
DAETWYLER CABLES
www.daetwyler-cables.com
Triple-play tester;fiber network monitor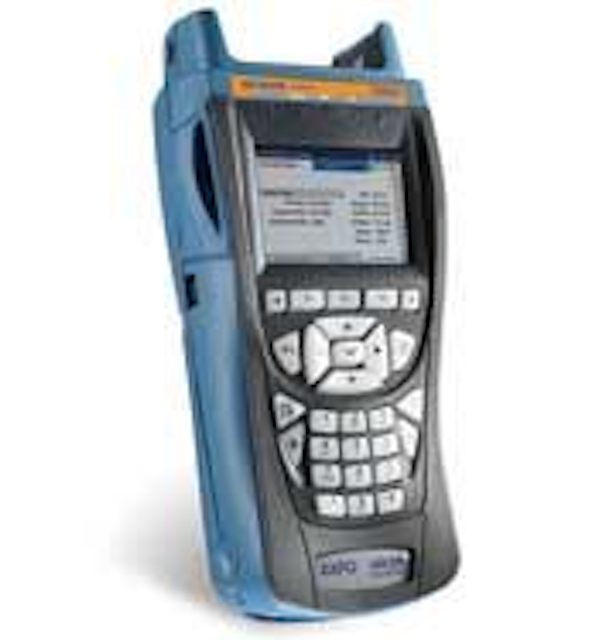 Click here to enlarge image
The AXS-200/650 triple-play tester is designed for assessing the quality-of-service (QoS) of IP-based voice, video, and data services in FTTx installations. The tester provides dual Ethernet interfaces for full WAN-LAN analysis of IP-basedservices. IP layer connectivity testing can be performed via various methodologies, such as IP PING, FTP/HTTP downloading, and trace-route measurements. QoS metrics include media delivery index (MDI), program clock reference jitter, stream-rate metrics, bandwidth utilization, and IP metrics on multiple MPEG-2 and MPEG-4 media streams. Critical VoIP metrics can also be monitored to ensure quality IP-based voice services. Thistriple-play test solution provides automated suites with intuitive Pass/Fail analysis.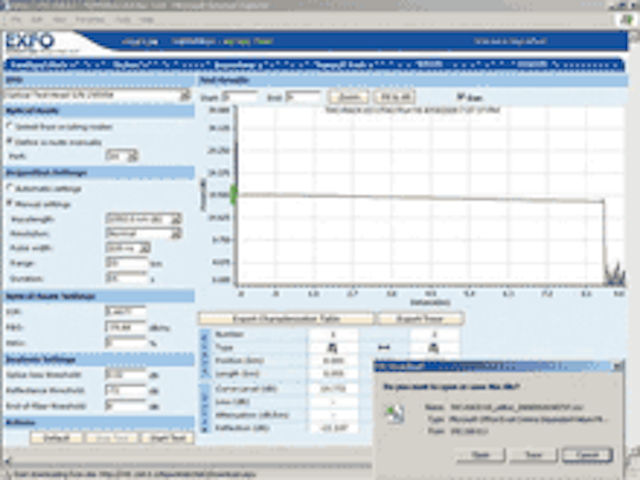 Click here to enlarge image
Fiber Guardian is a remotely controllable unit placed along an optical network for continuous monitoring and troubleshooting. This standalone test system lets you monitor critical fiberalong the network without the need of a client-server remote fiber test system. Auto-discovery and provisioning functions are designed for fast set-ups, since connected fibers are automaticallydetected and fault detection routines are automatically programmed. Through a secure, multi-user web interface, users can access this remote test unit to view results, fault logs, and other data.
EXFO
www.exfo.com
Locking wall boxes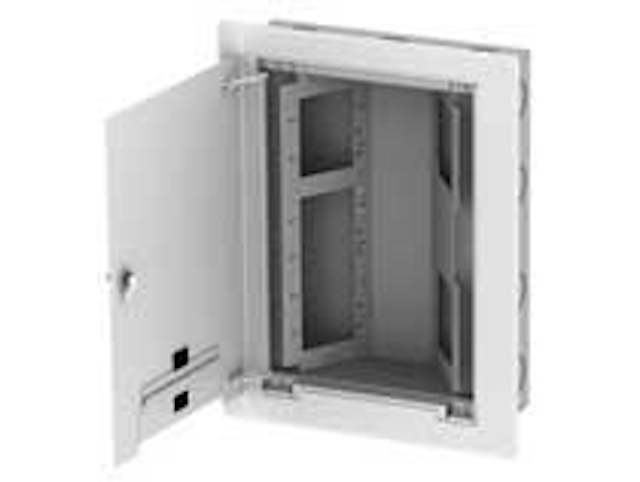 Click here to enlarge image
The X Series large-capacity locking wall boxes are available in three sizes and four different interior configurations. They include two locks, installation brackets, and cover with a cable pass-thru, and a choice of interior brackets. Covers are available in white or black. Flush-mount (in-wall), surface-mount, and back boxes (with or without knockouts) are available.
FSR
www.fsrinc.com
Handheld cable cutter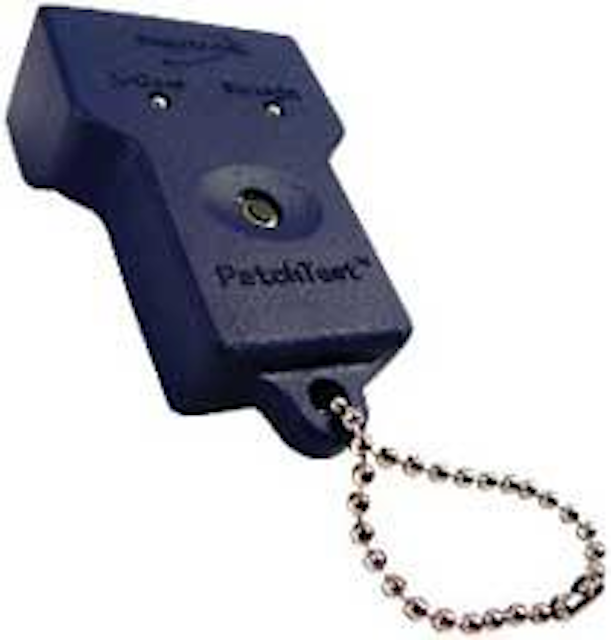 Click here to enlarge image
The 727M handheld cable cutter with molded grips features a hard underside for strength and a slip-resistant andergonomic outside designed for improved comfort. Grips are designed with extra width to provide a larger load-bearing area. As with the original 727 cable cutter, the 727M is built to cut copper and aluminumcables up to 2/0 AWG. Itfeatures heat-treated, precision-ground forged steel blanks that are designed for long life and simplified cutting. A hot-riveted joint is designed to provide a smooth opening-and-closing action.
GREENLEE/TEXTRON
www.greenlee.com
UTP solid cables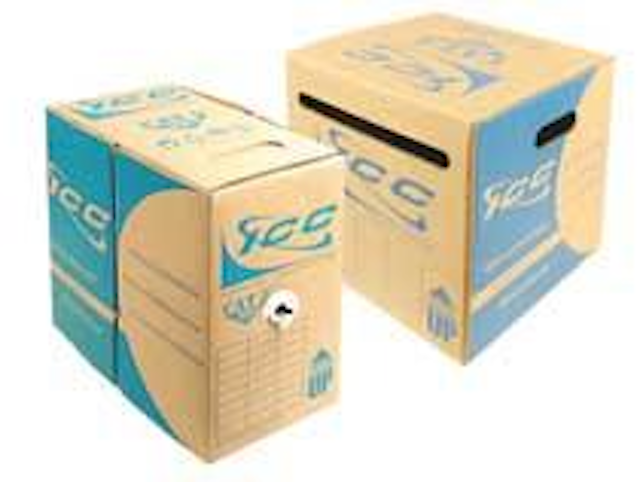 Click here to enlarge image
The company's new CAT 6e and CAT 5e CM- and CMP-rated UTP solid cables are 100% tested and verified to exceed TIA/EIA 568-B.2 industry performance standards, and are UL- and cUL-listed.Cables are available in 1,000-foot dispensing cartons. Each cable is con-structed with sequential footage markings on the outer jacket.
ICC
www.icc.com
Two WAP enclosures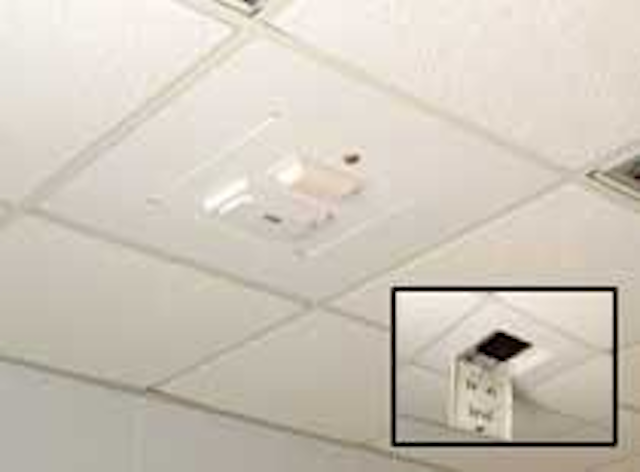 Click here to enlarge image
The Model 1054-00 wireless access point (WAP) enclosure accommodates theCisco 1242 WAP. The locking door has mounting features for the Cisco AIR-ANT5959 and AIR-ANT5145V-R antennas (not included).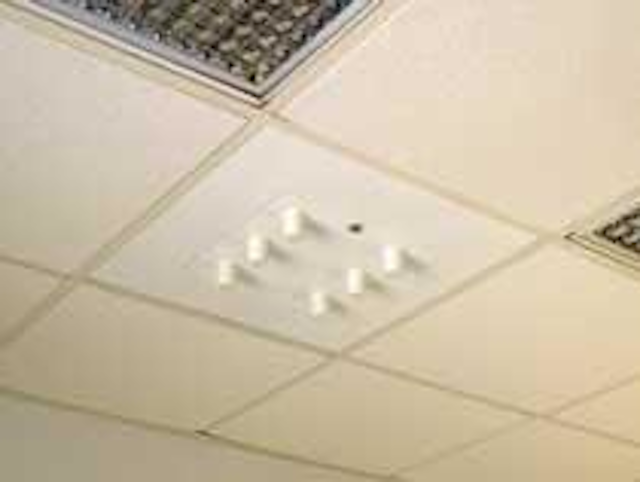 Click here to enlarge image
The Model 1053-06 WAP enclosure accommodates most wireless vendors' 802.11 a/b/g/n access points. The locking door has mounting features for the company's dual-band, low profile "Z"antennas (not included). Antenna spacing is optimized for 802.11n MIMOaccess point operation. These all-steel, UL-listed 2 x 2-foot plenum-rated enclosures are designed to simplify access point mounting by simply replacing a ceiling tile.
OBERON
www.oberon.com
Multi-use labeler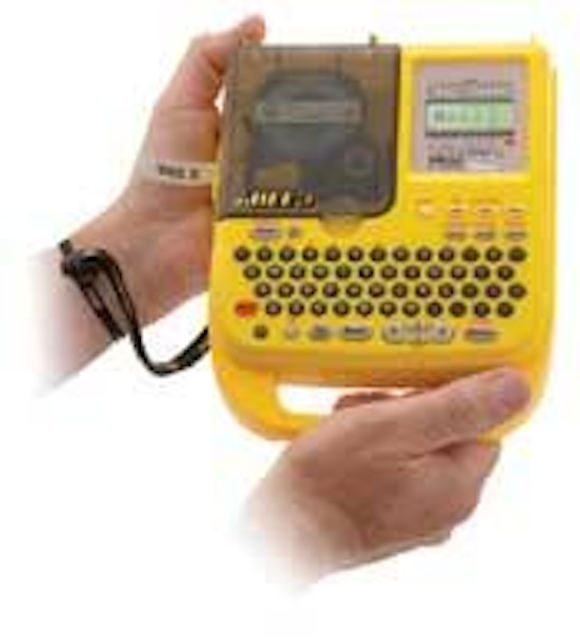 Click here to enlarge image
LABELShop BEE3 is a 3-in-1 bar label,bar code, and heat-shrink tube printer. The portable ther-mal transfer device is design to professionally iden-tify electrical, wire, and cable items. More than 60 colors and sizesof polyester label-ing tapes, and five polyolefin heat-shrink tube combinations are available, Its adapter does not draw power when the printer is turned off.
K-SUN
www.ksun.com
Multi-colored cables
Colored fiber-optic cables are available for 50/125-, 62.5/125- and 9/125-µm applications, simplifying identification of ports and equipment in crowded IT closets. Each cable undergoes a double-ended loss test before shipping. Color choices for 50/125- and 62.5/125-µm multimode cables are red, green, blue, and yellow; for 9/125-µm, available colors are red, green and blue.
L-COM CONNECTIVITY PRODUCTS
www.l-com.com
64-camera viewer, mini-dome
ViconNet VN-2500 viewer software for video surveillance provides the ability to view up to 64 cameras via one PC workstation in a ViconNet network. You can connect up to four monitors to one computer, and each can display 1, 4, 9, 16, 36, or 64 camera feeds. When combined with the ViconNet Virtual Matrix Controller, the VN-2500 can help create large, multi-monitor display areas, with live viewing and alarm capabilities.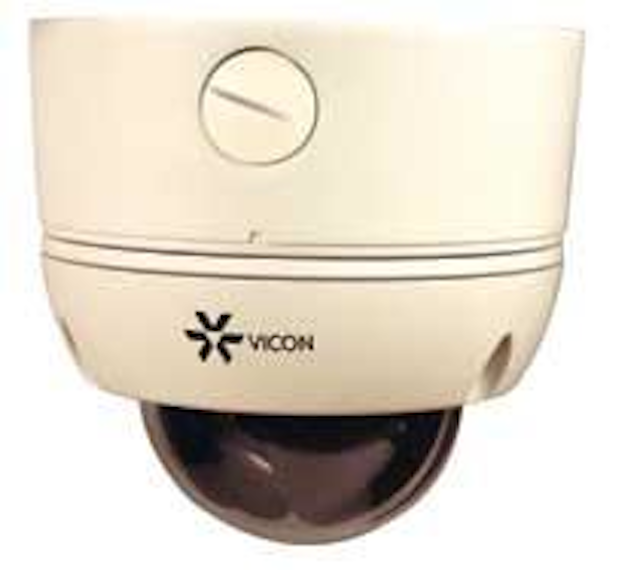 Click here to enlarge image
The S10-CH mini camera dome (pictured) with PTZ features a color camera lens with digital slow shutter (DSS), pan/tilt drive, receiver, and CPU-based electronics. Intended for indoor applications, the camera has an integral 3.8 to 38-mm auto iris varifocal lens, and provides 10x optical zoom combined with 10x digital zoom capability. The S10-CH offers programmable presets, user-defined patterns and sectors, touring capability, and privacy mask zones. It features a ¼-inch Sony HAD CCD with 500 TV lines horizontal resolution, a sensitivity of 0.07 fc (0.7 lux), and 360°continuous rotation with tilt adjustment of -2° to 90°.
VICON INDUSTRIES
www.vicon-cctv.com