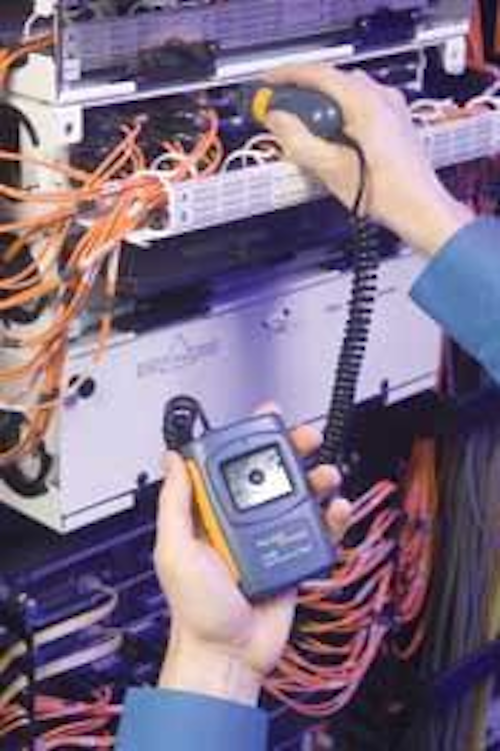 Avoid having to take down a live circuit by properly cleaning and handling optical components during termination.
The growing use of fiber-optic cabling in environments in which the medium had previously been used infrequently, if at all, has justifiably given bragging rights to those who view fiber as a preferred medium to twisted-pair copper. Yet that increased deployment has also raisedissues of termination best practices, which can have long-term effects on the system's performance and reliability.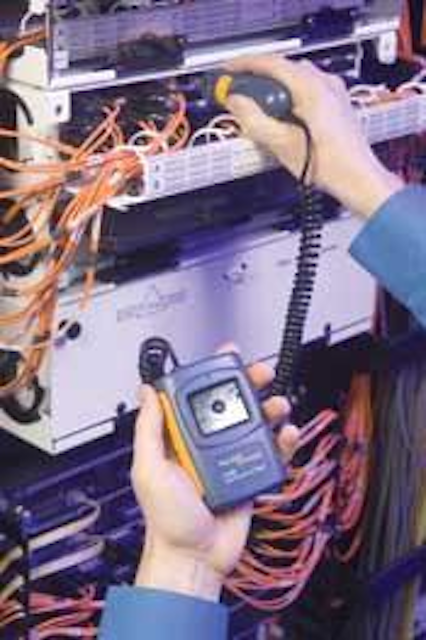 Video microscopes, like this one offered by Fluke Networks, let technicians in the field inspect a fiber-optic connector's cleanliness without assuming the risks associated with looking directly into a fiber.
Click here to enlarge image
This article will focus specifically on the cleanliness of fiber endfaces, and cleanliness' impact on the long-term maintenance of an installed fiber system.
"We are seeing some trends with what can be called the convergence of LAN infrastructure, including applications such as security and industrial networks," says Marcus Sullivan, LAN market manager with Corning Cable Systems (www.corningcablesystems.com). "Today, fiber-optic cabling is being run to some peri-pheral devices in locations that are notnecessarily clean."
Furthermore, there are more termination options for optical circuits than there had been in years past, including traditional epoxy/polish, anaerobic epoxies, no-epoxy/no-polish, and even splicing. System installers will choose one termination style over others for any number of reasons, from technician skill-level, to insertion-loss requirements, to the physical environment in which connections are being made.
Rugged environments
"On a factory floor, for example, a technician probably would not want to set up a polishing station," Sullivan notes. "So, in that type of an environment, pretermi-nated connectors will be a popular choice. In other extreme-type environments, such as in the oil and gas industry, often the objective is to terminate the fiber quickly. So, preterminated connectors are popular in those cases as well."
Regardless of the termination style deployed, and the location of that deployment, ensuring a fiber endface is clean at the point of mating is critical to long-term system performance. In fact, mating a dirty endface to another may permanentlydamage one or both of them.
"Often, we discover contaminated connectors during testing or troubleshooting," explains Harley Lang, product manager for fiber-optic tools with Fluke Networks (www.flukenetworks.com). "Research we have conducted with network owners and installers has pointed to contamination as the number-one reason fiber links fail."
"We recommend cleaning and inspection as a preventive measure during installation," adds Mara White, Fluke Networks' fiber-optic marketing manager. The potential for contamination in a termination environment is significant, she also points out: "There are many different types of contamination, including body oils, dust in the air, buffer gels, and even pulling lubricants. All can get onto the fiber endface during installation."

Dirty fibers (left), the most common culprit in optical-circuit performance degradation, are easily identifiable, especially when compared to clean fibers. (Images provided by Fluke Networks)
Click here to enlarge image
Randy Harris, Corning Cable Systems' product specialist for field-installable connectors and a fiber-system installer for many years, recalls some other common cleanliness hazards. "Dustcaps can be key," he says. "It is important to keep dustcaps on connectors before plugging them in. As a contractor, I saw my share of empty adapter panels and connectors lying on a table, uncovered by dustcaps."
Fluke Networks' Lang says the issue even goes beyond the use of dustcaps. "Use dustcaps, but don't assume they are protecting against contamination; the ferrule must be cleaned every time the cap comes off." Similarly, he adds, do not assume a patch cord is clean when it comes out of the bag. Clean it before plugging it in.
Keep circuits live
Taking a circuit down to clean it can and should be avoided. According to Jim Hayes, founder of the former FOTEC (Fiber Optic Test Equipment Company) and also founder of The Fiber Optic Association (www.thefoa.org), taking down a live fiber circuit is a last-resort option. "Phone companies simply do not conduct maintenance on fiber-optic networks," he says. Citing the Bernstein-Telcordia report issued earlier this decade, Hayes says a fiber-to-the-home network will pay for itself in 20 years by reducing—or essentially eliminating—the cost of maintenance.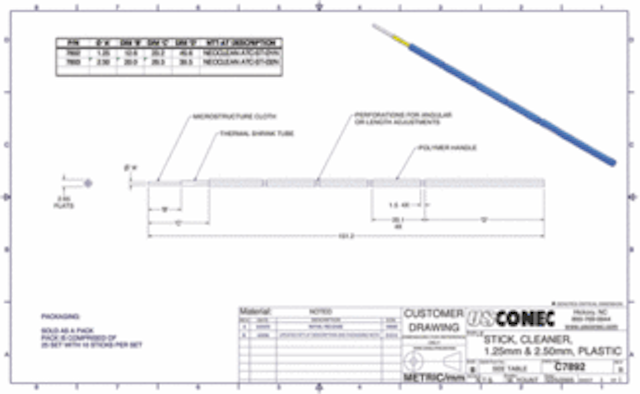 This rendering shows a handheld fiber-cleaning tool that lets technicians in the field clean fiber endfaces quickly. (Image provided by USConec)
Click here to enlarge image
"Verizon will invest $22.9 billion on its FiOS network over four years," he says. "And they will save $4.9 billion in maintenance. The secret to maintaining a fiber-optic network is to install it properly—clean it, plug it together, and lock it up."
Equipment is available, and evolving, that will help installers and technicians in the field check on the cleanliness of fiber endfaces and clean them before termination. Fluke Networks' Mara says, "For several years, the most effective means of inspection has been the optical microscope, which allows you to look directly at the endface. The scope is economical, but does not allow you to look inside ports. A high-level product is the video microscope, which allows inspection without having to hold anything up to your eye. The video microscope allowsaccess to high-density populated patch panels."
In addition to the video scope, a number of cleaning products have been developed over the past few years that improve the quality of the cleaning process, and allow access to endfaces that previously were difficult to clean effectively.
"A few products exist that allow technicians to clean a connector in their hand," explains Brian Teague, product manager, cleaners, with USConec (www.usconec.com). These lever-activated cleaners dispense a swath of cloth, making it easyto clean a connector that is in your hand.
"It is more difficult to clean the connectors in the back of a panel," he adds. "Behind-the-bulkhead cleaners are also available that similarly use a precision-designed cloth to clean the connector." The device, he explains, is inserted into thepanel's front, the user presses a lever, and a cloth advances to the connector in the back of the panel.
Standards bodies have taken note of fiber cleaning's continued importance, and have written specifications covering the practice. For example, the former FO-4 group within the Telecommunications Industry Association's standards-making group—now part of the TR-42 Engineering Committee—has sent to publication a set of guidelines for evaluating connector-cleaning systems.
"The FOTP 240 specification is not a performance standard; it will not tell you how clean connectors need to be," explains USConec's Mike Hughes.
"The informative annex at the end of the document may be the most valuable for many people," he continues. "It talks about cleaning systems and the products available—what works and doesn't work, and what to look for in certain environments. For example, an outside-plant environment is different from a data center, the fiber-cleaning needs of each will be different accordingly."
He further explains that a forthcoming standard from the International Electrotechnical Commission will focus on how clean a connector should be. That standard will also discuss microscope characteristics such as magnification and resolution, as well as image analysis.
Additionally, the International Electronics Manufacturing Initiative published a document of specifications on fiber-connector endface inspections.
Endface about-face
The best practice is that fiber-endface cleaning is gaining recognition as a critical step in fiber-system deployment. For some network users, the lesson of endface-cleaning is learned the hard way, by experiencing network sluggishness and ultimately having to take a circuit down before taking corrective action.
But standards and an increased emphasis on cleaning by providers of optical-connectivity equipment may make those tough lessons fewer in frequency and severity.
PATRICK McLAUGHLIN is chief editor of Cabling Installation & Maintenance.