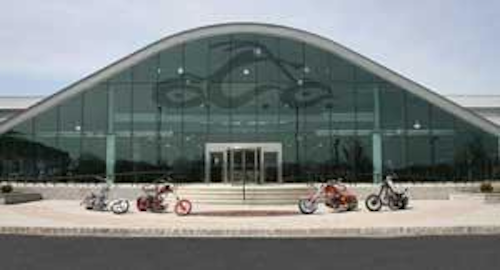 Orange County Choppers deploys an efficient network infrastructure solution.
Anyone who rides a motorcycle understands the joy of the open road and a greater sense of your surroundings, not to mention the benefit of an average 60 miles to the gallon. Members of this community are sure to be familiar with Orange County Choppers, known as OCC.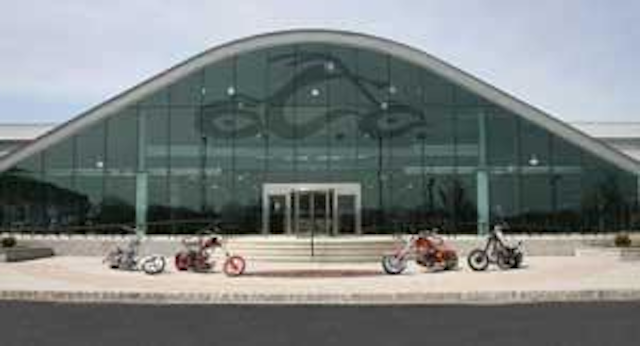 Opened in April 2008, the new headquarters of Orange County Choppers in Newburgh, NY houses formerly disparate operations including retail space, manufacturing, and business-office space.
Click here to enlarge image
Regarded as one of the world's premier builders of custom motorcycles, OCC's popularity has led thecompany to build custom theme bikes for some of the biggest names in corporate America. The company's growth created the need to merge its existing facilities into a single, 92,000-square-foot world headquarters, completewith a retail showroom, manufacturing area, and offices.
Opened in April, the new OCC headquarters in Newburgh, NY was built with the same attention to detail that goes into building every custom bike. To better support retail, manufacturing, and operations, OCC updated its corporate LAN with a high-performance Panduit network infrastructure solution. Just like its environmentally friendly rides, the facility will meet the U.S. Green Building Council's guidelines for Leadership in Energy and Environmental Design (LEED)certification.
Designing for the best
At OCC's previous main facility, the Category 5 network experienced occasional downtime and was difficult to manage.
"From the runs on the rack, the previous network was improperly installed," says Eric England, information-technology manager for OCC. "The main TR [telecommunications room] had improper cooling, and the racks were audio-visual racks that were not designed to house network equipment."
Despite the inadequate network, OCC was able to upgrade much of the active network equipment at the old facility in anticipation of the move into its new world headquarters.
After partnering with Panduit, England met with Jason Guzzo of Hudson Valley Communications (www.hvcomm.com), a local Panduit CertifiedInstaller, and the headquarters' architects to strategically design the network infrastructure and main TR for thenew facility using Panduit's Visio Design Tool.
"We originally thought to deploy three racks in the TR, but after reviewing the design, we decided that we wanted more room for growth and manageability,"recalls England. "Jason from Hudson Valley redesigned the room with four Panduit racks. We now have empty rack units for scalability and management; I could easily condense the equipment to provide 75% more space in one of the racks."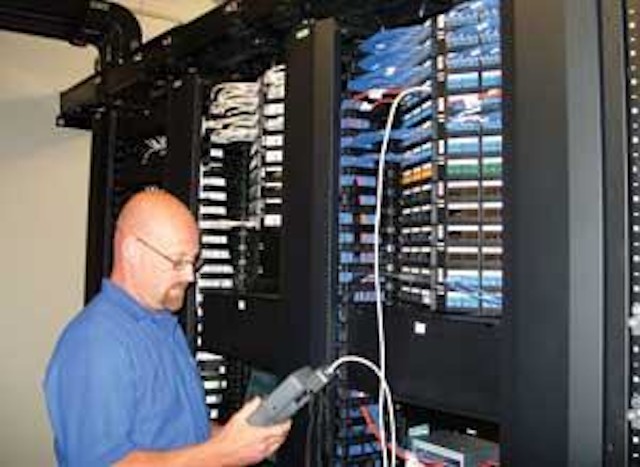 Eric England, OCC's IT manager, reports that from the initial infrastructure testing, performance results were "like night and day" compared to the network at the previous facility.
Click here to enlarge image
In the 4-post rack, OCC housed its main servers, storage, and uninterruptible power supply. One 2-post rack houses the horizontal data connections, another houses voice communications, and the third is used to house private branchexchange equipment.
Panduit rack-grounding solutions were deployed in compliance with Telecommunications Industry Association bonding and grounding standards, to ensure better equipment life and uptime.According to England, the room also has ample airflow and space to easily maneuver around the racks.
Conversion for 300 connections
Fiber from the service provider enters directly into the main TR where it transitions to copper at 10/100/1,000-Mbit/sec switches. From Panduit Mini-Com TX6 Jack Modules housed in Mini-Com High Density Angled Patch Panels, TX6500 Category 6 Plus unshielded twisted-pair (UTP) copper cable runs throughout the facility to a total of approximately 300 voice and data connections housed in a variety of Mini-Com Classic Series snap-on modular furniture faceplates. With about 50 employees using the network daily, many of the network connections are slated for future use while others support wireless access points and provide network access in conference rooms and other areas throughout the facility.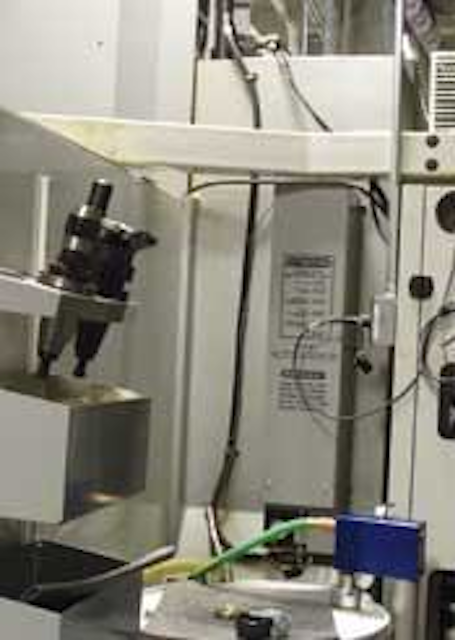 In OCC's manufacturing space, computer numerical control machines and flow-jet metal-cutting machines work in an environment subject to grease, water, and metal fragments.
Click here to enlarge image
"The way everything works together makes my job easier," says England. "It's nice to know the jacks will fit into the faceplates and the patch panels, and in turn, the patch panels will fit properly into the racks. The angled patch panels also split up the horizontal connections to the right and left of the rack for easier access and intuitive cable routing."
For cable management in the racks, OCC deployed Panduit PatchRunner vertical cable managers in combination with the angled patch panels to provide bend radius control of thecables, resulting in quadruple the density compared to conventional systems. Dual-hinged covers on the vertical cable managers provide access from either direction; they also hide and protect cables for a professionalappearance. Panduit horizontal cable managers were used to manage cables on switches. To further enhance cable management, OCC color- coded the network to easily distinguishconnections based on application.
Category 6 cables exitingthe rack are supported over-head by the Panduit FiberRunner cable routing system comprising channel, couplers, fittings, and brackets designedto segregate, route, and protect fiber-optic and high-performance copper cabling.
"With the cable-management routing systems, all the cables are protected and hidden from view, even as they flow into the rack," says England. "All the cable-management solutions come together for a clean,organized room that is extremely professional-looking."
Right down to the machine
As a multi-use facility with retail showroom and manufacturing downstairs, and corporate-office functions upstairs, the network infrastructure solution supports several applications throughout the new OCC headquarters.
In the lower level bike manufacturing shop, a variety of computer numerical control (CNC) machines and flow-jet metal-cutting machines are used to produce various motorcycle components. This environment contains grease, water, and metal fragments. To protect critical control data from thedemands of the harsh environment, Panduit IndustrialNet connectors, patch cords, and enclosures were deployed.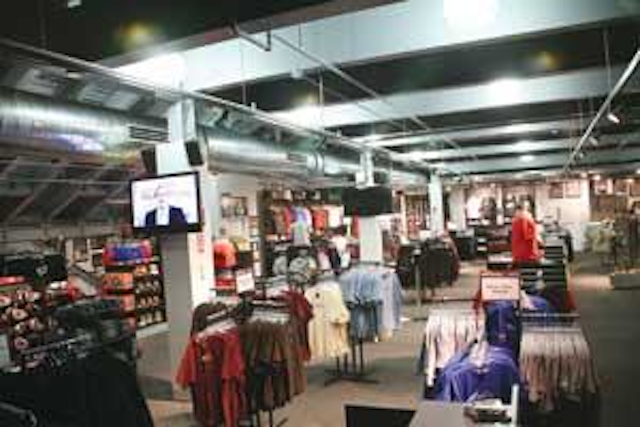 Unshielded twisted-pair cabling delivers video to nearly 40 consoles throughout OCC's retail showroom. Each video console includes an 8-pin modular jack for connectivity to the UTP infrastructure.
Click here to enlarge image
From the main TR to the shop floor, Category 6 UTP cabling runs through conduit to wall-mounted NEMA 4X stainless steel enclosures where it terminates to IP67-rated Industrial Ethernet connectors. These indus-trial connectors are high-temperature-rated and feature a chemically resistant, water- and dust-tight gasket and seal. The industrial patch cords are used to connect directly from the net-work drop to the machine. Cords feature plug contactsplated with 50 microinches of gold for improved dura-bility, and they are preterminated to ensure an IP67 seal when mated with the IP67 jack at the enclosure.
"Being able to connect the manufacturing machines to the network really improves our productivity," England says. "In the past, our machinist had to walk around with a USB [Universal Serial Bus] drive and hook it up to each machine, and when the files were too big, he would have to split up the data onto multiple drives. Now, he can sit in his office and push the data directly to the machines over the network."
In addition to Industrial Ethernet, the infrastructure supports everything from office accounting and invoicing to high-speed Internet access and graphic design. The network also supports a labor and job-management appli-cation for efficient manufacturing—a program thatbuilds packing and parts lists based on purchase orders and provides a time-clock function through which manufacturing employees can "punch in" by logging onto a PC. The cash registers in the showroom are also con-nected to and supported by the network infrastructure.
On the bottom floor, a small audio-visual (AV) room is used to house AV servers and equipment that connect to nearly 40 video consoles throughout the retail showroom, displaying promotional and entertainment video for visitors. The AV system runs video over TX6500 Category 6 UTP and Mini-Com TX6 connectors that connectdirectly to 8-pin modular jacks on the video consoles.
Better bike building
The Panduit solution was chosen by OCC for its new headquaters for their quality and performance characteristics, for providing a single source for all network infrastructure needs and applications,ensuring scalability, and offering the flexibility andease-of-deployment needed to meet OCC's 6-week installation time frame.
By integrating all systems from computing and communications to point-of-sale and manufacturing control on a single high-performance structured cabling infrastructure, OCC can increase productivity of its motorcycle-manufacturing process and execute more efficient day-to-day operations, which will ultimately help the company further advance its reputation among the biker community.
"Upon the very first testing of the infrastructure, the network links performed extremely well," says England. "It's like night and day compared to what we had before, and the new network is truly rock solid to support everything that goesinto building the test bikes."
JENNIFER PASEK is global marketing communications manager with Panduit (www.panduit.com).