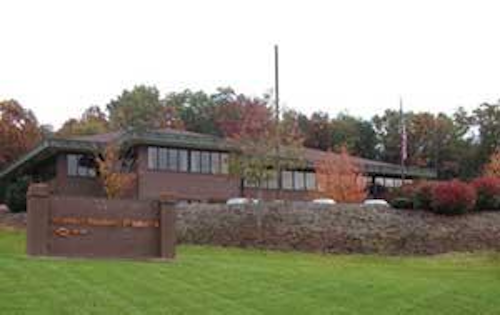 Preformed Line Products (PLP;www.preformed.com) has sold wholly owned subsidiary and copperfiber connectivity solutions developer SMP Data Communications to OpticalCable Corp. (OCC; occfiber.com) fora reported near-$11.5 million.
The Agreement and Plan of Merger transaction was completed May 30.
SMP Data Products' headquarters in Swannanoa, NC.
Click here to enlarge image
Now as a wholly owned subsidiary of OCC, SMP Data Communications will provide its new parent company's customers with what president and CEO Neil Wilkin calls "an integrated suiteof high-quality cabling solutions."
Wilkin adds, "Our long-term strategy includes expanding our product offerings to provide our customers with more completecabling and connectivity solutions. SMP Data Communications is aninternationally respected and industry-leading innovator in copper andfiber-optic connectivity products. Optical Cable now has the fiber-optic and copper connectivity products necessary for us to offer an integrated suite of high-quality cabling and connectivity solutions."
Optical Cable Corp., with headquarters in Roanoke, VA, produces fiber-optic communications cables designed primarily for the enterprise market.
Founded in 1983, it employs approximately 200. SMP Data Communications is located in Swannanoa, NC, and employs nearly 120. General managerBill Reynolds will remain in a leadership role, serving as president of the new subsidiary and as senior vice president of OCC.
Formerly known as Superior Modular Products, SMP Data Communications manufactures more than 2,000 products, and has developed numerouspatented technologies since itsfounding in 1990, including a lowcrosstalk electrical connector systemthat the company claims "revolutionized" the high-speed connector industry and remains the basis for today'shigher frequency connectivity. Its olutions include Category 5e and 6A products, as well as high-density fiber-optic enclosures.
Meanwhile, overhead/underground network equipment provider PLP says the divestiture of SMP will allow it to concentrate resources on growth opportunities in its power utility,communications, and renewableenergy markets.
OCC's Wilkin says both the Optical Cable and SMP Data Communications product lines will soon be available through a "realigned" outside sales team. He adds, "to ease the transition for our customers, our phone lines, product numbers, and inside sales representatives at both companies will remain the same for now."
Michael Newman, vice president of international sales for OCC, will now be responsible for international sales for both companies' products. SMPData Communications and OCC sales and marketing professionals will share additional marketing and sales operations responsibilities.
In addition to his current roles at OCC, Wilkin will serve as chairman and CEO of SMP Data Communications. OCC chief financial officer, Tracy Smith, will also serve in the same capacity with SMP Data Communications.