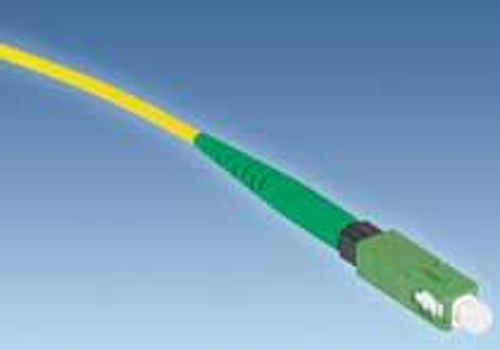 Fusion splice connector, fiber-optic cleaner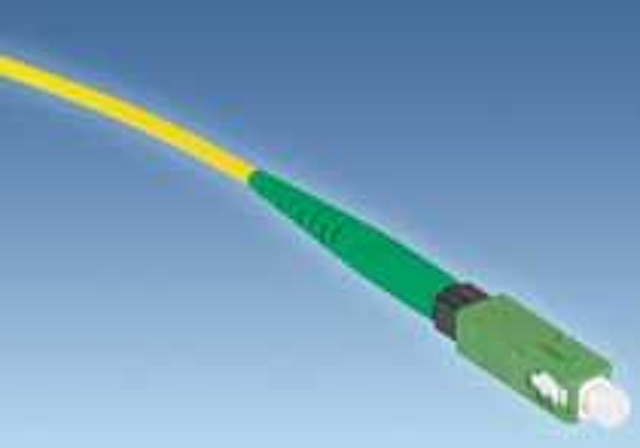 Click here to enlarge image
FuseConnect fusion-splice field-termi-nated connector features a factory-terminated end-face. It uses a fusion splicer to terminate the connector, yielding APC performance of >65 dB return loss in an SC/APC configuration. Designed to work with a 10-mm cleave length and with splicers that use a fiber holder system, FuseConnect is compatible with most holder-based fusion splicingplatforms.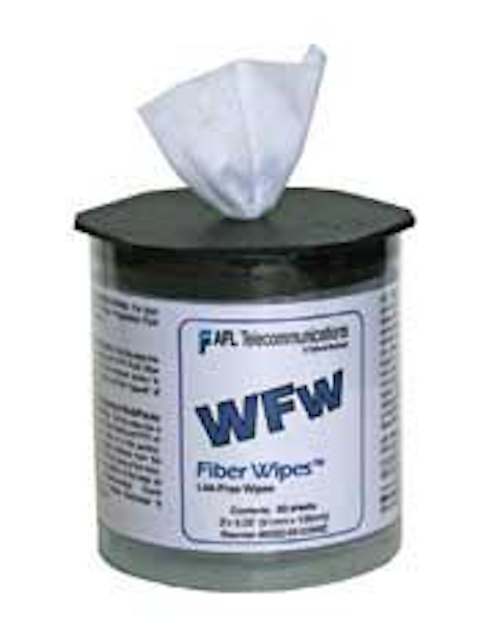 Click here to enlarge image
FiperWipes fiber-optic-grade cloth wipes are designed to be stronger and more absorbent than typical cellulose wipes. They are cleanroom-packaged and supplied in an elements-resistant dispenser. FiberWipes are sized to complement the company's Fiber PrepFluid and FCC2 Connector CleaningFluid dispenser tops.
AFL TELECOMMUNICATIONS
www.afltele.com
Shielded flat assembly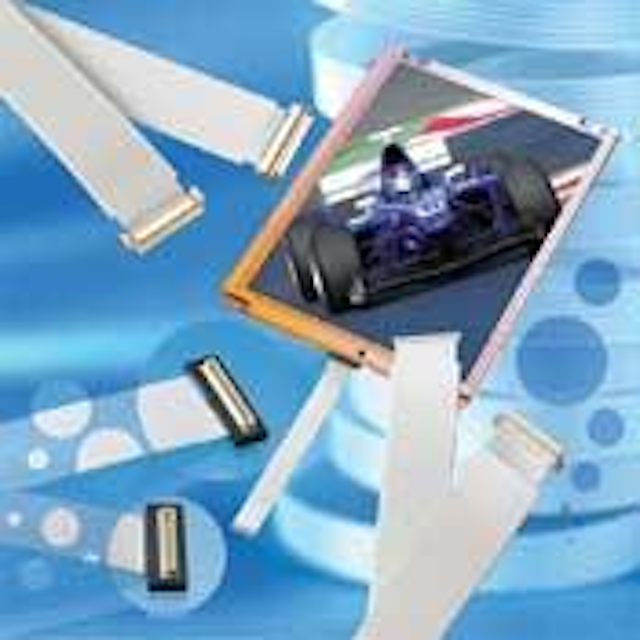 Click here to enlarge image
AXOLINK flat cable assemblies now include shielded DF-19 (Hirose) and FI/FI-X (JAE) connectors, designed for connecting displays with LVDS datainterfaces. These assemblies feature tinned copper conductors and polyester insulation, and are available with 14, 20, and 30 conductors. Shielding is carried out with a ground plane grounded on the connector, designed to assure a constant impedance of 100-O for picture transmission stability. The cables can work at up to 1 Gbit when terminated with theappropriate connectors.
AXON CABLE
www.axoncableusa.com
Virtual network analyzer

Click here to enlarge image
The OptiView Series III Workgroup Analyzer is an "always-on" solution that identifies every device, application and connection on the network to simplify, identify, and solve performance problems. The Workgroup Analyzer is built to address the issue of maintaining network performance even as new technologies and services require infrastructure changes at central and remote locations. When located centrally, multiple users can access the Analyzer at the same time, providing performance data to a wider range of users than comparable monitoring tools. The Analyzer can also act as a "virtual network engineer;" you can send a unit to remote locations and analyze the data centrally, saving time andmoney that would be spent sending a technician to the problem site.
FLUKE NETWORKS
www.flukenetworks.com
IP pan-tilt system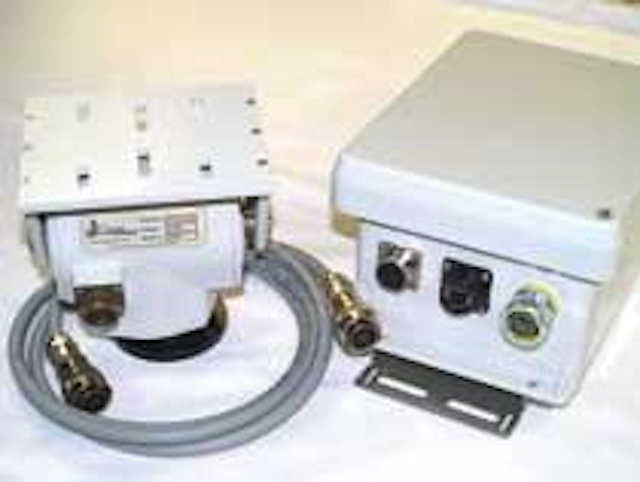 Click here to enlarge image
The BASIC pan-tilt controller is designed as an outdoor-grade system for use with fixed IP cameras, IR lighting, or small directional antennas. The system works across a LAN, WAN, 3G cellular, 802.11x or the Internet. An integrated web interface allows Pan-RIGHT, Pan-LEFT, Tilt-UP, and Tilt-DOWN movements, while an HTML API simplifies creation of custom web pages with graphics and diagonal control. This IP65-rated system is designed for harsh outdoor applications, and while featuring a universal voltage input range of 110/220 volts AC, the system's native operating voltage of 12 volts DC makes it suitable for solar-powered or mobile pan-tilt applications.
J-SYSTEMS
www.j-systems.com
Cat 5-based sign system
DS Vision 3000 is a long-range, Category 5-based distribution system designed to deliver high-definition video andstereo-audio content to multiple screens up to 2,000 feet away. Bidirectional RS-232 serial management capability lets administrators remotely query and turn on/off remote displays, and provides centralized management control. In addition, a Dual Cascade Receiver Unit (DCL) is built to significantly expand the system's potential by supporting star configurations as well as daisy chains. The DCL lets administrators cascade up to 10 units in a row, enabling easier position of screens and reduced cable clutter.
MINICOM ADVANCED SYSTEMS
www.minicom.com
Pre-terminated fiber system, MDU connectivity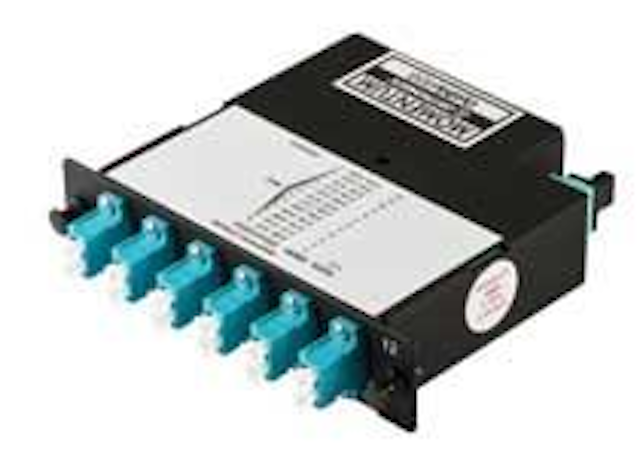 Click here to enlarge image
Momentum 3 modular, pre-terminatedfiber-optic cabling systems are designed for data centers and storage area networks, enabling quick deployment and eliminating the possibility of optical performance flaws. Featuring LC or SC adapters, fiber cassettes are available for 50-µm laser optimized, singlemode, or 62.5/125-µm MTP/MPO backbonecables. Momentum 3 also includes low-loss LC 50-µm laser-optimized multimode cassettes and patch cords; when used together, they provide a totalcassette insertion loss of 0.5 dB.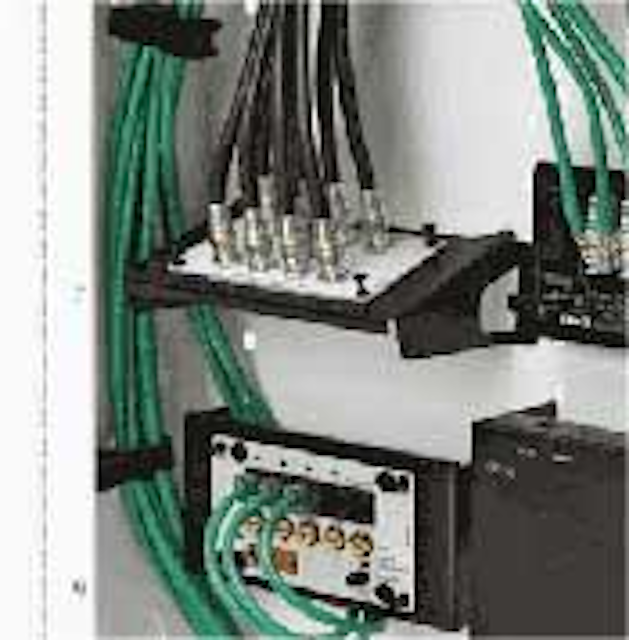 Click here to enlarge image
The combination of structured cabling and On-Q connectivity for multi-dwelling units is designed for flexible solutions in the backbone, providing audio, video, phone, and Internet services to indi-vidual units. The systems distribute and manage audio, video, and data (copper and fiber), with capabilities forhigh-speed access.
ORTRONICS/LEGRAND
www.ortronics.com
Raised floor boot, metal raceway
Click here to enlarge image
The Cool Boot raised floor assembly helps conserve energy by reducing bypass air within a hot aisle/cold aisle environment. A greater amount of conditioned air is redirected toward cooling network equipment, minimizing overheating, and significantly reducing data center cooling costs. The assembly is designed tosafely route cables into racks and cabinets through a raised floor within a datacenter. A flexible gasket covers sharpedges of a cut floor tile to prevent damage to cables. A Hook & Loop Tie closure system can separate two or more bundles, providing ability to run power and data in the same opening. According to the company, Cool Boot complies with TIA/EIA standards and the National Electrical Code, and is manufactured with flame-retardant and electrostatic dissipating materials.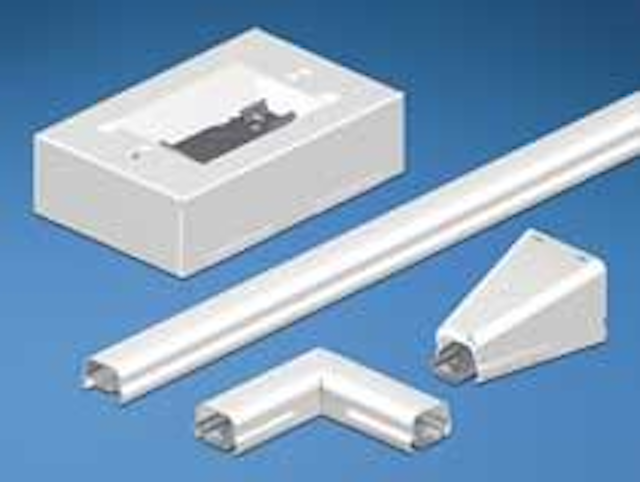 Click here to enlarge image
PMR40 multi-channel metal raceway features a patent-pending offsetsnap-on faceplate and divider walldesign that locates terminations out-side the data channel. The TIA/EIA-568-B and 569-B-compliantsolution maintains a 2-inch bend radius for routing 10-Gigabit copper and fiber. It accepts snap-on and standard NEMA double-gang faceplates, and has pre-punched mounting holes that eliminatedrilling or removing knockouts.
PANDUIT
www.panduit.com
Cable ties, holders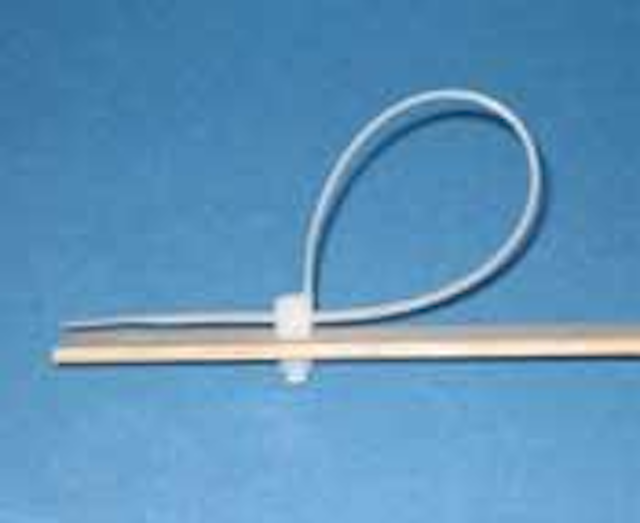 Click here to enlarge image
The WITBH series blind hole-mountedcable ties feature a barbed mounting head that grips to the inside of a hole. The ribs deflect when pushed into the hole, then spring back for a secure lock. Ties can be inserted in threaded, non-threaded,frilled, or punched holes. They offer 50 lb. tensile strength, and are available in standard or heat-stabilized Nylon 6/6.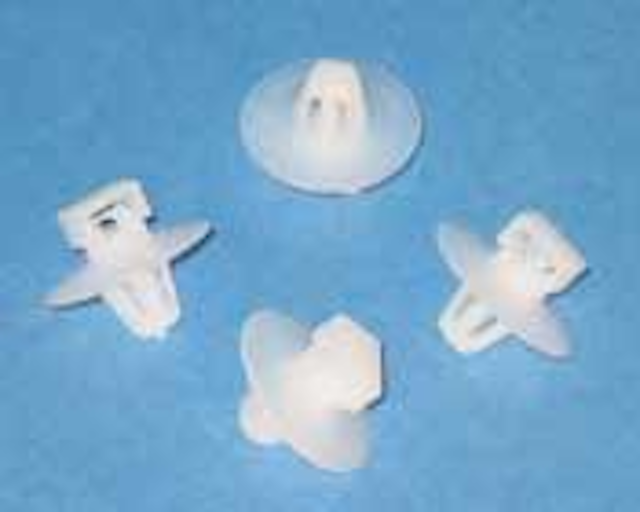 Click here to enlarge image
The FTH-33 pressure hold cable tie holder allows pre-assembly of the cable tie into the holder, and holds it in position. It features a cupped mounting base that prevents dust ingress while providing a tight grip to the board in environments prone to vibration.
RICHCO
www.richco-inc.com
Extreme WAP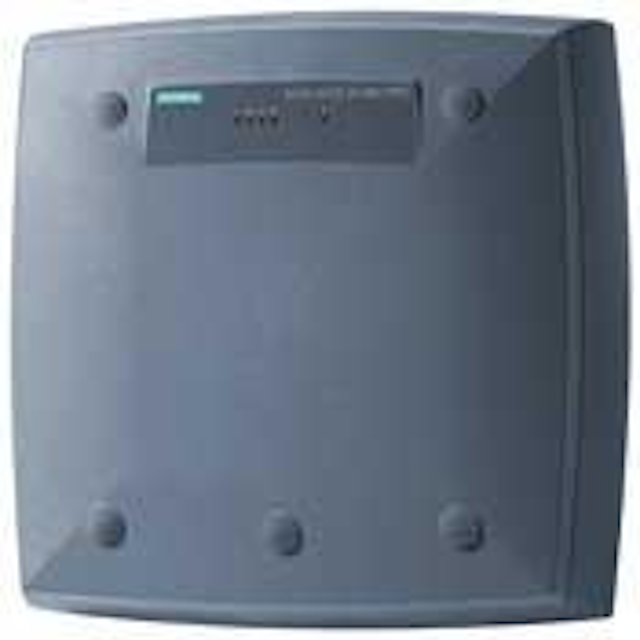 Click here to enlarge image
The Scalance W786 wireless LANaccess point (WAP) is designed tooperate in harsh and humid outdoorenvironments where temperaturesrange from -40 to 70° C. Available in 1- and 2-radio module variations, this WAP features a 10/100 Mbits/sec Ethernet port (RJ-45) and 100-Mbits/secfiber-optic cable (ST connector) for connection to wire-bound Ethernet networks. The WAP allows voice and data networks to merge into a converged ne workwithin harsh plant environments. Internal or external antennas are available. Withdata rates of up to 54 Mbits/sec and open standards of security, the Scalance W786 operates at speeds of 2.4 GHz (802.11b and 802.11g) or 5 GHz (802.11a).
SIEMENS ENERGY & AUTOMATION
www.sea.siemens.com
Ethernet patch tester
Batter-powered PatchTest is designed to quickly test Ethernet patch cables for continuity and common wiring standards, such as Gigabit Ethernet, Fast Ethernet, and Fast Ethernet Crossover. Using LEDs, PatchTest individuates a Gigabit Ethernet straight through, 10/100-Mbit Fast Ethernet straight through, 10/100-Mbit Fast Ethernet Crossover, and a bador unidentified cable. Weighing less than 2 ounces, the tester includes a key chain attachment.
SMARTRONIX
www.smartronix.com
Duplex LC with single boot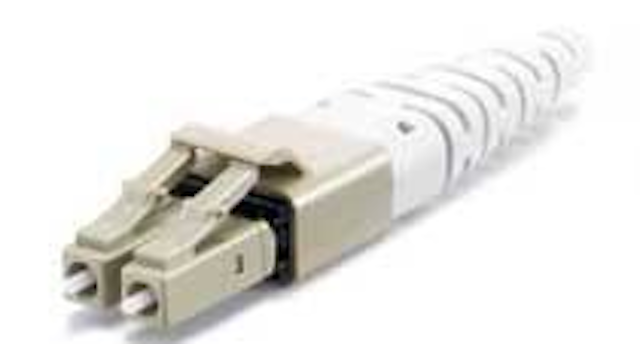 Click here to enlarge image
The LC Uniboot allows a single round duplex 3-mm cable to be used for a duplex connector. This compact connector kit has a round crimp design, incorporates 900-µm LC connectors, and fits all duplex and simplex adapters. It is designed for use in data centers where cable counts are high and space is limited. All materials are RoHS-compliant.
SENKO ADVANCED COMPONENTS
www.senko.com
Data connection post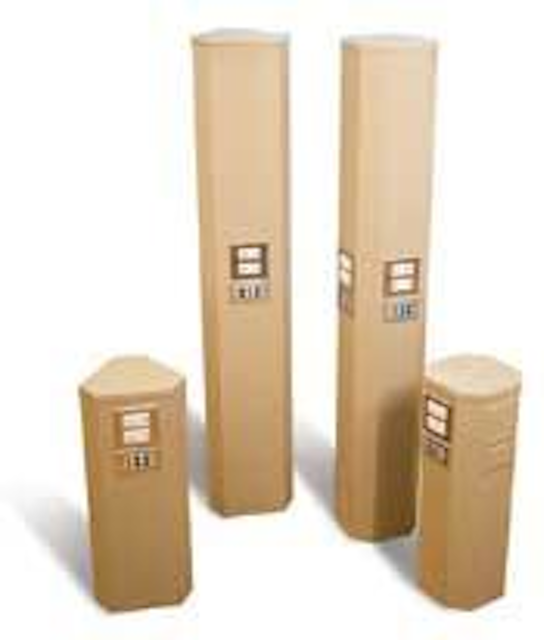 Click here to enlarge image
The Power/Data Post fits directly over any floor-based outlet, including floorboxes, poke-thru outlets, cellular floor outlet, core-drilled afterset or access floor opening. Instead of using partitionsto carry raceways, distribution harnesses, and other connectivity means to a cubicle or workstation, the Power/Data Post is designed so that power and data wiring from the outlets enters the post at its base and terminates on the large faces of the post, either above or below the desktop. The hexagonal post offers three faces for outlets, while the octagonal offers four. Partition panels mount to alternating smaller vertical faces to define and separate individual workstations. One Power/Data Post can activate up to four workstations.
H.H. ROBERTSON FLOOR SYSTEMS
www.hhrobertson.com
Fiber over DVI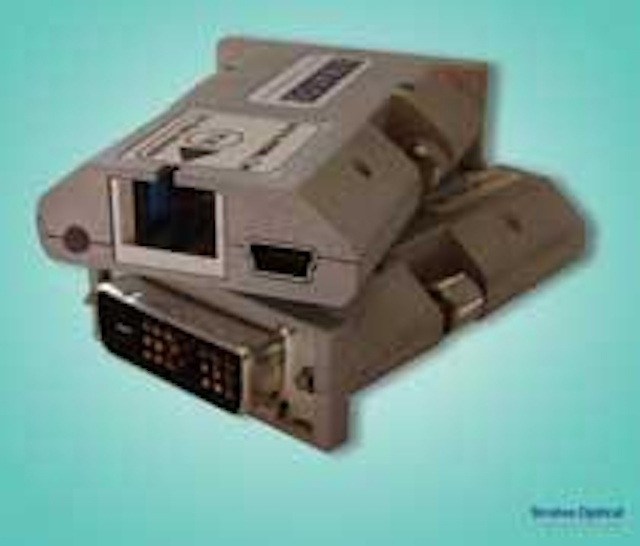 Click here to enlarge image
DVI Lite-Blok is a single-fiber solution for transporting DVI over up to1 kilometer of multimode fiber, enabling remote placement of computer monitors in a variety of applications.
STRATOS OPTICAL
www.stratosoptical.com
Impedance stabilizing system
The ISN-Cat6 impedance stabilization network (ISN) is designed for EMC emission measurements on up to four Category 6 unshielded single balanced pairs ofcables. This CISPR 22-based coupling/decoupling sys-tem is designed for applications employing up to1000Base-T operation, Power over Ethernet, and im-munity tests of office, telecom, and networking equipment. Maximum line to ground voltage is 63 volts AC and 100 volts DC, and maximum current ratings are 400 mA per line and 800 mA per pair.
TESEQ INC.
www.teseq.com