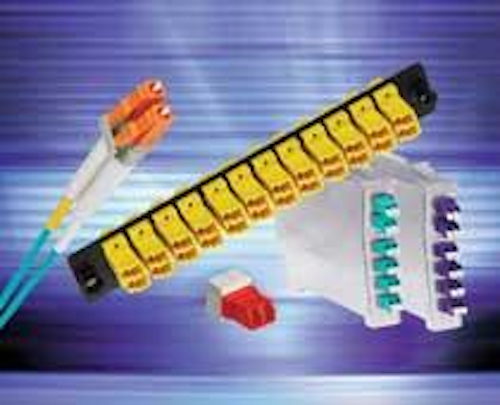 Secure/keyed LC modules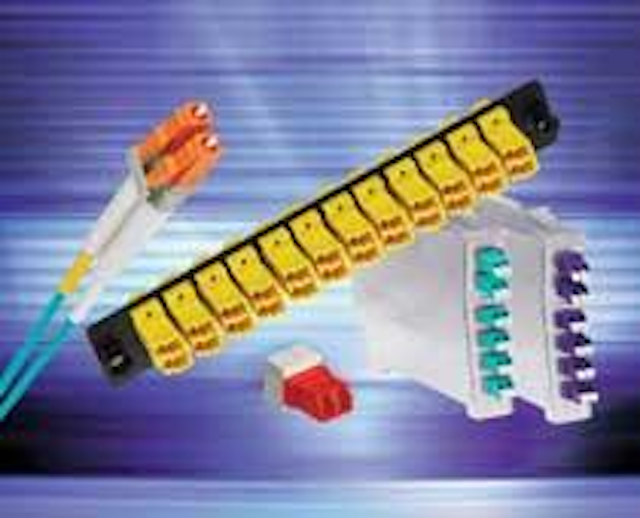 Click here to enlarge image
FiberExpress Secure/Keyed LC connectors now include higher density modules, preterminated MPO-keyed LC fiber modules and keystone modules, and six additional color-coded options. Designed for network security requirements, this system is based on the LC technologysmall-form-factor format designed to ensure high performance andreliability for equipment running applications at 1 Gbit/sec or greater. The system also allows for physical segregation of network segments, meaning that different levels of security can be designed into the system for individual users.Color-coded keying detail inside the components is tamper-resistant and cannot be reproduced inside a standard LC adapter. All modules are keyed on the front and back to prevent installationerrors or security breaches.
BELDEN
www.belden.com
Redesigned Category 6
Improvements in design and manufacturing of the LANmark-1000 Category 6 UTP cable have, according to the company, increased all crosstalk parameters by 4 dB over the previous design that was already exceeding TIA/EIA-568-B.2-1 component performance. In addition, an 85% improvement in PSACRenhances signal integrity and strength, reducing vulnerability to noise interference. According to the company, the redesign has not affected the outsidediameter (.226 inches) or price.

Click here to enlarge image
BERK-TEK
www.berktek.com
Cabling guide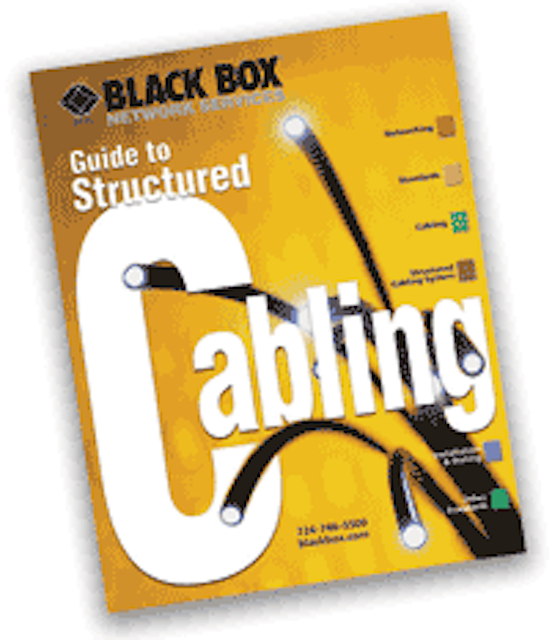 Click here to enlarge image
The 44-page Guide to Structured Cabling provides an overview of the standards and practices that govern the planning, installation, and testing of structuredcabling systems. Also included are related standards covering administration, harsh environments, data centers, Power over Ethernet, and wireless networks.
BLACK BOX
www.blackbox.com
Textured-surface labels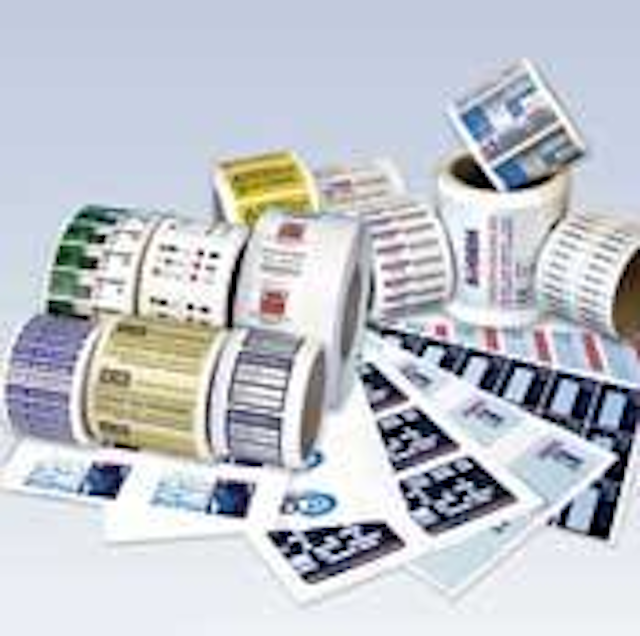 Click here to enlarge image
The HD polyester range of labels feature a heavy-duty adhesive designed for a fast and permanent bond to both smooth and textured surfaces. Labels are made to withstand abrasion, oils, chemicals, solvents, and temperature ranges of ww-45° to 155° C. They are especially suited forapplying to textured powder-coatsurfaces, galvanized steel, and castaluminum.
CILS INTERNATIONAL
www.cils-international.com
Pre-terminated fiber system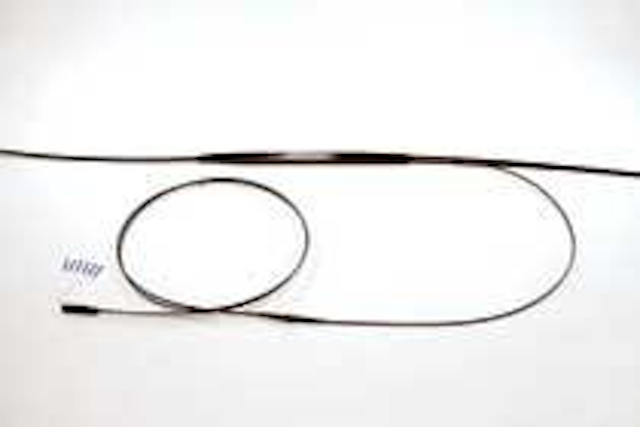 Click here to enlarge image
The Plug & Play AnyLAN system features a pre-installed multimode or singlemode optical cable with network access points at customer-specified intervals, and a tethered, environmentally hardened MT connector. Once distance measurements for network access point locations are known, the system is manufactured and tested, then packaged and shipped on a cable reel for immediate deployment in indoor or outdoor applications. AnyLAN for inside applications is compatible with 2-inch duct for riser and factory floor environments, while outside plant applications are compatible with buried and aerial installations. According to the company, AnyLAN allows installation to be completed up to 50% faster thantraditional field installations.
CORNING CABLE SYSTEMS
www.corningcablesystems.com
Fiber inspection probe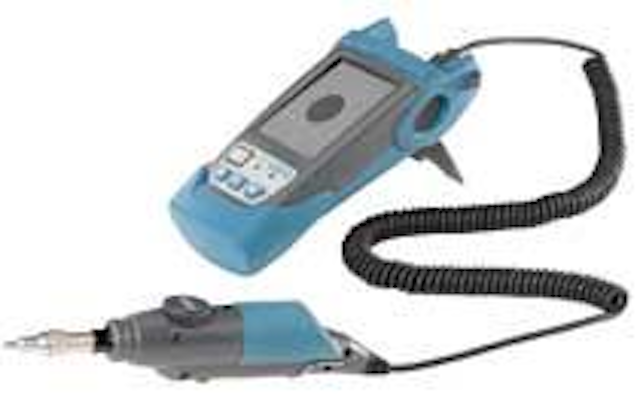 Click here to enlarge image
The FIP-400 fiber inspection probe is designed for all types of field network architectures, and enables detection of faults and scratches down to 1 µm. Compatible with the company's portfolio of test products, the FIP-400 can also be used with a new lightweight, handheld viewer featuring a high-brightness TFT screen that renders sharp images offiber endfaces.
EXFO
www.exfo.com
Two Cat 6A solutions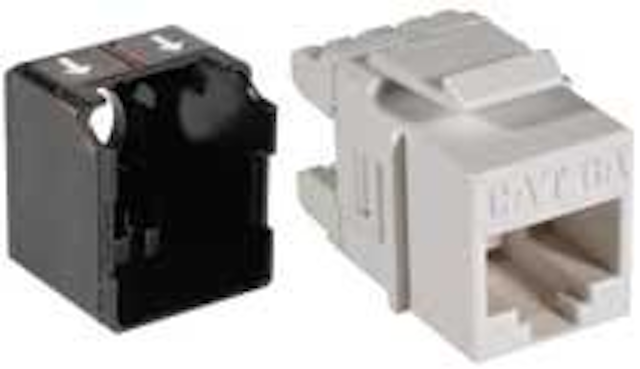 Click here to enlarge image
This Category 6A 10-Gigabit FTP connectivity solution offers 500 MHz of bandwidth, and exceeds all electrical signal transmission performance parameters and alien crosstalk requirements of TIA/EIA-568-B.2-10 and ISO 11801. The solution includes a modular connector, 10-Gbit patch panel, and FTP10-Gbit patch cords. The connector features 360° die-cast shielding, designed to provide maximum protection against signal disruptors in a datacom environment. This FTP solution is especially suited forgovernment, gaming, manufacturing and financial installations.
A UTP connectivity solution designed for 10-Gbit Ethernet applications includes a 10-Gbit modular connector, patch panel, and selection of rack systems and cable management products. The UTP connector offers a shielded termination cap, which minimizes additional alien crosstalk from neighboring connectors, and features twisted-pair separation posts that minimize untwisting of pairs. These modular connectors arealso backward-compatible with Category 6, 5e, and voice network applications.
ICC
www.icc.com
High-power UPS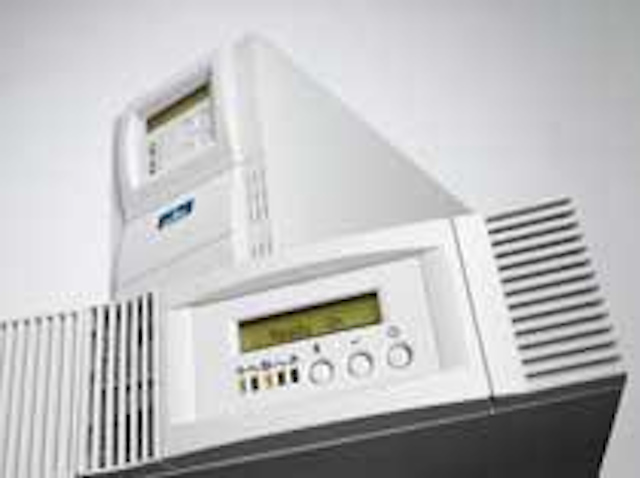 Click here to enlarge image
Nine uninterruptible power supplies (UPS) have been added to the company's Pro, Sine, and Online Seriesfamilies, featuring power capacities ranging from 300 to 3,000 VA. Also included are systems with more outlets and a USB interface, remote monitoring, and high-density footprints.
LEVITON NETWORK SOLUTIONS
www.leviton.com/networksolutions
Video monitoring system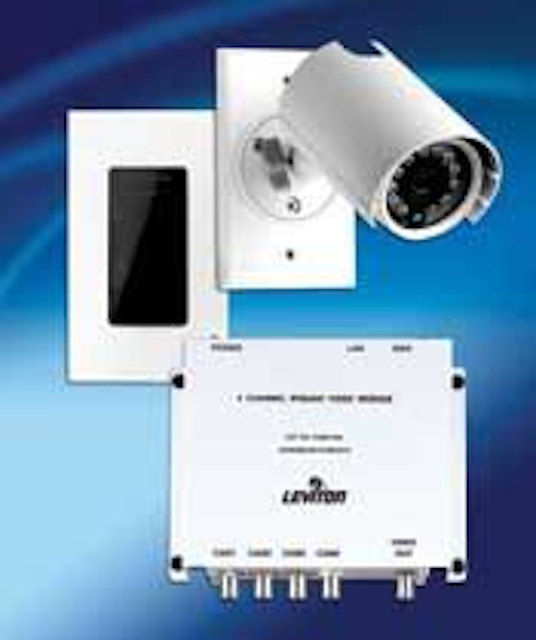 Click here to enlarge image
This residential video monitoring system allows viewing of color output on any home TV or over the Internet. The system consists of an indoor and outdoor camera that connects through the company's Structured Media Center (SMC) for monitoring home and external grounds. It operates over Category5e UTP cables, which interconnect with a compact camera hub in the SMC. The hub provides power to up to fourcameras, and outputs composite video from the cameras to the IP/quad module or video modulators. Indoor and outdoor camera assemblies along with the camera hub incorporate precisionvideo baluns designed to ensure clear video output. The outdoor cameraalso includes a separate power supply forapplications where cable runs exceed328 feet, allowing local powering ofcameras at entrance gates or structures located a long distance from the SMC.
LEVITON MANUFACTURING CO.
www.leviton.com
Fiber-to-fiber converter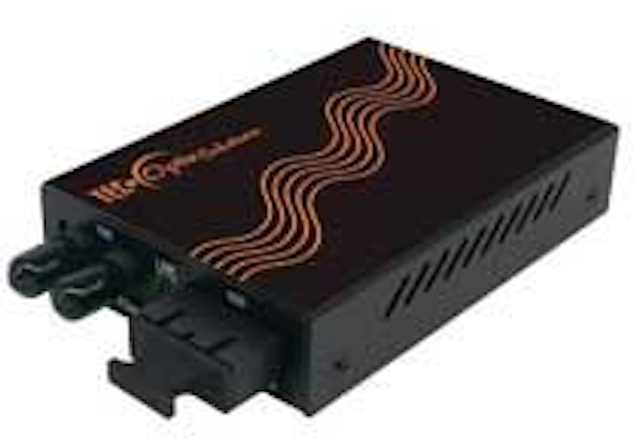 Click here to enlarge image
The MC-300-SC-MM/SM is a multimode-to-singlemode fiber converter for 100Base-FX. Offering a variety of cable configurations to meet bandwidth and cable distance requirements, the MC-300 also enables Ethernet LAN and WAN connectivity by providing a multimode interface to singlemode fiber carrierdemarcation points. A limited lifetime performance warranty is included.
LYNN ELECTRONICS/TECOPTIX
www.lynnelec.com
Numbered rack system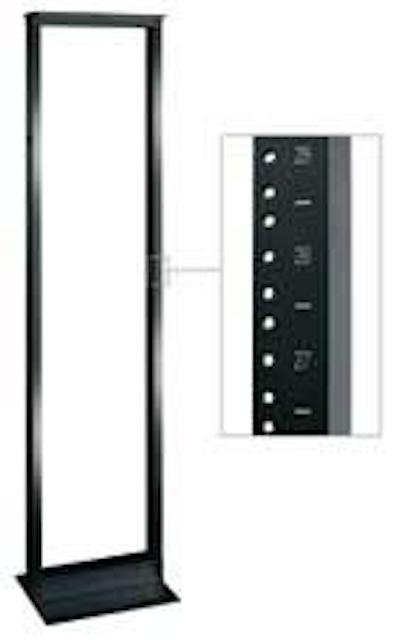 Click here to enlarge image
Numbered rack rails are available for the company's RLA Series of aluminum2-post frame racks, designed to allow simplified equipment alignment andfaster installation. Racks are EIA/TIA-compliant, available in 45U and 51U versions, and feature 15-inch-deep bases constructed of quarter-inch thick aluminum. Pre-cut holes and screws are provided for secure floor mounting.
MIDDLE ATLANTIC PRODUCTS
www.middleatlantic.com
4-post rack system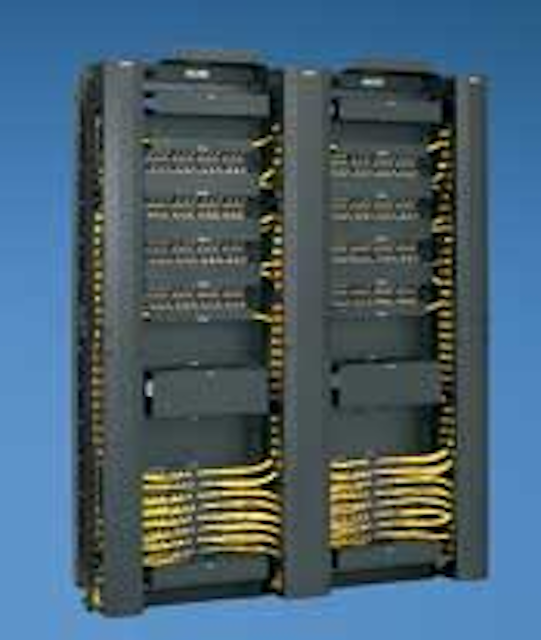 Click here to enlarge image
This 23-inch 4-post rack system fits within a 24 x 24-inch floor tile, combining the stability of a cabinet with the accessibility of an open rack for greater design flexibility. The rack's cable management solution is designed to enhance network scalability and manageability. Independent adjustable front- and rear-mounting rails accept a variety of active equipment. Paint-piercing washers electrically bond the rack components.
PANDUIT
www.panduit.com
Intelligent PHY scanner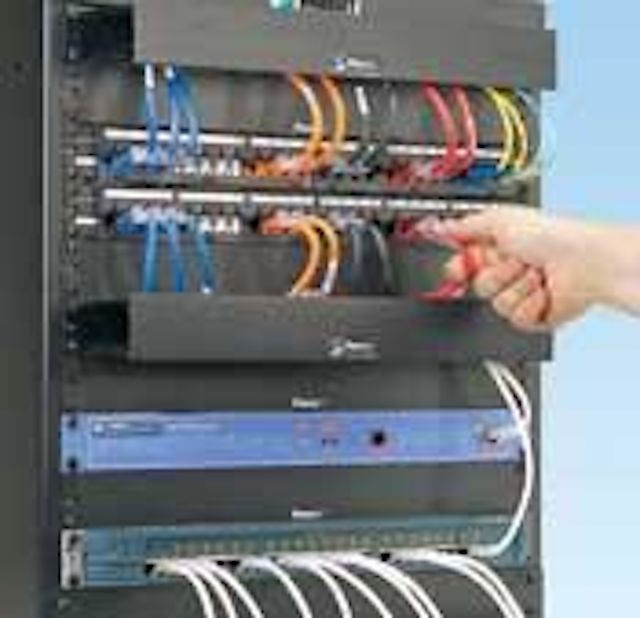 Click here to enlarge image
The PanView Local Scanner is a 1U device that monitors and manages physical (PHY) connectivity information of a remote network, and reports the information to a centralized PanView System server. Designed as a solution for satellite locations, the Local Scanner supports up to 144 ports, and contains built-in control buttons for simplified on-site patch cord tracing. As part of the PanView System, the Local Scanner is designed toextend physical layer visibility to remote sites that were previously unmanaged.
PANDUIT
www.panduit.com
Self-propelled plow

Click here to enlarge image
The BRON 150 crawler with offsetting vibratory plows is designed for installing fiber and copper cable, conduit, and pipe at a working depth of up to 60inches. Vibratory plows are ideal forinstallations where tractive power is limited, and can be used as a static plow when ground conditions permit. Among its features are blade height-adjustment cylinders designed to maintain plowing integrity in extreme conditions, aCAT 210 horsepower engine with hydrostatic 2-speed automatic/variable speed track drive, and 8,000-pound standardlift capacity reel carrier.
RWF INDUSTRIES
www.rwfbron.com
Day/night security camera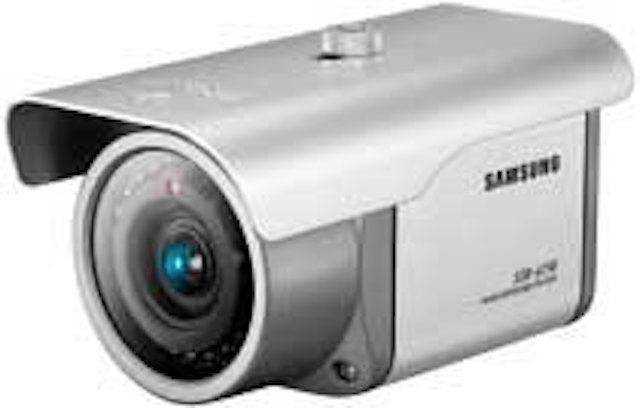 Click here to enlarge image
The SIR-4150N high-resolution Day/Night IR LED bullet camera features 520 TVL color and 570 TVL black-and-white. With an IP65 weather rating, the camera is suitable for indoor or outdoor securityinstallations. An ICR filter provides day/night switchover, and with sensitivity of 0.3 Lux @ F1.2 color, 0.002 black and white, and 0 Lux with IR LEDs, the camera offers surveillance in low light or total darkness. Proprietary noise reduction technology increases picture quality by eliminating noise in low light. A 3.8 to 9.5-mm varifocal lens lets youadjust the field of view to suit eachscene. Motion detection, 4-zoneprivacy masking, and RS-485 control are provided.
SAMSUNG
www.samsung360.com
Cat 6A connecting blocks
Click here to enlarge image
The company's S210 connecting block line is now included as a consolidation point option in a warranted 10-Gbit Category 6A UTP end-to-end cabling system. In addition to optimized connecting block spacing and internal pair shielding for10-Gbit/sec performance, the S210 system features a patented rear thru-hole design that allows horizontal cables to be routed through the rear of the blockdirectly to the point of termination. Terminations are made by the proprietary Pyramid wire entry system, which separates paired conductors when lacingcables to simplify and reduce installation time. S210 connecting block kits are available in 64-, 128-, and 192-pair configurations, and with patented removable stand-off mounting legs or 19-inch panel-mount for use in racks and cabinets.
SIEMON
www.siemon.com
Bus bar connector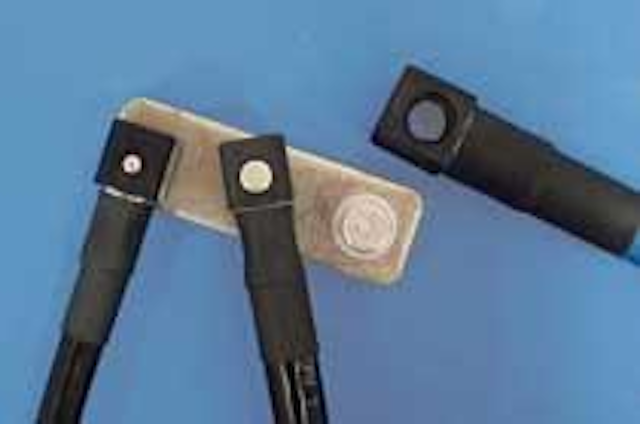 Click here to enlarge image
Designed for high-current telecom applications, Rapid Lock bus bar connectors are single-pole, quick connect/disconnect replacements for lug connections that allow for a reliable and safe connection and better serviceability than bolt-fitted lugs. The connectors free the power distribution system from the risk of loose connections, which can cause arching or fire. A locking feature is provided on the pins for protection against accidentalunlatching of the cable.
TYCO ELECTRONICS
www.tycoelectronics.com
Tone-traceable patch cord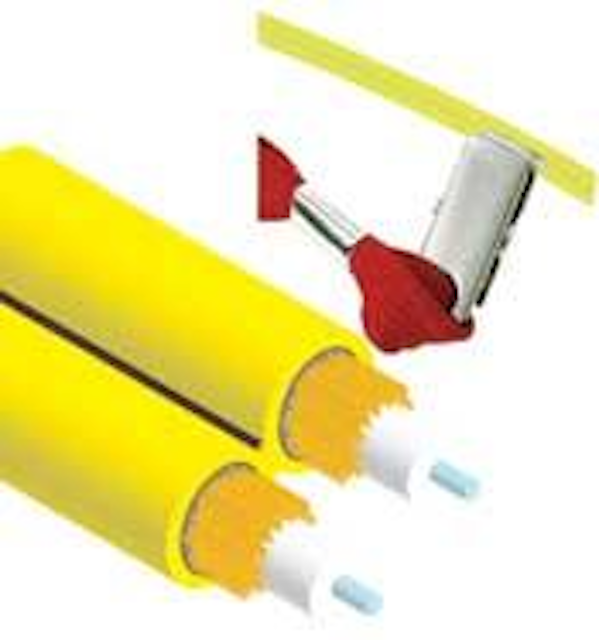 Click here to enlarge image
The SureTracer family of electronicallytone-traceable duplex fiber-opticcable and patch cords can be traced in a non-invasive fashion, even while carrying traffic and connected to active transmission equipment. It is available in the smallest form-factor duplex cable, and is compatible with both the company'sfiber-optic patch panels and industry-standard models. By attaching a low-force conducting cable clip at any point along the cable span and attaching a standard electronic tone generator, this composite fiber-optic cable can be identified and traced by using an electronic tone detector probe. Passing the probe in the vicinity of the cable produces an audible tone; by design, the clip does not penetrate the cable jacket or degrade the physical integrity of the cable.
TELESCENT
www.telescent.com
Raised floor seals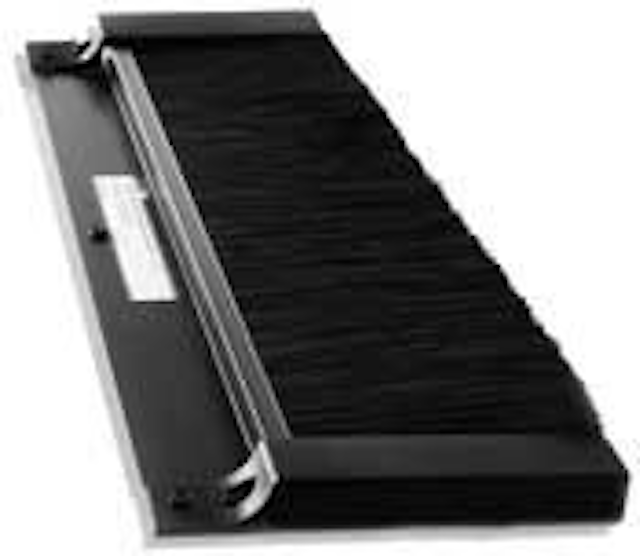 Click here to enlarge image
Re-engineered for greater modularity, KoldLok extended raised floor grommets can seal raised-floor tiles that measure either 24 inches or 600 mm long. Grommets are 3 inches/76 mm and 6 inches/152 mm, and feature a new screw-hole design on the end caps and flange that allow more filaments to be exposed for improved sealing effectiveness. KoldLok also incorporates a PC/ABS plastic end cap, and the flange width has beenreduced from 3 inches to 2 inches.
UPSITE TECHNOLOGIES
www.upsitetechnologies.com
Angled quad adapter
The MTP angled quad adapter isdesigned to provide strain relief forcompact, high-density MTP connector installations, such as data centers and equipment faceplates. The adapter, which passed durability testing for 500 matings for each connection, is built to improve cable assembly strain relief by routing the installed connection at a 30° angle relative to the 0° positioning of traditional straight-through adapters. It accepts up to four mated MTP connectors in a compact footprint. Each adapter is shipped with four dust plugs.
US CONEC LTD
www.usconec.com
450/700 MHz WiMAX solution
Providing Internet, voice and multimedia services over a wireless broadband link to remote users, this WiMAX 450/700 MHz solution can be customized for any specified band within the 400 MHz and 1 GHz range. The system offers high-speed services while supporting different bandwidths, and is suited for rural areas since it requires approximately 18x less infrastructure per square-mile coverage. The company claims the WiMAX solution is the first of its kind in this band range, and "is potentially the most importantenabler for wireless Internet on a country-wide basis."
TELSIMA
www.telsima.com