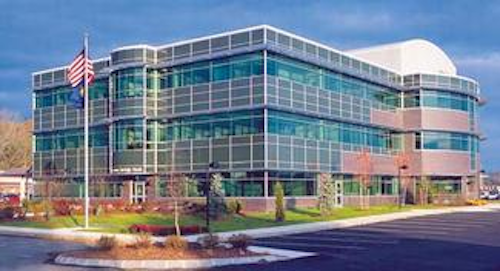 Intelligent physical-layer management systems allow remote-management capabilities for a New Hampshire bank and its 18 branch locations.
by Michael Pula
Mascoma Savings Bank (MSB) serves New Hampshire and Vermont's Upper Valley area through the corporate headquarters in Lebanon, NH and 18 branch locations. Formed in 1899, MSB is a mutually owned financial services company that manages more than $700 million in assets, offers a full line of banking products thatinclude personal and commercial banking as well as mortgage and consumer loans, and provides a full line of Internet banking services.
Mascoma Savings Bank manages more than $700 million in assets across 18 branch locations as well as this building, its corporate headquarters.
Click here to enlarge image
To keep up with growth needs for bandwidth, storage, and management within the information-technology (IT) organization, MSB needed to upgrade its existing network cabling infrastructure with a solution that offered flexibility and scalability. The project required upgrading and enhancing existing connectivity in all bank locations. Also, to effectively manage its budget, the bank needed a comprehensive plan that would clearly identify its connectivity requirements and fulfill several business needs.
Need for remote control
IT staff members located at the operations center in White River Junction, VT often had to drive to the 18 branch locations—some as far as four hours away—for service calls, dramatically slowing mean time to repair. It was obvious that, along with an infrastructure upgrade, MSB needed to reconsider its network-management processes and find a solution that could offer efficient remote manageability and maintenance capabilities.
Of chief concern to the bank was ensuring that accurate documentation and reporting of all moves, adds, and changes (MACs) could be collected at the operations center from all 18 remote locations. MSB not only needed a network solution that would help automatically record asset-movement activities in the network, but also help to effectively monitor and manage those activities. The manual method of documentation could no longer be relied upon to keep pace with the network's growth.
Communications to all 18 locations had to be reliable, so MSB required a cabling system that would offer superior performance and allow for growth and reconfigurations as necessary. The system had to ensure secure transfer of information while providing maximum uptime to meet customers' needs and to stay competitive.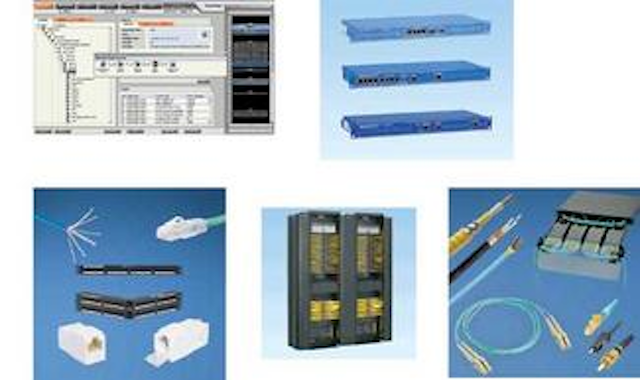 The complete network-cabling solution across Mascoma Savings Bank includes optical fiber, twisted-pair copper, cable management, a grounding system, and an intelligent physical-layer management system.
Click here to enlarge image
MSB contacted Defiance Electric & Crossover Inc. (www.defianceelectric.com), a design-build communications company that had successfully implemented several Panduit electrical solutions for the bank. Because the contractor and user had been pleased with the electrical projects, Defiance recommended implementing Panduit networking solutions during MSB's ongoing upgrades, including a managed network system.
Contractor's input and experience
Defiance Electric & Crossover specified the PanView System, an intelligent physical-layer management solution that could capitalize on Mascoma's newly planned network infrastructure. While the copper and fiber cabling systems would provide the level of reliability and scalability that MSB sought to meet its wide area network (WAN) needs, an effective intelligent physical-layer management would help the bank take greater control of its network locations and optimize its overall network reliability.
Working together, Panduit and Defiance Electric & Crossover developed a comprehensive solution to address all of MSB's project requirements by integrating PanView software and PanView patch panels into the bank's existing network. Additionally, the enhancement of the cabling system allowed an upgrade to the rack and grounding systems, which ensured greater network reliability.
MSB realized the benefits of the PanView system right away. The bank's IT team gained the ability to remotely manage all patch field connectivity issues from its centralized operations center. Complete MACs could be directed from the operations center and executed at remote branch locations using light-emitting diodes located on the front of the patch panels—literally guiding staff through changes and ensuring accuracy of patch-field connections.
In addition to simplifying patch-field MACs, remote manageability helped reduce network downtime, offered faster mean-time-to-repair response, and saved MSB the time and travel expense of dispatching IT staff to remote branch locations.
"It has greatly simplified our cabling-infrastructure management and documentation," says Chris Irish, assistant vice president, network services, Mascoma Savings Bank. "The ability to create and implement remote work orders through PanView has also saved countless hours of travel time, as well as the associated costs to the bank in staff mileage reimbursement and other travel expenses."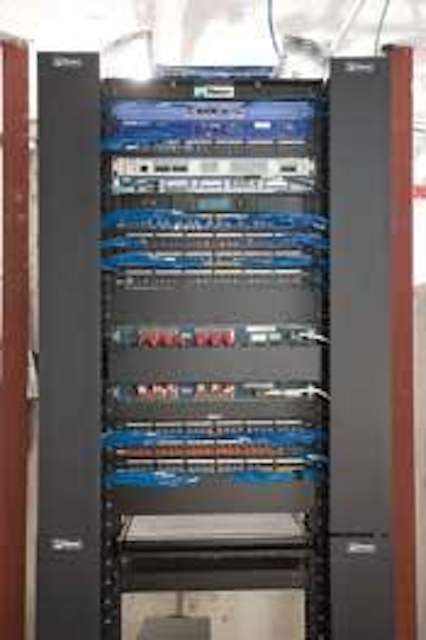 A full breadth of cabling-system technologies, from standard 8-pin modular jacks to a high-end intelligent physical-layer management system, combine to provide Mascoma Savings Bank with a future-ready network infrastructure.
Click here to enlarge image
At each branch location, the intelligent patch panels were installed along with PanView hardware to monitor the remote patch fields for enhanced monitoring capabilities at the main operations center. Using the intelligent physical-layer management software, Irish could review all branch networks and monitor equipment and patch-field connectivity at the various locations—all in real time.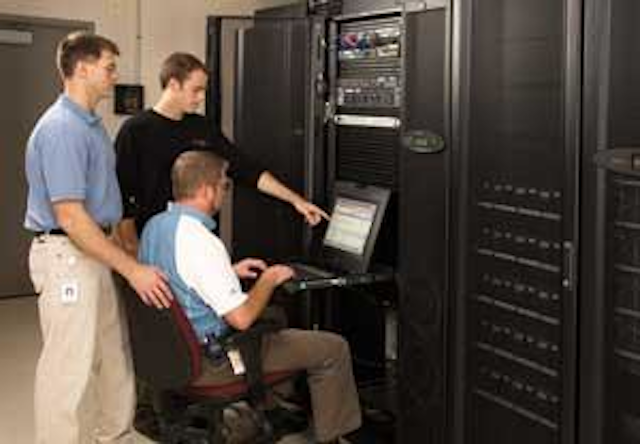 Defiance Electric & Crossover's Pete Hadlock and Chris Irwin (standing) demonstrate the intelligent physical layer management system's remote operations to Masoma Savings Bank's assistant vice president, network services Chris Irish.
Click here to enlarge image
The PanView system would immediately notify changes in the patch field for even greater control. The system's database capabilities helped maintain accurate records of the connectivity, as well as information regarding equipment and network computing assets.
Tools play their roles
An unexpected value was the integration of computer-aided design (CAD) and utilization modules into the software package that are helping the Mascoma Savings Bankcontinue to build and expand its network.
CAD modules enable the bank to create a two-dimensional map of MSB's office locations that have been used on-screen to pinpoint devices and equipment. The utilization modules provide the ability to inventory active ports and search for available ports, thereby maximizing existing resources.
By tracking all networking and computing assets, the utilization and CAD modules also contribute to necessary regulatory compliance by reporting and maintaining accuratedocumentation and event logs.
"The integrated CAD features and the abil-ity to log and monitor equipment events have been a great help in meeting our regulatory requirements," comments Irish.
The Panduit solution provided MSB a network cabling system that would accommodate the bank's changing needs while providing maximum uptime. The TX6000 Copper Cabling System and Opticom Fiber System provided the bandwidth needed to ultimately deliver better service to Mascoma's customers.
Panduit's StructuredGround system helped the bank comply with the TIA-942 standard to improve system performance and protect network equipment and personnel. Innovative rack and cable-management systems helped complete the overall solution by managing, protecting, and showcasing MSB's network equipment and structured cabling investments.
Legacy upgrades
As Mascoma Savings Bank expands its business, the PanView System continues to serve as the foundation for greater control and manageability of its infrastructure. Because of the PanView system's modular design, MSB can upgrade legacypanels with new, modular PanView patch panels to meetits changing requirements.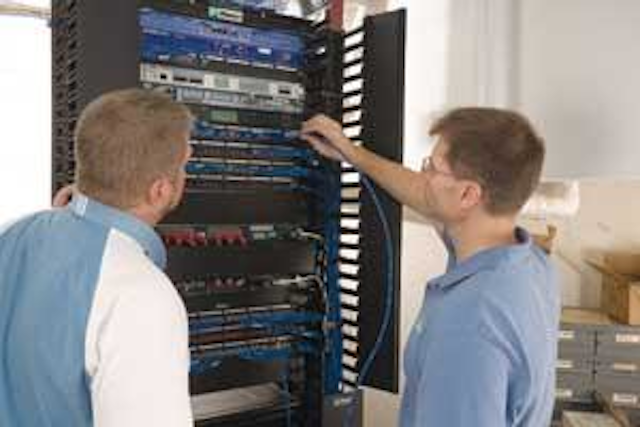 The PanView intelligent physical-layer management system guides users through moves, adds, and changes.
Click here to enlarge image
The next phase of this project includes expanding remote-monitoring capabilities by integrating Internet Protocol-based cameras in branch offices that will enable MSB even greater ability to manage multiple sites. Upon completion, Irish will have the ability to direct staff at remote locations using the guidance and function of the patch panel LEDs; he will also have the ability to watch the execution of changes, adding improved accountability and visibility.
"What's refreshing is that since its initial installation, the PanView system has met and exceeded all expectations and aspirations promised," adds Pete Hadlock, vice president at Defiance Electric & Crossover. "The PanView system has truly meshed all of the necessary components together into a complete solution that has brought our original vision for Mascoma to life."
Port identification in focus
In one example of the PanView system benefiting MSB, the bank needed an additional outlet for a new printer,and a visual check indicated that all network ports were occupied. The bank contacted Defiance Electric &Crossover to inquire about new switches or equipment. But rather than installing new equipment, the contractorrecommended using the utilization module to run a report of assets already connected within the network to locate unused or underused ports.
The module found a port that had not been used for more than 90 days, and the system's CAD module generated a two-dimensional map that showed the port was located in a conference room near the desired location of the printer.
MSB simply reallocated the port, foregoing the cost of adding new equipment, while capitalizing on the assets it already owned. The entire process, from the initial phone call to the identification of the port, took less than 10 minutes.
Irish and Hadlock agree that as technology continues to advance, so do the advantages of the PanView system. Whether it is through its own capabilities, or through its integration and compatibility with other software packages, the system is delivering on the bank's vision of a complete managed network system solution.
Michael Pula, product line manager with Panduit Corp. (www.panduit.com) collaborated with others across Panduit's staff to author this story.