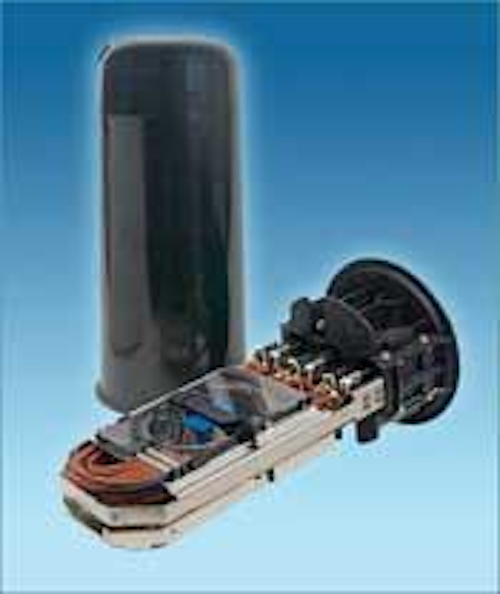 Sealed OSP closure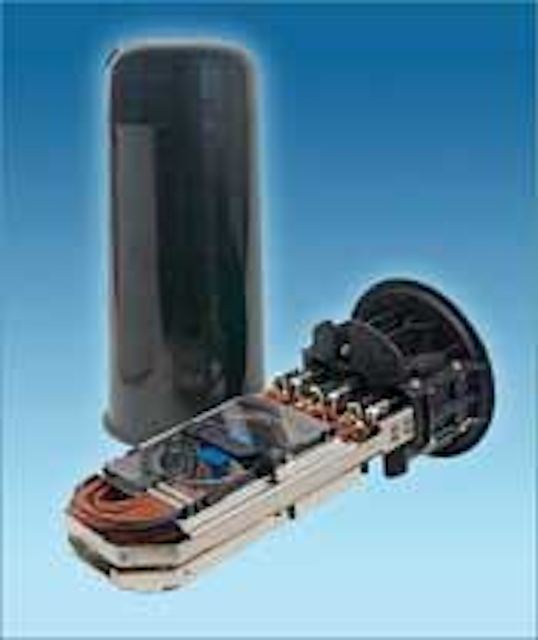 Click here to enlarge image
The LG-350-AC sealed dome closure is designed for aerial or underground drop access installation where a sealed closure is required by limited space. More than 25% smaller than the LG-350,the AC closure is especially suited for small hand-hole applications, such as FTTx. It provides access for up to 12 drops and up to 72 single-fusedsplices in a butt splice configuration. Supporting loose tube, outside plant ribbon, and Uniflex fiber-optic cables in dielectric and armored configurations, the sealed closure requires common hand tools for installation or re-entry.
AFL TELECOMMUNICATIONS
www.afltele.com
4-radio WAP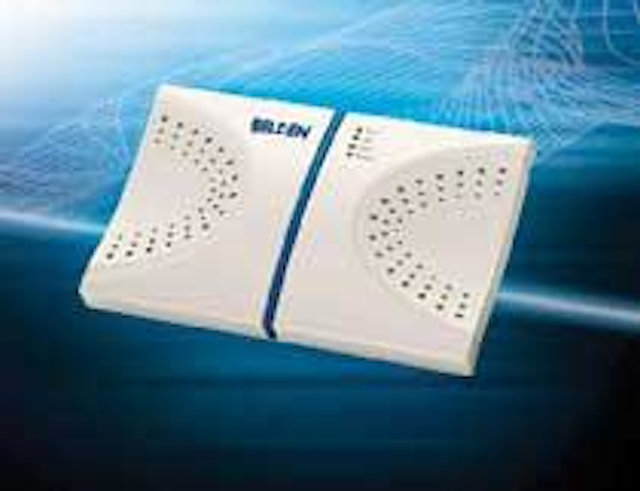 Click here to enlarge image
The Power over Ethernet-driven XtraThin wireless access point (WAP), incorporating four IEEE 802.11 radios, provides four simultaneous, non-overlapping channels at every location for a quadrupling of local capacity and bandwidth. These WAPsoperate on any of four overlapping Channel Blankets integral to the company's wireless solution, and can be used in any Wi-Fi mode. You can allocate channels and bandwidth to specific voice or dataapplications, specific device types, or certain user groups. In addition, the WAPs let you allocate three radios to handleIP-packet traffic while using the fourth as a dedicated rogue WAP and wireless intrusion detection sensor. No special configuration or set-up is required, and any off-the-shelf client network interface card (NIC) can be used. According to company claims, XtraThin provides a plug-and-playarchitecture for using a wireless LAN ofnearly any size.
BELDEN
www.belden.com
Adjustable racks,cable management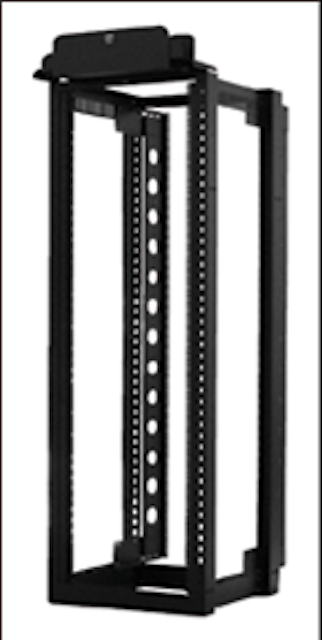 Click here to enlarge image
Adjustable Rail QuadraRack and ServerRack feature adjustable depth, rear-mounting rails, rack-unit marked front mounting rails, enhanced cable management, and grounding and bonding. These 4-post frames allow the front-to-rear mounting depth of the rack to match equipment requirements. Rear mounting rails are independent of the welded frame, and can extend from15 inches up to the rack footprint, plus 6 inches beyond the rear of the frame to hold equipment that is deeper than the rack. Both racks are available in24-inches wide by 24-inches deep and24-inches by 36-inches deep footprints, with height options of 6, 7, and 8 feet. Weight capacity rating is 2,204 pounds.
Click here to enlarge image
Evolution Cable Management for the company's open 2- and 4-post rack systems is available in vertical and horizontal configurations. Double-sided vertical managers contain moveable midsections that can be adjusted for greater cable volume by providing 40/60, 50/50, 60/40 front/rear split of the interior space. Openings located on the back of the single-sided and middle of the double-sided vertical managersallow for simplified cable transition from front-to-rear. Removable exterior doors come with vertical managers to help protect and hidecables, and are secured with a spring-loaded two-point latch that can open from the right or left.
CHATSWORTH PRODUCTS
www.chatsworth.com
Fiber-to-SAN system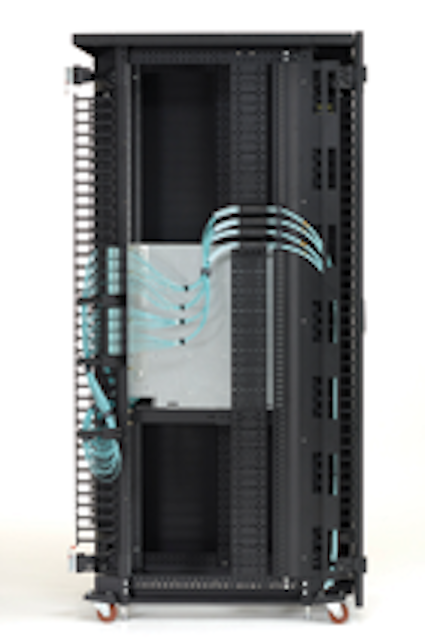 Click here to enlarge image
LANscape Pretium Integrated Solutions are pre-engineered optical-cabling components designed for compatibility between data center cabling and system equipment. The U-Space system features optical harnesses mapped directly to line cards, with port counts ranging from16 to 48. According to the company, this trunk cabling and harness solution can eliminate more than 75% of the bulkcabling congestion in cabinet vertical managers and in the backplane, promoting air circulation, increasing deploymentvelocity, and improving manageability of future moves, adds, and changes. For a chassis with 16- or 32-port line cards,U-Space includes customized 8-fiber harnesses, and a proprietary Base-8 module that transitions 12-fiber MTP connectivity to 8-fiber MTP and eliminates unused or dangling fibers that are typical when using 12-fiber ribbon connectivity with line cards having 8-fiber increments. All components feature patented "Universal" wiring to internally manage fiber polarity and provide a simplified migration between 2-fiber and parallel optics applications.
CORNING CABLE SYSTEMS
www.corningcablesystems.com
Handheld test set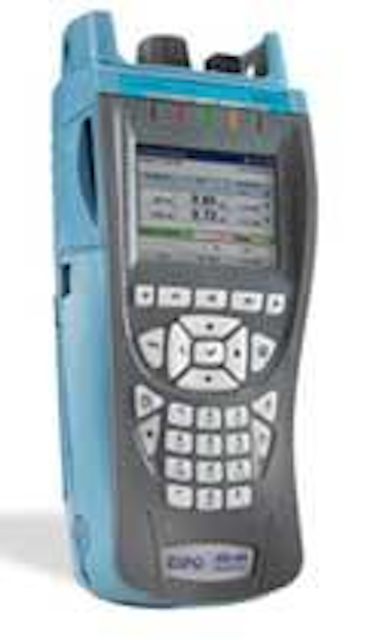 Click here to enlarge image
The AXS-200/360 handheld fiber certification test set is designed for premises networks, offering up to three singlemode wavelengths (1310, 1550, and 1490 or1625 nm) on one port, or four wavelengths (850/1300 nm and 1310/1550 nm) on two ports. Features include automatic wavelength switching, which letsthe unit automat-ically recognize thewavelength in use and switch to theproper calibration parameters, and off-line software capabilities that let youpost-process test results.
EXFO
www.exfo.com
RoHS-compliant PDU
Click here to enlarge image
This line of RoHS-compliant basic and metered power distribution units (PDUs) is certified to UL-60950-1, with 39 models available in 120- and 208-volt, and 208-volt 3-phase configurations for 15, 20, 30, 50, and 60 amps. Designed with "True RMS," all metered PDUs provide a visual reading of the load at the PDU for simplified balancing when connecting equipment. All3-phase metered PDUs include an individual current meter for each phase, eliminating the need to toggle between phases. Vertical mounting solutions include tool-less power-mounting bars in 2.4-, 4.6- and 6.8-inch wide versions, designed to maximize real estate by incorporating cable lacing functionality and provision for cable management rings. Side-mount brackets let you mount the PDUs with receptacles facing forward or towards the rear of the rack, allowing for shorter power cords.
ELECTRORACK ENCLOSURE PRODUCTS
www.electrorack.com
High-load floor box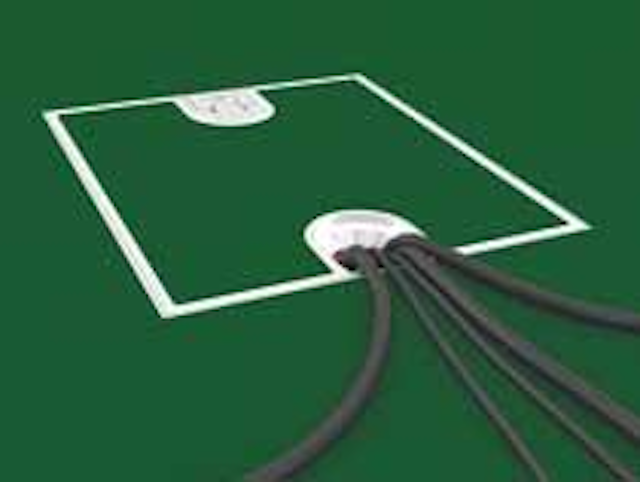 Click here to enlarge image
The FLH20-1 high-load-capacity floor box is designed for ballrooms and convention centers where heavy equipment and portable stages are used. It is designed to meet H20 load ratings by using a heat-treated aluminum cover with an integrated carpet flange and cable exit doors that let you hide the floor box under the carpet. Two cable exit doors feature proprietary 3-position cam locks thatallow one-click operation to open thecable door or to remove the cover. Internal brackets can be arranged to provide numerous options for high- and low-voltage standard gang openings.
FSR INC.
www.fsrinc.com
Row-level PDU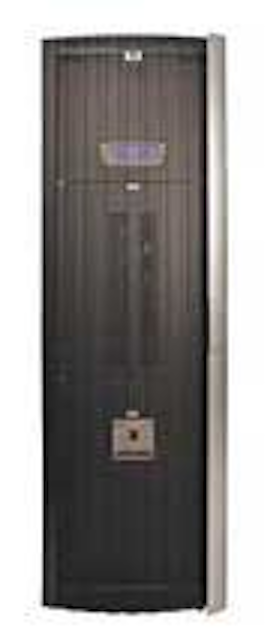 Click here to enlarge image
This power distribution rack (PDR) isdesigned to improve power manage-ment in the data center by movingpower distribution to the row level,improving cable management, decreasing diagnostic time for problems, and saving installation costs by reducing the size and number of long power feeds needed to reach from wall-mounted distribution units. Housed in a 42U rack, the PDR is capable of delivering 400 amps redundantly, and can power several high-density racks with shorter cable runs. Redundant inputs and outputs protect IT hardware with high-quality circuit breakers. Individual branch circuit monitoring and redundant management modules provide status and power consumption of eachattached rack.
HEWLETT PACKARD
www.hp.com/go/infrastructure
Gigabit home solution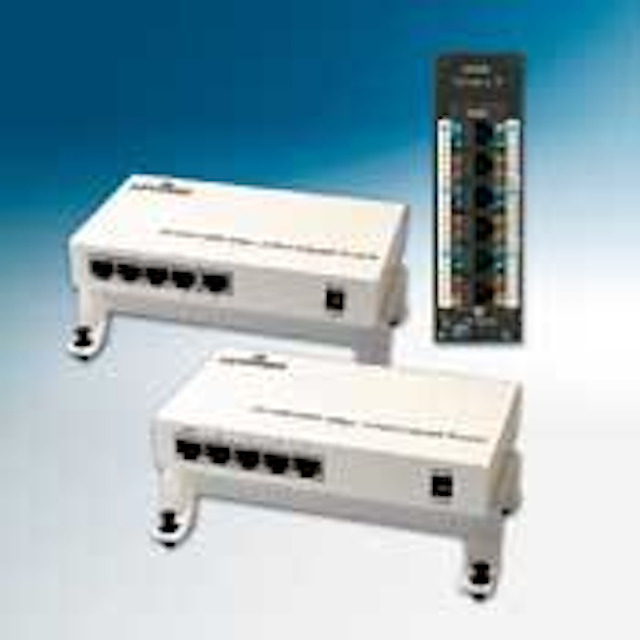 Click here to enlarge image
The Gigabit Network System, a gigabit-speed home networking solution, is designed for residential high-speed networking capabilities for such applications as multi-player gaming consoles, NAS network drives, high-end media servers, and high-speed networkingdevices. The system consists of commercial-grade Category 6 patch cords, QuickPort jacks, Category 6 data board and module, and Gigabit Ethernet switch and router. All devicesare designed to be installed in the company's Structured Media Centerenclosures, which are available in 14-,28-, and 42-inch versions.
LEVITON MANUFACTURING
www.leviton.com
End-to-end estimation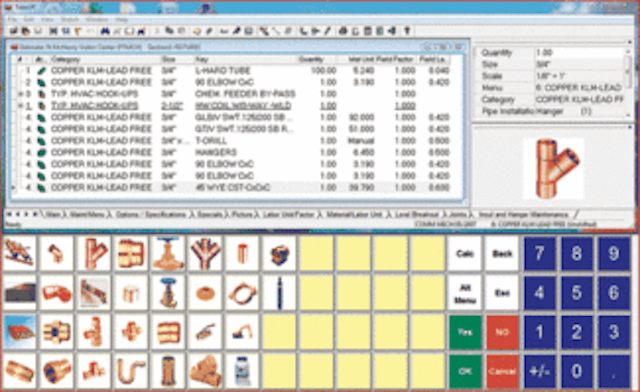 Click here to enlarge image
Estimation Logistics 7.3 includes full integration with the company's American Contractor job cost accounting solution, Estimation Digital Takeoff functionality, and a proposal writer tool. The integration with Contactor means an estimator can send an estimate directly to accounting from within the Estimation Logistics program. The Estimation Digital Takeoff tool lets you generate takeoffs fromdigital plan files on an online plan room, scan in plans, or upload them from a CD-ROM. Once plans are loaded, you can measure and count on the computer screen via a mouse. The ProposalWriter tool is designed for estimating details and creating proposals in a customer-friendly format, and incorporates a Proposal Wizard that helps you accumulate bid details.
MAXWELL SYSTEMS
www.maxwellsystems.com
CCTV pass-thru balun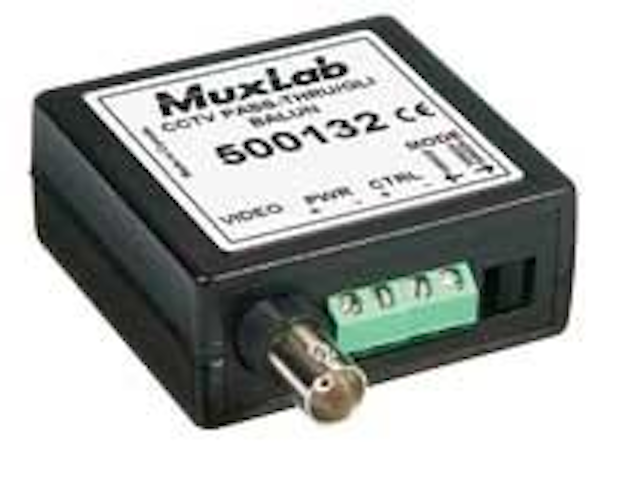 Click here to enlarge image
Developed in conjunction with CCTV systems installers, the VideoEase CCTV pass-thru/GLI balun allows remotepower, PTZ control, and video to beconnected to the camera via a single Category 5 cable. The balun is designed for applications susceptible to ground voltage differential, and features three connectors that break out the 24 volts AC, PTZ, and video signals. It also isolates ground loops with voltage differentials up to 50 volts DC. Installed either at the DVR or camera end in conjunction with another standard CCTV balun, theVideoEase CCTV balun has a slideswitch that lets you set it to pass-thru or power-thru mode depending onwhether a fixed or PTZ camera isinstalled. Remote 12 volts DC and24 volts AC power is supported via two or three twisted pairs (depending on mode). The balun follows TIA-568 wiring standards and features a pin configurationlabel that simplifies installation.
MUXLAB
www.muxlab.com
Fiber patch cord, cleave tool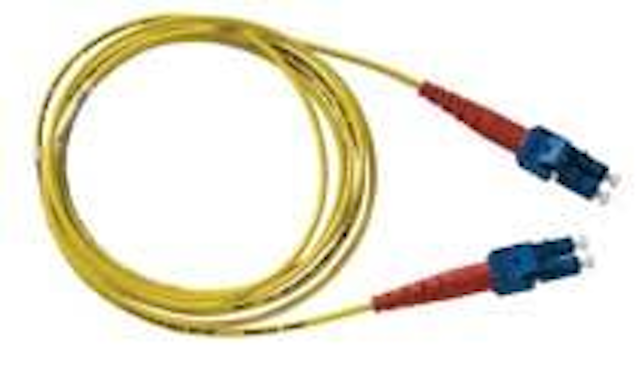 Click here to enlarge image
OptiMo SpaceSaver fiber-optic patch cords are designed for high-density LC duplex patching applications, and are built to fit precisely and without interference between LC adapter ports used in closely packed duple and quad LC cassettes or shuttered adapter panels. The cords feature a 2.4-mm diameterduplex cable with Kevlar strength members, designed to save routing space and reduce weight in overhead cable trays. Single molded duplex connectors feature a strain relief boot and thumb-latch disconnect. SpaceSaver patch cords are available in 50-µm laser-optimized multimode, 62.5-µm, and singlemodeconfigurations.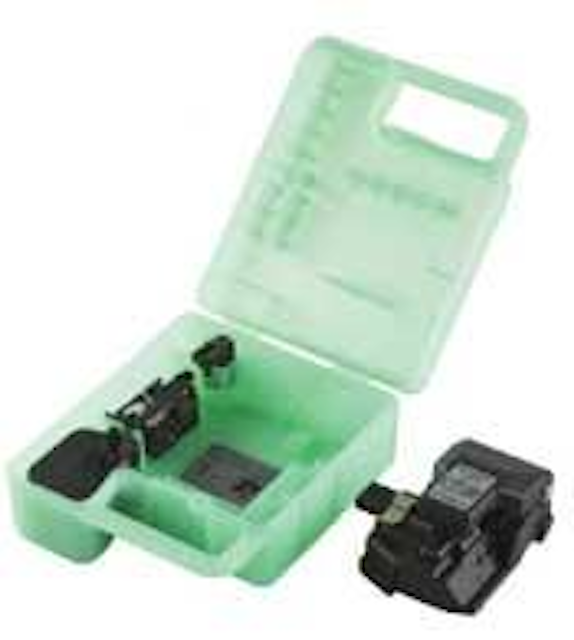 Click here to enlarge image
Designed for installing OptiMo singlemode and multimode connectors, this precision cleave tool eliminates the need for field cleave inspections by producing <1 degree bare fiber cleaves in the field. A 16-position diamond blade yields 48,000 single-fiber cleaves and 4,00012-fiber ribbon cleaves.
ORTRONICS/LEGRAND
www.ortronics.com
High-densitycable management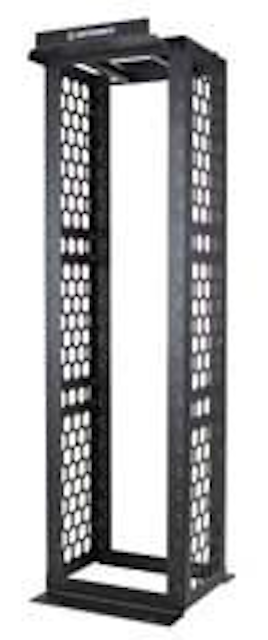 Click here to enlarge image
The Mighty Mo 10 cable management system for data centers and storage area networks features a cable management rack designed to maximize airflow of network equipment. Honeycomb side rails and baffles manage intake and exhaust air, creating cold aisle/hot aisle air distribution from side-vented equipment. Available in 7- or 8-foot heights, Mighty Mo 10 can be assembled as a 19- or 23-inch rack, has a 16.25-inch channel depth, and can fit on a 2 x 2-foot tile. Patented construction includes built-in strain relief, bend radius control, and floor/ceiling access to distribution cables. The system also includes an adjustable 7-foot, 4-post aluminum frame server rack.
ORTRONICS/LEGRAND
www.ortronics.com
Horizontal cable manager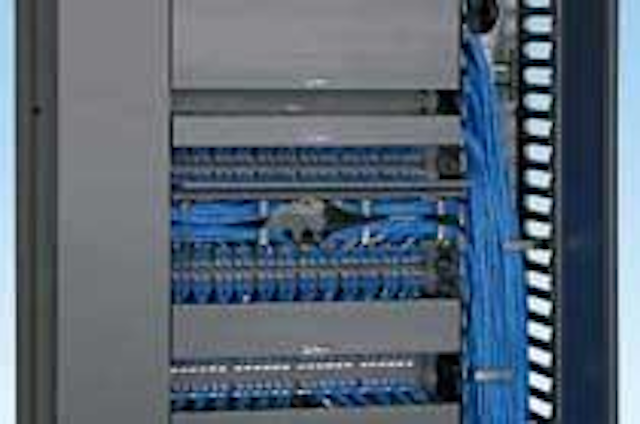 Click here to enlarge image
NetManager high-capacity horizontalcable managers feature sloped insetfingers, wide front finger openings, a deeper channel, and D-ring style rear managers. Together, they can accommodate higher cabling capacity in less rack space. NetManager is available in 1U to 4U sizes, in front and back or front only options, and with dual-hinged covers.
PANDUIT
www.panduit.com
Intelligent patching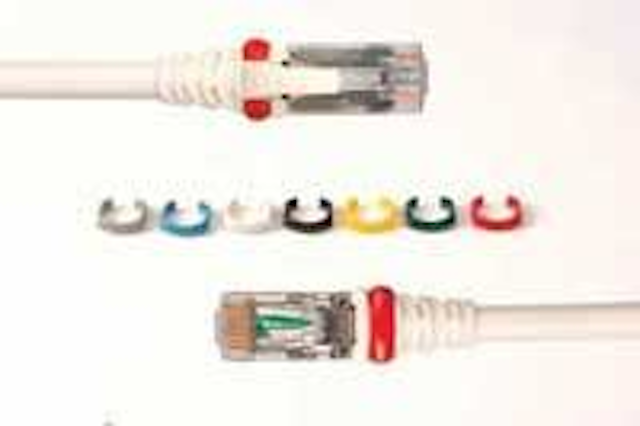 Click here to enlarge image
The 10G 6A F/UTP version of the MapIT intelligent hardware/software infrastructure management solution consists of a smaller diameter F/UTP cable and screened, tool-less MAX modules, as well as sensor- enabled MapIT patch panels and screened 10G 6A MC patch cords.The system is supported by multiplework area faceplates and surface-mount options, in addition to a variety of the company's data center/telecom rack and cable management products.
SIEMON
www.siemon.com
Cable tray power module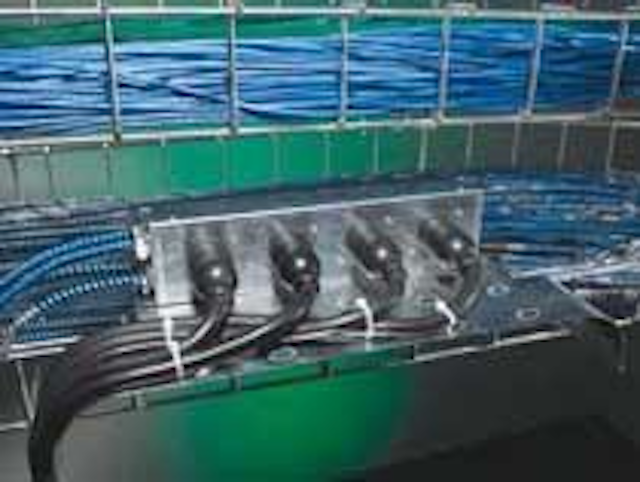 Click here to enlarge image
Mega Snake, a high-capacity overhead cable tray, can now be configured with an overhead power distribution module that lets you terminate electrical requirements at the tray. The module attaches to Mega Snake's patented accessory rail, and can be pre-configured to specific electrical requirements.
SNAKE TRAY
www.snaketray.com
Zero downtime UPS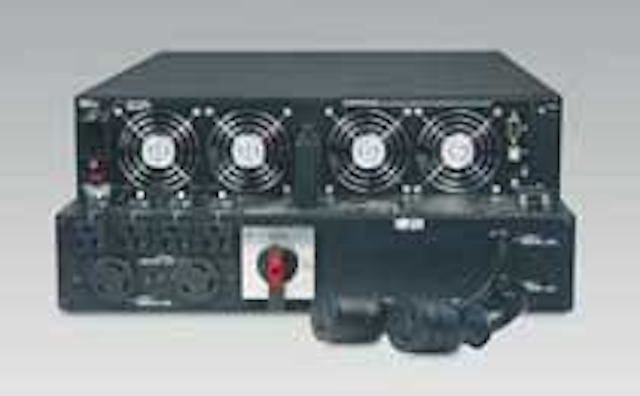 Click here to enlarge image
SmartOnline hot-swappable modular UPS systems now include 8kVA and 16kVA models featuring a detachable PDU and maintenance bypass switch that provide zero downtime and continuous availability for connecter server, storage, and networking equipment. The systems also feature scalable runtime via optional external battery packs, and the ability to configure multiple systems for N+1 availability. The detachable UPS lets you perform all UPS maintenance, from battery replacement to power module exchange, without powering down connected equipment. The all-in-one 4U 8kVA model is designed for limited space, while the 16kVA features a separate 4U power module and 4Uexternal battery module. Both models feature hardwire, split-phase, 4-wire input designed to save additional rack space by providing dual high- and low-voltage output withoutrequiring transformers.
TRIPP LITE
www.tripplite.com
Impact-resistant dome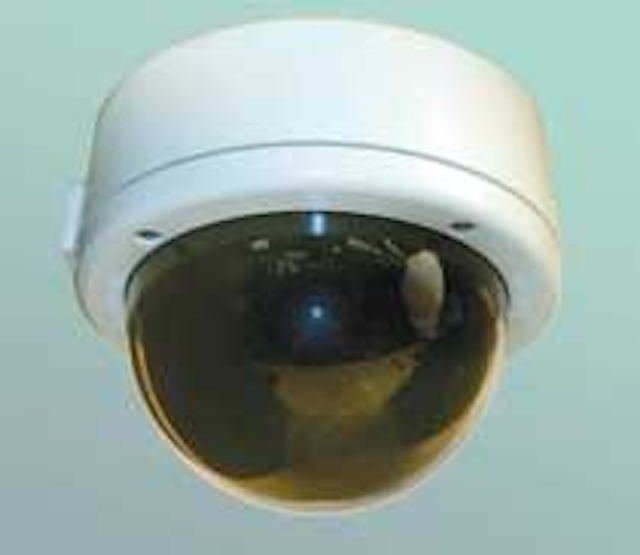 Click here to enlarge image
Several new models have been added to the Roughneck V910 line of impact-resistant camera domes for security installations. Three IP models offer Power over Ethernet capability, inclu- ding one featuring wide dynamic range (WDR). A new analog model also offers WDR, designed to provide a clear image in high contrast lighting conditions. IP domes are available with an integral high- resolution color camera, day/night camera, or WDR camera featuring state-of-the-art digital pixel processing. All feature a 3.3 to 12-mm varifocal lens. The analog version is available in a WDR version and equipped with a 3.3 to 12-mm lens. It accepts 24 volts AC and includes an isolated power input. The V910 is designed to mount to a wall or ceiling; pendant and in-ceiling mounting options are available.
VICON INDUSTRIES
www.vicon-cctv.com
Sealed splice closure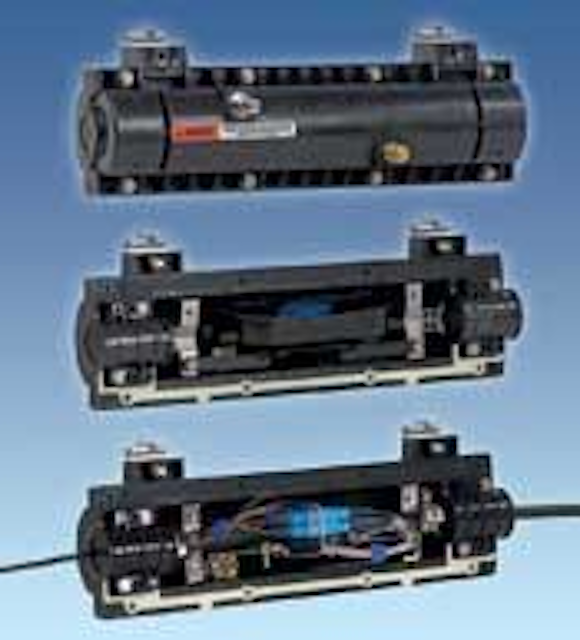 Click here to enlarge image
The LG-55 sealed splice closure provides repair and distribution splicing, grounding for fiber-in-the-loop applications, and serves as an isolation gap with armored cables. Incorporating a proprietary cable clamp design that seals the cable, the cover halves of the LG-55 can be removed without disturbing the contents. The LG-55-SC modelincludes a proprietary patching system that uses pre-termi-nated SC fiber assemblies, or field installable connectors.This model can also be used to form a link between traffic control cabinets and entrance cables, allowing for quick restoration and minimal damage to a cable should an impact disable the cabinet. Both closures include the company's Peel & Seal grommet system that ensures a tight fit on various cable diameters, eliminating tape and washers.
AFL TELECOMMUNICATIONS
www.afltele.com
HDMI over Cat 5e, 6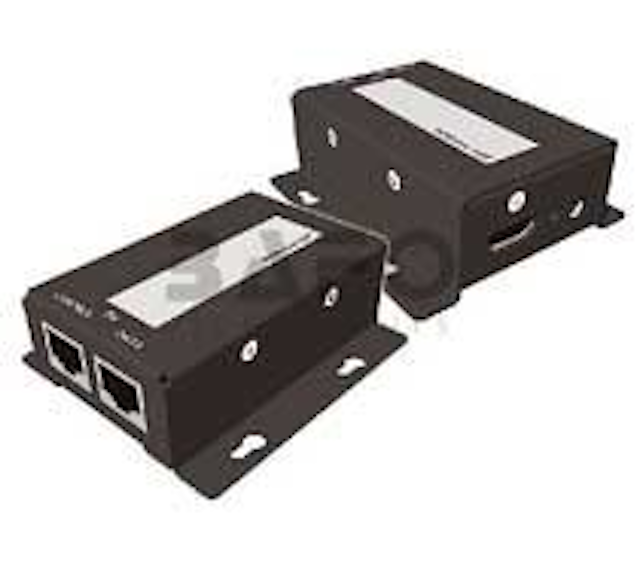 Click here to enlarge image
BF-3379 HDMI over CAT Cable Extender is a digital, audio-video extension device that transmits the high-definition multimedia interface (HDMI) content from a source to a display nearly 100 feet away via Category 5e or 6 cable. The system uses a transmitter and receiver with two cables to carry the signals. Designed for home theater or commercial installations, the BF-3379 permits simplified routing of cablingbehind walls or over ceilings.
BAFO U.S.
www.bafo.com
Best Practices for pathways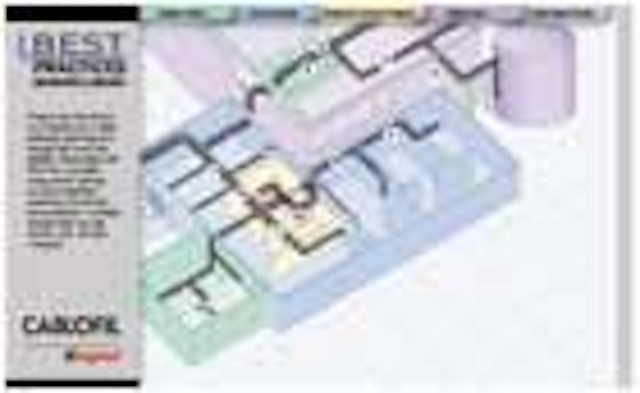 Click here to enlarge image
A new online Best Practices Drawing Library is designed to assist contractors in correct cable pathway installation practices and help designers with cable management planning. The tool can be also used by companies to train installers.
CABLOFIL/LEGRAND
www.cablofil.com
Outdoor fiber solution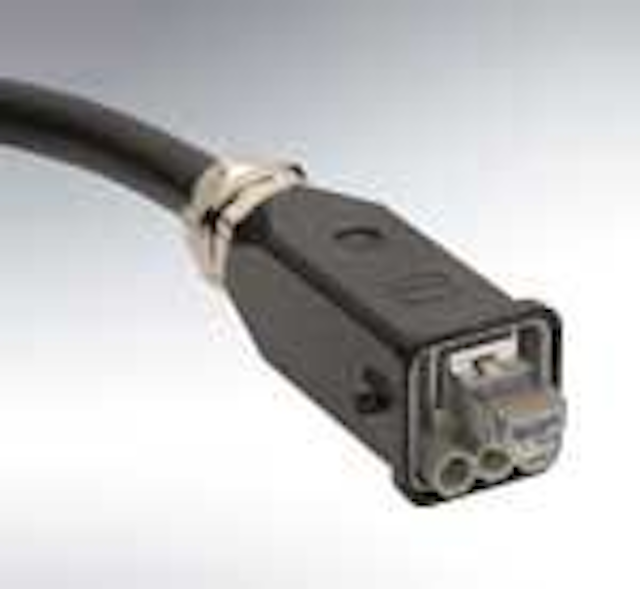 Click here to enlarge image
The company's new range of products for outdoor telecom applications combines its PushPull technology and Han 3A housings with fiber- and copper-based inserts. Integration of LC singlemode and multimode connectors makes these solutions suited for the demands of harsh environments, while hybrid options (pictured) combine data (LC fiber or RJ-45) and power in one connector.
HARTING KGaA
www.harting.com
Direct connection support

Click here to enlarge image
This splitter tap now supports direct cable connections, using LC connectors, for ATM, Gigabit, and 10-Gigabit fiber networks. LC to SC cables are no longer needed to deploy application and security monitoring tools. Connectivity options include singlemode and multimode fiber at 50- and 62.5-µm core diameters. GigaBit models support SX, LX, and ZX, while 10-GigaBit models support laser-optimized OM3, SR, LR, and ER specifications. Designed for high-density interconnect and crossconnect deployment, the splitter contains passive optics that eliminate the need for a power source.
NET OPTICS
www.netoptics.com