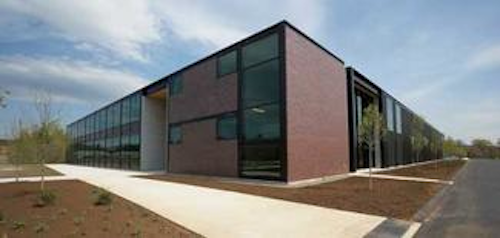 Germany's TRUMPF uses a Category 7 system to ready its U.S. manufacturing plant for 10-GbE and beyond.
It is widely known that the Telecommunications Industry Association (TIA; www.tiaonline.org) does not recognize Category 7 cabling systems; however, in today's technology-driven marketplace, some networks in the United States demand the higher bandwidth and increased speeds associated with Category 7. One such network is located in Farmington, CT.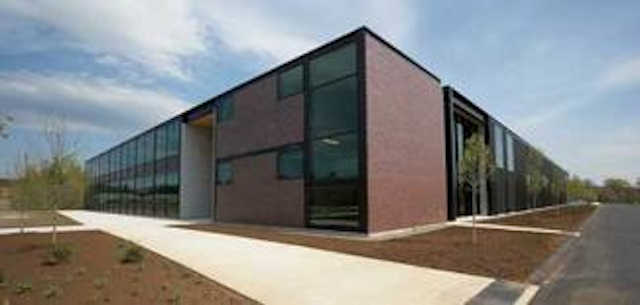 The LITE building in Farmington, CT is fabricating-equipment manufacturer TRUMPF's Laser Innovation and Technical Excellence center. The building is cabled with a Category 7 structured cabling system from Nexans.
Click here to enlarge image
A new, 85,000-square-foot state-of-the-art manufacturing facility constructed by Germany-based TRUMPF had unique data and communications requirements. TRUMPF, the world's largest manufacturer of fabricating equipment, produces a wide range of machine and power tools for sheet metal and materials processing. TRUMPF is also the leader in the world market for the fastest-growing segment in its business—lasers used in industrial production, such as laser cutting, welding, and marking.
The new laser-manufacturing facility in Farmington, constructed as the headquarters for this market sector, is named the Laser Innovation and Technical Excellence (or "LITE") building. Construction began in 2006 and was completed last year.
BVH Integrated Services Inc., a multi-disciplined consulting engineering firm in Bloomfield, CT, designed all the mechanical and electrical systems within the LITE building, and was also the telecommunications and data-communications consultant hired to work directly with TRUMPF Inc. and the German consulting group dtm-group (www.dtm-group.de).
For today and beyond
"Due to the nature of the building, there were many unique data and communications requirements," says Michael York, technology specialist at BVH. "In Germany, TRUMPF deploys Cat 7 solutions that transmit 10-Gigabit Ethernet. The biggest challenge we faced was finding a solution that would fit TRUMPF's needs on day one and meet network demands well into the future. We researched Augmented Category 6 solutions and found that they just didn't meet the demands of the TRUMPF networks. Also, TRUMPF, as a company, has standardized on Cat 7."
York and his team of technology consultants researched Category 7 solutions and found that purchasing the cabling and equipment within the U.S. would be a challenge. Many meetings were held with TRUMPF, BVH, and the project's construction manager, Bartlett, Brainard and Eacott, Inc. (BBE; www.bbeinc.com). After weeks of consideration and much research, TRUMPF agreed upon the Nexans (www.nexans.com) LANmark-7A solution.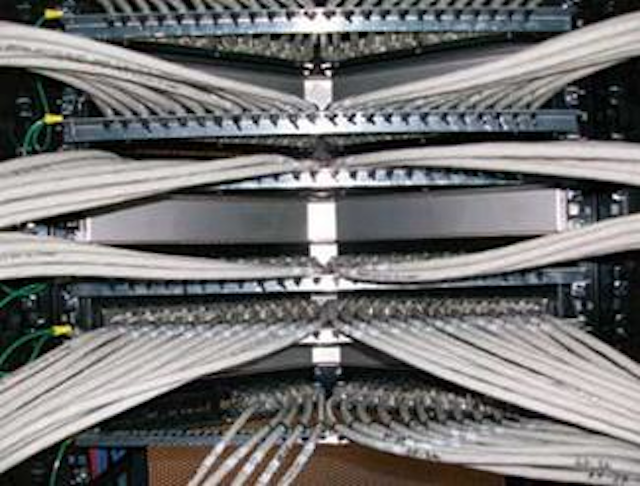 Installation contractor Tri-Com cable pulled, terminated, and tested approximately 1,800 fully shielded (S/FTP) cables, including these, in the LITE building.
Click here to enlarge image
Katherine Mahoney, TRUMPF's U.S. manager of information technologies, cites backward compatibility as the most valuable benefit of LANmark-7A: "LANmark-7A's connector, GG45, has the ability to accept existing RJ-45 connectors, thus allowing us to expand our infrastructure's speed and performance without the costly replacement of various network components, such as cabling."
Mahoney adds, "This gave us the flexibility to expand and relocate desktop devices and new production technologies within a stable network infrastructure." The features solidified TRUMPF's decision to deploy the LANmark-7A GG45 cable/connector system in its new LITE manufacturing building.
BVH agreed with TRUMPF's decision. York says, "With the backward compatibility of GG45 connectors, cable, and patch cords, this allows the cabling solution to perform up to 40 Gigabits per second. Studies based on Shannon Capacity prove that up to 50G over 100 meters is achievable. Therefore, 40G over 100 meters can run with some headroom in order to reduce the error rate. TRUMPF has futureproofed its network infrastructure for many years."
Media sharing perk
LANmark-7A also supports media sharing, which was an appealing feature for TRUMPF. Citing the benefits of media sharing, York says, "this allows the user to operate multiple applications from a single GG45 outlet. This is possible because each LANmark-7A pair is its own independent channel that is protected by its own shield, which is main-tained completely through the GG45 connector."
York continues, "A splitter cord is used at both ends to break out the various applications. There are many different styles of splitter cords—two 10/100Base-T links, or a single 10/100Base-T link and two telephones, or four telephones, etc., are just a few. Taking advantage of media sharing can reduce the total number of cables and outlets installed at a location, resulting in a significant cost savings."
He adds, "Media sharing also provides immediate relief in those situations when a data, voice, or video service is required in an instant. Just grab the appropriate splitter-cord, plug it in, and your service is delivered. What is most important is that the integrity of the 40-Gigabit physical link remains absolutely intact, so when you need to upgrade, simply replace the splitter-cord with a 1-Gigabit or 10-Gigabit-per- second patch cord—or even a 40-Gigabit-per-second patch cord—and you're up and running."
Mahoney notes the importance of maintaining the high quality and reliability of the overall network infrastructure as it was expanded into the new LITE building. The engineers at BVH seriously considered the existing and potential bandwidth needs of this networking, knowing TRUMPF would be running 10-Gbit/sec to the desktops. BVH's intent when designing the cabling infrastructure was to provide expandability, thus eliminating the cost of future cabling adds without sacrificing the flexibility of the network infrastructure.
Accepting the LANmark-7A solution did not end the project's challenges; in some ways, it was only the beginning. "The LANmark-7A solution is shielded; the cable has a larger outside diameter than traditional Cat 5e and Cat 6 cabling, so the physical space requirements needed consideration," says York. "We had to address issues such as conduit and sleeve pathways, cable-tray fill requirements, and bonding and grounding of the cable infrastructure."
BVH reviewed the drawings, and redesigned pathways and cable-tray sizes to accommodate the larger-outside diameter (OD) cable. The design of the fiber-optic backbone, complete with hybrid multimode OM3 50-µm and multiple strands of singlemode to accommodate 10-Gbits/sec and beyond to the desktop, was also completed within the LAN. BVH also designed multiple outside plant cable runs from the LITE building to other locations on campus.
The LITE building also houses TRUMPF's U.S. data center. BVH designed the layout of server enclosures, horizontal distribution racks, power, and uninterruptible power supplies (UPS) for the entire network infrastructure.
IT-driven changes
Tom Anderson of BBE, who oversaw the construction of the LITE building, says, "Construction projects today focus heavily on IT, versus 20 years ago when interest centered on conventional mechanical and electrical systems. Most of this change is driven by advances at the workstation, from a black rotary phone and mechanical adding machine in the 1960s to today's multitude of digital devices, including full-featured Internet Protocol telephony, workstations, printers, wireless, and mobile devices. All these gobble up bandwidth."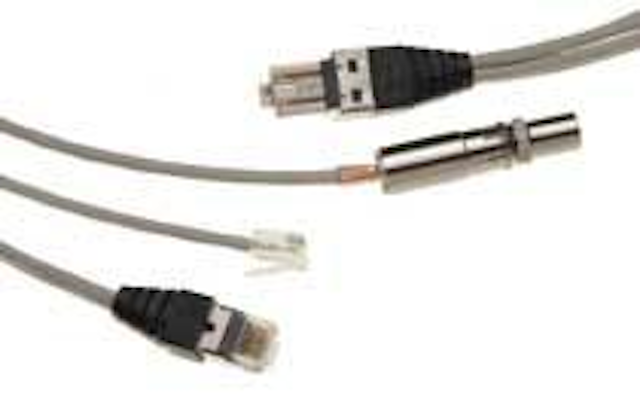 The LANmark-7A cabling system supports media sharing, allowing TRUMPF to operate multiple applications from a single outlet using splitter cords like these to break out the applications.
Click here to enlarge image
Many of BBE's renovation projects, Anderson adds, are now driven by IT changes: "In the 1980s, we were installing coax, twinax, or large bundles of twisted-pairs to the workstations with complicated combinations of cable as backbone. In addition to the cost of cable and hardware, the wiring routes created to support installations were major investments for our clientele."
Anderson notes that not long after these investments were made, they were obsolete—and his firm was again asked to handle major upgrades to then-new Category 5 cabling solutions and support. As bandwidth needs increased even further, infrastructure again had to be replaced.
He credits theLANmark-7A solution with counteracting the historic need to recable and retrofit networks every 5 to 10 years as new technologies requiring greater bandwidth emerge.
"One of the great things about the LANmark-7A solution is that it handles today's hardware with a standard RJ-45 connector, which supports increased bandwidth demands simply by changing a patch cord," Anderson says.
Matt Tryon of Tri-Com Cable (www.tricomcable.com), project manager responsible for the overall installation of the cabling infrastructure, says, "Working with new products can be a challenge. This was my first experience with the Nexans LANmark-7A solution. We needed to get familiar with the solution in order to make this project a success. The first step was getting trained. Nexans set up a training session locally for contractors in the area. They subsequently set up a training session on-site for my technicians and the staff at TRUMPF. They were available and responsive to all of our questions and needs throughout the entire project."
Tryon recalled, "Now the fun begins—it's time to pull some cable. The diameter of the cable is the first thing we noticed. Without proper planning, the cable size could have made things very difficult. Fortunately for us, the cable trays and conduits were designed by BVH with this in mind. Pulling multiple cables was also more difficult because of the diameter and additional weight versus a standard Cat 6 cable. We decided that pulling more than 12 reels at a time became really inefficient."
Tryon continues, "The termination and testing phases concerned me the most at the onset of this project. We had only terminated these connectors in training. Now, we had to terminate 1,800 of them. Initially, it took us between four and five minutes a termination. As we became more proficient at the process, we could complete a termination anywhere between three and four minutes."
Passing with flying colors
After completing all of the terminations, Tryon adds, "we now had to test all of the cable runs. All of my concerns were quickly dispelled as testing began. We tested using Fluke's DTX-1800 set to test for ISO 11801 Class F wiring. The results were amazing. There was plenty of headroom left in this system. Properly terminated connectors provided exceptional passing margins. The only failures were attributed to technician error. We did learn that we needed to pay special attention to the foil of the shield. Most of our failures were from the foil making contact to one of the conductors inside the jack."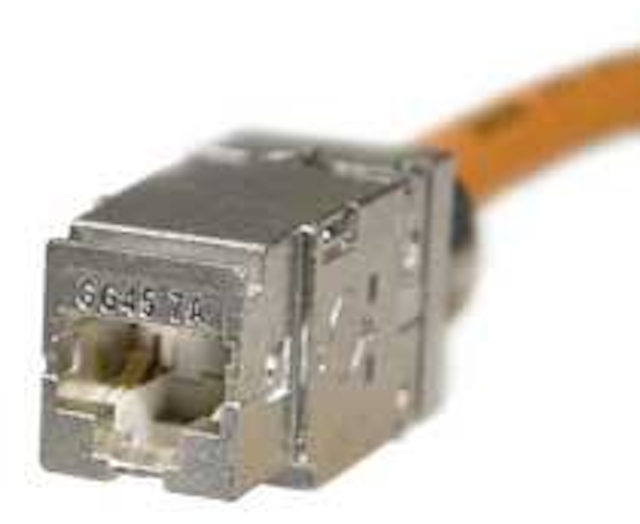 According to TRUMPF's U.S. IT manager Katherine Mahoney, backward compatibility between LANmark-7A's GG45 connector (shown here) and the RJ-45 connector was the system's most valuable benefit.
Click here to enlarge image
Explaining the long-term benefit of a Category 7 solution, BHV's York says, "The bottom line is the installed cost of the Cat 7 solution was competitive versus today's Cat 6A solutions. The ability to futureproof may offset any increase in costs over today's other solutions. You no longer have to gamble withcabling for today's needs at the risk of not being able to meet future advancements in speed and bandwidth. Sure, there is a premium for the material, but not the labor. If your project has the budget and the need, price this solution versus a Category 6 or 6A. You may be surprised."
JAMES W. OHLHEISER, P.E., LEED AP, is chief executive officer of BVH Integrated Services Inc. (www.bvhis.com), a multi-disciplined engineering firm.