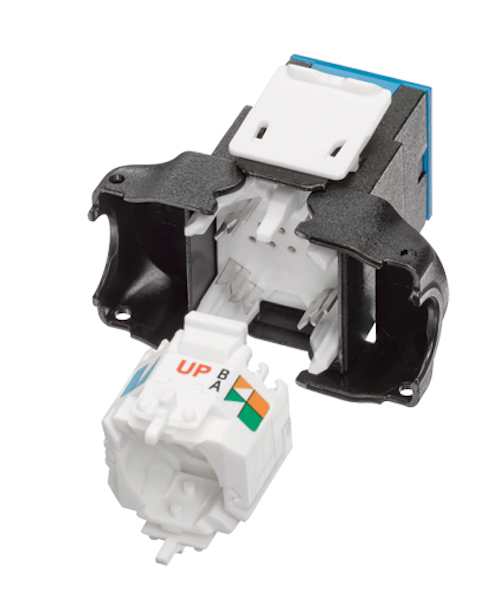 Product enhancements make the process of terminating a twisted-pair cable to a j
ack simpler.
For the past few years many cabling installation professionals have gotten accustomed to terminating connector manufacturers' field-terminable plugs. The central component to the modular plug terminated link (MPTL), the field-terminable plug is a relatively recent introduction to the market. Each of these plugs has some level of proprietary design and tooling, and its own terminationmethod.
While terminating twisted-pair cables to modular plugs is a relatively new exercise and skill for many installers, terminating these cables to jacks is something they have been doing essentially as long as they have been in the trade. But that doesn't mean the process of terminating twisted pairs to a jack has remained the same for that length of time. Several manufacturers of twisted-pair jacks have made modifications to their product sets to improve and simplify the termination process. This article will point out a couple examples ofthem.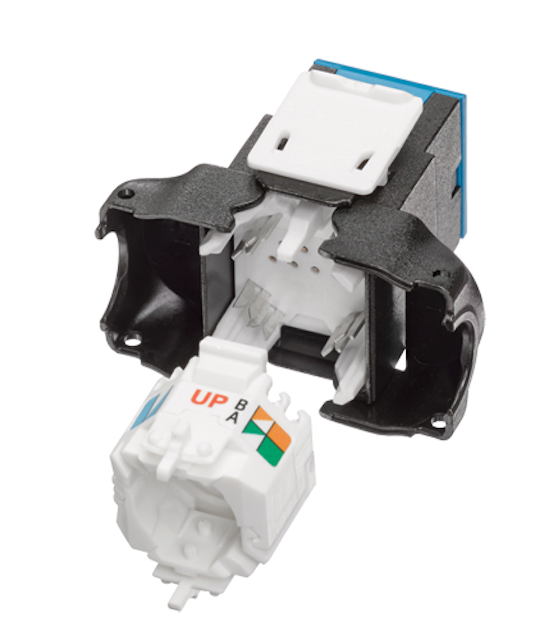 Leviton's Atlas-X1 system features a wire manager with strain relief (in the foreground) as well as door-release levers to support quick, repeatable, tool-free terminations.
Siemon's Z-Max Category 6A system is available in with shielded and unshielded components, and the company emphasizes the system's fast, easy and reliable termination process. "The intuitive design of the Z-Max outlet optimizes each step of the termination process to eliminate errors that lead to delays and rework, setting a new benchmark for both UTP and shielded Category 6A termination speed and consistency," Siemon states. "The Zero-Cross termination module accelerates lacing while maintaining pair structure. Rapid Z-Tool-based termination eliminates variability that can degrade performance. UTP and shielded outlets terminate in exactly the same way." Additionally, the company says, wiring verification is simplified via color-coding on twosurfaces.
Andy Reynolds, manager of channel development for Siemon, commented, "When we first launched Z-Max, we were pretty conservative in our termination-time estimates, suggesting it could be consistently performed in about 60 seconds. But since then, contractors in the field have regularly reported significantly faster results." Based on that feedback, the company challenged installers to submit videos of their fastest Z-Max terminations. The winner of that contest completed the termination in 23.5 seconds, and the runner-up completed it in 28.9seconds.
As for the outlet's performance, the company says its "diagonally oriented contact technology is a unique configuration that varies the alignment of each individual contact within the Z-Max outlet for distinct performance benefits. It maximizes pair-to-pair separation from adjacent outlets to minimize alien crosstalk, enhances near-end crosstalk performance within outlets, [and] fully enclosed ICD [insulation-displacement connections] eliminate exposure of uninsulatedconductors."
The company says other features of its Z-Max Category 6A system are user-focused. For example, the shielded outlets feature linear lacing channels that guide correct conductor placement while two-sided color-coding provides wiring verification before and afterlacing.
Leviton offers the Atlas-X1 copper cabling system in unshielded (Category 5e, 6, and 6A) as well as shielded (Category 5e, 6, 6A and 8) versions. It features a tool-free termination process for all performance levels. "The innovative wire manager and door-release lever support the industry's fastest tool-free termination and re-termination for easy and predictable installations, saving time and reducing labor costs," the company said when it introduced Atlas-X1, adding that the platform "gives the installer a consistent termination method across the board, from Category 8 to Category 5e for shielded and from Category 6A to Category 5e for UTPinstallations."
In a video that demonstrates the tool-less termination process for Atlas-X1, Leviton explains the connector "offers an extensive range of features to enable fast installations. The connector supports simple, predictable installations to save time and reduce labor costs. And with an identical form factor, learn only one termination process across Cat 5e, 6, 6A and beyond. Should rework be required, the innovative door-release levers save valuable time and streamlinereterminations."
Leviton also emphasizes the connector line's performance capabilities for transmission speeds as well as supporting Power over Ethernet delivery. "PoE-optimized tine geometry prevents damage from arcing at contact mating zone between plug and connector," the company notes. Additionally, the Atlas-X1's "solid metal body provides unparalleled durability in both UTP and shielded connectors, and dissipated heat 53 percent better than plastic connectors for PoEapplications."
The company concludes, "Atlas-X1 is ideal for deployment in all types of mission-critical networks. It offers tool-free termination for simplified installations, and is easily scalable for migrations up to 40GBase-T. It also is capable of supporting Power over Ethernet up to 100watts."
These two manufacturers' offerings exemplify the steps cabling vendors have taken to improve the simplicity and efficiency of the jack-termination process. We will continue to cover product and technology introductions aimed at improving work process for professionals in the cabling trade. u
Patrick McLaughlin is our chief editor.