Editor's Picks
Expandable filler panels from Simplex Isolation Systems are used to close off odd gaps between racks in data centers...
Jan 1st, 2012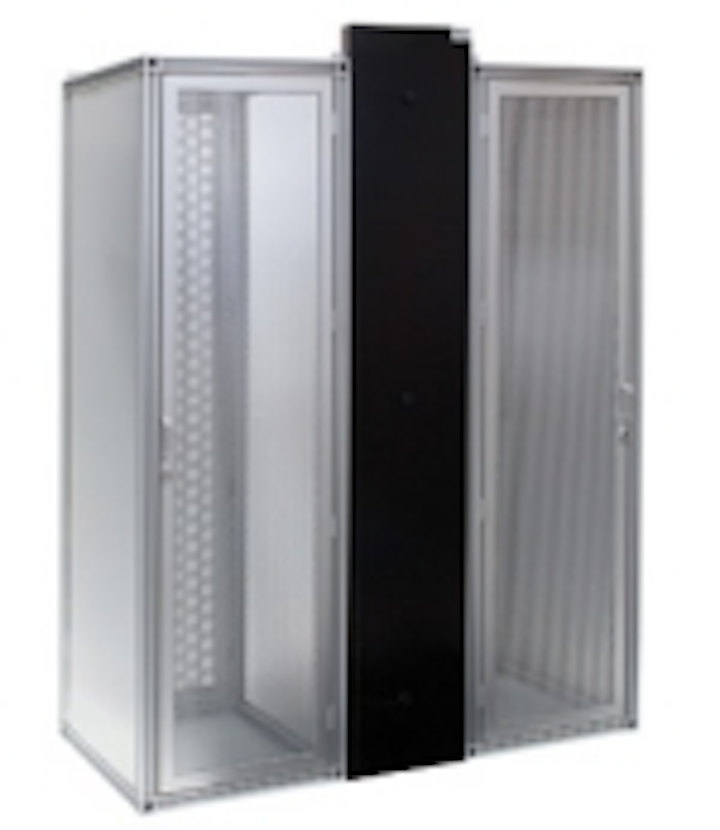 From the January, 2012 Issue of Cabling Installation & Maintenance Magazine
Compiled by Patrick McLaughlin
Filler panels close gaps between data center racks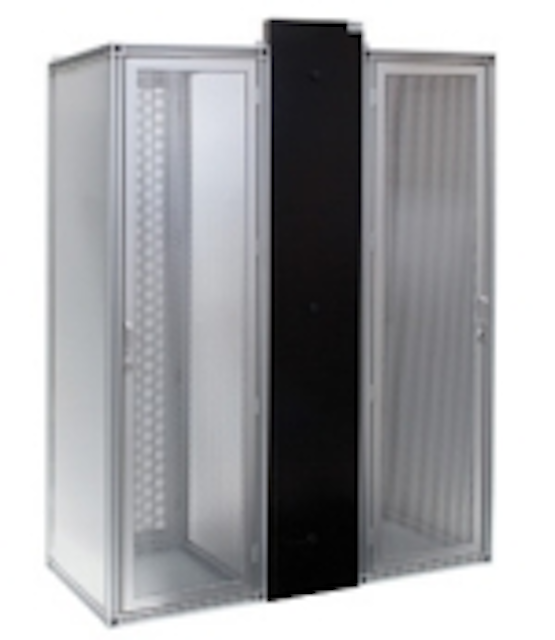 Expandable filler panels from Simplex Isolation Systems are used to close off odd gaps between racks in data centers, the company says. The panels are designed to close off space between racks, power units, columns or other open spaces where hot and cold air can combine. Simplex adds that the panels are also effective as permanent or temporary fillers for missing or removed racks.
Duane McKinnon, president of Simplex, said, "These panels were developed by Simplex engineers after visiting several data center sites and installations and seeing the kinds of challenges facing data center managers out there. Users report they are very effective."
The panels are telescoping and come in five sizes that cover widths from 6.5 to 56.5 inches. Standard height is 84 inches but custom heights are also available. Simplex says they adjust by loosening and tightening three knobs, and are constructed from Class 1 fire-rated, 1/8-inch-thick aluminum-skinned composite material. Two-inch flanges on each side are fitted with a magnetic seal to hold tight to the cabinets. The panels do not require any mechanical fasteners.
---
Mobile-device-friendly catalogs
General Cable announced that its line of Interactive Catalogs are now mobile-device friendly. The wire and cable manufacturer launched its collection of Interactive Catalogs on its company web site under the heading 'Catalogs,' in July. The company says its new mobile-friendly format makes the catalogs compatible with tablet and smartphone devices equipped with Android and Apple operating systems.
"It was an easy call. This is where our customers are," said Lisa Lawson, vice president of corporate communications for General Cable.
Lawson added, "Re-engineering marketing to embrace electronic devices will more effectively and efficiently support and service our customers today and into the future. With more and more business being conducted on the Internet through mobile devices, doing business with General Cable will continue to be quick and easy from wherever you are, delivering unlimited content in real-time. "
---
Flat cable system enables data and power connections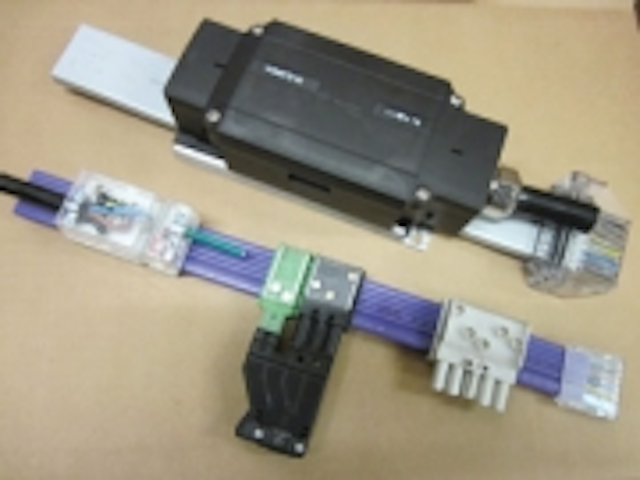 Electrotech describes its ESG Flexible Power and Data Bus System as a solution for running power and data to both industrial and commercial equipment. The company says the system "will save time and material by eliminating the need for junction boxes, splices and home-run wiring."
The family of multi-conductor flat cables is available with 5 to 7 connectors, with individual conductors ranging from 16 AWG to 6 AWG. The cables are made with PVC, polyethylene or halogen-free sheaths, Electrotech says, adding that power connection boxes are rated from 1 Amp up to 76 Amps and use insulation displacement connection (IDC) technology.
The ESG Flexible Power Bus System is available with a series of power-connection boxes that provide IP-65 protection, which makes them appropriate for washdown or outdoor applications, Electrotech says.
---
Fiber modules have 0.4-dB insertion loss
CABLExpress has announced that its fiber-optic modules - including the MTP-to-LC modules in its Skinny-Trunk H Series and its RSD Series fiber enclosures - now have 0.4-dB insertion loss. "At 0.4-dB loss, CABLExpress modules allow customers to follow the TIA-942 design standard while keeping up with increasing network demands," the company said when announcing this new performance level for its products.
The company's president, Peter E. Belyea, said, "Not only does it immediately improve data center performance, but it also futureproofs our customers' data centers through multiple generations of hardware upgrades," adding that, "CABLExpress will continue to push the envelope in lowering the insertion loss of Skinny-Trunk products."
CABLExpress says its Skinny-Trunk H-Series Enclosure is ideal for condensed fiber applications and is available in both vertical and horizontal 1U, 4U, 6U and 10U mounting configurations. The RSD Series fiber enclosure is manufactured for structured cabling environments and open racks in telecom rooms, and is available in 1U, 2U and 4U. It comes with recessed sliding drawers for convenient access.
---
TE Connectivity acquiring harsh-environment connector manufacturer for $2 billion
TE Connectivity announced that it has entered into negotiations to acquire harsh-environment connector manufacturer Deutsch Group SAS for approximately US$2 billion. "The proposed acquisition will enable TE to provide a wide range of industry-leading connectivity products for harsh environment applications," the company said in a release announcing the negotiations.
The announcement also stated that Deutsch is expected to generate revenues of approximately $670 million in 2011.
Tom Lynch, TE Connectivity's chief executive officer, said, "Deutsch is an outstanding company with a long history of leadership in providing custom-engineered connectivity products for harsh environment industrial applications. The acquisition of Deutsch is a major step in executing our vision to provide the most complete range of connectivity solutions for our customers worldwide. The complementary nature of the products provided by our two companies will enable us to better serve customers in key industries ... With our global reach and scale, we expect to expand the growth of Deutsch's products. This, combined with the opportunity for operating efficiencies and tax synergies, will enable us to deliver significant value for our shareholders."
Deutsch's president and chief executive officer Bertrand Dumazy added, "The combination of our two companies will allow Deutsch to join a large global organization with a very good reputation in the connectivity industry. The very strong complementary positioning of our teams, our operations, our technologies and our products will allow us to improve our commercial position from a geographic standpoint as well as in serving customers."
---
Compact dividers for loose-tube fiber-optic cables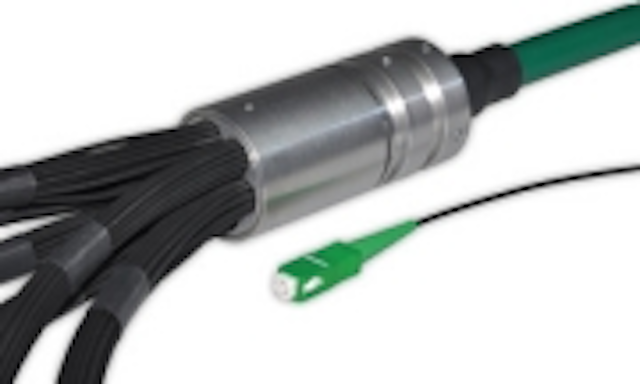 A new set of fiber-optic dividers from tde, trans data elektronik, is designed to support loose-tube cables with up to 144 individual fibers. Dividers or "spider fan-out" units separate the fibers in a loose-tube cable and transform them into single loose-tube cables, allowing a direct connector termination, tde explains.
tde's chief executive officer Andre Engle says, "The new dividers are now available for the tde standard trunk cables and will shortly be available for the tML-trunk cables as well. Users have the advantage of a fast plug-and-play installation with minimum space requirements."
The set of dividers includes five different models accommodating 4 to 144 fibers. "The design of the divider is very compact," the company notes. "With a length of 85 mm and a diameter of 40 mm the 144-fiber divider easily fits on one rack unit. The normal glands were deliberately omitted so that the screws cannot be loosened accidentally or opened carelessly. The divider housing is made of sturdy aluminum and offers an excellent tensile strength."
More CIM Articles
Past CIM Articles