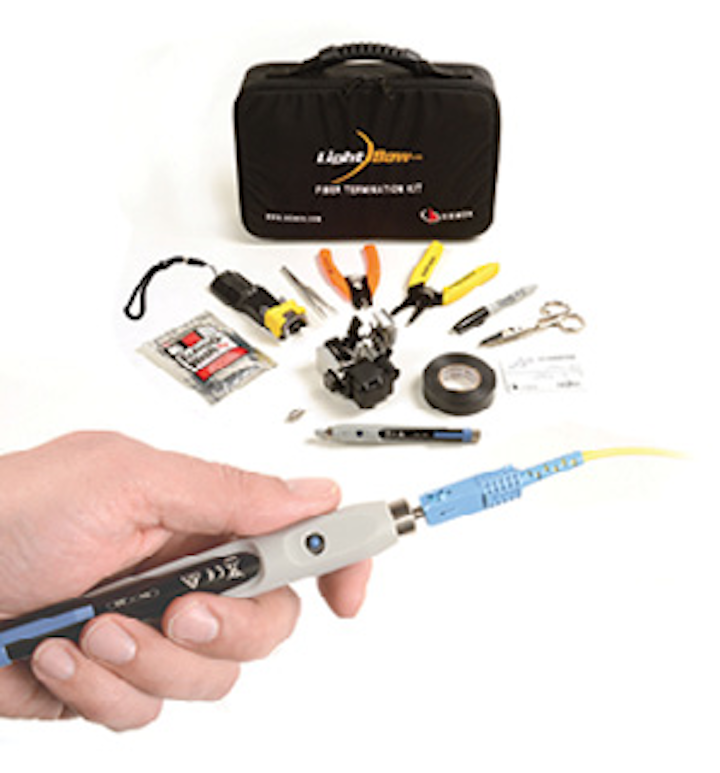 Siemon's LightBow VFL
Included in Siemon's LightBow fiber termination kit is an essential VFL tool that enables easy verification using the integrated VFL window on the company's LightBow prepolished mechanical splice connectors. This handheld VFL offers continuous or flashing modes to easily indicate continuity or to identify faults caused by breaks, damaged connectors, defective splices or tight fiber bends on all fiber types up to about 5 km. It has an integrated 2.5-mm adapter for connection to SC, ST and FC connectors and an optional 1.25-mm universal adapter for connection to LC and MU connectors. Siemon's Laser Class 1 pen-style VFL is also constructed with a rubber protective guard and uses a ceramic alignment sleeve to ensure optimum core-to-core alignment.
Siemon, www.siemon.com/lightbow
EXFO Pocket Pal VFL
The EXFO Pocket Pal visual fault locator is billed as a robust, cost-effective OTDR dead-zone tool. This VFL identifies fibers from end to end and locates polished connector endfaces easily. It features a universal connector that accommodates 2.5-mm ferrules for SC, ST, FC connectors. The VFL includes two AAA alkaline batteries, soft pouch and wrist strap with carabiner belt clip, a user guide and a certificate of compliance. EXFO says its Pocket Pals "are the truly affordable way to locate faults in OTDR dead zones. A red laser shines through most yellow-jacketed fibers to help you pinpoint breaks, bends, faulty connectors, splices and other causes of signal loss. These handy locators have up to 5-km distance range and a 635-nm wavelength with excellent visibility and the highest attenuation. Pocket Pals have an attractive short-range visibility/price ratio. They locate faults visually by creating a bright red glow at the exact location of the fault on singlemode or multimode fibers." Due to its small size, light weight, and simple design, the Pocket Pal can accompany technicians even to the most demanding environments, adds EXFO. Each unit has rubber seals, a fully enclosed laser head and a long-lasting on/off switch. The tool's efficiency guarantees prolonged battery operation for 50 hours uninterrupted, according to EXFO. The FLS-241 model features a universal connector that accommodates 2.5-mm ferrules. Each tool is 6.875" x 1" and weighs 4.23 ounces with batteries.
EXFO, www.exfo.com
Greenlee's 180XL VFL
The 180XL visual fault locator allows technicians to quickly and safely visually locate broken and pinched fibers, faulty connectors, and bad splices. The long reach of the 180XL allows technicians to safely confirm fiber continuity up to distances of 7 km. Greenlee asserts that the 180XL allows the technician to quickly locate faults without the use of more-expensive equipment, while its Class 2 designation provides safe light levels for the technician. Other key features include a universal 2.5-mm bulkhead, optional 1.25-mm adapter available, Class 2 certification with 0dBm output power, compatibility with singlemode and multimode fibers, and a 2-Hz modulation mode.
Greenlee Communications, www.greenleecommunications.com