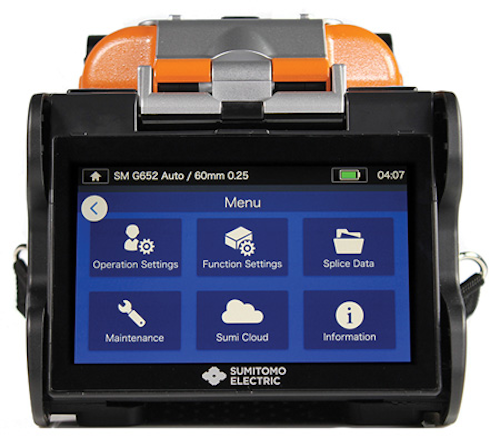 The splicer type is important, but so too are preparation and tool maintenance.
Fusion splicing once was predominantly the domain of outside-plant installers and technicians who used the method to connect singlemode fibers for long-haul and large-campus networks. As The Fiber Optic Association explains in its Reference Guide to Fiber Optics, "Fusion splicing is the most widely used method of splicing, as it provides for the lowest loss and least reflectance, as well as providing the strongest and most reliable joint between two fibers."
In long-distance singlemode applications, low loss and low reflectance always have been critical. Multimode applications, on the other hand, often had more "give." The combination of speed and distance accommodated by multimode often meant that a multimode fiber-optic infrastructure could withstand some loss and still provide plenty of signal for the transmission to be successful. Notice the use of past tense in that last sentence. Many of today's multimode applications require very low loss connections and are intolerant of much reflection.
That's one reason that splice-on connectors have become increasingly popular. In a blog post titled "Six reasons to consider splice-on connectors," Belden global product line manager for fiber connectivity Matt Hurst explains, "Splice-on connectors have better insertion loss and return loss performance compared to a mechanical splice. Because it uses a fusion splicer, a splice-on connector creates a continuous connection in the glass by 'welding' cores together. This results in better performance at the splice, and is then combined with a factory-terminated connector endface. The result is more robust performance compared to a mechanical splice, which simply aligns two fiber stubs as precisely as possible with index matching gel."
Insertion loss and return loss performance accounted for one of the six reasons in Hurst's post. The others were fewer materials and components required, installation flexibility, generic requirements for outdoor environments (as published by Telcordia/Ericsson), advanced tooling automation, and decreased fusion-splicer costs.
Keith Foord, product manager for fiber optics with Greenlee Communications, detailed not only the "whys" but also the "hows" of fusion splicing in a presentation titled "Achieving low-loss requirements through fusion splicing," as part of an online seminar hosted by Cabling Installation & Maintenance on May 25, 2017. The seminar is available for online viewing through November 25.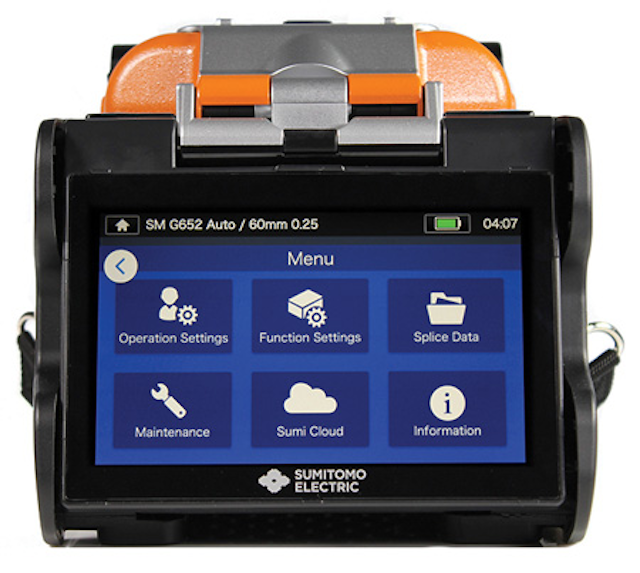 The Q102-CA fusion splicer from Sumitomo Electric Lightwave incorporates core-alignment technology.
In his presentation, Foord provided a visual depiction of splice-on connector termination in a fusion splicer. He also provided significant detail on the merits of fusion splicing and the capabilities of different splicer types.
"Reflections are the enemy of the network," Foord said. "If you use a connector of lesser performance, whether due to contamination or damage, you could have a lot of reflection. Fusion splicing delivers the lowest possible reflection loss, and near-zero return loss." Reflections, he explained, cause light to reflect back toward the source. When the reflected light reaches the source, it is transmitted in the original direction again, but is really noise. This scenario is called ghosting. Reflections are far more common when mechanical connections are used and virtually do not happen when fibers are properly fusion spliced.
Best approaches
Fusion splicing is a discipline with its own set of best recommended practices, which Foord outlined. "It all starts with the cleave and stripping the fiber," he said, adding that fiber stripping is the most difficult and time-consuming task in the process.
Cleanliness is imperative in several aspects of fusion splicing, Foord emphasized. "The cleaver must be clean. It can't have fiber shards or leftover pieces. That will prevent you from making a good cleave, and a bad cleave will result in a bad splice."
The splicing technician should undertake arc calibration, he said. "This needs to be done at the beginning of a splice session, and even during a splice session if atmospheric conditions have changed, such as humidity or barometric pressure." Modern splicers have sensors that can indicate such atmospheric changes, Foord noted, but the technicians still must fine tune the splicer accordingly to achieve best possible performance.
The "clean theme" also applies to other components of the splicer, including mirrors, objective lenses, and V-grooves.
All about alignment
The effectiveness of a fusion splice is all about alignment. The fiber's core, which carries the signal, is surrounded by cladding. For optimum splice performance, the fiber cores must align as closely as possible. For years fusion splicers were available in two types: core-alignment and cladding-alignment. As the term indicates, a core-alignment splicer aligns the fiber cores together, producing a high-quality, high-performance splice. It does so by use of motors for each of three dimensions X, Y, and Z (left/right, up/down, and in/out). Additionally, a core-alignment splicer has focus motors that pinpoint the fiber core.
With a cladding-alignment splicer, the fibers rest in V-grooves, while motors control the "Z" or in/out dimension only. Cladding-alignment splicers are the most economical type, but are susceptible to V-groove contamination and damage, which can displace the fiber and result in a poor splice. Because the cladding and not the core is in alignment, splices generated by cladding-alignment splicers result in higher splice losses.
The ability to align fiber cores has been key to a high-performance splice for years in part because fiber concentricity—the extent to which the core is centered within the fiber—is a potentially detrimental factor. Foord explained, "If you're working with old fibers or dissimilar types of fibers," then fiber concentricity could present a problem and a core-alignment splicer is necessary to ensure a high-quality cleave.
Recently the active-clad alignment splicer has emerged. These splicer types provide loss performance that is similar to that of core-alignment splicers when the fibers being spliced have been produced within approximately the past five years. Foord explained that active clad alignment splicers are "geared toward the last mile—making connection to the optical network terminal, to the customer … from the splitter in fiber-to-the-home networks."
An active-clad alignment splicer is more economical than a core-alignment splicer because it does not include the components that focus on and pinpoint the fiber core. Because of improvements in fiber-manufacturing techniques, fiber concentricity no longer presents itself as a potential problem with fibers that have been produced in the past handful of years. That improvement in fiber concentricity has obviated the need for those additional capabilities in a fusion splicer—provided that the fibers being spliced via active-clad alignment were manufactured to current quality standards.
Even with these improvements in fiber-manufacturing precision, and developments in fusion-splicer technology, technicians nonetheless can face a number of challenges when fusion splicing fiber. Foord cited several examples: "Splicing dissimilar fibers, or an older fiber to a newer fiber." In these cases, the core-alignment splicer's capabilities are necessary to ensure proper quality.
He also pointed out that fiber composition can be a challenging issue. "Some fibers are made of different materials," he noted. "Some are easier to melt than others. In this case you'll need to apply more power to one fiber than to the other fiber. Today's fusion splicers have many different controls that allow technicians to handle these challenges." He said an always-wise piece of advice is to use the splicer's instruction manual as a guide.
Splicers on the market
Greenlee offers the 910FS core-alignment fusion splicer and the 915FS active-cladding alignment fusion splicer. Of the 910FS it says, "The intuitive user interface keeps the learning curve short and enables the technician to be productive in a very short time. All standard fibers are supported with prequalified splicing profiles that can be modified and subsequently stored for more-demanding fiber applications." A kit available from Greenlee bundles the 910FS splicer, cleaver, extra battery, and fiber strippers.
The 915FS "uses active cladding alignment technology, which allows the technician to reliably fuse fiber-optic cables with low splice losses. Active clad technology splicers provide a more cost-effective splicing alternative to core alignment, but still provides low splice losses," Greenlee said.
Sumitomo Electric Lightwave also offers both core-alignment and active-clad alignment splicers. The Q102-CA core-alignment fusion splicer is part of the Quantum splicer product line. The splicer achieves a five-second splice time and nine-second heating time. The company stated that dual independent ovens and a smartphone-like user interface are key features.
The T400S Active Clad Alignment Fusion Splicer from Sumitomo "focuses on creating one machine that accomplishes all FTTx splicing initiatives in the field," the company said when introducing the splicer in the spring. The company emphasized the T400S's simplified user interface. "Consistent and quality low-loss splicing and the compatibility with the Lynx2 splice-on connector make this splicer an economical choice for reliable deployments," it added.
AFL offers the Fujikura 62S active core alignment fusion splicer, which includes a flip-open wind protector and non-motorized tube heater. The company pointed out these and other characteristics reduce the splicer's complexity without compromising total cycle time. "Additionally, the number of steps to process splices is minimized with an autostart feature for both the splicing and tube-heating process," AFL said. The splicer's transit case doubles as a built-in or mobile workstation.
The Fujikura 22S active cladding alignment fusion splicer from AFL reduces errors from dust and other contaminants thanks to its moveable V-grooves, the company said. "Removable sheath clamps allow the use of fiber holders, and the unit's large monitor provides a crystal-clear image, even in bright sunlight," AFL added.
---
Patrick McLaughlin is our chief editor.