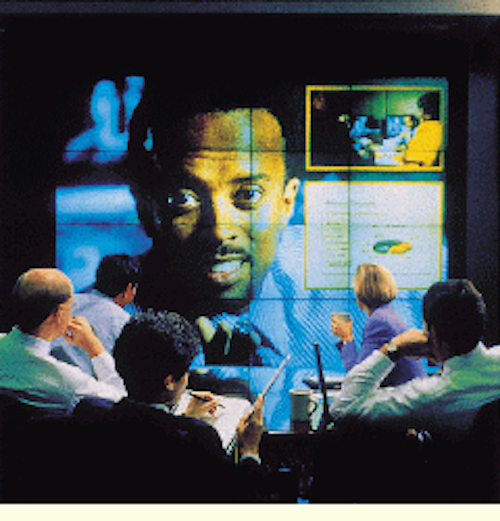 In premises cabling installations, fiber-to-the-desk is becoming an ever-more-popular solution to the growing demand for bandwidth in communications systems.
Atikem Haile-Mariam and Tom Stammely
Like the threads in a web, glass optical fiber continues to branch out from central telecommunications hubs into the premises market and all the way to the desktop. Virtually all types of premises network users, from businesses and research facilities to schools and hospitals, are finding that optical fiber is a viable alternative to copper cable for use in local area networks (lans). Just as long-haul telephony applications proved fiber`s capacity for error-free transmission over long distances, these premises applications are proving that fiber is a reliable, cost-effective choice for data communications.
Several key benefits of optical fiber are well-suited to these applications. Specifically, lan cable-plant managers are find-ing that fiber offers
- a cost-effective solution for bringing bandwidth to the desktop,
- the ability to support higher data rates without recabling,
- greater reliability and less downtime,
- ease of handling, installing, and testing,
- greater security,
- long-term economic savings.
The explosive growth of data rates--doubling almost every year--is the result of networks that are increasing both in size and in bandwidth requirements. As users develop the need for such bandwidth-hungry applications as multimedia, videoconferencing, and Internet access, information-technology managers are recognizing that they must build high-bandwidth networks that are extremely reliable and offer long-term scalability--conditions that are met only by fiber.
When bandwidth is critical
"In real estate, they used to say that the three most important criteria were `location, location, and location,` " says John Gilbert, chief operating officer for Rudin Management, a building management firm in New York City. "Now it`s `location, bandwidth, and location.` " This change reflects the need to provide tenants of office buildings with state-of-the-art telecommunications equipment and high-speed transmission services, which are required to do business today.
So when Rudin built a facility specifically for corporate tenants in the new-media industry, high-speed transmission and high bandwidth were key design components. The New York Information Technology Center, called "Manhattan`s hottest wired office building," offers each of its tenants access to a host of telecommunications options. As part of the leasing package, the building provides hook-ups for high-speed voice, video, and data transmission; an intrabuilding lan linking all tenants; local and long-distance telephone service; satellite communications; and high-speed Internet access. The high-rise`s most novel feature is that the optical fiber is part of the building itself, so tenants can just plug in when they move in. A high-speed fiber infrastructure provides redundant points of entry.
Technology is a key selling point for occupancy. In this downtown neighborhood, targeted tenants in the new-media industry are attracted by the unique combination of affordable rents and high-speed transmission services. The building currently delivers 100 megabits per second to each tenant, with additional capacity available. Because fiber is protocol-independent and accommodates high transmission rates over long distances, the communications infrastructure will handle all current or envisioned applications.
The building`s designers chose fiber rather than Category 5 copper cable because they wanted to jump off the "recabling treadmill," says Gilbert. "Fiber is the one medium that really matches a building`s lifecycle. We don`t see fiber becoming obsolete in any environment. So we only have to do the construction once."
Gilbert notes a number of other benefits with the fiber infrastructure: "For instance," he says, "with the deployment of fiber, we can put in multiplexers that handle voice, video, and data at very high speeds. With copper, on the other hand, there are limits. Besides, these are media-dependent tenants, and fiber is an ideal medium for them.
"As a result of what`s happening at the New York Information Technology Center," Gilbert continues, "many property owners are now re-evaluating telecommunications issues and other infrastructure issues to update their buildings. All these companies are trying to build an infrastructure that ties into the new media, and fiber is always applicable."
Fiber fits college budget
In various fiber-to-the-desk (fttd) applications, high-bandwidth capability is a desirable feature for academic institutions, where the exchange of ideas and information is a central mission. Cost constraints--so common in academia today--would seem to preclude the use of fiber but, in fact, this is not the case.
At Rider University (Lawrenceville, NJ), for example, school administrators found that the decreasing costs of fiber components and the ease of installing the medium actually saved the university money, compared to copper-cable alternatives.
"We wanted a fiber-optic network to improve the quality of teaching, learning, student life, and administration, and to advance education at Rider during the next five to ten years," says Bruce Metz, the institution`s associate vice president for information technology.
In considering the options, Metz says, the university found its old Category 3 copper network too difficult to maintain. At the same time, it recognized that a copper-based network would not provide the additional bandwidth and flexibility needed to support its goals.
Rider already had a limited optical-fiber backbone connecting ten buildings. The old backbone contained just a few fibers and was used primarily for electronic mail, Internet access, library catalog access, file and print sharing, and central computer resources and processing. It connected three lans and operated at a data rate of 10 Mbits/sec using the 10Base-T Ethernet protocol.
The new network, which is currently under construction, links 39 buildings on a 353-acre campus. Upon completion, the project will include more than 8200 feet of trenches and 38,000 fiber-feet of optical fiber. Even with an installation of this size, though, the project team found that installing fiber saved time and money, and reduced the risk of future problems with connections.
"Using fiber definitely speeds things up," explains Phil Oliver, director of operations at Oliver Communications Group Inc. (Bordentown, NJ), the project installer. "Fiber cable is light and small, and a plus where duct space is scarce."
Oliver notes that bulky copper cable requires more excavation and additional ducts, adding time and expense to a project: "We got into a lot of places where there was a space concern, but we easily put in a 24-strand fiber-optic cable. Fiber actually saved costs on this installation."
The fiber network includes a total of approximately 10,000 connections: 4000 data, 4000 voice, and 2000 video. Every student has a voice mailbox, an e-mail address, and a central computing account. The network also allows for a robust intranet; fax server; collaboration services, including document management and discussion groups; videoconferencing; network printing; and integrated e-mail and voice-mail/fax messaging.
A dual-star topology with fiber connectivity to each building emanates from two hubs: one in the main computing center and the other in the library. The fiber backbone consists of cables containing 144 strands of multimode fiber and other cables with 72 singlemode fibers. The distribution portion of the network uses composite cables of 18 multimode and 6 singlemode fibers to connect the backbone to individual buildings.
The network provides both Fiber Distributed Data Interface and Asynchronous Transfer Mode (atm) operations, with data rates in the backbone running as high as 155 Mbits/sec. Nearly all users have network-level connections on either shared or switched 10- or 100-Mbit/sec lans at their desktops. In a few cases, users have atm speeds at the desktop.
In addition to high-speed transmission, Oliver says the network provides enough capacity for adoption of the latest in innovative educational technologies, such as interactive educational video.
Centralization saves money and space
Network managers are finding even greater economies in fiber installations as they take advantage of new technologies and evolving standards that provide a migration path from today`s shared-bandwidth environment to a more efficient, switched environment.
For example, the new Getty Center (Brentwood, CA) uses a centralized architecture that consolidates all network equipment--hubs, switches, routers, and crossconnects--into a single location. This approach can significantly reduce first-time installation costs while increasing network flexibility, simplifying management, and reducing outages.
The center, which houses offices, laboratories, a museum, and a library, is currently the largest single-phase construction project under way in America. In all, more than 1 million square feet are to be occupied, and construction costs will top $1 billion. When completed, the Getty Center`s network will include approximately 2400 fttd connections.
Centralized cabling allows the center to essentially eliminate the use of distributed intermediate equipment rooms. Only 4 sq ft of wall space are used in place of the traditional telecommunications closets. The use of a fttd architecture permitted a centralized design that recovered more than $5 million in floor space savings, or roughly $90,000 per closet, compared to a copper-based system. These savings were more than enough to pay for the entire cabling system.
"The Getty Center is a long-term investment in a major facility," says Patrick Gorrell, chief designer for aidco Inc. (Chino, CA), which cabled the facility. "To match the permanence of this investment with a communications system that would be equally permanent meant that fttd was a must."
The data network is a switched virtual lan, with air-blown optical fiber sup- porting most data connections. Category 3 unshielded twisted-pair copper cable is used solely for telephony. Initially, each desktop is provided with a 10Base-FL connection, with atm OC-3 (155-Mbit/sec) connections offered as a migration path for larger-scale users.
The data-network design using centralized cabling is compliant with telecommunications systems bulletin tsb-72, the 1995 amendment to tia/eia-568a, the commercial building telecommunications cabling standard of the Telecommunications Industry Association and Electronic Industries Association (Arlington, VA), which allows cable runs of up to 300 meters using optical fiber. An intermediate crossconnect point is established in would-be closet locations.
As network managers look to the next century, it becomes clear that users` voracious appetite for information will only increase. With copper-based lans, keeping pace with this growth means pulling new copper cable every few years.
A more practical alternative is installation of multimode optical fiber, which has the necessary bandwidth to be scalable--that is, to provide capacity for ever-increasing transmission requirements. As a result fiber is quickly becoming the most effective medium for ensuring that networks will perform reliably and cost-effectively in the years ahead.
Atikem Haile-Mariam, market development manager, premises, at Corning Inc. (Corning, NY), and Tom Stammely, senior engineer at Sumitomo Electric Lightwave Corp. (Research Triangle Park, NC), are their companies` representatives to the TIA Fiber Optics lan Section. Other member companies include 3M, Allied Telesyn International, AMP, Belden Wire & Cable, Berk-Tek, CommScope/General Instrument, Lucent Technologies, Siecor, and SpecTran.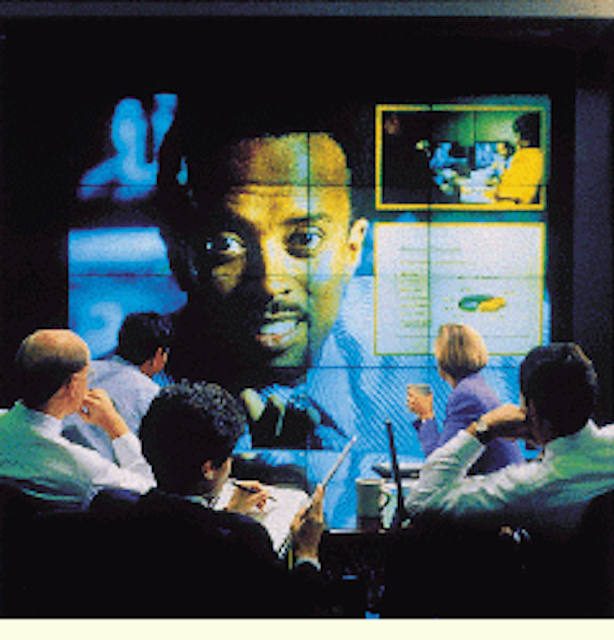 Click here to enlarge image
Videoconferencing is one of many applications made possible by the fiber network at Manhattan`s state-of-the-art New York Information Technology Center.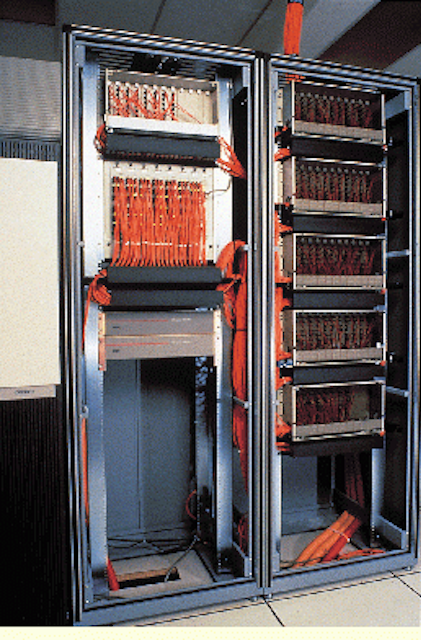 Click here to enlarge image
Wiring for a fiber premises network begins at the equipment cabinet, where the transition is made from the hub, switch, or router to the horizontal.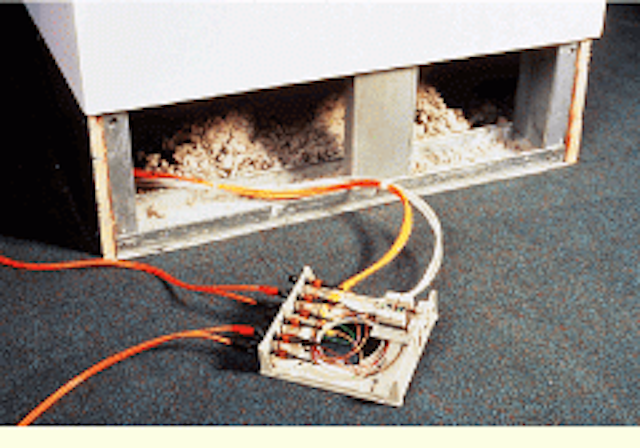 Click here to enlarge image
Fiber-optic cable connects to the information outlet at the base of a support column; the outlet connects the horizontal cabling to the work area.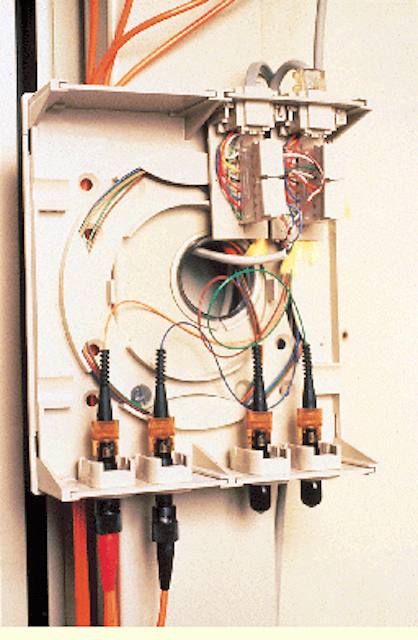 Click here to enlarge image
In the splice center, multifiber cabling is spliced to two optical fibers for horizontal distribution.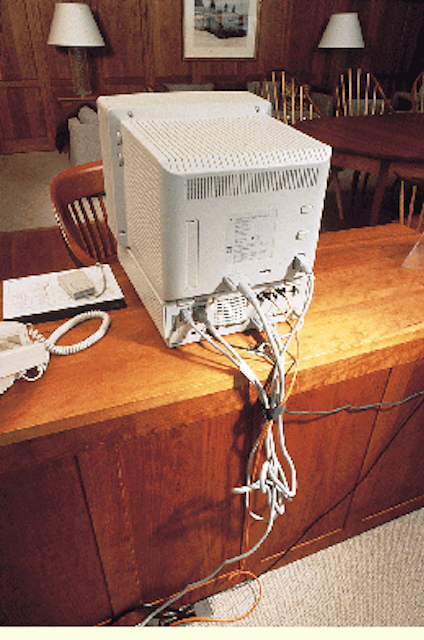 Click here to enlarge image
In the final step to the desktop, fiber--typically two multimode fibers in a zip-cord jumper--is connected to the back of the personal computer.