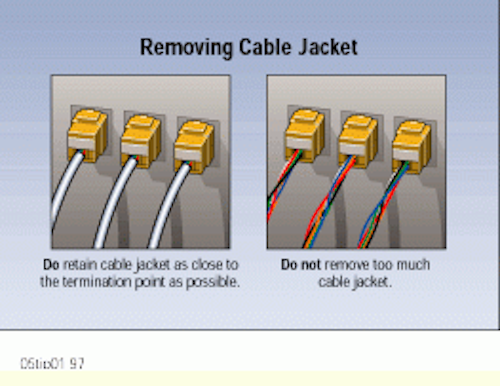 Don McConaghy, Leviton Telcom
Problem
Once the cable is pulled, it is time to install the telecommunications outlets. The final step in completing a cable run is too often done poorly or in haste, as its importance is underestimated.
Solution
Applying a few simple rules will improve your technique in installing this crucial component of a cable run.
Procedure
1) When installing outlet boxes on wooden studs, maintain proper separation of communications and power cables. These cable types should not share drill holes or stud spaces. Desk telephone jacks should be located at the same distance from the floor as are electrical outlets.
2) Any data workstation should, at minimum, be served by either two l00-ohm unshielded twisted-pair (utp) or one 100-ohm utp cable (Category 5 or higher recommended) and one cable of another type. Single or double outlets may be used.
3) Telecommunications outlets are usually placed at the same height as electrical outlets and near an electrical outlet.
4) Consider the layout of furniture in an office or room when positioning outlets. The permissible length for line cords is 9.8 feet or less, according to the ansi/tia/eia-568a standard. In offices, it is desirable to place outlets on opposite walls, in the event furniture is rearranged.
5) Binding-post or screw-terminal connections are the most common method for terminating residential wiring to an outlet.
When installing binding-post terminations:
- Be careful not to nick the inner copper conductors when stripping wire. Copper conductors should be wrapped clockwise between two washers--just as standard electrical screw-terminal connections are.
- To prevent breakage, be sure the wire does not get caught in the screw threads. It may then appear to be connected because the insulated portion is trapped by the washers. Many opens that appear after installation is completed can be traced to broken copper conductors in connections that appeared sound because the plastic insulation was secured between washers. Overtightening can also break the conductor.
- Trim off any excess exposed bare wire. Spade lugs should be connected between the head of the screw and the first (top) washer. Binding posts are not designed to accept more than two or three wires under a single screw.
- Avoid sloppy termination, which often causes wire faults such as crosses and shorts. Stripping too much wire and failing to inspect the connections carefully can lead to these types of faults. Often the fault does not appear until after the plate has been secured by screws and the wad of wire in the box pushes against the rear of the device.
- Always leave plenty of spare wire at each termination point to permit remaking damaged or faulted connections. Carefully dress your connections so that spare conductors remain clear of terminated connections and will not become grounded or crossed when you are attaching the device or straps with screws.
- Do not tighten binding posts with more than 7 pounds of torque, because the threads may strip and make the post useless.
Don McConaghy is an applications engineer at Leviton Telcom (Bothell, WA). This installer tip is excerpted from the company`s recently published book, Installation Strategies for Long Term Cabling System Success.
Click here to enlarge image
When installing jacks, cut back the cable jacket only as far as is absolutely necessary from the point of termination. Cutting back too much cable jacket can affect the performance of the cable run.