Terminating fiber-optic cable to quick-connect connectors
Fiber-optic connectors that require no epoxy and no polishing--often referred to as "quick-connect" connectors--have grown in popularity and are now widely used. Because a quick-connect connector is preloaded with a fiber stub that has been bonded and polished at the factory, it is sensitive to the quality of the cleave made to the fiber to be terminated. If proper installation procedures--particularly cleaving procedures--are not followed, these connectors may fail and be perceived as unreliabl
Oct 1st, 1997
Richard Plamondon, nordx/cdt
Problem
Fiber-optic connectors that require no epoxy and no polishing--often referred to as "quick-connect" connectors--have grown in popularity and are now widely used. Because a quick-connect connector is preloaded with a fiber stub that has been bonded and polished at the factory, it is sensitive to the quality of the cleave made to the fiber to be terminated. If proper installation procedures--particularly cleaving procedures--are not followed, these connectors may fail and be perceived as unreliable.
Solution
Take care when cleaving the bare fiber, and check the cleave before terminating the fiber.
Procedure
1) Prepare the fiber-optic cable for termination as you normally would, by stripping away the outer jacket, buffer, and cladding, and cutting away excess aramid yarn.
2) Using a fiber cleaver (usually included in the toolkits sold for these connectors), score the fiber with a single, light touch. Do not press the cleaver more than once, because doing so may make additional scores on the fiber and eventually cause it to break.
3) Break the fiber by bending it together with the tongue of the cleaver.
4) Examine the fiber with a microscope designed to inspect fiber cleaves. Ensure that the cleave is square and that there are no chips in the fiber. (Some manufacturers` toolkits include such microscopes. They have side ports in which you insert the cleaved fibers.)
5) Using the measuring card that is included with the manufacturer`s toolkit, or using the scale on the cleaver, measure the bare fiber to ensure it is the proper length. If the bare fiber is too short, it will not reach the fiber inside the connector, and the connector will not work.
6) Clean the fiber with alcohol wipes that have at least 90% isopropyl alcohol content and lint-free material.
7) Carefully insert the bare fiber into the connector until it meets the preloaded fiber stub.
Using the manufacturer`s crimping tool, crimp the connector onto the buffer.
Test connectors periodically during the installation, rather than testing them all after the job is completed. Periodic testing eliminates the possibility of repeating the same errors throughout the installation.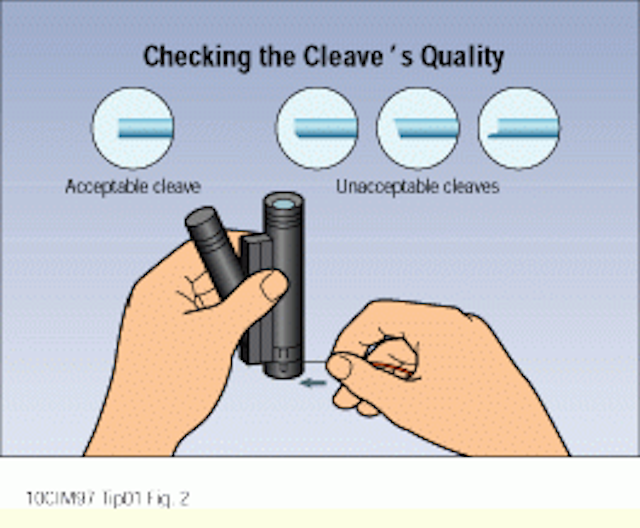 Click here to enlarge image
A handheld microscope lets you check the cleave`s quality. Inset are images of unacceptable cleaves and an image of an acceptable cleave.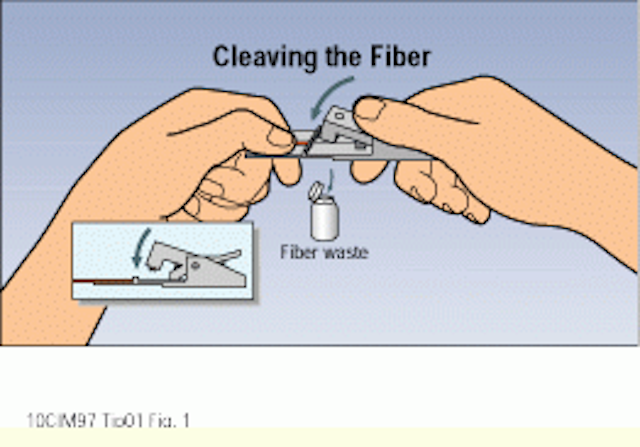 Click here to enlarge image
A single, light touch of the fiber cleaver is all that is necessary to adequately score the fiber.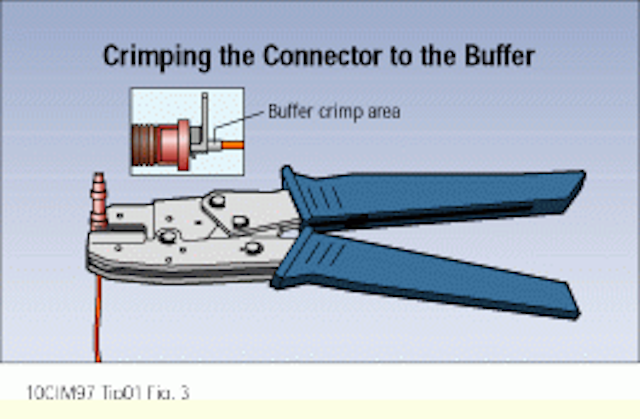 Click here to enlarge image
These connectors must be crimped onto the buffer with a crimp tool.
Richard Plamondon is technology manager with nordx/cdt (St. Laurent, QC, Canada).