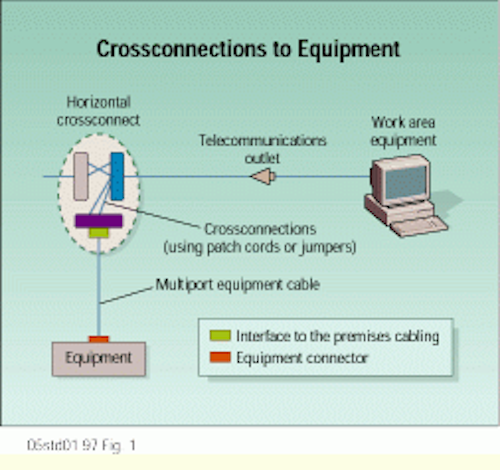 Arlyn S. Powell, Jr.
At this January`s building wiring seminar of the Telecommunications Industry Association (tia--Arlington, VA), John A. Siemon, vice president of engineering for The Siemon Co. (Watertown, CT), presented an update on connecting hardware. "Among the connecting-hardware issues being studied by the PN-2948 task group," he said, "are crosstalk anomalies for short links and balance of transmission elements, propagation delay and delay skew in connectors, the impact of connector return loss on the channel, transfer impedance of connectors for screened cables, and the performance of patch-cable assemblies."
Siemon said the cause of crosstalk anomalies--also known as resonance behavior--for short links is adverse interactions between certain combinations of Category 5 cables, connecting hardware, and patch cords. These interactions sometimes cause Category 5 links of 15 meters or less to fail the crosstalk test.
"There is some resonance in all Category 5 outlets because of the need for compensation so they can meet Category 5 requirements," he says. However, the PN-2948 task group hopes to eliminate the most damaging resonance behavior from connectors and is studying three options for doing so:
- Applying the Category 5 limits for near-end crosstalk and return loss to cabling components both with and without common-mode termination. Siemon said a tia ballot is pending on this option.
- Setting limits for balance in cabling components. "Resonance is related to balance," Siemon explained. Two methods of characterizing balance are under review: The conventional method involves 1- or 2-port measurements on each pair through baluns, while a technically more-complex procedure involves measuring transmission behavior of each conductor with respect to all others and analyzing scattering parameters by modal decomposition.
- A third option involves the use of a prequalified patch cord with known performance values to test a short link that comprises two Category 5 outlets that are connected together using the prequalified patch cord.
Siemon pointed out that typical Category 5 connecting hardware exhibits propagation-delay and delay-skew values of less than 1 nanosecond. With the values being considered for these characteristics in cable, additional allowable propagation delay of 10 ns and delay skew of 5 ns are likely to be permitted for a combination of connectors and installation. These values will satisfy the application limits for cabling channels.
Shielding effectiveness in screened twisted-pair (ScTP) connectors and balance in ScTP and unshielded twisted-pair connectors are also likely to receive refined specifications.
According to Siemon, standards bodies are still studying the performance characteristics of patch cords, and a final testing method has not yet been approved. Under review is a test method that would "de-embed" the patch cord from the test sockets. When a final testing strategy is agreed upon, standards groups hope to release concurrently both laboratory-based and production-floor methodologies that are supported by statistical correlation. "Until a specification is available," he stated, "there is no such thing as a Category 5 patch cord."
Crossconnection or Interconnection?
John A. Siemon of The Siemon Co. (Watertown, CT) points out that the terms "crossconnection" and "interconnection" are different, even though they are sometimes used interchangeably. He says that a crossconnection is a connection scheme using patch cords or jumpers that attach to connecting hardware on each end. An interconnection, on the other hand, provides for direct connection to cables and equipment without a patch cord.
"`Crossconnect` and `crossconnection` are not synonymous either," Siemon adds. "A crossconnect is a facility, while a crossconnection is a connection scheme." Siemon also commented on other terminology, including the following:
- The 8-pin modular jacks used in premises cabling are not registered jacks. They should not be referred to as RJ-45.
- Patch cords, equipment cords, and work-area cords may all appear on wiring diagrams as distinct cabling elements, but there may be no physical difference between these items.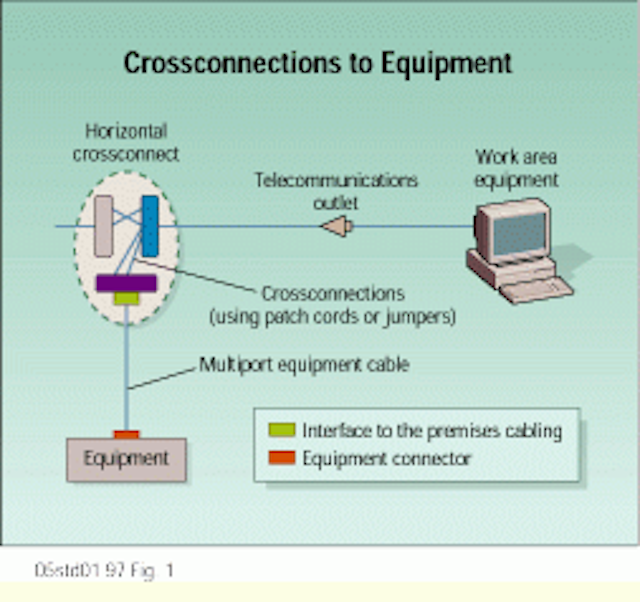 Click here to enlarge image
A crossconnect includes movable patch cords or jumpers.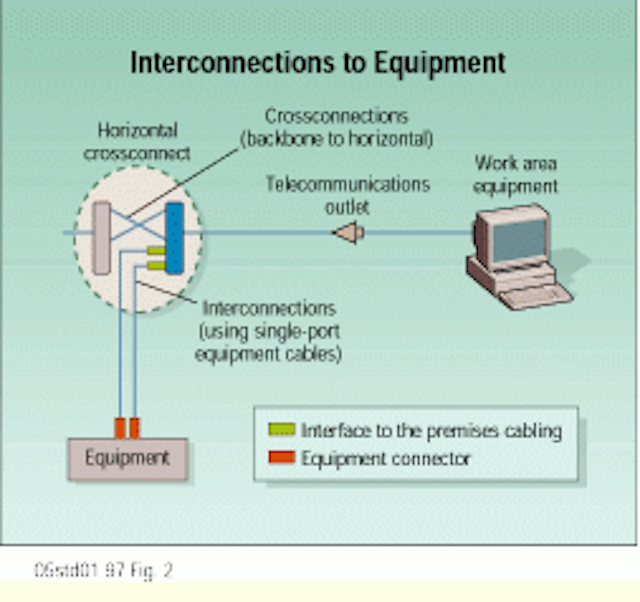 Click here to enlarge image
An interconnect employs direct connections between portions of the cabling system (at a consolidation point, for instance) or between the cabling system and equipment by way of an equipment cord.