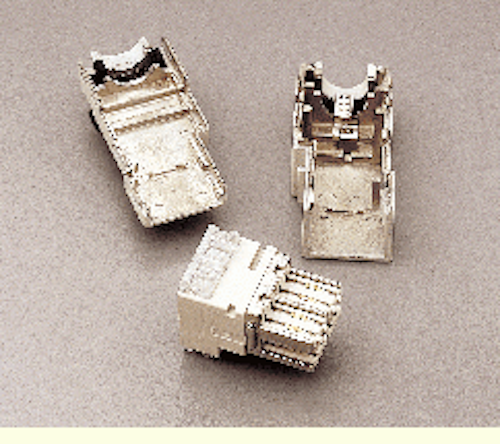 Screened twisted-pair connectors and cable due for a standard
Lynn Haber
Shielded cabling technology continues to maintain a low profile in the U.S. cabling market, but recent standards work may be turning up the volume on the subject of one shielded cabling medium: screened twisted-pair (ScTP) cabling and its connecting hardware. Despite the fact that both unshielded twisted-pair (utp) and optical-fiber systems outpace ScTP in use, the latter technology is getting welcome attention from the Telecommunications Industry Association (tia--Arlington, VA).
"The weakest link in existing ScTP products is the connecting hardware," says Ned Sigmon, associate director for development engineering at amp Inc. (Harrisburg, PA). Connectors, he adds, can compromise the integrity of the overall shield, decreasing the effectiveness of the entire system.
As the technical specifications for 100-ohm ScTP cabling, being prepared by the tia`s PN-3193 task group, come down the home stretch, cabling installers are advised to keep abreast of the standards work, watch for tia-compliant ScTP products, and follow the forth-coming guidelines for field installation.
The purpose of a standard for 100-ohm ScTP cabling is to establish the minimum technical requirements for a screened cabling system that will ensure compatibility, intermateability, and ease of administration. PN-3193`s draft document specifies a totally shielded system from end to end and is based on using 100-ohm twisted-pair cable with an overall shield.
The draft includes all the elements that make up such a system, including horizontal cables, backbone cables, work-area connecting hardware, telecommunications-closet connecting hardware, and patch cords.
Available for the better part of a decade, ScTP cabling systems and associated connector products have been a fairly stable technology, with evolutionary improvements made over the years. For example, the shield interface between the jack and plug has improved, largely because of efforts originating in Europe, where the use of ScTP far exceeds that in this country. More important, however, has been improvement in the termination of the shield to the plug or jack. "This has been a major improvement in ScTP systems because it impacts shield effect-iveness," says Sigmon.
In the 1980s, ibm`s Type 1 cable, a 150-ohm product that was considered a high-performance system from the beginning, was popular even though it found application largely within ibm shops. Over the years, however, the 100-ohm ScTP cable system has emerged as the more popular of the two major shielded solutions.
ScTP products abound
More than two dozen vendors supply 100-ohm ScTP products today. One manufacturer, Thomas & Betts Corp. (T&B--Memphis, TN), reports that the market opportunity for ScTP is in industries such as manufacturing, financial services, and health care. "These companies are concerned with data integrity and immunity from interference or emissions protection," says Jay Lahman, product manager at T&B.
Until 1996, T&B sold only Type 1 and 1A screened cable. At that time it introduced its All-lan Interconnection System, which was developed to support high-performance networking applications up to 300 megahertz and beyond. All-lan employs a fully shielded architecture that depends on 100-ohm shielded twisted-pair cabling.
Lahman says that All-lan, a 4-pair configuration, is without competition and offers design advantages for the jack, plug, and adapter cables. For example, the data connector is about one-half the size of other vendors` shielded connectors and consists of three pieces, compared to six or seven for corresponding components elsewhere. "Installation is simplified," he adds.
Preparing the cable for termination is similar to the method used for other data connectors. Installers insert individual wire pairs into their respective holes in the connector. Then, after preparing all four pairs, they crimp the connector block and slip it into one side of the housing. Finally, they slip on the cover.
Cable installers should be aware that the new T&B interface is not intermateable with traditional ScTP connectors from other manufacturers.
Some industry players contend that not enough attention has been paid to providing sound termination with ScTP cabling systems. "I think many manufacturers have ignored the issue of providing continuity from the screen to the connector," says Harry Forbes, director for engineering and product management at itt Cannon (Basingstoke, UK).
The reason for the screen is to prevent external noise from coming into the cable and to protect the environment from noise radiating from the cable. Any break in the shield`s continuity negatively impacts overall shield effectiveness--more specifically, the attenuation and transfer impedance of the screen are negatively impacted.
itt Cannon says it built its ScTP cabling system from the ground up, including connectors, keeping in mind both the internal performance of the network and the environment it is expected to work in.
Forbes adds that the company differentiates its product by using capacitors between selected twisted-pair combinations. The cable can have up to eight connections. "Our objective is to have connector terminations be a transparent component within the whole system," he says.
Called the 808 Category 5 RJ-45 socket, the itt connector has been available for six years. "It`s the only connector available that has a direct-connect termination," Forbes claims. Other manufacturers` products have pins coming out of the socket that go to the printed circuit board and punchdown block, where the wires are terminated.
There are limitations to the pin approach, according to Forbes. For example, increased noise problems may result because more components are used. In addition, the approach potentially has more points of failure, increased component and assembly costs, and larger physical size.
"Our connector design has no printed circuit board and no punchdown block," says Forbes. The cable goes straight into the back of the connector, which is why the itt product uses capacitors to cancel noise.
While most of the industry uses a punchdown tool to terminate ScTP wiring, installers of the itt connector do not need one. An installer of this company`s ScTP cabling prepares the cable, places it inside the back of the connector socket, and terminates it by taking the connector shield, or shell, and sliding it over the socket. The process does, however, require the use of a hand tool to fold up some of the metalwork on the connector shell. Forbes says that the tool is a hand grip with a small termination head on it, and is very easy to use. "It`s one of the fastest connectors on the market for termination," he adds.
Not only is installation time reduced, according to the company, but its connectors cost 25% less than traditional ScTP connectors. With fewer connector components, itt Cannon can afford to charge less for the connectors.
High-frequency signals ignored
In the design and development of ScTP components--which aim to provide a continuous DC path through the cable, connectors, and other components-- little attention has been paid to conducting high-frequency signals in the 1-MHz and above range, according to John Siemon, vice president of The Siemon Co. (Watertown, CT), a maker of connecting devices. Little work has been done on providing a measurement methodology, either, Siemon adds.
Recently, however, U.S. manufacturers have been under pressure from the European Community to provide a standards-based shielding solution. "The driving factor behind the current standards work is that there`s been no accountability for transmission performance or interface requirements," he says.
In fact, while ScTP connectors from different manufacturers may connect to one another, there is no way of measuring the shield performance. By defining mating requirements, the forthcoming standard for ScTP cabling systems will define what the shield will look like in the outlet and plug. According to Siemon, the ScTP interface looks like an eight-position utp outlet and plug, except that it has an overall shield and the means to connect it across the interface.
The new standard will set minimum requirements for shielding performance in the cable and connecting hardware. It also defines a test for evaluating shield effectiveness of the cable and components.
Of particular interest to installers are the guidelines in the upcoming specification that address grounding and installation. amp`s Sigmon says these guidelines will mirror similar specifications for the ibm cabling system.
From the standpoint of products, installers can rest assured that most of the numerous vendors providing ScTP connectors and components will fall within the specifications of the draft standard. That is because the standards work has been ongoing for several years, and manufacturers know it is in their own best interest to design their products with the draft specifications in mind. In fact, many vendors have been tweaking their ScTP connectors over the past few years so they will conform to any changes proposed for the standards documents.
"I think that, from the standpoint of the ScTP interface, the upcoming standard has already had an impact on the industry, because many manufacturers have made changes or modifications to the plug or jack," says Sigmon.
Still, when the draft becomes a tia standard--sometime later this year, according to PN-3193 participants--it may require that manufacturers reevaluate their current lines of products to be certain they are standards-compliant.
Manufacturers do not currently expect compliance with the standard to have any impact on product pricing. However, compliance will require more precision in components and refined manufacturing techniques to satisfy transfer-impedance requirements. "It requires a short transmission path and a way to establish a reliable and high-integrity connection in the field," says Siemon.
Companies like amp, which have been close to the ongoing standards work, say existing ScTP connector products will most likely conform to the final standard.
Scott Miles, product manager for office products at mod-tap (Harvard, MA), says his company`s ScTP products have been in constant redesign as the standards work has progressed over the years. "We`ve followed the standard throughout its development and will continue to do so," he says.
Miles points out that mod-tap differentiates its connector products by using a dual-style module rather than the more popular keystone design; this is because the mod-tap design is easier to install. "We give a broad, flat surface, making it easy to hold the module in place while punching it down," Miles says.
Installers should know
What do installers need to know as the standards work for 100-ohm ScTP cabling continues? First, that the draft specification was approved to go out for industry ballot at a recent tia meeting. Going out for industry ballot is the first stage through which a draft document must pass in becoming a standard. An industry ballot is taken about every three months thereafter, and it is common for a draft standard to have to go out for ballot more than once. Industry participants expect the process to take at least six months.
Manufacturers advise that installers should be aware of the installation and grounding guidelines in the new specification. It will outline proper grounding; how to check the necessary parameters to avoid ground loops; and, how to achieve proper installation for full-shield continuity from end to end.
When the standard is released, vendors will reference their products to it, stating that they meet its requirements. Industry players expect that independent testing laboratories will be engaged to verify that manufacturers` products meet the tia specifications.
Interconnect Computer Cabling Services Inc. (Weymouth, MA) does a lot of work with ScTP cabling, according to Garrett Clifford, electrician-technician. Clifford is happy to see industry standards for ScTP cabling, but from the installer`s point of view, he believes it is up to each person to learn how to terminate ScTP correctly. "I find if you terminate according to the manufacturer`s specifications, you won`t have problems with the shielded cable," he says.
Clifford suggests that, if manufacturers want to see more ScTP cable in the marketplace, they should do a better job of offering training to installers. "The work is out there, but there`s a lack of qualified installers," he says.
Just how fast the market for ScTP cable will pick up in the United States is anyone`s guess. In the meantime, however, the tia standard for 100-ohm ScTP cabling should go a long way toward ensuring the integrity of those systems that do use screened technology. That is good news for both installers and their customers.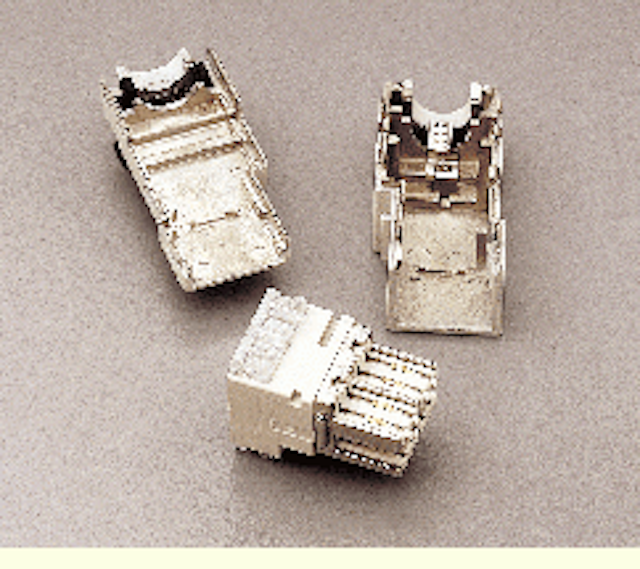 Click here to enlarge image
The screened twisted-pair data connector from Thomas & Betts (Memphis, TN), disassembled, shows that screened components are larger and more complex than their unshielded twisted-pair counterparts.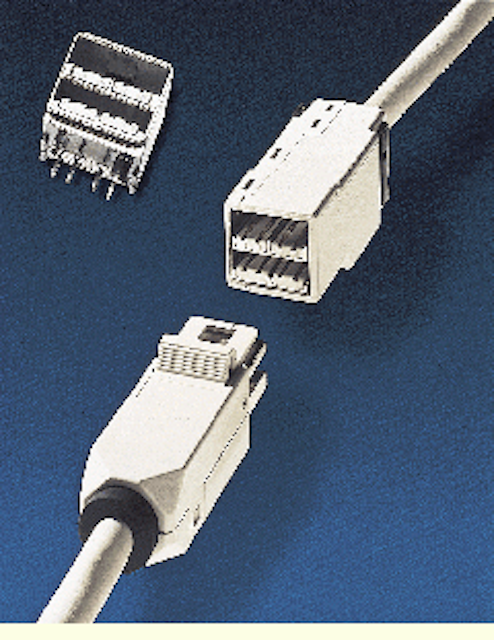 Click here to enlarge image
An important consideration in a screened twisted-pair interface, shown here from the All-lan system of Thomas & Betts (Memphis, TN), is that the screen be continuous across the interface.
Lynn Haber is a freelance writer specializing in networking issues.