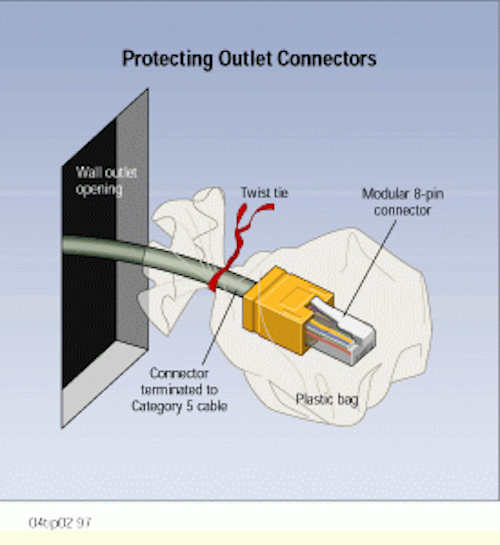 Jerome Trinkl
Roman Electric Co.
Problem
During new construction or renovation, outlet connectors are terminated and sometimes left unprotected in an unfinished wall area. This can lead to contamination when paint and other substances get on the surface of the connector and damage the contact points inside it.
Solution
You can use the manufacturer-supplied plastic bag that held the outlet connector to cover the connector following termination. This provides the protection needed while other construction trades work in the area.
Procedure
1) Instead of ripping open the plastic bag containing the outlet connector and then discarding it, open it carefully by trimming off the top with scissors or slitting the bag with a knife.
2) Put the bag aside, and install and terminate the connector.
3) Place the plastic bag over the connector and tape it shut, or tie it off with a twist tie.
4) Put the connector back in the wall opening.
5) Upon completion of all terminations, go around to all the outlets and make sure all the connectors are protected.
6) When painting and construction work are completed, remove the bags and complete the assembly to the wallplate.
To further protect the connector once it is bagged, make sure it is stored inside the outlet space, with little or no cable protruding into the work area if possible; this protects the connector from jostling and other damage. In storing the connector in the outlet space, make sure that cable bend-radius limits are observed.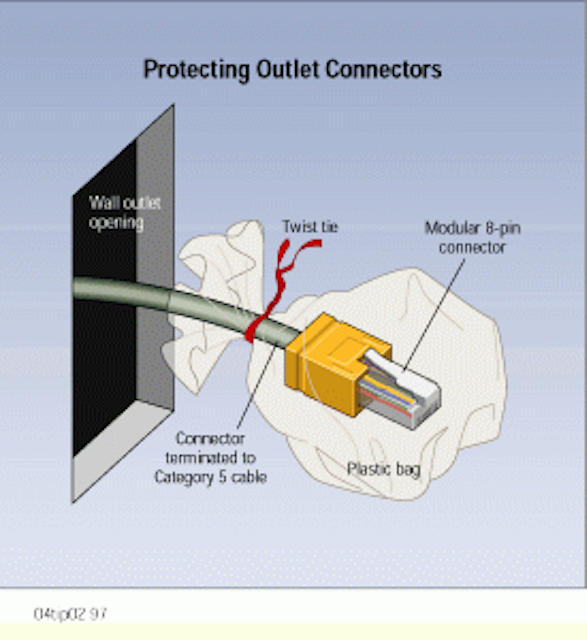 Click here to enlarge image
Following termination, an outlet connector can be protected from paint and other contaminants by storing it in the plastic bag it came in until other building trades have completed their work in the area. Tie off the bag with electrician`s tape or a twist tie.
Jerome Trinkl is a project manager in the Communications Div. of Roman Electric Co. (Milwaukee, WI). This tip was submitted for the Installer Tips Contest at Cabling Installation Expo `96, held in Charlotte, NC, last October and was developed for publication by Dennis Mazaris, registered communications distribution designer (rcdd) and principal consultant at PerfectSite, 100 Glenn Drive, Suite A-11, Sterling, VA 21064, tel: (703) 450-8986, fax: (703) 450-9343, e-mail: dmazaris@perfectsite.com.