Plastic optical fiber installed in beta site networks
When choosing the media for a new premises installation, designers and installers consider such issues as bandwidth, cost and ease of use. For the backbone, multimode glass fiber or Category 5 copper cable is usually the choice, and for the horizontal portion of the network, unshielded twisted-pair (UTP) cable is typically selected.
Jan 1st, 1997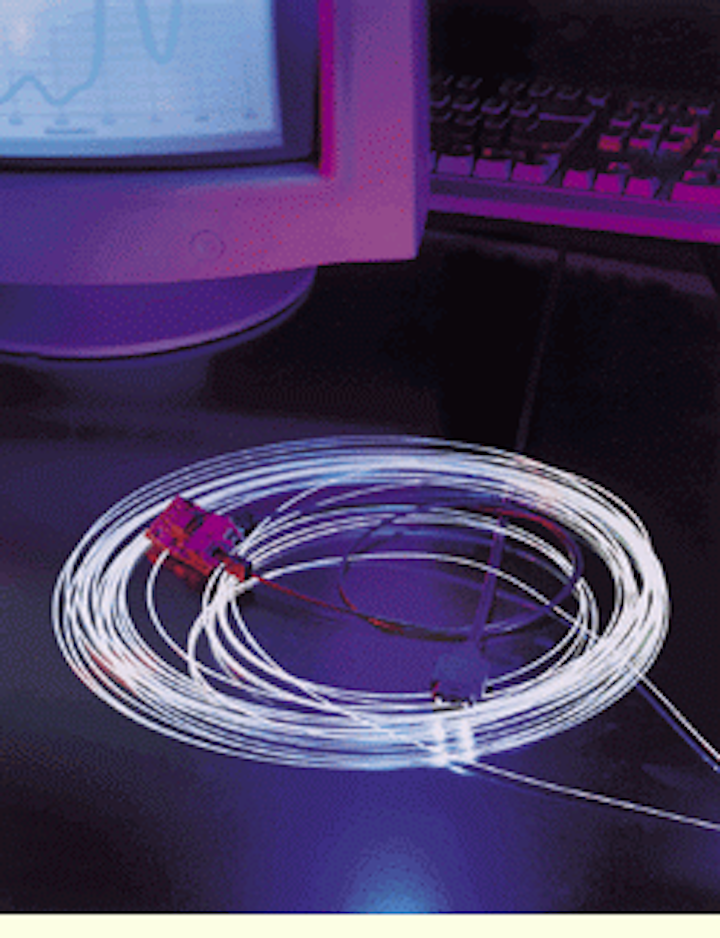 Barbara E. Thompson
When choosing the media for a new premises installation, designers and installers consider such issues as bandwidth, cost and ease of use. For the backbone, multimode glass fiber or Category 5 copper cable is usually the choice, and for the horizontal portion of the network, unshielded twisted-pair (UTP) cable is typically selected.
As the technology continues to change and evolve, the choices of media for horizontal cabling will not be as easy. For example, manufacturers have introduced different types of cabling--extended Category 5 UTP, shielded and screened twisted-pair (the European Category 6), and fiber-to-the-desk--for higher-bandwidth applications. Manufacturers have also introduced extended Category 5 copper cable to address the bandwidth issue. In addition, the cost of fiber and optical connectors has decreased, and the newer quick-connect fiber-optic connectors are easy to install. Now, there seems to be yet another choice on the horizon: plastic, or polymeric, optical-fiber (POF) cable.
According to Ed Berman, president of Boston Optical Fiber (Westborough, MA), "Plastic optical fiber fills the performance-to-cost void between copper and glass-fiber cabling."
Plastic optical fiber has been manufactured in Japan for several years for use in illumination, robotics, industrial, and automotive applications, to name a few. Several U.S. companies are now using this fiber for short-haul (100 meters or less) data-transfer applications in commercial and residential local area networks (LANs). One recent development is graded-index POF that claims data-transfer rates of greater than 2 gigabits per second to 100 meters.
History of POF
The concept of using POF for short-distance data transmission has been around for many years. In the 1970s, a joint venture that included DuPont (fiber), Motorola (optoelectronics) and ITT (connectors) was formed to promote short-distance POF communications links. According to a report by market-research company ElectroniCast Corp. (San Mateo, CA), "The technology was adequate, but it was two decades ahead of the market. Quantity requirements were small, the price advantage was not compelling, and the venture wilted."
DuPont subsequently sold the production rights for this fiber, for a 10-year period, to Mitsubishi Rayon (New York, NY). Mitsubishi Rayon patented the step-index fiber with a polymethyl methylacrylate (pmma) core, polyfluoroalkyl methacrylate cladding, and polyvinylidene fluoride protective sheath. Today, according to a company representative, DuPont is aware of, and is following, POF technology, but it "has not made any kind of commitment to become involved in any major way."
Toray Industries Inc. and NEC of Japan have also developed or patented POF for data transmission.
A new generation
Research continued over the next decade; however, step-index POF still had a problem: it has high loss (attenuation), which limits its use to distances of less than 100 meters. "Attenuation and bandwidth were holding us back," says Mike Orr, fiber-optic product manager at Packard-Hughes Interconnect (Irvine, CA).
The next step in POF development was large-core graded-index plastic optical fiber (gipof), which was successfully prepared at Keio University (Yokohama, Japan). Using this new technology in the United States, the High Speed Plastic Network (hspn), a consortium supported, in part, by the U.S. Department of Defense Advanced Research Projects Agency (darpa), started to develop commercial POF applications. The hspn members are Boeing (Seattle, WA), Boston Optical Fiber, Honeywell (Minneapolis, MN), Packard-Hughes Interconnect and, more recently, Lucent Technologies (Murray Hill, NJ).
According to Orr, who is also hspn program manager, graded-index POF manufactured from pmma has shown bandwidths greater than 3 Gbits/sec to 100 meters, which means "we can address such architectures as fddi [Fiber Distributed Data Interface], fast Ethernet and ATM [Asynchronous Transfer Mode]."
Over the next several months, this gipof will be installed and field-tested at eight beta sites across the United States at large computer companies such as Compaq, Digital Equipment Co. and Wang, as well as Leviton Telcom, Boeing and I-Net. "The networks will include transceivers, connectors and hubs, all designed for plastic fiber," says Berman. "If there are no significant issues, we should be in commercial production by the second quarter."
Not everyone agrees that graded-index POF is an immediate solution, however. "Graded index is still in the laboratory stages, while 300-Mbit/sec step-index fiber is available," says Eric Schmidt, director of marketing at California Eastern Laboratories (CEL--Santa Clara, CA).
Electronic components
Several companies that have POF or related component products include:
- AMP Inc. (Harrisburg, PA)
- California Eastern Laboratories, distributor for NEC of Japan
- SpecTran Specialty Optics Co. (Avon, CT), distributor for Toray Industries ofJapan
- Hewlett-Packard Co. (San Jose, CA)
- Leviton Telcom (Bothell, WA)
- Panduit Corp. (Lockport, IL)
- Thomas & Betts (Memphis, TN)
"The NEC HiSpot transceiver uses a red, or visible, light-emitting diode with step-index POF at 155 Mbits/sec, and it is completely compatible with existing network interface cards that are designed for glass fiber," claims Schmidt. "When the product gets into mass production--scheduled for February--we expect it to cost in $20 to $30 per computer. In addition, the plastic Japanese FO7 connectors just snap together, so they`re easy to install. We`ve also been working with Leviton on wallplates and fixtures."
Applications that Schmidt foresees in the near-term for the NEC HiSpot are fast Ethernet (100 Mbits/sec), ATM, OC-3 (155 Mbits/sec), and ieee 1394 (100 Mbits/sec for residential use).
Bob Stevens, product market manager, explains that SpecTran Specialty Optics manufactures specialty fiber, including 200-micron hard-clad silica (HCS) fiber, and the company is a distributor for Toray`s step-index POF. "We are working with the ATM Forum on a standard for 155 Mbits/sec using 200-micron HCS for up to 100 meters, and POF at 50 Mbits/sec for 50 meters for ATM signaling into the home," says Stevens.
CEL`s Schmidt adds, "We expect to get through a ballot at the ATM Forum so that plastic fiber and HiSpot transceivers will be ATM Forum-sanctioned. The ATM Forum specification is 50 meters of distance, with four connectors, so it`s not ideal for every office; however, it is ideal for small offices, distributed networks, and homes."
Caution suggested
As telecommunications designers and installers know, tia/eia-568a calls out 100 meters as the standard for the channel link in structured cabling systems. In fact, Atikem Haile-Mariam, premises market development manager at Corning Inc. (Corning, NY), says, "Corning presented data at the ATM Forum showing that POF is not a viable medium for LAN applications. Since then," he adds, "there has been a consensus within the industry that POF is not going to meet the TIA industry standard.
"In the context of LANs, it`s not an attenuation issue; it`s also a bandwidth issue. It is very difficult to discern how POF`s parameters are specified and how they comply with industry-accepted standards," concludes Haile-Mariam.
At AMP Inc., Tony Beam, premises systems marketing director, says, "We are heavily involved in plastic optical fiber--specifically POF connectors. We already have products and are developing next-generation products for POF applications for airplanes, automobiles and proprietary systems. Furthermore, AMP supports the efforts in the ATM Forum for a residential 50-Mbit/sec standard. At this time," he adds, "plastic optical fiber is not part of AMP`s strategy for the local area network or commercial building cabling market, because we do not see a market requirement that cannot be better satisfied with Category 5 UTP or glass multimode optical fiber."
Beam agrees with Haile-Mariam regarding the lack of international standards. "There are no standards yet that compare with what has been followed and proven for optical glass or Category 5 UTP--on the cabling, connector and the electronics side," says Beam. "Plastic optical fiber is very much an infant technology."
Haile-Mariam is also concerned about POF`s susceptibility to moisture and its durability.
Limitations
"Based on the characteristics of pmma--the material used for the POF core--plastic fiber has limitations on distance and where it can operate," says Berman. "The distance limitation is 100 meters and the operating temperature range is -40o to +85oC. The best performance for POF is at 650 nanometers, with attenuation at that wavelength of approximately 150 decibels per kilometer."
However, Berman explains that "the operating temperature range is not a problem in office environments; moisture is addressed by proper jacketing on the fiber, polyethylene, for example; and, we`re developing a plenum-grade jacket right now. In fact, if all goes well, we should have a UL-910-grade jacket in about two or three months," he says.
Cost and installation
The industry also has different opinions about the cost of using POF and components in a local area network.
"We believe that the driving force--if there is any for plastic optical fiber in local area networks--will not necessarily be the cost of the fiber; it is the cost of the connectors and also the optoelectronics," says Stephen Montgomery, vice president and chief operations officer at ElectroniCast Corp. If there are any driving factors for fiber-to-the-desk using plastic optical fibers, they would include fiber`s strength (it is not fragile), its ease of installation and the fact that it can be used with an inexpensive light source, such as a light-emitting diode.
However, everyone agrees that POF is easy to work with, install, and terminate. According to Berman, "Plastic fiber is a very fast termination and connection, very simple. The alignments are noncritical, the tools and connectors are low-cost and easy to use in the field, and the fiber has the advantage of noise-free operation. That is, it is free from electromagnetic and radio frequency interference."
The future
Research will eventually result in POF that will meet the distance, bandwidth and attenuation needs from the workstation to the telecommunications closet--the so-called last 100 meters.
"We have submitted a new proposal to darpa for the Optoelectronics Micro Networks omnet program, in which we want to continue with the development of the fiber," says hspn program manager Orr. "This would include the use of such things as perfluorination for the fiber, which does several things: The technology could allow the fiber to have a higher and lower temperature range, be more stable in humidity, and, most important, give it a flat spectral response. This will allow you to work with low-cost sources that are already developed in the 850- and 1300-nm range. That`s the next step," he says.
The ElectroniCast report predicts that "overall, the amount of data transported will increase many orders of magnitude over the next decade. This will involve a large increase in the number of lines, multiplied by the increase in the average data rate per line. Longer distances and between-premise transmission will be almost entirely on singlemode glass fiber. Within premises, transport lines will evolve from copper to multimode fiber and up to singlemode fiber. Within the multimode fiber scope, the choice between glass and POF will be driven mainly by relative cost."
Installers may want to take a wait-and-see posture while the research continues. When the beta site reports are available in the spring and the standards bodies set some measurable standards, perhaps multimode POF will be the next cost- effective, easy-to-use choice for premises local area networks.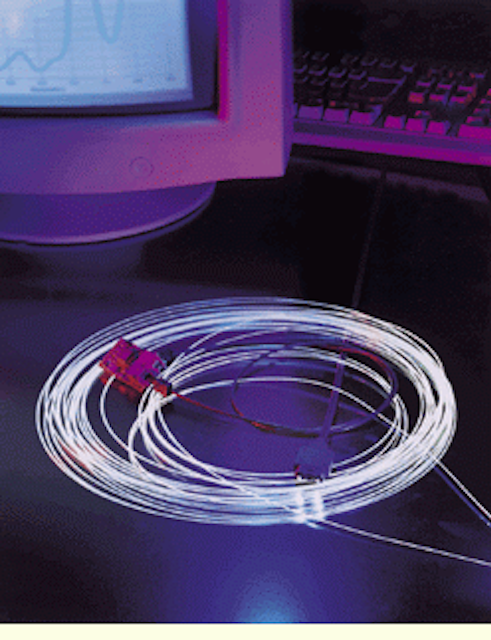 Click here to enlarge image
Graded-index POF, such as this 10-meter length from Boston Optical Fiber, is capable of low-attenuation, high-performance, and short-haul data transmission.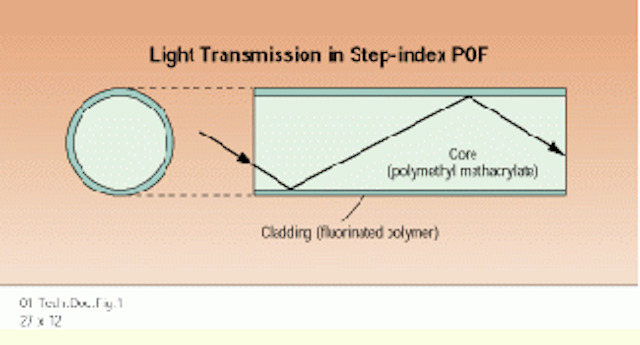 Click here to enlarge image
Step-index POF from Toray Industries Inc. has a pmma core and fluorinated polymer cladding.

Click here to enlarge image
Step-index Versus Graded-index Fiber
The index of refraction is how light bounces around inside the fiber. Because step-index fiber has a single-composition core, the beam changes direction abruptly at the cladding. Graded-index fiber has a core with a composition that gradually changes from the center of the core to the cladding, and the beam takes a more curved path. The multiple composition also reduces the rate of pulse spreading; therefore, graded-index fibers have a higher information-carrying capacity than step-index fibers. Step-index and graded-index fibers are both multimode.
For More Information...
"Plastic optical fiber flexes its muscle," Laser Focus World, October 1996, page 129
"Plastic optical fiber is in the wings," February 1996, page 52