Optical fiber should have a standard connector
The Fiber Optic Association is pushing for a standard small-duplex connector that is easy to terminate and mate, and inexpensive to manufacture.
Nov 1st, 2004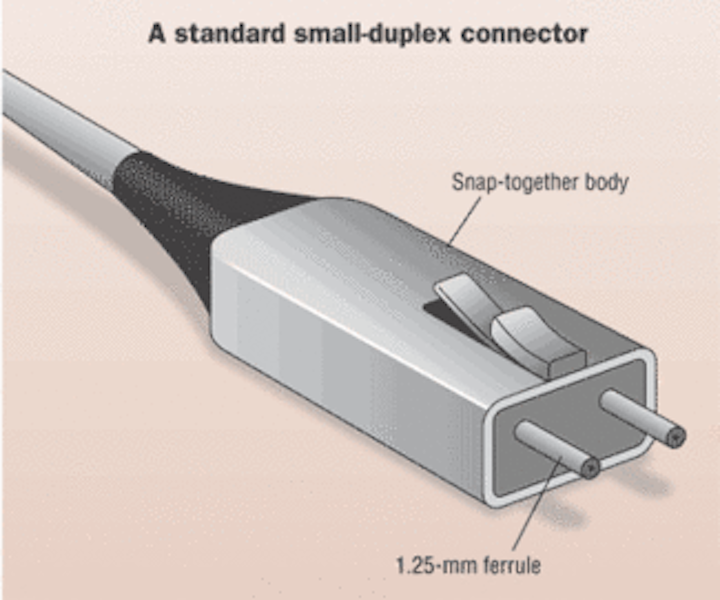 The Fiber Optic Association is pushing for a standard small-duplex connector that is easy to terminate and mate, and inexpensive to manufacture.
The early days of fiber optics were times of rapidly changing technologies. New ideas popped up weekly, especially for connectors.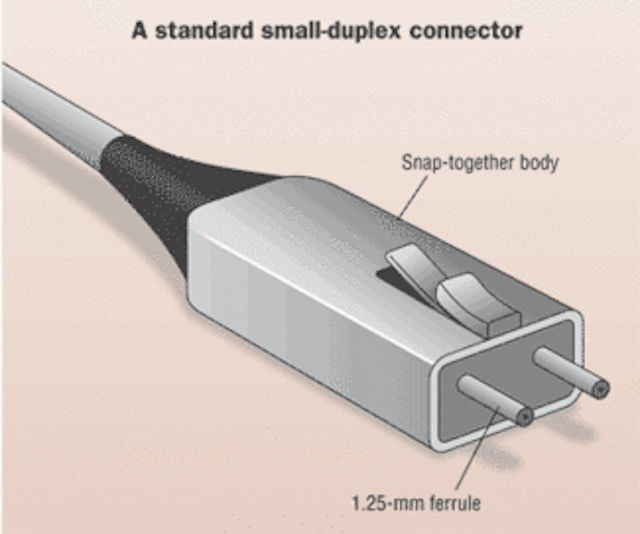 The FOA is lobbying for a standard small-duplex connector around two of the tiny 1.25-mm ferrules from a LC connector. If the ferrules extend from the end of the connector, it becomes easy to mate to like connectors and adapt to test equipment or transceivers.
Click here to enlarge image
One of the earliest connectors was the Deutsch 1000, which featured a bare fiber inside a large stainless body and used a plastic conical alignment fixture with index-matching fluid. The AT&T Biconic used a molded cone-shaped plastic ferrule, as did the AMP Optimate. The Amphenol 905 used a machined stainless ferrule.
Finally, during the mid-1980s, the Japanese developed the 2.5-mm ceramic ferrule, which worked much more efficiently. It was widely adopted and has been used since with little change yet in many different body designs, such as the FC, ST, SC, FDDI, Escon and OptiJack.
In the late 1990s, several manufacturers came out with small-form-factor (SFF) connectors. Most were simply shrunken connectors with ceramic ferrules, this time at 1.25-mm diameter-except for the MT-RJ, which used a rectangular molded plastic ferrule, and the 3M Volition, which went back to the Deutsch bare fiber idea.
A SFF standard was proposed in TIA TR-42.8 (the fiber subcommittee responsible for TIA-568) but never came to fruition. The standard accepted any connector as long as it had a FOCIS intermateability standard.
Perhaps this was because it would have required choosing one design from several manufacturers and committee members couldn't agree to a standard based on a competitor's design. As a result, the TR-42.8 committee was widely criticized, with most of the criticism coming from end users and equipment manufacturers who wanted a single standard.
Since then, none of those SFF connectors has emerged as a de facto standard. This lack of a standard connector has been cited as a major detriment to fiber penetration to the desktop.
A standard connector
In premises cabling, fiber is always competing with copper, which has one connector and one cable (only in many different grades or categories). Users considering optical fiber are expecting a standard and are not happy with the proliferation of optical-fiber connector choices. Applications like fiber-to-the-desk (FTTD) would be much easier to sell if there was only one choice. And standards lead to lower costs-the other big issue for FTTD applications.
The industry really only needs one connector for user patchcords, connecting wall outlets and patch panels to networking equipment. What goes on behind the patch panel is not an issue. What is needed is a standard small-duplex connector created with some basic guidelines:
• It must be manufactured cheaply, using well-proven technology and parts;
• It must be easily terminated, using standard technology;
• It must be testable by industry standards (some of the current SFF connectors are not testable with commonly used test equipment);
• It must be easily accommodated by transceivers, patch panels, and networking equipment;
• It must be intermateable with other standard simplex connectors;
• The design specification must be "open source" -available to anyone without licenses.
What is needed is something similar to the FDDI and Escon connectors, which were duplex connectors for specific networks. Connections from equipment to the optical-fiber network need a duplex connector, since networks require one fiber transmitting in each direction.
A connector that is slightly smaller than these-one that uses 1.25-mm ferrules in a plastic body, the exact same size as a RJ-45-would be ideal. It should have ferrule spacing of 6.25-mm and the same ferrule depth specs as a duplex LC so that it would let manufacturers easily tool for it-especially for transceivers.
This small-duplex connector would also allow the use of hybrid adapters for mating with LCs, MUs and E2000/LX-5s, which would allow for a patch panel to have FOA connectors on the user side and LCs or MUs behind on terminated cables.
Testability is a major issue, and was a problem with some SFF connectors. Several of the duplex SFF connectors were almost impossible to directly interface to test equipment, which made testing to TIA-568 specifications difficult and resulted in poor test methods and highly uncertain measurement results.
A standard connector must be designed to allow easy adaptation to all test equipment and allow straightforward test methods.
The 1.25-mm ferrule is compatible with singlemode and multimode fibers, is more precise, has a shape that is easier to polish, and is compatible with any adhesive or other termination type. The small ferrule size also makes it easier to design a small connector body because it takes up less space.
Every connector manufacturer already makes an LC-compatible connector, so they are familiar with the technology, parts and termination processes. Feedback from the industry indicates the LC is overtaking the SC in usage, especially in new higher speed networks. This means the smaller ferrules will be less expensive, and they use less material.
The Fiber Optic Association (FOA), a non-profit educational organization chartered to promote optical fiber through education, certification and standards, advocates this approach. FOA board members are experienced with optical-fiber connectors, understand the issues of technology and design, and are aware of the difficulty of terminating and testing some of the current connectors.
Because the board is not affiliated with a connector manufacturer, it believes it is competent to provide design guidelines for a new connector design that will not suffer the same fate as the proprietary designs offered in the SFF. The board is facilitating a discussion within the industry on a topic that is important to the future of optical fiber.
Reaction to the proposal
Industry reaction to the proposal has been positive. Within the networking equipment market, representatives from the FOA have heard opinions that the duplex LC has already become dominant, with most transceivers for 1, 4 and 10-Gigabit networks now available in duplex LC format. A simple duplex body that is LC plug-compatible but has a single solid backshell for use with the new small cable designs to replace the two LCs in a duplex configuration is a non-issue to the component and equipment manufacturers, but they understand the appeal to end users.
Some argue that the FOA proposal is simply voicing what industry insiders already know, that the duplex LC has become the de facto industry standard already. The FOA proposal for a single body version, while offering a more streamlined design, is perhaps more a focal point for industry discussion of what has occurred in the marketplace than a technical innovation.
The timing is perfect for a small-duplex proposal, as the TR-42.8 committee is now considering changes to the "C" revision of TIA-568.
JIM HAYES is president of the Fiber Optic Association, Inc. (FOA; Fallbrook, CA; www.thefoa.org)