CommScope (Hickory, NC; www. commscope.com) has filed suit against Ortronics (New London, CT; www.ortronics.com), asserting infringement of U.S. Patent No. 5,997,358, which is directed to electrical connectors that have improved crosstalk performance as a result of time-delayed multi-stage crosstalk compensation.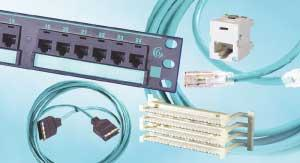 Citing patent infringements, CommScope is attempting to bar the further sale of certain Ortronics products, including some of the Clarity6 Category 6 line of enhanced connectivity products. The line includes modular patch panels, patch cords, Series II and TracJack workstation modules, 110 blocks and 110 cords.
Click here to enlarge image
The remedies sought include an injunction barring further sale of certain Ortronics' Category 6 modular patch panels and Category 6 outlets (including Clarity6 patch panels, Clarity6 TracJack outlets, and Clarity6 Series II outlet modules), as well as damages for past infringement and treble damages for willful infringement.
Ortronics has stated that it will aggressively defend itself against the patent infringement suit, and representatives say the company firmly stands behind and is committed to its Category 6 Clarity product line that is referenced in the claims.
Ortronics' position is that CommScope's claims had no merit when discussed in previous conversations with AVAYA; CommScope recently purchased the Systimax Solutions (Richardson, TX; www.systimax.com) division of AVAYA.
Phil Armstrong, vice president of Investor Relations and Corporate Communications for CommScope, told Cabling Installation & Maintenance that the company was forced to file the suit when Ortronics representatives would not reach a license agreement with them.
"CommScope has invested substantial time, resources and energy in research and development and the resulting intellectual property," for the products, says Armstrong. "CommScope believes that Ortronics has infringed upon at least one of its patents."
Arlene Franchini, a spokesperson for Ortronics, however, says CommScope did not give Ortronics the opportunity to discuss the suit prior to its being filed.
"From the outset, Ortronics has maintained that the patent claims have no merit," Franchini says. "Additionally, CommScope made no attempt to engage Ortronics in discussion prior to its public announcement of the lawsuit."
Franchini says the Category 6 products noted in the suit will remain on the market: "We assure our customers and partners that there will be no changes or impact on the way Ortronics sells and supports this product line."
She adds, "Ortronics has also invested a significant amount of time, resources and energy in developing the highest quality products with distinctive, innovative technology."