New Products
Nov 1st, 2004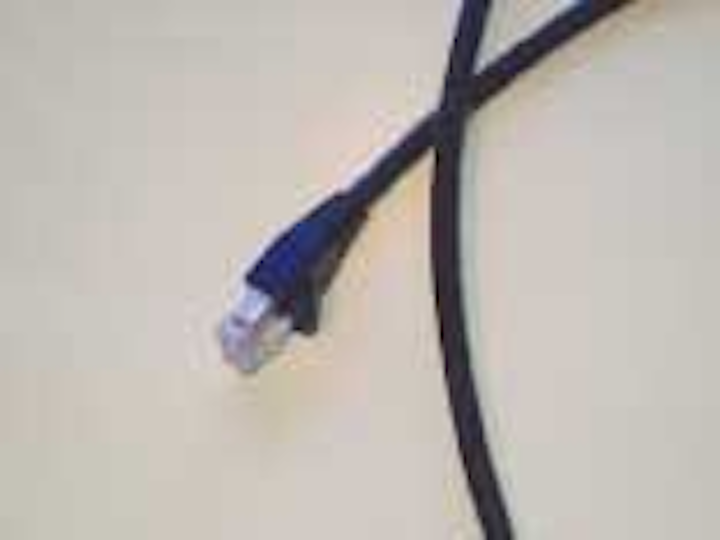 Industrial Ethernet patch cord material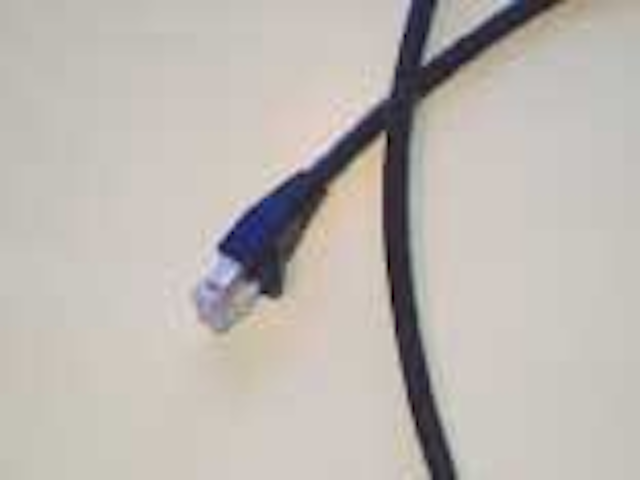 Click here to enlarge image
DataMax IE cable features a polyurethane jacket designed to provide better mechanical, weathering, oil resistance, and aging in industrial installations when compared to PVC-jacketed cabling. The Category 5e cabling, when assembled as Industrial Ethernet patch cords, is said to exceed NEXT and return loss requirements of TIA/EIA 568-B, assuring 100Base-T Ethernet transmission. The cables can be terminated with modular plugs, cylindrical metal M12 connectors, and with molded strain-relief boots. The jacket is pressure extruded over the 4-pair core to provide electrical stability in harsh environments. DataMax IE is built to withstand mechanical abuse, such as vibration, crushing and impact.
QUABBIN WIRE & CABLE CO
www.quabbin.com
Network analyzer
SoftPerfect Network Protocol Analyzer 2.0 is intended for analyzing, debugging, maintaining and monitoring LANs and Internet connections. The software captures data passing through the connection and, according to the company, presents it in an easy-to-understand form. It lets you defragment and reassemble network packets into streams, and its system of configurable filters lets you discard all network traffic except the specific patterns you wish to analyze. The software is also designed to let you build custom packets to protect a network against viruses or intruders.
SOFTPERFECT RESEARCH
www.softperfect.com
Connectors add LC version
AMP Netconnect has added LC type optical-fiber connectors to its line of LightCrimp Plus. The no-epoxy/no-polish connectors feature a factory-polished ferrule for a three-step termination of strip, cleave, and crimp. The company says the LC connectors are especially suitable for direct termination in premises applications (patch panels, wall outlets, etc.), and trunk cabling for either backbone or horizontal installations. The connectors are built to withstand temperatures ranging from -10° C to 60° C. A CD-ROM installation guide is provided.
AMP NETCONNECT
www.ampnetconnect.com
Ethernet switch teamed with media converter
The MACS ETC-A is an Ethernet switch/media converter for LAN to LAN connection over optical-fiber networks. The device supports up to six Ethernet ports, with configurable bandwidth in increments of 1 Mbit/sec. The ports can connect up to five LANs to an optical-fiber IP backbone over one line of fiber cabling, or up to four LANs over two optical-fiber cables. The company says that confidential data transmission is assured through port-based double VLAN (virtual LAN) tagging, allowing data from various enterprises and LAN segments to be securely and independently transmitted.
PANDATEL AG
www.pandatel.com
Hardware system for network management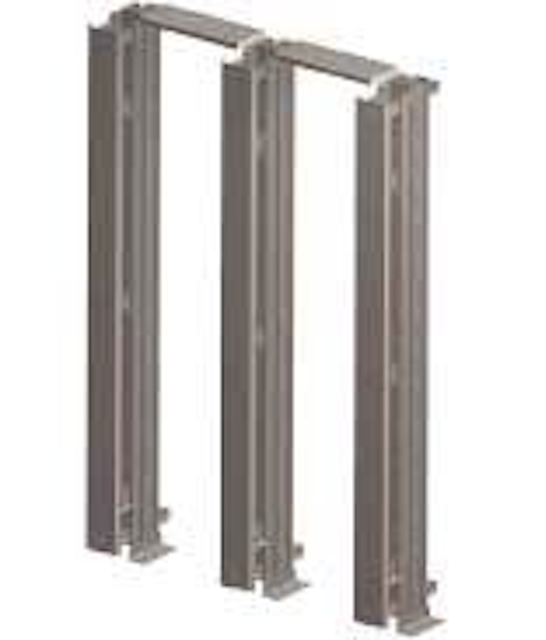 Click here to enlarge image
The iFRAME network hardware management system includes switches, servers, patch panels and cable designed to save data center floor space, increase rack space, and improve organization. Designed with one-fifth of the parts of a traditional system, iFRAME features a strong I-beam that's bolted to the floor every two feet, and a top section. Network equipment is mounted between the columns while cable is run within the column. The company says its columns support a full complement of network gear, with no need to tie the top of each rack to the wall for stability or leave the top rack unused.
HUBBELL PREMISE WIRING
www.hubbell-premise.com
Optical-fiber education kit
Click here to enlarge image
For new or graduate-level photonics installers, the Fiber Optic Component Education Kit is designed to help develop knowledge of optics in practical applications. The kit includes 10 self-enclosed component modules that form the basic building blocks of an optical-fiber network, providing a hands-on approach to optical-fiber component installation. Each kit includes a user manual with suggested activities, fiber patch cords, couplers, WDM coupler, isolators, circulators, and much more.
SENKO ADVANCED COMPONENTS
www.senko.com
Troubleshooter for network installations
The FTB-3930 MultiTest module for network installation, maintenance and troubleshooting provides automated, bi-directional optical return loss and insertion loss testing (on up to three wavelengths), as well as fiber-length testing capabilities. It features up to five singlemode and multimode wavelength configurations, including a 1310/1490/ 1550-nm setup for fiber-to-the-premises installations. The company says its tester returns results within 10 seconds.
EXFO ELECTRO-OPTICAL ENGINEERING, INC.
www.exfo.com
Expanded uses for cable ties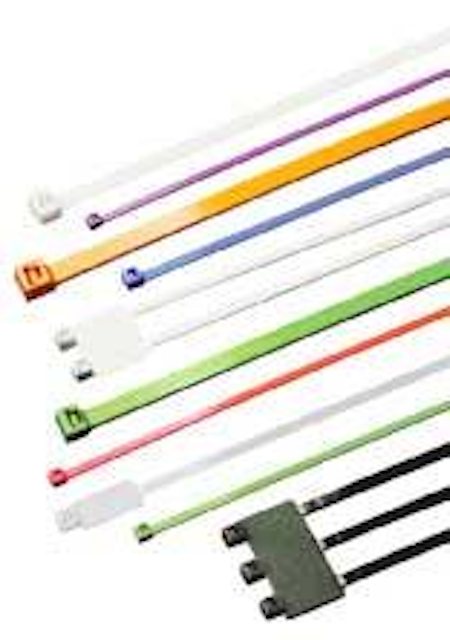 Click here to enlarge image
The Burndy Unirap line of cable ties now includes Tefxel and Halar, aerial support spacer, identification, and Velcro ties, plus mounting bases, and tools and ties for military applications. The ties are designed for field and production line applications. Compact heads and pre-bent tips help ease installation and provide space-efficient cable bundling. All ties are fabricated of lightweight one-piece nylon, and are built for toughness, resiliency, and abrasion resistance. Offering high tensile strength, these ties are resistive to solvents, alkalies, oils, grease and diluted acids. Self-locking ties secure without twisting or leaving sharp projections.
FCI-BURNDY PRODUCTS
www.fciconnect.com
Tape that sticks without the sticky stuff
Click here to enlarge image
Self-fusing tape is designed to insulate and protect wires, harnesses and splices. Because it has no adhesive lining, it leaves the application cleanly. The tapes are built for extreme temperature ranges, and have a center ridge that acts as wrapping guide. Available colors include black, red, yellow, green, blue and gray.
WAYTEK INC.
www.waytekwire.com
Power and video over Category 5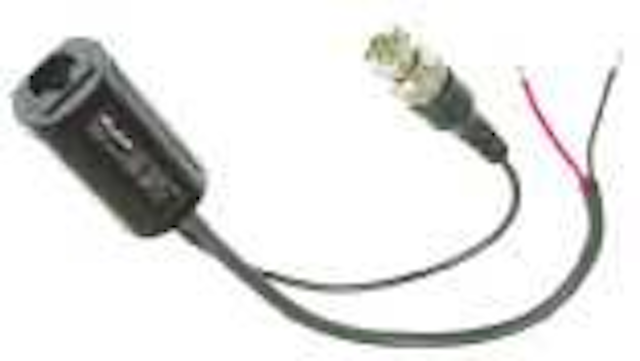 Click here to enlarge image
For CCTV security and surveillance installations, the VideoEase CCTV Power-Thru Balun lets you connect remote power and video to a CCTV camera via one Category 5 cable. Remote 24-volt power is supported by three twisted pairs for up to 500 feet; longer distances are possible at 28 volts. The balun features two cable leads that break out the remote power and video signals at the camera, eliminating the need for additional cables. A modular eight-pin connector combines the two signals over the Category 5 cable.
MUXLAB
www.muxlab.com
Compression-sealed audio/video connectors
A series of compression-style audio/visual connectors designed for CCTV, security, and other residential and commercial structured cabling installations provide a flexible solution for applications requiring RCA, BNC, right-angled BNC, and F-type connections with RG-59, RG-6, and RG-6 quad shield cables. Connectors are offered in six ID colors (red, white, black, yellow, black, blue and green) to support a wide variety of applications.
ICC
www.icc.com
Fusion splicer tackles the little jobs
The FSM-17S fusion splicer features the technology of a high-end splicer for use in smaller-scale installations and networks. With a splicing time of 11 seconds, and splice protector shrink time of 35 seconds, the FSM-17S is designed to splice various fiber types and employs a fixed v-groove alignment system. The lightweight splicer also includes a large battery capacity.
FUJIKURA EUROPE LTD.
www.fujikura.co.uk
Gigabit Ethernet adapter for Mac-based installations
Multiport optical-fiber Ethernet adapters are said to be the first Gigabit Ethernet PCI devices for the Apple Mac and Mac OS X platforms. The company's Mac OS X driver technology is combined with Intel PRO/1000 MF server adapters to feature one, two, or four independent ports for bringing optical-fiber networking to the Mac. The adapters are 133-MHz, 64-bit-capable PCI-X cards (single or dual-port) that are compatible with G4 and G5 Power Mac and Xserve systems, while a quad-port version is compatible with all G5 systems and the Xserve G4. Cards are interconnected with multimode optical-fiber cable that can span distances of up to 550 meters without repeaters. The company says the cards will work seamlessly with existing fiber infrastructure using standard LC connectors. Once installed, the adapters appear as another Ethernet interface to the Mac, and use standard TCP/IP protocols to ensure that no application changes are required.
SMALL TREE COMMUNICATIONS
www.small-tree.com
Single tie retains two parallel bundles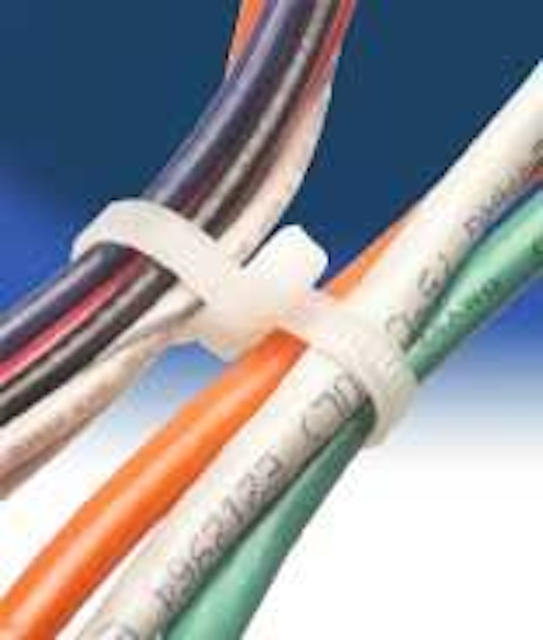 Click here to enlarge image
Ty-Fast double-loop cable ties are designed to secure two parallel bundles of cabling, hose, or wire. The tie loops itself twice through the head in separate latching pawls. Widely used in Europe, double-loop applications include telecommunications, electrical, automotive and aerospace.
THOMAS & BETTS CORP.
www.tnb.com
Easy access via zipper chains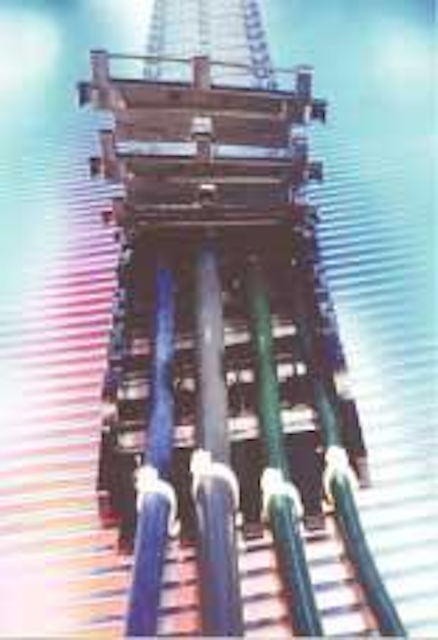 Click here to enlarge image
Zipper-style energy chain systems are designed for easy access to cables and hoses. Unlike typical energy chains that are built with side links and crossbars, zipper chains are built with interconnected lids that can be pulled back like a zipper. Each lid pulls on its predecessor, removing the top section of the energy chain in one uniform piece-as much, or as little, as needed at any point along the carrier. If an application requires long distances, the cables do not have to be snaked through but can be laid out along the cable carrier in their compartment-especially suited for cabling with pre-assembled connectors. Strain relief and various mounting brackets are available for a variety of installation options.
IGUS INC.
www.igus.com
Ultracapacitor-based back-up power modules for networks
Powercache, a line of ultracapacitor-based back-up power modules, are designed to provide a space-saving and maintenance-free alternative to batteries for short-term bridge power in uninterruptible power supply (UPS) systems for networks. Two 48-volt rack-mount modules, rated at 1.6 and 2.3 kilowatts respectively, are constructed to comply with Network Equipment Building System (NEBS) standards for telecommunication installations. Powercache modules stay fully charged, and recharge in seconds in the event of multiple grid power interruptions. The company claims the devices will operate reliably for the life of the system, with zero maintenance required.
MAXWELL TECHNOLOGIES, INC.
www.maxwell.com
Fiber modules with space savings in mind
Three factory-terminated and tested components for the company's InstaPATCH system are designed especially for data centers with limited space for the patch panels to interconnect with communications equipment. The 24 LC Data Module provides 24 LC connections in the same space as a 12 LC module, while the MPO (Multi-fiber Push On) module offers two connections for use in such parallel transmission applications as 10G Fibre Channel, 30G InfiniBand, and 40G SONET/SDH. A new trunk cable design, available in 24-, 48-, and 72-fiber configurations, provides users with higher fiber count cables equipped with MPO connectors, and is designed for easier cable pulling installation. The InstaPATCH System incorporates the company's LazrSPEED multimode fiber technology designed to provide 10-Gbits/sec throughput over one multimode fiber.
SYSTIMAX SOLUTIONS
www.systimax.com
Software suite for Ethernet testing
Advanced Ethernet testing capabilities have been added to the Packet Blazer test module, designed to assure integrity of delay-sensitive VoIP and Video-over-IP applications. Test capabilities include packet jitter, multiple stream generation and analysis, and dual test-set mode for frame analysis. The company's FTB-8510 Packet Blazer is an interchangeable test module housed inside the FTB-400 Universal Test System, and is appropriate for field and central office use.
EXFO ELECTRO-OPTICAL ENGINEERING, INC.
www.exfo.com