A new focus on end-to-end solutions
Small contractors could feel the pinch as manufacturers forge new partnerships.
Dec 1st, 2004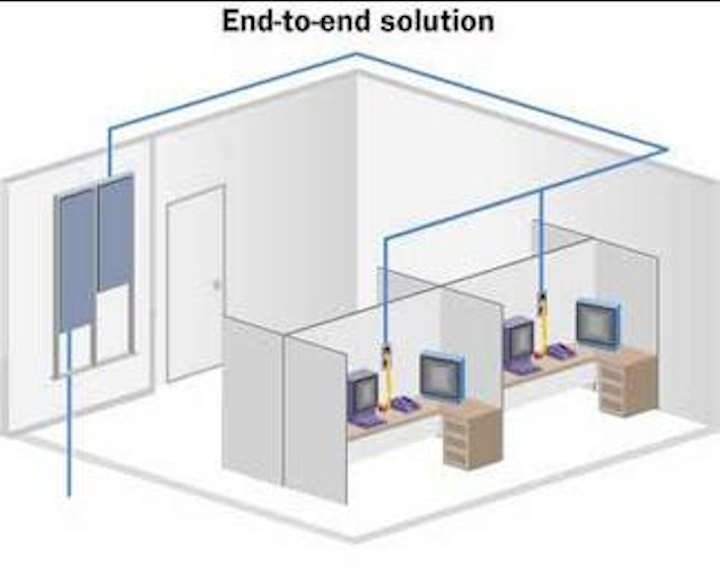 The trend toward end-to-end structured cabling solutions is jostling relationships between manufacturers and contractors, and some believe only the larger contractors may survive as manufacturers realign.
Partnerships in distributor communities are changing due to proliferation of end-to-end structured cabling solutions. Some are dissolving as new alliances are formed. Industry representatives liken the situation to a line of dominoes falling. As one partnership breaks and another forms, it sends a ripple through the industry.
Those who are promoting end-to-end structured cabling solutions claim they offer more value than an open solution, and that an end-to-end solution inspires more confidence from end users and contractors. Once installed, potential problems can be more easily addressed, and warranty claims are made simple.
The competition occurring with end-to-end solutions is seen by participants as needed by an industry that is in the process of establishing who will be the primary vendors in the marketplace. And customers, they say, will be the beneficiaries.
"Those [vendors] that can survive and meet the needs of the evolving businesses of the future will create more value, and that value can come in many different ways," says Mike Barnick, senior manager for solutions marketing, Systimax Solutions, Inc (Richardson, TX; www.systimax.com). "It can be in a premium price for your solution, and a more creative way to meet the customer's needs."
KRONE previously offered its own end-to-end copper solution, but the merger with ADC enabled it to introduce an end-to-end optical-fiber solution, which includes connectors, patch cords, raceways and panels
Click here to enlarge image
Others question the process, concerned that some partnerships are being formed not for the good of the consumer, but for the good of the manufacturer. "Customer preference doesn't seem to be the motivational factor," says Todd Harpel, director of marketing for Berk-Tek (New Holland, PA; www.berktek.com), in citing recent decisions by manufacturers to make their own end-to-end solutions. "It's more a case of the cable manufacturer saying, 'I want to control the business.'"
Those who question the trend say the situation could be brought to the point where customers' preferences are discarded as partnered cable and connectivity makers make the decisions on what they think is best for the market.
Ever-changing alliances
The partnering of cable and connectivity manufacturers has reached a feverish pitch. In fact, some argue that to survive in today's market, manufacturers have got to relax their focus on open architectures and form partnerships that will let them make and promote end-to-end solutions.
"If I'm a cabling vendor, I've got to be acquired or acquire an apparatus vendor to become an end-to-end solution provider," says Barnick.
To get a feel for how things have changed, consider how in 1999, Anixter's (Glenview, IL; www.anixter.com) Level XP program partnered cable with connectivity manufacturers. The line-ups were:
• The Siemon Company/CommScope;
• Belden/Panduit;
• KRONE/Prestolite;
• Berk-Tek/Ortronics.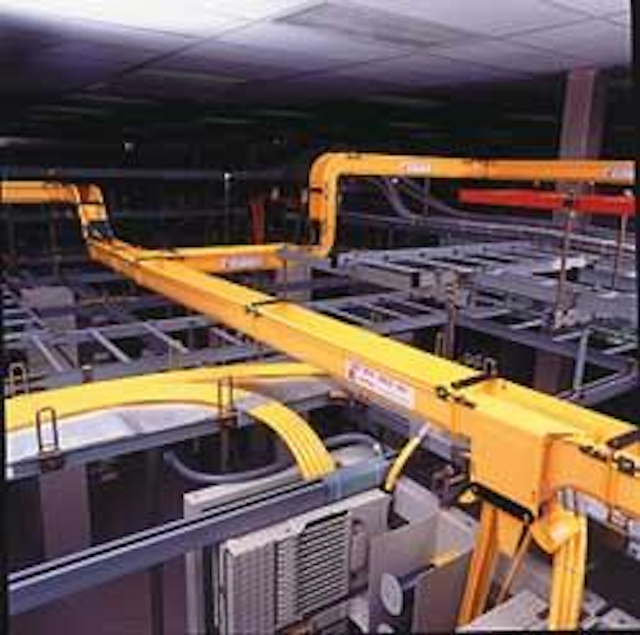 The ADC FiberGuide raceway system, part of an end-to-end solution, is designed to route fiber cabling to ensure proper bend radius protection and cable management.
Click here to enlarge image
Virtually all of these relationships have now changed. Until recently, for example, The Siemon Company's allies for open systems were Berk-Tek, Mohawk CDT (Leominster, MA; www.mohawk-cdt.com), CommScope, General Cable (Highland Heights, KY; www.generalcable.com) and Optical Cable Corp. (Roanoke, VA; www.occfiber.com). But some of these are now partnered with some of The Siemon Company's competitors. Today, the only open systems partners that remain are Berk-Tek, General Cable, Mohawk/CDT and Optical Cable Corp.
In September, The Siemon Company announced its own end-to-end solution with the addition of copper cable to its product line-Premium 5e, the System 6, and the 10 G 6. For optical fiber, the company has Light System and Xglo laser optimized fiber.
The company says, however, it plans to continue to work with its cable allies in distributor communities. "We've always had an open system and recognized our cable allies' cables," says Robert Carlson, vice president of global marketing for The Siemon Company. It offers one point of contact for an end-to-end system, whether that system employs Siemon Company cable or recognized cable from one of its cable allies. "This gives our customers an option," explains Carlson.
But some of the companies it would work with for these open systems are now focusing their efforts on their own end-to-end solutions. Belden (Richmond, IN; www.belden.com), for example, merged with Cable Design Technologies (Pittsburgh, PA), and introduced Belden IBDN FiberExpress Structured Cabling Systems. This system includes connectivity from NORDX (Pointe Claire, Quebec; www.nordx.com), a Siemon Company competitor.
The Siemon Company is not alone in this changing environment. Connectivity maker Panduit (Tinley Park, IL; www.panduit.com) previously worked with Belden to create open systems, but then Belden merged with CDT. Now, Panduit is working with General Cable to make its own privately labeled, end-to-end solution.
Belden and KRONE Inc. (Centennial, CO; www. kroneamericas.com) had an open system relationship in 1998. Now KRONE has merged with ADC (Minneapolis; MN; www.adc.com), KRONE previously offered its own end-to-end copper solution, but the merger with ADC enabled it to introduce an end-to-end optical fiber solution. The company now offers Fibertray and Fiber Raceway.
CommScope (Hickory, NC; www.commscope.com), meanwhile, acquired Systimax Solutions from Avaya Inc. (Basking Ridge, NJ; www.avaya.com) this year, increasing its presence significantly in the LAN cabling arena. Now, CommScope offers the Lightscope ZWP optical fiber solutions, and the Uniprise product line that includes cable and connectivity.
This move put CommScope at odds with traditional open system allies The Siemon Company and Panduit. CommScope continues to let its cable be partnered with the connectivity components from these companies for end users with legacy systems that seek new parts from distributor communities. But Michael Werner, market manager for network copper products for CommScope, believes these relationships will dissipate over time. New business will be directed toward the closed architecture.
Today, Berk-Tek and connectivity partner Ortronics (New London, CT; www.ortronics.com) are putting out an end-to-end solution under the NetClear warranty, but the solution carries both companies' names. AMPNetconnect (Harrisburg, PA; www.ampnetconnect.com), which once allied with Pirelli for open solutions, now has its own end-to-end solution, including Category 5e and 6 solutions, and the XG fiber solution.
Herb Congdon, global fiber product manager for AMPNetconnet, likens the recent trend to a shuffling of cards. He says partnership changes like this are cyclical-the last one happened roughly five years ago. "I don't know if these are good or bad, but they underscore the value of offering an end-to-end solution," says Congdon.
Small contractors at disadvantage?
Because of all this activity, contractors are navigating changing currents. Some believe contractors will probably shuffle around relationships, partnering with different companies. Others think the giant partnerships will give the newly aligned companies more clout and buying power, and they'll seek out contractors with similar clout-making it difficult for smaller contractors who don't have enormous product orders.
"I think what this will do is squeeze out some of the smaller contractors," says Glenn Sexton, president, Northwest Information Services, Portland, OR (www.nispdx.com). "The bar has been raised, and he (the contractor) will have to commit to $300,000 worth of products, where in the past he did lesser volume.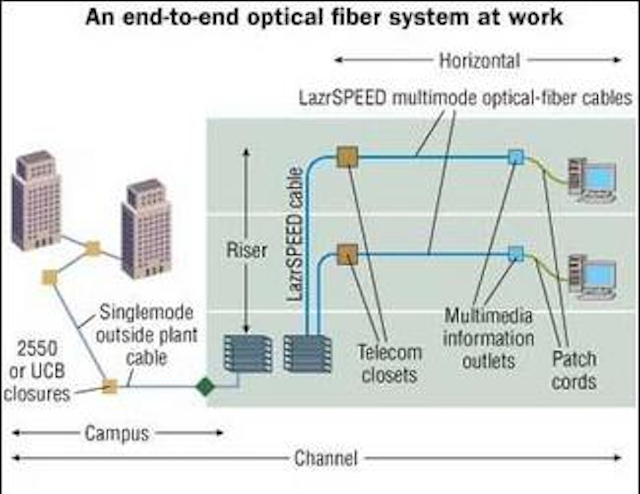 A descriptive flow of Systimax Solutions' LazrSPEED end-to-end optical-fiber system.
Click here to enlarge image
Barnick agrees that this new, competitive field will have a direct impact on contractors. He says the proliferation of end-to-end solutions will also put the onus on contractors to make sure each installation works perfectly. Manufacturers, for example, will realize that their end-to-end solution is on the line, and are being watched carefully by enterprise end users.
"Most suppliers out there have a contractor network," says Barnick. "There will be more demand on the network, and the quality of worksmanship will be brought into view. Customers rely on them to be successful, and that says contractors who can't meet quality expectations will be weeded out."
Barnick says successful contractors will have to continue to seek training, add to their knowledge, and ally themselves carefully with new partnerships.
Inventory issues
The changing partnerships are also having an impact on how distributors run their operations. With new end-to-end solutions being pumped out into the market, distributors will have to add unproven inventory to their shelves. This will, in turn, reduce the amount of inventory space available for products that can be mixed and matched in open systems.
"Distributors now are having a tougher job than they did in the past, thanks to this proliferation of solutions," says Jim Barney, senior vice president and general manager of communications at General Cable.
Graybar (St. Louis, MO; www.graybar.com), for example, attempted to set up a matrix system through its VIP program that would let cable manufacturers work with different connectivity manufacturers, and vice versa. Connectivity companies with open systems in this matrix included Hubbell Premise Wiring (Stonington, CT; www.hubbell-premise.com), Leviton (Little Neck, NY; www.leviton.com), The Siemon Company, Ortronics and Panduit. Cable manufacturers included General Cable, Superior Essex Inc. (Atlanta, GA; www.superioressex.com), Mohawk, Belden and CommScope.
But Barnick says such communities have little chance of being successful in this new environment. Distributors, he says, will have to veer away from having multiple independent manufacturers in their communities.
"From a distributor side, you see a migration or move toward looking at end-to-end solution providers," says Barnick.
Positive or negative impact?
Customer demand for end-to-end solutions is growing, Barnick claims, because they offer superior warranties. Others are not as convinced and, in fact, say the trend toward end-to-end solutions will only have a negative impact on the cabling industry.
Carlson argues that the industry is still reeling from a time of overproduction. "Consolidation could have been a good thing," he says. "But this is turning into expansion, not consolidation."
Harpel agrees that, with connectivity makers offering warranty programs with cable manufacturers under their own brand, the number of competitors is rising. "It just adds to the number of competitors that you have," he says.
The expansion, Carlson adds, is leading to another problem-cable and connectivity underpricing: "It's expanded to create more competitors, which causes more supply than demand. This reduces prices, lowers the market pricing, and that's not a good thing for the manufacturers in this industry."
Harpel notes that connectivity manufacturers have traditionally enjoyed the higher percentage margin on their product line, compared to cable manufacturers. If these companies go out and purchase cable for resale, establishing themselves as cable players in the market, he says the temptation will be there to offer the cable at a lower price.
"They know they are going to make up the margin in their connectivity product," says Harpel. "They could lower the overall industry price for cable just to establish themselves as a cable player."
But Bob Kenny, vice president of enterprise for ADC, says the trend toward end-to-end solutions will have the opposite effect: revitalized competition will weed out inferior products and manufacturers, and level the playing field to fewer competitors. It is bound to happen, he says, as companies partner up, increase their buying power, and leverage their suppliers. Kenny also notes that more than 30 competitors nationwide are competing in this market space, and that they are keeping prices artificially high. But that's about to change for the better, he says.
"We have 34 competitors in the enterprise space, and that is too many with the standards now maturing," says Kenny. "Categories 5e and 6 have been out for awhile, copper is at an all-time high, the economy is flat, and we have too much capacity and too many competitors. Something has got to give."
---
BRIAN MILLIGAN
is senior editor with Cabling Installation & Maintenance