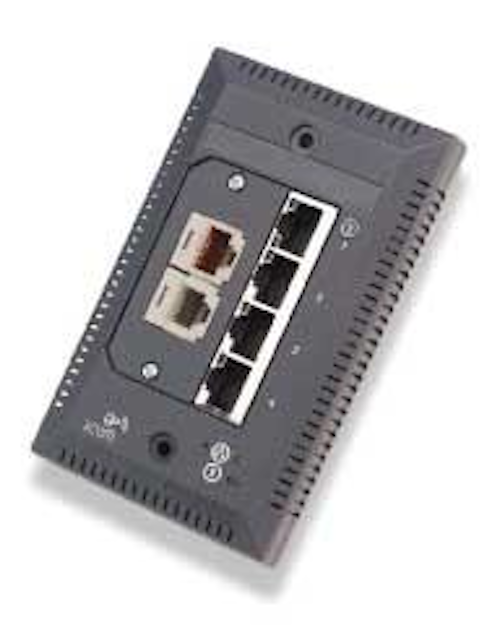 The University of Utah Hospital's decision to deploy a Voice over Internet Protocol (VoIP) system tipped over a domino that eventually led to one of the hospital's networking vendors broadening its connectivity choices within a product line.
In brief, the VoIP deployment gave rise to Power over Ethernet use, and when the hospital found a 3Com product that could accommodate both technologies, it also wanted the vendor to incorporate the connectivity brand that is standardized throughout the facility.
Now, 3Com (Marlborough, MA; www.3com.com) is working with The Siemon Co. (Watertown, CT; www. siemon.com) to offer the IntelliJack product line with its communications solutions.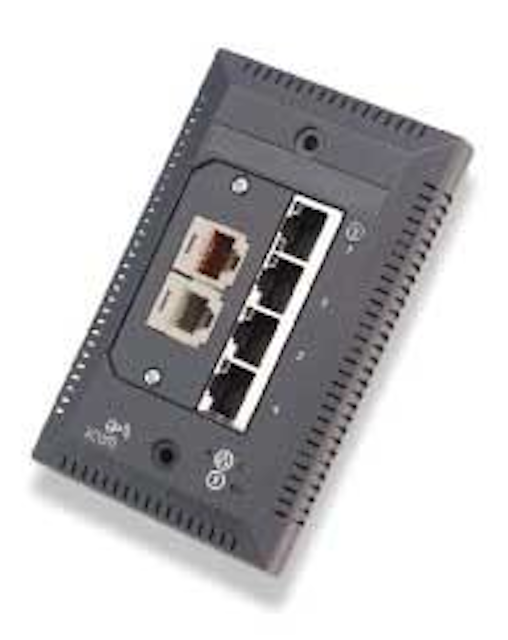 The NJ-220 product from 3Com, part of the IntelliJack line, converts a single Ethernet wall outlet into four switched Ethernet ports.
Click here to enlarge image
"We had purchased a 3Com Voice over IP system, and had been doing VoIP for about a year and a half," recalls Gary Vanderpool, information-technology director for the University of Utah Hospital. "We didn't want to use bricks to push power down the phone system. Some phones are in critical areas. So we decided to make sure everything was Power over Ethernet. What worked out well was not only having power, but also the extra ports."
The NJ-220 product from 3Com, part of the IntelliJack line, is described as turning one port into four. The device converts a single Ethernet wall outlet into four switched Ethernet ports. Through the marketing alliance between 3Com and The Siemon Company, IntelliJack switches are available with Siemon's pass-thru adapter plates. Each IntelliJack features two optional unswitched "pass-thru" ports fitted with adapter plates that snap into the back of the 3Com switch to accommodate The Siemon Company's MAX connectors.
Using this configuration, the University of Utah Hospital now has six Ethernet ports—four switched and two unswitched—wherever it once had one. Vanderpool says the manageability has come in handy. "We are a foundry shop, with HP equipment at the edge," he says. "The management package we use gives data on packet flow, and the NJ-220 allows us to look at the flow, port-by-port."
And his reason for requesting a specific connectivity brand is straightforward. "All our cabling is Siemon," he says.
Trey Wafer, 3Com's product manager, explains that his company's relationship with The Siemon Company predates the University of Utah project. 3Com met with Siemon and other connectivity manufacturers at a cabling industry conference in early 2002, he says. Questions about exclusivity came up, but no formal co-marketing agreement was established between 3Com and Siemon or any other vendor. But talks continued.
"We were looking at ways to co-market the brands," Wafer says. "And the University of Utah Hospital brought it to the fore."
"We believe one network should be capable of driving many Internet Protocol-based applications, from voice and data to access control and security video," says 3Com global marketing manager, Seth Adler. "Companies invest in the Siemon cabling system because they have a need for a robust cabling infrastructure capable of supporting the growing level of convergence and advanced networking applications. IntelliJacks with Siemon adapters allow them to extend their networks quickly and simply."
Adds Carrie Higbie, The Siemon Company's global network applications market manager, "When it comes to overall end-user satisfaction and protection of their network investment, the cabling system specified is of crucial importance."
3Com's Wafer says that since IntelliJack's introduction in late 2001, it has been popular for several environments, particularly brick-and-mortar buildings that pose barriers to pulling new cable. In other environments in which it has been adopted, the addition of intelligence at the end of the network has been attractive. At the University of Utah Hospital, for example, both the intelligence and the ability to avoid running cable through physically sensitive areas proved worthy reasons.
As for users demanding specific connectivity brands, Wafer says it is a mixed bag: "Sometimes, it comes up and sometimes it doesn't. It happens often enough that we know to ask about it at the beginning of a project."