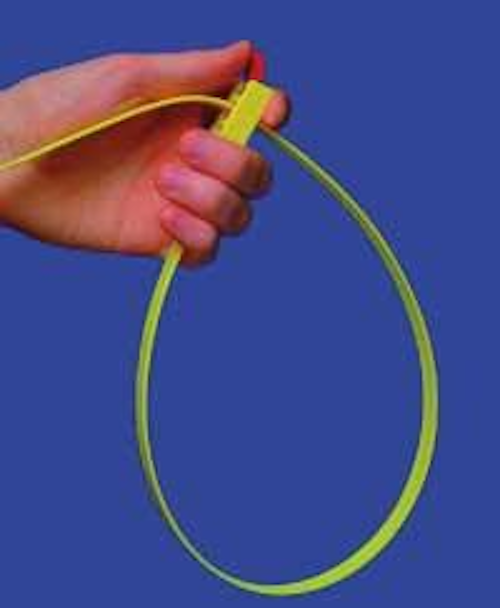 Compiled by Steve Smith
Re-useable lashing tie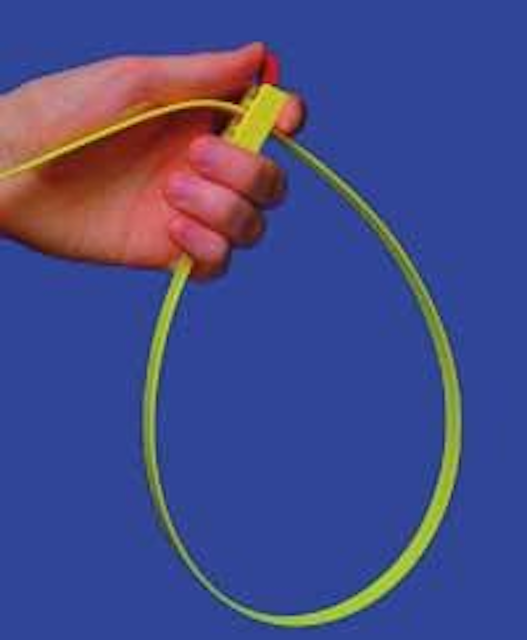 Click here to enlarge image
SpeedyTie is a re-useable cable lashing tie designed with an easy release mechanism—one click to tie and untie. It can secure two bundles simultaneously when you insert the tail through the open slot and then through the red lever slot. SpeedyTie is available in yellow nylon or black UV-stabilized nylon, and claims to maintain a 200-pound tensile strength.
HELLERMANNTYTON
www.hellermann.tyton.com
Rack-mount voltage regulator

Click here to enlarge image
The Model TPC2993 voltage regulation power distribution unit (PDU) is a nine outlet, 19-inch rack-mount solution for voltage fluctuation. It is designed to accept a low voltage or overvoltage—from 105 to 137 volts. Sensing circuitry reacts to input voltage and adjusts the transformer to output a well-regulated 120 volts (± 5 volts). Eight NEMA 5-15R receptacles are located in the back, plus one in the front. The front panel features a main 15-amp circuit breaker that doubles as an on/off switch, and voltage level indicator lights.
PULIZZI ENGINEERING INC.
www.pulizzi.com
Thermal transfer labeling tool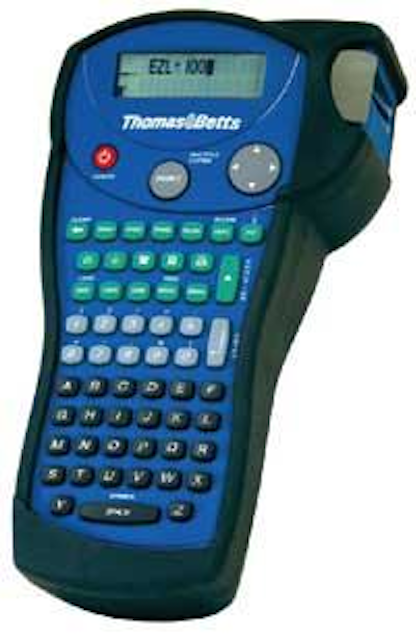 Click here to enlarge image
With one-touch cable wrapping capability, the EZL-100 thermal transfer marker/printer lets you select a cable or wire gauge and automatically size the label to the proper diameter. It can also be used to identify cabling for panel boards, terminal blocks and outlets. Features include five print sizes, multiple line printing and a selection of symbols. The battery-operated printer produces nylon and polyester labels in widths ranging from 1/4-inch to 3/4-inch.
THOMAS & BETTS
www.tnb.com
Enclosure for beefy cable densities
Click here to enlarge image
Featuring higher weight and load capacity and a 42-inch deep footprint, the Vantage S2 enclosure has been designed with eight 3-inch holes offering 57 square inches of cable entry space—equal to nearly 800 Category 5e or Category 6 cables. Its base features an additional 510 square inches of open area for raised floor cabling. An integrated rear channel is designed to accommodate most vertical power strips and a variety of cable management accessories.
WRIGHT LINE LLC
www.wrightline.com
Dual-voltage combo box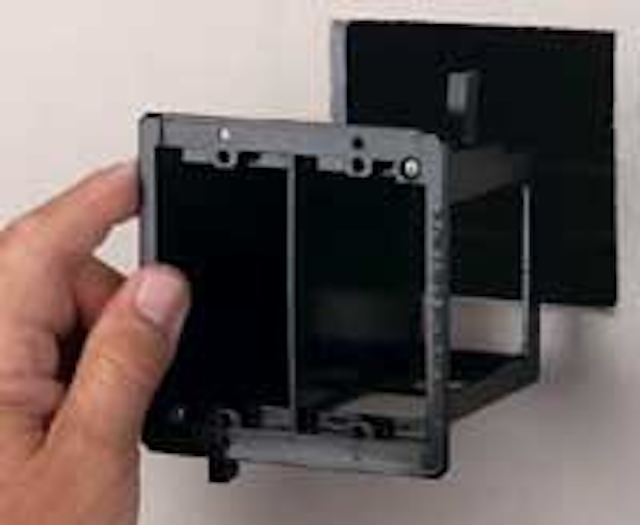 Click here to enlarge image
The LVDR2 dual-voltage, two-gang combination box is designed for installing power and low-voltage outlets together in one location. The non-conductive box adjusts to fit wall thickness of 1/4-inch to 1/2-inch, using mounting wings that hold the box securely in place. As the installation screws are tightened, the wings flip up, holding the combo box against the wall. Half- and three-quarter-inch knockouts are featured on the low-voltage side.
ARLINGTON INDUSTRIES INC.
www.aifittings.com
Pre-configured kits for grounding, bonding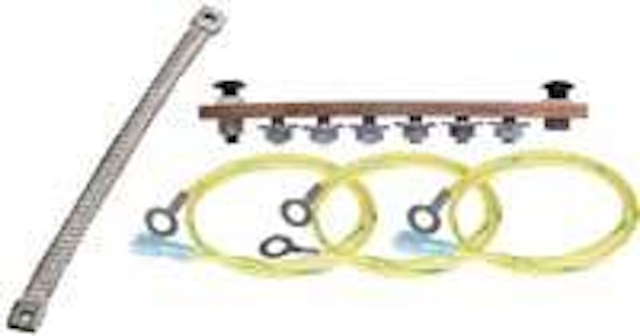 Click here to enlarge image
This line of grounding and bonding kits is designed for electronic equipment mounted in cabinets and racks, and is built in compliance with ANSI/J-STD-607 safety standards. The pre-configured kits feature factory-terminated leads, solid copper grounding bars, braided straps, insulator posts, and mounting hardware.
HUBBELL PREMISE WIRING
www.hubbell-premise.com
Outdoor power for wireless applications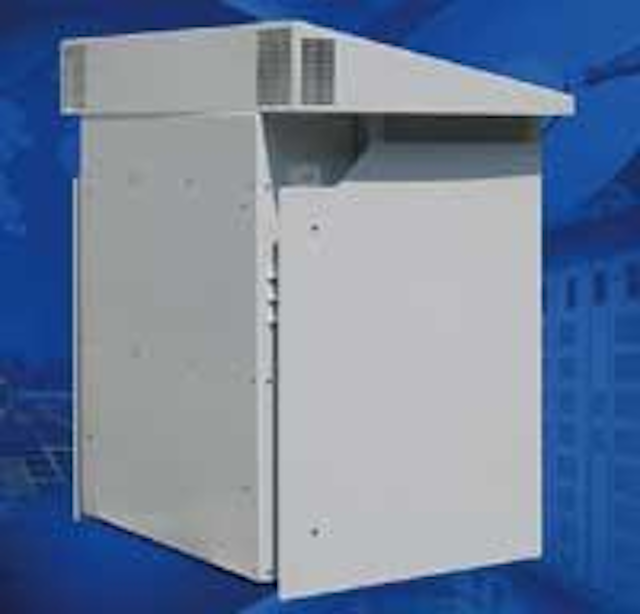 Click here to enlarge image
Outside plant power, DC distribution, battery back-up and remote monitoring/alarm capabilities are featured in this environmentally sealed DC power plant for cellular/wireless applications. The weatherproof systems are designed to deliver up to 1,000 watts of 24 or 48 volts DC with up to four hours of battery back-up. Separation of the NEMA 3R battery cabinet from the rectifier cabinet is designed to keep both internal cabinet temperatures within a safe operating range during extreme environmental conditions. The manufacturer says its enclosure is especially suited for fiber-to-the-curb, broadband, wireless local loop, and other medium to low amperage outdoor telecommunications applications.
TRANSISTOR DEVICES INC.
www.tdipower.com
Fiber solution with service combo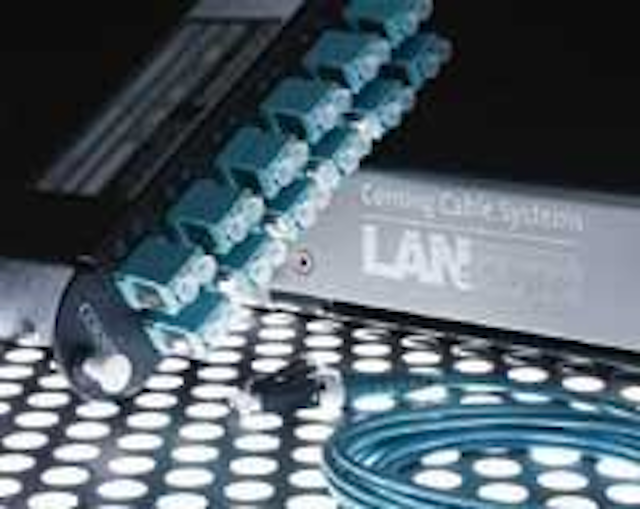 Click here to enlarge image
Billed as a "tip-to-tip" LAN and data center solution for optical-fiber installations, the LANscape Pretium line is built for high performance and ease of use. It features cables, connectors, hardware, and test and splice equipment, as well as the company's technical support and engineering services. The laser-optimized multimode cable promises attenuation of 3.0 dB/km to enable 10-Gbits/sec operation for up to 550 meters. SC and LC connectors are designed to allow more connectors in the channel, while the 12-fiber UniCam high-density connector lets you terminate 12 fibers in less than four minutes. Rack-mountable connector housings are built with increased jumper and cable capacity and built-in jumper manager. Among other features are the OptiSplice Premier iLID fusion splicer, and an optical-fiber backbone model that helps installers design a complete building or campus backbone in a matter of minutes.
CORNING CABLE SYSTEMS
www.corning.com/cablesystems
---
High-pair-count cables with power-sum performance for backbone applications
Two cables with 25 and 50 pairs, respectively, meet the power-sum near-end crosstalk performance parameters set forth in the TIA's Category 5e specifications. Hitachi Cable Manchester's 50-pair Category 5e cable is approved for use in riser and plenum-rated applications. It is constructed using two bonded 25-pair legs to facilitate cable pulling and allow flexibility. The web design is easily torn, the manufacturer says, allowing quick separation in the field. Category 5e performance has been certified for conformance by an independent third-party test laboratory.
The 50-pair Category 5e backbone cables are packaged on 1,000-foot reels; the standard jacket color for CMR (riser-rated) cables is blue and the standard color for CMP (plenum-rated) cables is white. Additional jacket colors are available upon request.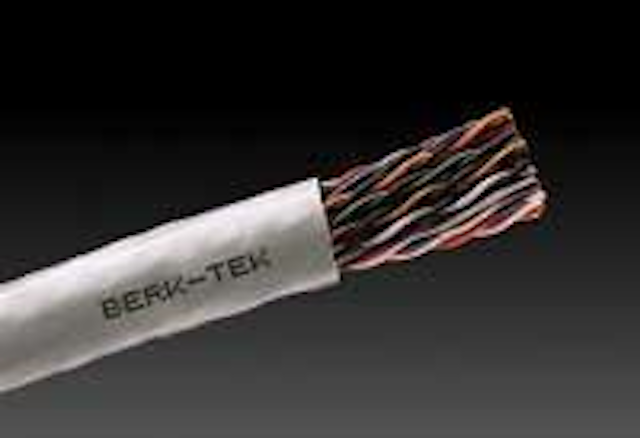 Click here to enlarge image
The 25-pair Power Sum Category 5e cable from Berk-Tek can be used with existing 50-pin RJ-21 connectors, giving users a traditional Category 5 connection point.
Additionally, the cable is designed to deliver full Category 5e performance when used in a zone-cabling architecture, providing increased flexibility whether the cabling plant employs a traditional consolidation point or a multi-user telecommunications outlet assembly.
The product performance is ETL Semko-verified to meet the Category 5e standard, and is available in both riser- and plenum-rated versions.
A zone cabling approach that could incorporate the 25-pair Power Sum Category 5e cable could be advantageous to a user, Berk-Tek explains, because zone cabling keeps the majority of the channel intact during a move, add, or change while still providing maximum flexibility for reconfiguring the work area cables. The zone cabling approach simplifies the cable layout by consolidating the number of distribution points, so less cable is distributed, providing an advantage in the long-term investment of the cabling plant. —Patrick McLaughlin
HITACHI CABLE MANCHESTER
www.hcm.Hitachi.com
BERK-TEK
www.berktek.com