New Products
Walk around the rack; Category 6 jack termination tool; Long-distance multimode fiber; MORE...
Mar 1st, 2004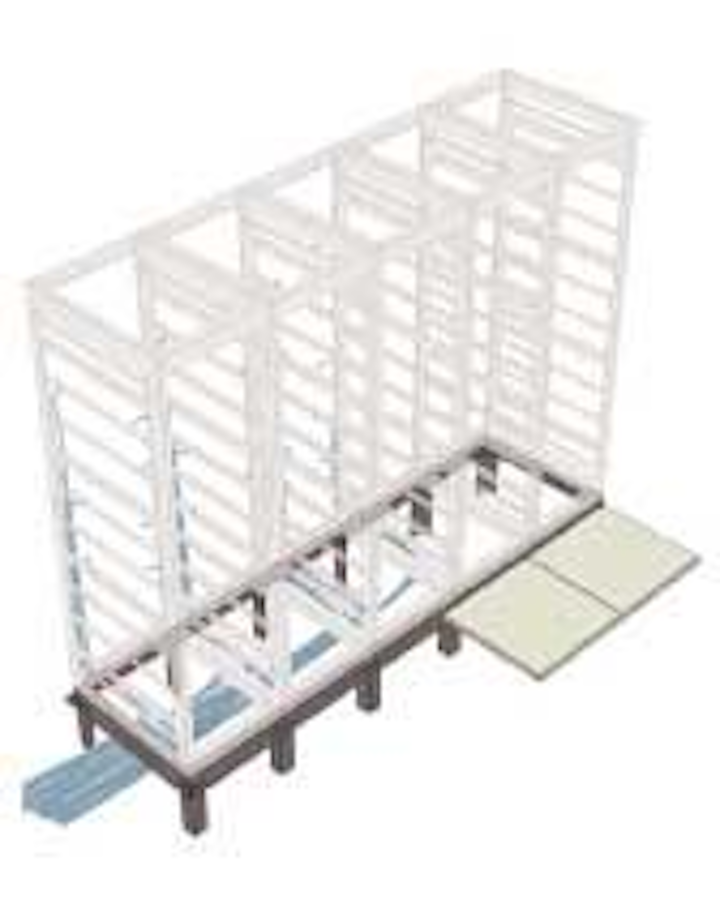 Walk around the rack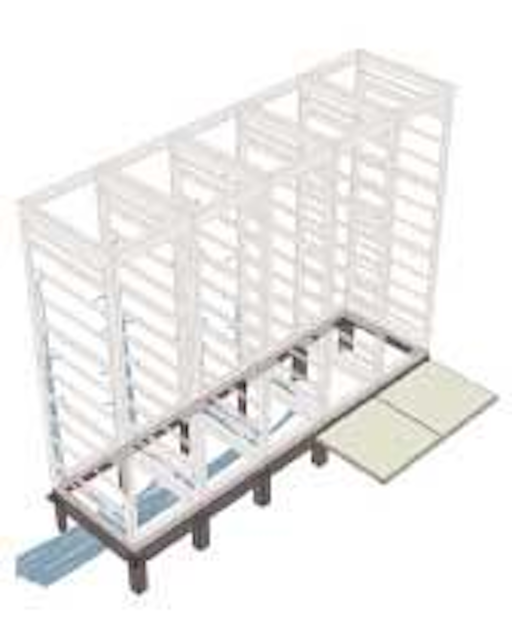 Click here to enlarge image
The Riser Base system lets you build a raised floor around your racks, providing flexibility to choose racks of widths that .. meet each installation without being constrained by raised-floor tile size. Riser bases can be used as stand-alone units or in conjunction with the system's feet and angles to meet a wide range of raised floor challenges. RIB Series riser bases are designed to elevate equipment racks 2.5 inches above the floor. The VFEET Series riser feet can be used to raise the base 12 inches for standard raised floor installations, but custom sizes are also available. Support angles let you cut floor tiles to perfectly mate the riser base.
MIDDLE ATLANTIC PRODUCTS
www.middleatlantic.com
Category 6 jack termination tool
Click here to enlarge image
The SL Series jack termination tool terminates and cuts all eight Category 6 conductors at once, allowing for what the ..manufacturer promises are terminations in about half the time of a standard punch-down tool. The SL Series tool is also designed to simplify the lacing process to produce consistent terminations while maintaining pair twist. The tool can also work with Category 3 and 5e SL Series jacks.
AMP NETCONNECT
www.ampnetconnect.com
Long-distance multimode fiber
GIGAlite-10XB 50-µm multimode fiber is designed to support 10-Gigabit Ethernet (using serial 850-nm VCSEL technologies) to a guaranteed distance of 600 meters. The company claims that the fibers come with the highest available effective modal bandwidth (at 4,900 MHz/km) among competitive laser-optimized fibers. It delivers a maximum attenuation of 3 dB/km, as well as what the company claims is the industry's most tightly controlled Differential Mode Delay (DMD) performance in finished cable form—doubling the maximum 10-Gigabit Ethernet distances currently specified by IEEE for multimode fiber.
BERK-TEK
www.berktek.com
Cat 6 patented technology
Click here to enlarge image
The newly-patented Retention Force Technology (RFT)—which reinforces tine contact in connectors for improved performance, protects against damage caused by insertion of 4P and 6P plugs, and ensures error-free performance over the life of the termination—is at the core of the Extreme 6+ cabling system. The system is designed to deliver outstanding .. headroom for future-ready networks and mission-critical applications. According to the manufacturer, the system meets TIA/EIA Category 6 requirements for channel/component-level performance. Included in the system are connectors, patch panels and patch cords.
LEVITON VOICE & DATA DIVISION
www.levitonvoicedata.com
Cable stripper with built-in crimper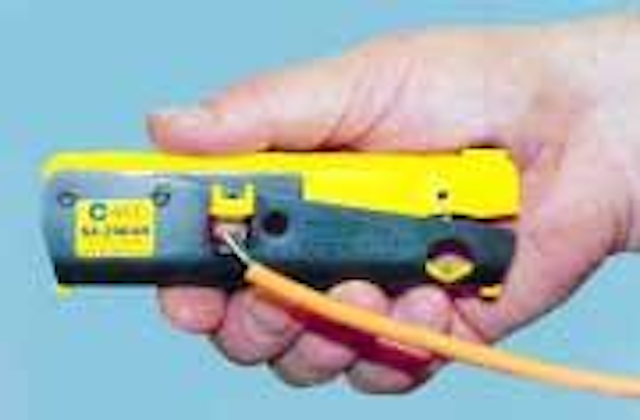 Click here to enlarge image
The Strip-All model SA-200-UR features a built-in crimper for UR, UY, and UB connectors, plus a wire trimmer. Together, they are designed to significantly speed cable splicing since only .. one tool is required instead of three. The Strip-All can strip computer, security, Category 5 and 6, Teflon plenum, and fire alarm cable. A surgical-type blade cartridge with micrometer depth control lets you precisely and safely ring-cut and strip cabling.
SEATEK CO.
www.SeatekCo.com
Industrial-strength labeling tool
The RhinoPRO 5000 combines a portable printer with labels specifically developed for tough applications. Complete with hot-key functionality, the tool also includes a large 30-character backlit display and oversized keys. Commonly used data-communications and electrical symbols, including ohm, ground, phone, data, fax, and print barcodes, are built-in. The tool prints on 1/4- 3/8-, 1/2-, and 3/4-inch RhinoPRO tape. The label maker is 4.5 inches wide, 2.7 inches deep and 8.3 inches in height; it weighs 1.14 pounds. The tape includes a split back for easy peeling, permanent adhesive, and thermal-transfer print technology.
DYMO INDUSTRIAL
www.dymo.com/industrial
Multimedia cabling system
GigaBIX Multi family of products is designed to support voice, data, video and sound in copper, fiber and coax media, and in wall-mount, rack-mount, interconnect and cross-connect installations. Key to the system is the Category 6-based 48-port rack-mount patch panel that incorporates GigaBIX connectors with either GigaBIX patch cords or cross-connect wire. Another key component is the MediaFlex adapter, which fits into the wall- and rack-mounts and lets all MediaFlex inserts be simply integrated into the system. Meanwhile, PS6+ patch cords are designed for plug-and-go, high-density connections that, according to the manufacturer, are beyond Category 6 requirements.
NORDX/CDT
www.nordx.com
30-A power distribution unit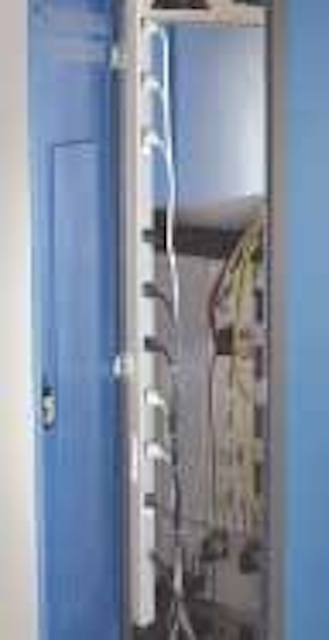 Click here to enlarge image
The Power Commander power distribution unit (PDU) combines 30 amps of power with a variety of mounting options ..for communication racks, cabinets and enclosures. Designed especially for applications where space is at a premium, the PDU takes the place to two separate 15-amp devices. Power Commander features 24 or 36 simplex receptacles, dual circuits, and easy-access breakers. A built-in T-slot mounting rail accepts a variety of accessories to meet each space requirement. The manufacturer says its PDU is among the first in the industry to meet the new UL 60950-1 1st Edition and ITE standards.
THE WIREMOLD COMPANY
www.wiremold.com
Cable management is all the "cage"
Designed specifically for high-density cabling system applications, the Mighty Mo 6 Cable Management System features a vertical management "cage" with individual 1U fingers and a double-hinged door that can open to either the left or right. Horizontal cable managers are designed to match the layout of the company's Clarity six- and eight-port patch panels. The system offers rack-unit markings, built-in strain relief, bend radius control, and cable routing with floor and ceiling access to distribution cables.
ORTRONICS
www.ortronics.com
Mini-balun for security installation
The VideoEase CCTV Mini Balun (500023) adapts CCTV cameras to support copper twisted-pair instead of coax cable. The Mini Balun features an eight-inch mini-coax cable lead that lets you fit the balun inside CCTV dome cameras and outdoor enclosures. It features built-in strain relief for reliable connections and protection from dust and corrosion, and supports up to 2,200 and 1,500 feet via Category 5 with analog MUX and DVR equipment, respectively.
MUXLAB
www.muxlab.com
Increase your bidding accuracy
Click here to enlarge image
Version 6 of Accubid's estimating software package offers enhancements such .. as power substitution, temporary assemblies, print preview, schedule screen sorting and filtering, and a job info screen—all designed to increase your bidding accuracy and productivity. Each of the version 6 solutions, including Accubid Pro, BidWinner, and BidWinner Plus, are designed to work with Pocket Bid, the company's handheld estimating solution.
ACCUBID
www.accubid.com
Jumpers in the house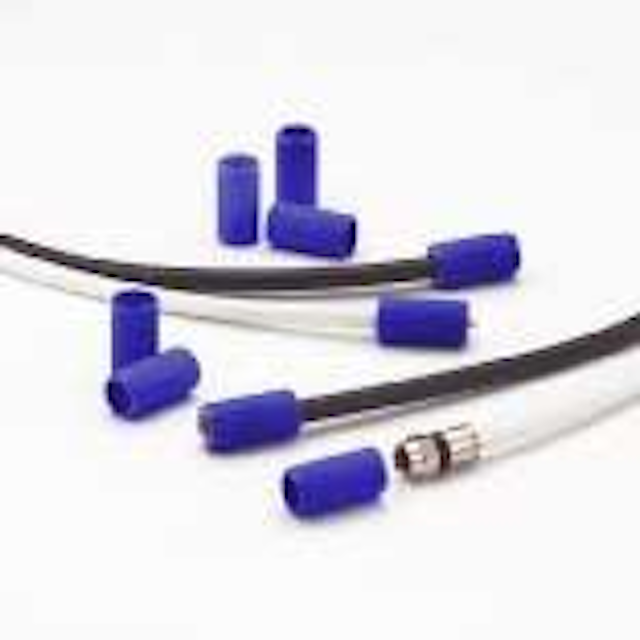 Click here to enlarge image
Designed to reduce the problem of loose indoor coax connections, SimplEX Jumper Assemblies feature a proprietary connector ..sleeve that's designed to provide an extended finger grip area to ensure proper connection while avoiding under or overtightening-all without the need for tools. Assemblies are built to meet or exceed all industry specifications for RF signal containment, moisture migration protection, and pull strength.
PPC
www.ppc-online.com
Oh-So-Pliable OSP cable
The enhanced loose-tube cables with PFM gel have new functionality that significantly reduces installation time and provides increased flexibility for the tubes themselves. These performance characteristics result from new composite materials that are being incorporated into Superior Essex OSP loose-tube fiber cable designs. One of the major benefits, the manufacturer says, is reduction of friction between the topical fibers and the buffer tube. As a result, the buffer tube can be removed from optical fibers with up to 80% less force and with greater speed. The properties of the new gel filling compound also allow for faster cleaning and elimination of cleaning materials like hydrosol. These combined features reduce installation time by several minutes for each 12-fiber tube.
SUPERIOR ESSEX
www.superioressex.com
Modular office furniture faceplates
New four-port, high-density modular office furniture faceplates are available in two sizes to fit NEMA and TIA openings. Available in ivory, white, gray and black, the faceplates allow up to four connections per location. The design is engineered for compatibility with most leading modular office furniture manufacturers.
ICC
www.icc.com
10-GbE UTP cable
In November 2003, Krone demonstrated an "augmented" Category 6 unshielded twisted-pair (UTP) cable with the characteristics to enable 10-Gbits/sec Ethernet to a full 100 meters. The new cable was designed and developed at Krone's U.S. copper-cable manufacturing facility in Sidney, Nebraska. According to the company, the cable demonstrated 21-Gbits/sec performance thanks to improved alien crosstalk immunity and reduced insertion loss.
KRONE
www.krone.com
Outside plant.cable treatment expands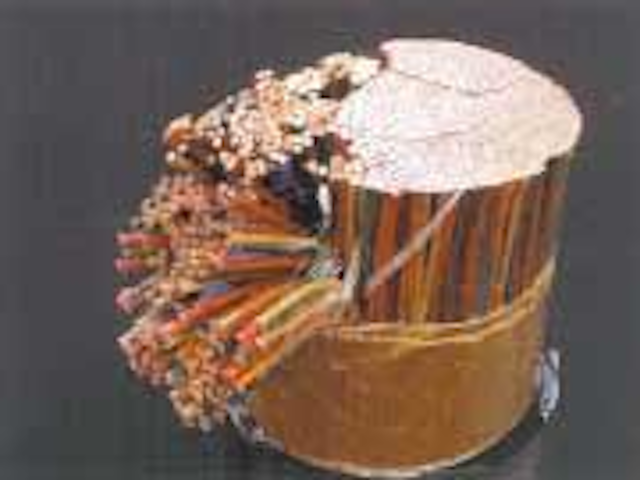 Click here to enlarge image
An established life-extender for polyethylene-insulated conductor (PIC) cable, the .. CableCURE system can now be used to improve the reliability of paper-and-pulp insulated cabling. Fitting these aging outside plant (OSP) cables with the CableCURE fluid provides an enterable silicone gel that converts aircore cables into filled cables, thereby preventing future water intrusion. The method, says the manufacturer, costs much less than cable replacement and can significantly extend the life of extremely old OSP cables—deferring or even eliminating the need to replace them.
WIRE DYNAMIX
www.wiredynamix.com
Mini-analyzer for remote use
The AMPTRAC Mini-Analyzer is designed to provide network infrastructure physical management capabilities, and is compatible with AMPTRAC System and iTRACS software. For enterprises with branch locations, the Mini-Analyzer is billed as a cost-effective solution to manage remote physical infrastructure from a central location. It provides 128 analyzer ports, which typically support a branch office with up to 64 cabling drops. Track and document moves, adds, and changes, optimize asset utilization, and maintain accurate documentation. The system's hardware coupled with iTRACS software can be integrated into new or existing networks.
AMP NETCONNECT
www.ampnetconnect.com
Junction box for industrial control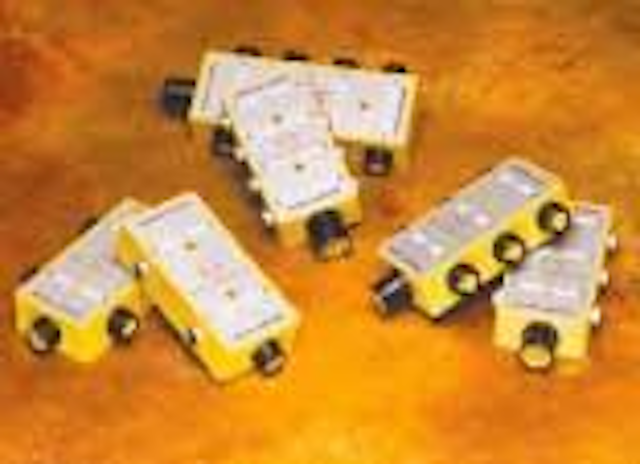 Click here to enlarge image
Micro-C PolyPort junction boxes are designed to provide an alternative way to link up power in industrial control ..system applications. Available in four-, six- and eight-port sizes in a three-circuit configuration, PolyPort boxes can reduce costs and the number of cables required to allow multiple connections from a single source. The Micro-C boxes, designed especially for low-power, low-voltage industrial applications, are .62-inches in diameter and feature port identification labeling and a wide-ranging operating temperature.
MOLEX INC.
www.molex.com
Balun booster
The 500014 VGA balun is designed to work in conjunction with the company's VideoEase 500010 balun as a transmit/receive pair to allow standard VGA cable to be replaced by Category 5 between any VGA source and display. This monitor-side balun features a VGA plug connector instead of a VGA receptacle, and eliminates the need to provide an additional VGA cable between the balun and display screens. The balun is especially suited for audio/video installations for classrooms and boardrooms.
MUXLAB
www.muxlab.com
Hardware platform offers intelligent management
PVMax is the new hardware platform for the PatchView real-time network management system. According to the manufacturer, this new platform reduces the workload of IT departments from initial setup through day-to-day implementation. During setup, the platform's self-discovery feature automatically identifies all system elements, verifying and documenting network connectivity. The new flexible architecture translates to support for sites of any size, regardless of number of ports. Also new to the platform is a visible flashing indicator to each rack, to improve move/add/change efficiency. Within the rack, the specific port to be worked on is indicated by a smaller LED located next to the port.
RiT TECHNOLOGIES
www.rittech.com
Customer-inspired wall cabinet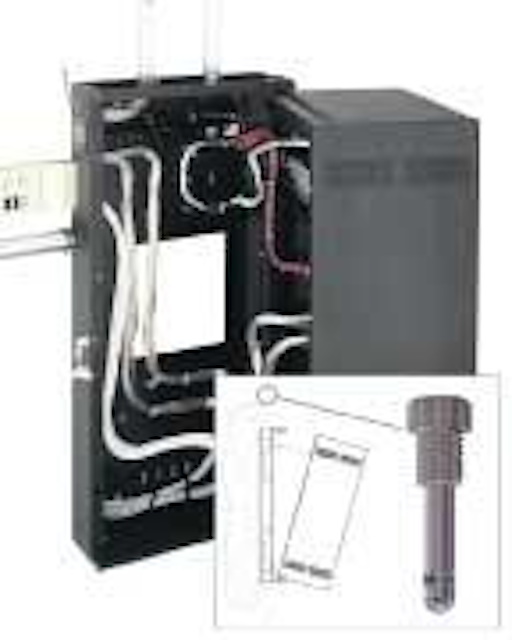 Click here to enlarge image
The newly designed DWR wall-mount cabinet features the manufacturer's proprietary Tool-Free-Quick-Mount system, letting you quickly mount the center section to the backpan on the job site. Other enhancements, based on customer feedback, include a 24-inch useable depth, improved cable management with two pairs of adjustable rackrail that can be ..recessed to allow patching applications to reside within the cabinet, and an optional granite-gray power coat.
MIDDLE ATLANTIC PRODUCTS
www.middleatlantic.com
Rack-mount housing for data centers
Pretium rack-mountable connector housings are available in 1U and 4U versions, both of which are four inches deeper than comparable housings. The 4U housings, with 288-fiber capacity using LC or MT-RJ connectors, incorporate a hinged jumper manager on the front designed to eliminate the need to buy a separate management unit. The 1U housings, with 48-fiber capacity, feature a removable top that slides forward, providing easy access to interior components.
CORNING CABLE SYSTEMS
www.corning.com/cablesystems
Molded wire management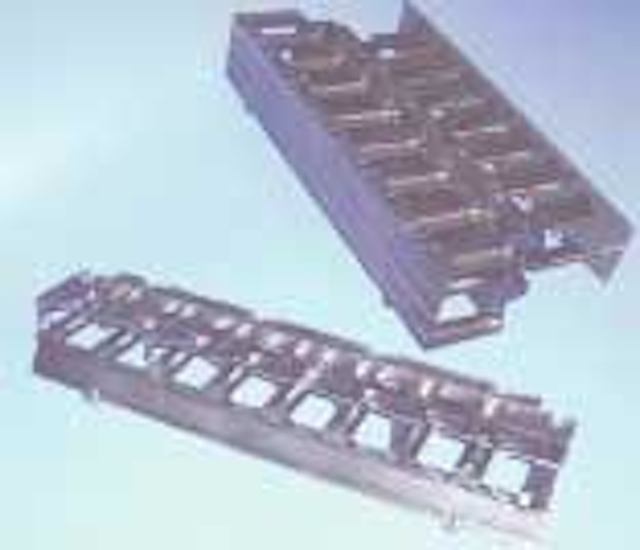 Click here to enlarge image
An injection-molded wire management system is designed to protect cable on a .. standard 19-inch rack, and features one-inch minimum finger radius that protects against extensive cable bending. Smooth edges and wide spacing between fingers permit easy routing of cable bundles. Mounting holes and slots aid in quick rack installation. A sloped design in the rear maintains room for cable bundles and easy access to patch panels during installation or rework.
HELLERMANNTYTON
www.htamericas.com
Industrial outlets, patch cords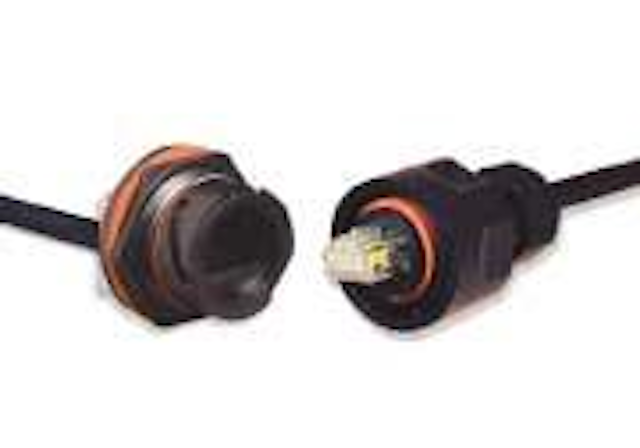 Click here to enlarge image
The Industrial MAX 6 outlets and patch cords feature Category 6 eight-pin modular connectors encased in a protective outer housing made of heat-resistant thermoplastic. A bayonet-.. style mating design securely latches with a quarter-turn to offer a protective seal against solid and liquid contaminants. Patch cords are available in plug-to-industrial and industrial plug-to-RJ-45 versions. Both the patch cords and outlet are IP67-rated.
THE SIEMON COMPANY
www.siemon.com