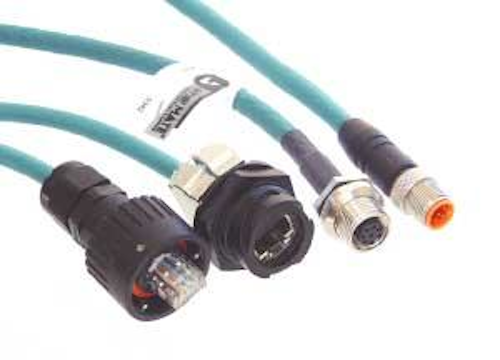 When Ethernet first found its way onto the factory floor 10 years ago, it was primarily used for gathering production data, such as the number of widgets produced per hour and amount of downtime in a day. Today, Ethernet is becoming a characteristic of modern industrial control systems, enabling communication with distributed components and existing in areas once dominated by conventional fieldbus systems. The constant demand for network access expansion has also given rise to Ethernet in other harsh environments outside the office.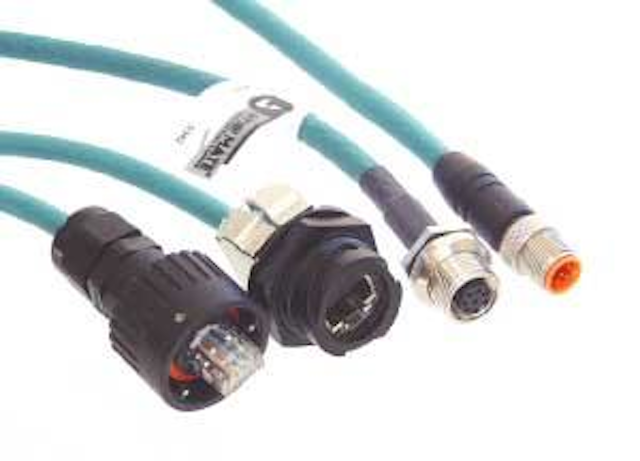 Many see both the RJ-45 (left) and the M12 (right) interfaces co-existing in the industrial space for some time. This photo shows Lumberg's RJ-45 and M12 industrial connectors.
Click here to enlarge image
Whether it's a poolside high-speed Internet connection or a communication link to a controller on a factory floor, exposure to dust, water, humidity, chemicals, extreme temperatures, vibrations, or heavy EMI can be a daily occurrence in harsh environments. In these conditions, the reliability and performance of even the best traditional connectivity suffers.
Ethernet connectors for harsh environments require IEC IP67 protection. In the IP (Ingress Protection) rating for equipment and enclosures, the first digit represents protection against ingress of solid objects, and the second represents protection against ingress of liquids. The IP67 rating denotes total protection against dust ingress and ability to withstand immersion for 30 minutes in up to one meter of liquid.
"IP requirements come from the customer," says Bob Lounsbury, principal engineer for Rockwell Automation (www.rockwell.com), an industrial automation company. "If my machine gets sprayed down with a chemical every four weeks, I'm going to need IP67 connectors."
The need for Ethernet connectors with transmission speeds of up to 100 Mbits/sec that meet the IP67 rating have resulted in two solutions—an encapsulated RJ-45 and a modified M12 (micro-style) form-factor connector. While many manufacturers serving the industrial marketplace stand behind the M12 connector for use out on the automation island, many harsh-environment RJ-45 connectors from recognizable vendors of premises cabling products are hitting the market.
Premises cabling players
In 2002, The Siemon Company (www.siemon.com) introduced Industrial MAX connectivity following early involvement with groups such as Open DeviceNet Vendor Association (ODVA), which is made up of members from automation companies worldwide. "As Ethernet was evolving more toward the plant floor, it made sense for us to get involved, and we found it an interesting and challenging way to expand our business," says Jim Westerman of The Siemon Company. The Industrial MAX connectors feature an IP67-rated seal achieved with a 1/4-turn bayonet-style coupling that surrounds a standard RJ-45 connector.
"We took our high-performing [RJ-45] connectivity and found a way to encapsulate it so it would work in harsh environments," says Westerman. "Once the bayonet is locked, the environmental seal has been accomplished and the data connection made."
This month, Hubbell Premise Wiring (www.hubbell-premise.com) launches HI-Impact Category 5e and Category 6 RJ-45 connectors, as well as a combination of patch cords, plates and boxes, cabinets, and delivery systems designed for harsh environments.
"We're seeing the need for these products not just in the industrial arena, but everywhere from restaurants and medical facilities to theme parks, marinas, and train stations," says Glenn Kierstead, copper systems product manager for Hubbell.
Hubbell's IP67 HI-Impact connectors also feature bayonet-style housing constructed from Valox, a UL-listed chemical-resistant material. "The housing surrounds our existing Xcelerator jacks and mounts into a standard 3/4-inch electrical knockout," says Kierstead.
"Wherever Ethernet goes, Category 5e goes, and wherever Category 5e goes, an RJ-45 [RJ-45] goes," says Tony Beam, director of AMP Netconnect business development for Tyco Electronics (www.ampnetconnect.com). "Like other cabling manufacturers, the RJ-45 is our expertise and that's where we believe we can add value to the industrial environment where we haven't been considered a significant player in the past."
In December 2003, Tyco launched its AMP Netconnect Category 5e EtherSeal Connectivity System, a combination of jacks, plugs, faceplates, cable assemblies, and cable. The system uses the same AMP Netconnect Category 5e components as Tyco's standard product line, with additional enhancements to withstand harsh elements. The IP67-compliant EtherSeal connectors come as a field-assembled kit and feature a sealed coupler surrounding the RJ-45 jack and securing it in place to withstand vibrations.
"One of the features that distinguishes the EtherSeal connector from others is the coupling mechanism, which utilizes a simple push-on and twist-off mating action with an audible click and tactile feedback to ensure connection," says Beam. "That design is different from some bayonet styles that require exact lineup of two points." The EtherSeal connector currently is available in 110 and tool-less termination methods for both shielded and unshielded systems. Tyco Electronics plans to expand the EtherSeal system to include Category 6 components in the first quarter of 2004.
Industrial input
"We originally thought Ethernet couldn't be used for control because it's not a deterministic network, meaning you couldn't depend on when a message would get where it needed to go," says Rockwell's Lounsbury. "This is a problem when you're talking about controlling machines that build products." The higher speeds of Ethernet combined with the use of switches, filtering, and specific control protocols satisfied the need for determinism in industrial applications, and today's industrial manufacturers have responded with their own harsh-environment Ethernet connectors.
Woodhead Industries, manufacturer of Daniel Woodhead and Brad Harrison connectivity (www.woodhead.com), has combined RJ-45 technology with an overmolded mini-connector. The RJ-Lnxx Industrial Ethernet product line includes field-attachable connectors and single-ended or double-ended cordsets. "The cordsets are used when both ends of the connection are in the harsh environments or they come with one end that has a commercial RJ-45 connector for applications where the far end may be a patch panel in a clean environment," says Brad Woodman, engineer for Woodhead.
"Customers like our field-attachable RJ-Lnxx when they don't know the right cable length or for pulling through conduit." The IP67-compliant RJ-Lnxx features a patented threaded coupling over an RJ-45 plug. "The threaded system is what the customer base is used to seeing on automation equipment, which is why we went with this design," says Woodman.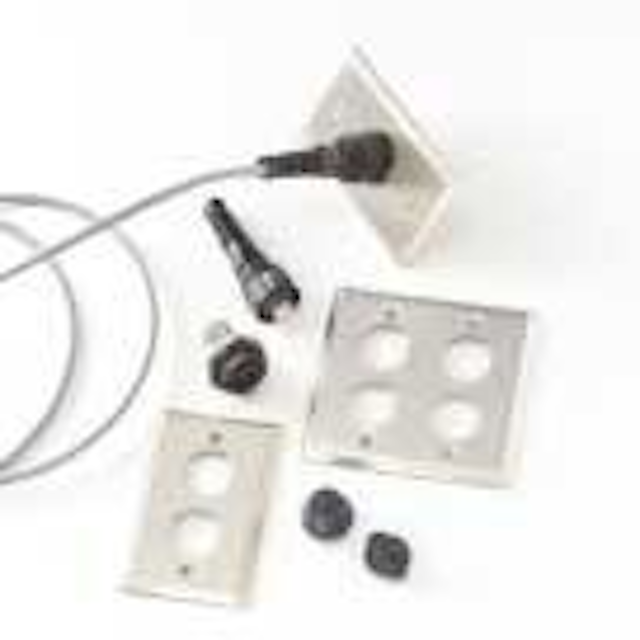 Just introduced to the market last month, Tyco Electronics/AMP Netconnect's EtherSeal product group is evidence that the traditional RJ-45 connector makers are making a run at the industrial space.
Click here to enlarge image
Phoenix Contact (www.phoenixcon.com) developed the Variosub RJ-45/IP67 connectors from impact- and temperature-resistant polyamide to withstand oils, chemicals, impact, and vibration. "The Variosub has a hood over a standard RJ-45 with gasketing that wraps around the cable," explains Mark Gilliford, product manager for Phoenix Contact. "The push-pull fingertip locking mechanism offers a plug-and-play action where you simply press the sides of the connector and push it into place."
The Variosub was designed to satisfy the requirements of the Industrial Automation Open Networking Alliance (IAONA), an independent platform organization for industrial Ethernet.
In November 2002, Lumberg Inc. (www.lumbergusa.com) launched the IP67 etherMate interconnection system with a combination of cordsets using 4-pair cable with overmolded 8-pin M12 connectors and standard RJ-45 plugs designed to operate to TIA/EIA-568B and 100Base-T specifications. "Our cordsets are used in such a way that the RJ-45 connectors reside in the safety of a NEMA-rated enclosure while the more robust M12 connectors are the connectors exposed to the environment of the plant floor," says Raoul Benoit of Lumberg. "The RJ-45 end of the cordset features a boot surrounding the connector to prevent the locking tab from being broken when being connected and disconnected." According to Benoit, overmolding of the M12 connector not only helps achieve the IP67 rating but also adds strain relief to the cable and strength to the connector.
Hirschmann (www.hirschmann-usa.com) also offers M12 Ethernet connectors for industrial environments. "We took the 4-pin M12 connector and modified it to pass Ethernet requirements," says Brad Webster, product manager/technical support for Hirschmann-USA. "Our road map is to offer an entire family of industrial Ethernet products. We offer both M12 Ethernet connectors and Ethernet switches with the M12 interface." In 2004, Hirschmann will offer its latest Fixcon technology in an M12 Ethernet connector, which features a simple push-on mating action with no need to screw down a hood or coupling.
Future forecast
Most premises and industrial connectivity manufacturers foresee the RJ-45 and M12 connectors existing side-by-side in industrial environments for the next five years, with the M12 needed mainly on the machinery at the automation island.
One consensus among all cabling and industrial professionals is the continued growth of Ethernet in industrial and other harsh environments everywhere. "A lot more people understand Ethernet," says Woodhead's Woodman. "It's what today's college grads know."
Woodman adds. "It will take some time to shift over completely to Ethernet in industrial applications, but people are talking more and more about it. Both the premises and industrial connectivity manufacturers don't want to be left behind, and that's why we have such a variety of connectors to choose from."
Click here to download Harsh Environment Connectors table as pdf.
Betsy Ziobron is a freelance writer covering the cabling industry, and a regular contributor to Cabling Installation & Maintenance. She can be reached at: bziobron@comcast.net