Optical-fiber adhesives remain tried, true, and reliable
Knowing the advantages and disadvantages of each can help you decide
Aug 1st, 2004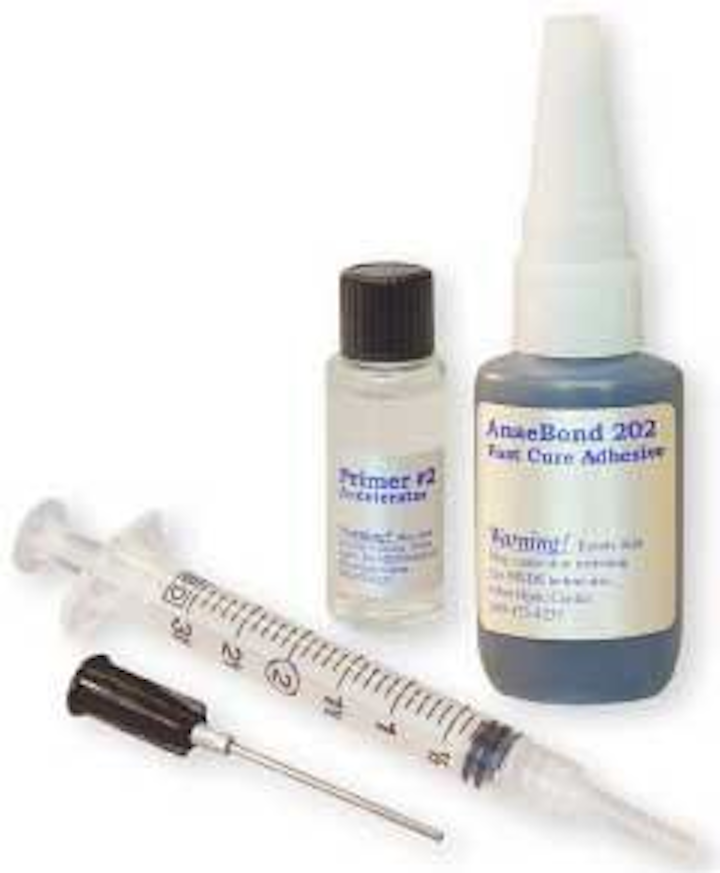 While most optical fiber connectivity vendors promote "quick connect" no epoxy-no polish mechanical connectors, the less expensive but more labor-intensive traditional method of epoxy/polish and adhesive connectorization remains tried, true, and popular.
Quick-connect devices are billed as easier to master, and especially tailored to novice installers. According to Paula Trindell, product manager for fiber connectors at Tyco Electronics (www.tycoelectronics.com), the faster process offsets increased product cost. But according to Larry Widgeon, founder of KITCO Fiber Optics (www.kitco.com), "It may be messy and time consuming, but there's no question that the traditional method remains reliable-it's still the best way to put on a connector."
A table of optical-fiber adhesive choices can be found [below].
Epoxy picks
Epoxies are thermosetting plastics that remain stable over time and can be tailored for specific applications because they can be formulated for different viscosities, operating temperatures, and cure times. When polymers reach their glass transition temperature (Tg), they are no longer in their glassy state and become rubbery. Epoxies require mixing resin and hardener components prior to use, and they have a higher Tg than other types of adhesives.
AngstromBond AnaeBond 202 is a highly modified cyanoacrylate that, when used with an accelerator primer, allows the adhesive to cure in two to three minutes.
Click here to enlarge image
The three basic types of epoxies include heat-curing, room temperature curing, and fast gelling—all of which are available from a variety of epoxy/adhesive manufacturers.
Heat-curing epoxies offer excellent physical properties for connectorization, including a high Tg, rigidity, and a longer working life after mixing. The connectors must cure in an oven between 100°C and 150°C (212°F - 302°F). "It takes approximately 30 minutes in the oven to cure the epoxy, which may not be the best option when doing just a handful of connectors," says Mark Thompson, sr. manufacturing engineer, Tyco Electronics. "However, when working with several connectors, the curing time is not much of an issue because some connectors can cure while you move on to others."
According to Thompson, heat-cure epoxies also may not be the best choice for applications where a hot oven is a safety concern, such as in schools, or in situations where AC power for the oven is not available. "We're proponents of the heat-cure epoxy because we've seen less fiber movement," says Thompson, "but they've all been tested to TIA/EIA 568-B standards so it mostly depends on the number of terminations, application, and what the installer is most comfortable using."
Room-temperature epoxies provide less stress on the fiber and will cure overnight at room temperature, but they tend to gel faster than heat-cure epoxies for a shorter working time. One concern with room-temperature epoxies is ensuring that no one tampers with the connectors while they are curing. Many installers will speed up the curing of these epoxies by heating the connectors to a moderate temperature of about 65°C (149°F).
Fast-gel epoxies, also known as 5-minute epoxies, are typically deployed in field installations where no AC power is available for ovens or when a fast cure is essential. Fast-cure epoxies gel quickly for a working time of only 5 to 10 minutes. "The advantage and disadvantage of these epoxies is that they cure quickly. But if you don't get the fiber inserted in time, you have to throw away the connector," explains optical-fiber adhesive specialist Barry Siroka, business development, Fiber Optic Center, Inc. (www. focenter.com). "Fast-gel epoxies don't offer the strength that you get with heat-cure and room-temperature types." Fast-gel epoxies typically have a lower Tg and may not be suitable for extremely harsh environments.
According to Siroka, one disadvantage of all 2-part epoxies is the critical mix ratio of resin to hardener. "If the two components are not properly weighted and mixed, the epoxy will not cure properly and may create a flexible material unsuitable for fiber connectorization," says Siroka. One way to avoid this, he says, is to purchase pre-packaged epoxies where both components are pre-weighted and can be mixed while still in the package.
Pre-loaded player
Hot Melt is a 3M (www.3m.com) name for a connector that comes pre-loaded with advanced hot-melt adhesive. Hot Melt connectors are placed in an oven to melt the adhesive. The fiber is then inserted, and the connector is cooled. Ultra High Temp Hot Melt connectors are also available that pass more extreme environmental tests.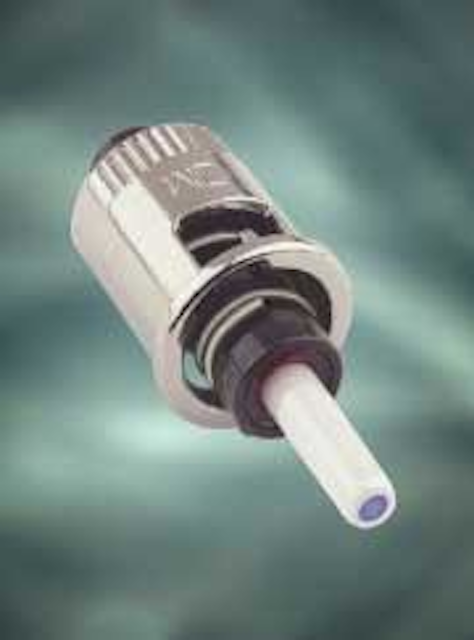 Hot Melt connectors come pre-loaded with advanced hot-melt adhesive. Connectors are placed in an oven to melt the adhesive before inserting the fiber.
Click here to enlarge image
According to 3M, the Hot Melt adhesive offers reliability and ease-of-use in both indoor and outdoor applications. Some, however, have expressed concern over safety issues with a high-temperature oven, and the possibility for the adhesive to soften in extremely hot environments.
"We've sold them since 1989 with no safety complaints," responds Robin Pollock, 3M's fiber interconnect marketing manager. "The tools for mounting Hot Melt Connectors include special connector holders that allow heating and insertion of the fiber without actually handling the connector." According to Pollock, the fiber remains stable in the classic Hot Melt connector up to over 85°C (185°F) and in the Ultra High Temp Hot Melt up to 100°C (212°F).
"The Hot Melt connectors are our most popular, especially among installers who do not put on fiber connectors every day—they have the ability to rework and correct any imperfections in their work by reheating the connectors and remelting the adhesive," says Pollock. "We find that some installers prefer Hot Melt over epoxy because there is no mixing, injecting, or epoxy shelf life issues."
Anaerobic alternative
A popular alternative to epoxies, anaerobic adhesives typically cure quickly without the use of lamps or ovens, allowing complete assembly and polishing in less than three minutes. These adhesives typically do not have the high Tg found with epoxies and, therefore, are not quite as strong. "The trend is for most premise installers to choose anaerobic adhesives for field connectorization," says Dwight Tabor, senior product analyst for Alltel Communications Products (www.alltelcpi.com). "This is especially true if the budget doesn't allow for more expensive quick-connect type connectors, if they're only dealing with a few connectors, or if they don't already own a heat-curing oven."
Anaerobic adhesive is first injected into the connector's ferrule holder with a syringe, and the primer is then applied to the fiber and allowed to dry before the fiber is inserted into the connector. "Anaerobic adhesives were originally designed as a thread-locking material for bonding metal bolts," explains Siroka. "In that application, ions in the metal activated the adhesive. With glass and ceramic, there are no activating ions, so the primer must be used as the activator."
Anaerobic adhesives, Siroka adds, can be risky because any adhesive that does not come in contact with the primer will not cure properly, and the working time is limited. "Because anaerobic adhesives are clear, they can also be difficult to see and remove when cleaving and polishing the end of the fiber," says Siroka.
"Instead of dipping the fiber in primer," notes KITCO's Widgeon, "we recommend that it be carefully brushed on away from the fiber end to prevent the adhesive from curing while inserting the fiber. The installer should then add a drop of primer to the protruding fiber and wick it away, which will cut off the oxygen so the adhesive can cure properly."
According to Widgeon, newer tinted products have solved the problem of not being able to see the adhesive.
Super fast
Fast-cure adhesives are typically modified cyanoacrylates (super glues), which bond in seconds through the evaporation process when in contact with air. Tyco Electronics offers a Quick-Cure adhesive that provides the same performance as heat-cure epoxies while reducing the curing time by 10-fold. "We do not recommend the Quick-Cure adhesive for singlemode connectors, because the hole size doesn't allow for using a lot of adhesive, and it, therefore ,sets up very quickly," says Trindell. "This may not provide enough time for inserting the fiber properly."
For a fast-cure adhesive, Fiber Optic Center offers AngstromBond AnaeBond 202, a highly modified cyanoacrylate designed specifically for fiber connectorization. "The AnaeBond 202 handles like an anaerobic adhesive but has higher physical properties closer to that of a two-part epoxy," says Siroka. Instead of requiring an activating primer, the AnaeBond 202 is used with an accelerator primer, which allows the adhesive to cure in two to three minutes.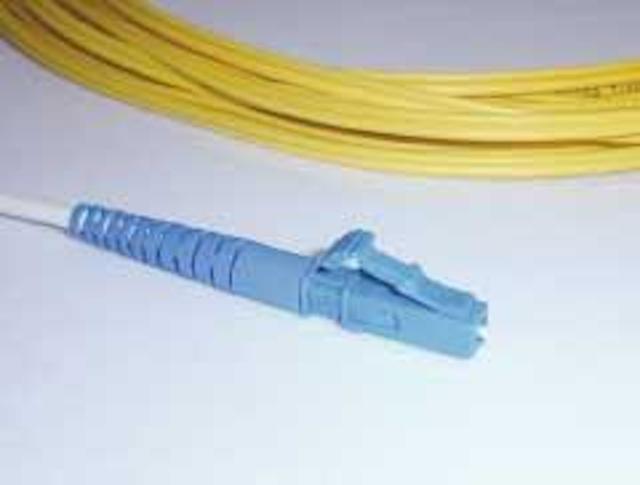 While most connectivity vendors promote quick-connect connectors, the traditional method of epoxy/polish and adhesive optical-fiber connectorization remains tried, true, and popular.
Click here to enlarge image
Leviton offers the AnaeBond 202 in a fiber termination kit for use with their Fast Cure connectors. "`AnaeBond 202 provides at least 20 to 30 seconds more time than anaerobic adhesives to complete the termination before the adhesive starts to set," says Rick Taylor, senior product manager, Leviton Voice and Data (www.levitonvoicedata.com.). "We typically recommend our reusable quick-connect style connectors; however, in applications with a lot of tension on the cable, the Fast Cure connectors used with AnaeBond 202 ensure the strongest bond."
Stuck on safety
With several types of epoxies and adhesives available, selecting one that's right for you depends on your comfort level and application. "We train installers on all methods and leave the choice up to them," says KITCO's Widgeon. "Installers will always take the easiest and fastest way that gives the best results; however, it's important to consider the long-range effects of the environment." If a connector is going to be installed in a harsh environment, for example, it's best to consider an adhesive that offers maximum strength and a high Tg.
Regardless of the optical-fiber adhesive you choose, most will bond skin and can cause other health issues if not handled carefully. Siroka cautions, "Many adhesives can cause dermatitis or respiratory ailments; therefore, it's very important to use these products with proper ventilation and to not expose skin, eyes, or any mucous membranes. Always follow instructions and review the manufacturer's material safety data sheet."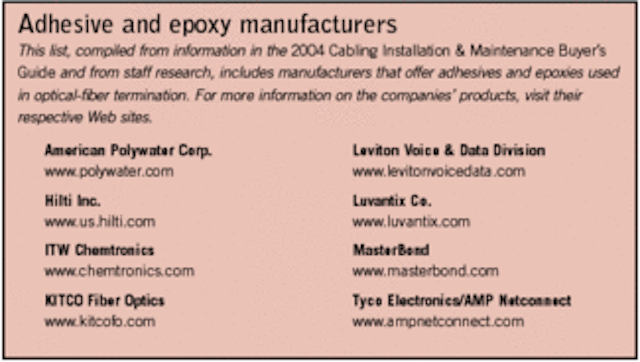 Click here to enlarge image
Betsy Ziobron is a freelance writer covering the cabling industry, and a regular contributor to Cabling Installation & Maintenance. She can be reached at: bziobron@comcast.net