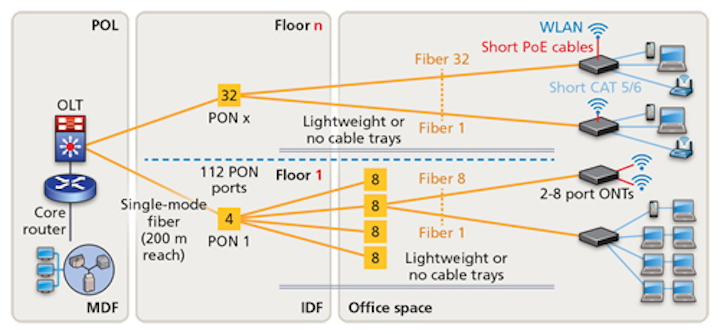 The architectural flexibility offered by SDN combined with POL opens new doors for enterpri
se networks.
Bandwidth demands continue to skyrocket, due to factors such as video streaming and migration to the cloud. Add emerging applications and technologies like the Internet of Things (IoT) and 5G, and traditional networks all will be taken to their breaking point. Pushing fiber deeper into the network, a passive optical local area network (POL) can address many of the issues with which today's traditional network topology is struggling. But is that enough? Now, with software-defined technology, you have the ability to deploy a network that provides the benefits of a POL with the option to configure as an Ethernet deployment.
This article will discuss both the benefits and limitations of a POL network, as well as how the combination of a software-defined LAN (SD-LAN), a singlemode, fiber-deep architecture, and power distribution can create a powerful network platform that is both flexible and scalable to the needs of the future network. We will examine future trends you should consider and how using SD-LAN technology can unlock the true potential of your network. Our goal is to challenge the reader to think about architecting their network differently.
Two different passive optical LAN topologies are shown here. On top is a standard 1x32 split layout, while on the bottom is a multistage split layout.
POL history and adoption
The demands on the LAN continue to increase. When POL was first introduced eight years ago as a replacement for a traditional active Ethernet architecture, it promised a long-term solution able to meet future bandwidth requirements without having to replace your existing horizontal infrastructure again and again.
By leveraging many of the lessons learned in deploying fiber-to-the-home (FTTH) networks around the world, POL provided a compelling cost model and a future-ready solution. But POL also came with a unique set of challenges that had to be solved to deploy in an enterprise network. One key issue is powering. In FTTH applications, this was solved by using the homeowner's electrical power as the powering source. However, in a PON network this becomes problematic, because tapping power for the edge device is not really practical or cost-effective. But just as a solution was developed for FTTH, POL in the enterprise now has remote powering solutions that make that a non-issue.
The case for more
The demands on the network will continue to increase, but across multiple areas. Video streaming is probably the biggest driver of bandwidth increases in the LAN in the typical applications of voice, data, and video. Additionally, the emailing of videos across an enterprise many times exceeds the limits of file size in email platforms, adding more strain to the data network.
Another factor driving network traffic is the transition to cloud-based servers. This has caused pressure on the network, especially in campus and wide area network (WAN) connections out to carrier networks. Both of these demands are fairly predictable and manageable, but we are seeing killer applications—like 5G, AV networks, IoT, and WiFi—begin to evolve in the network. The impact of 5G and IoT on network traffic demands are still murky.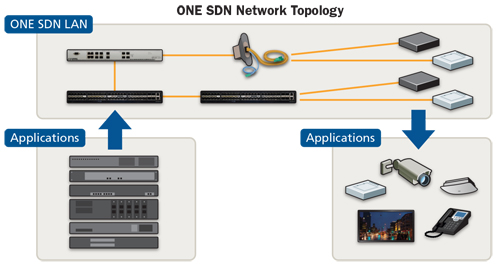 Converging multiple services onto a single software-defined platform, and using a fiber-deep architecture in the LAN, enables network owners to prioritize bandwidth use and reach extended distances. This illustration shows architectures that can be deployed using Corning's Optical Network Evolution (ONE) platform.
IoT implications are particularly hard to determine because of the different types of networks this can impact. Just about any in-building network could transition to become IP-based. Examples of this include lighting, security cameras, badging systems, HVAC control, fire control, and intrusion detection. Generally, the data coming from these devices would be considered low bandwidth. But as you start to multiply the number of devices across the number of potential systems, this data can add up to substantial network traffic that stays within the LAN. This also marks the shift of networking facilities to IT control, as these services transition to save money on installation and future maintenance.
5G is still in the early phases of development and deployments, but the promise of 1- to 10-Gbit/sec cellular services with ultra-high reliability will be a reality in the coming decade. Providing 5G levels of service in the building will become a necessity as consumer and business customers will find gaps in coverage unacceptable. The importance of network capacity will grow, driving higher concentrations of wireless access points that will yield more throughput. This in part is driven by the fact that high frequency bands do not penetrate or travel as far in the building, requiring more access points to ensure adequate coverage.
AV networks are emerging as a significant drain of network bandwidth. As the use of virtual reality and augmented reality grows, so does the demand of video-over-IP solutions. Corning has already seen an increase in fiber drops in the network to support these new digital media platforms. In the future network, you can assume that many tasks will be supported by both VR and AR. Training is a potential example.
WiFi as an overlay onto the wired network is standard for most network deployments. However, the days of physical connections to every device will fade quickly and most will be replaced by wireless-only connections. Just as we have seen headphone jacks disappear from our smart phones, physical ports on equipment will one day no longer be an option. This means the demand on access points will be greater moving forward, which demands more bandwidth at these access points to handle the increased traffic. And this will require moving wireless switching deeper into the physical network to allow for better aggregation to the devices on your network.
If you add up the impacts of higher streaming video, increased cloud traffic, the proliferation of IoT devices onto the network, supplying 5G connectivity, the speeds required in the future network caused by WiFi and AV will outpace what a traditional network can handle.
The value of POL
POL is passive optical network (PON) technology optimized for the enterprise LAN through the enhancement of both software and hardware functionality. In a traditional switch-based architecture, multiple tiers of electronics are used to connect users. Access switches in the equipment distribution area are connected via optical fiber to aggregation switches in intermediate distribution frame (IDF) closets. Individual copper cables extend to each end-user device. In contrast, POL replaces aggregation electronics and associated copper cables with passive optical splitters and singlemode fibers. This creates an architecture that is lower in cost to purchase, install, and maintain—and with a far longer lifespan—than traditional copperarchitectures.
The future of traditional network architectures
The limits of a traditional active Ethernet architecture are becoming more pronounced. As IoT devices are added to the network, the number of copper connections coming back to the IC will rapidly grow. If the different building systems are not integrated into the same data network, layers of different networks will begin to clog pathway space throughout the building.
Using a traditional network architecture also fixes the bandwidth available to a specified level. So instead of maximizing the capability of the total bandwidth of the network, available bandwidth is chopped up and not allowed to flex to meet dynamic bandwidth needs of the network. With the uncertainty of bandwidth demand that IoT and 5G bring, the inability to flex becomes a significant risk.
But bandwidth may not be the most pressing concern for a network operator. As demands on the network grow, it must be able to scale accordingly. Scaling in a traditional network means more tray space, more rack space, and more real estate within the building to support theinfrastructure.
The value of SD-LAN
Software-defined networking first evolved in the data center as operators wanted more control over their networks to drive efficiency and support virtualization. The approach was pioneered by some of the largest hyperscale data center owners, where the hardware was generic and the functionality was determined by the software. This is commonly referred to as a "whitebox." Using a whitebox approach where the hardware and software are decoupled is now becoming common in the LAN. Currently, more than 20 percent of switching ports can be considered whitebox, and this number continues to grow. This trend is now taking root in the WAN as a way to more-efficiently manage traffic to the cloud.
Software-defined networks remove the fixed controls associated with the "dumb devices" (routers, switches, patch panels, etc.) with a software-defined, dynamically controlled application that allows for on-the-fly changes to porting, bandwidth allocation, and much more. These changes can occur either automatically or through an application resident on a laptop or smart device.
The power of SD-LAN with a fiber backbone
Converging all the services onto a single software-defined platform allows for efficient, real-time prioritization of the network's overall bandwidth and the successful operation of each service. By using a fiber-deep architecture in the LAN, the network owner can take advantage of the bandwidth and distance advantages fiber provides.
By bringing together the flexibility of SD-LAN and the capacity of optical fiber, you have a system that can not only handle your current and future needs, but it also allows complete control of your network deployment.
Addressing future requirements, eliminating worry
As you migrate new IP-based building technologies such as security or building controls onto your network, it can easily absorb the added data flows. As more IoT devices come online in your network and traffic increases, SD-LAN topology will allow more bandwidth as necessary.
Will SD-LAN plus fiber-deep be able to handle the demands of a 5G overlay on your network? The answer is yes, but this would necessitate the use of singlemode fiber instead of multimode in the building and campus backbones, and most importantly in the horizontal.
One important potential benefit is that in a fiber-deep architecture, IDFs—or telecom closets as they are commonly called—can either be eliminated or significantly downsized because the switching can be done in the main crossconnect. This eliminates many of the failure points in your switching fabric.
With SD-LAN control over a fiber-deep network there is a hidden value of architecture flexibility. A network owner can provision the network to meet current requirements, and there is a path to provision the network differently as needs change and grow. The combination of SD-LAN and a fiber-deep network allows configuration as an Ethernet or a PON architecture. In the current traditional network, if you move to a different configuration, it could result in a potentially costly rip-and-replace rebuild if it didn't perform as expected. But with SD-LAN, a fiber-deep network can be configured to behave as a traditional Ethernet network or as a POL network using the same physical topology.
The demands on the network continue to grow. Some of these demands are fairly predictable and can be built into network planning. However, the impact of IoT and 5G are still unpredictable and could create significant strain on traditional network deployments. The key in network planning now is flexibility and scale so that current trends can be anticipated and covered and what is around the corner can be handled. Combining the control that SD-LAN provides with the capacity of a fiber-deep architecture is evolving as the future of the LAN.u
Derek Whitehurst is director of global applications marketing with Corning Inc.