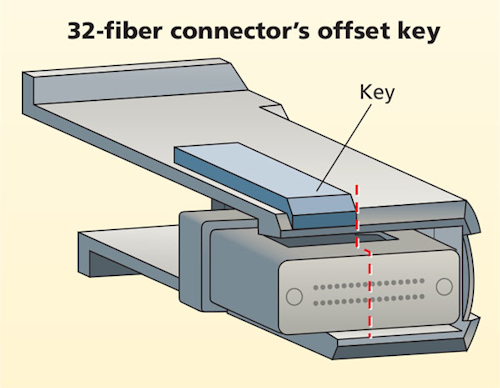 The TR-42.13 committee of the Telecommunications Industry Association, which focuses on passive optical devices and fiber-optic metrology, continues to make progress on the development of a specification for a 16- and 32-fiber array connector. The interface will be defined within a FOCIS document (Fiber Optic Connector Intermateability Standard), which establishes a connector's physical characteristics. FOCIS 18 will define the 16- and 32-fiber connector. The fibers will be arranged in either one or two rows of 16.
As we reported six months ago ("Parallel-optics technology evolving with higher-speed transmission," March 2015), indications are that the IEEE's 400-Gbit Ethernet specification 400GBase-SR16 will use 16 lanes of 25-Gbit/sec transmission, as well as 16 lanes of 25-Gbit/sec reception, over OM4 fiber to a distance of 100 meters. The development of 16- and 32-fiber connectors is a natural fit for the 400G application.
Over the past half-year the FOCIS 18 document has taken shape, though it is not yet finalized. The current draft of FOCIS 18 includes a key that is offset from center, positioned as such because the interface will have the same physical dimensions as a 12-fiber MPO connector. The offset key prevents unintentional mating of 16- or 32-fiber plugs with 12- or 24-fiber receptacles, and vice versa.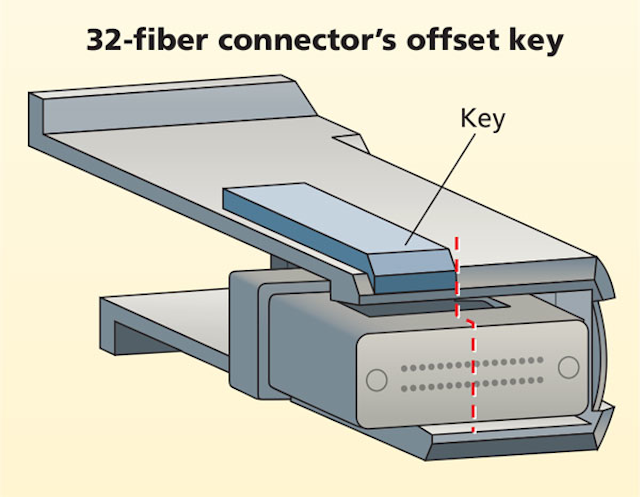 This schematic drawing shows the key of a 32-fiber plug offset, to avoid inadvertent mating with a 12- or 24-fiber receptacle.
The report from TR-42.13's most recent meeting, held in June, states that the ballot of this document was being held up in the wake of an intellectual property rights (IPR) statement that TE Connectivity filed with the TIA. No further detail was immediately available, but an online search turned up years-old documentation of a product set from Tyco Electronics that includes 32-fiber connectivity. Available under the brand name Para-Optix, the product set includes enclosures and assemblies.
A data sheet dated 2003 says, "Tyco Electronics' high-density Para-Optix cable assemblies use the latest in MT ferrule technology to provide the maximum fiber density for parallel optical applications." The data sheet lists and describes several part numbers, one of which is a 32-fiber MPO/MPO assembly.
Pending resolution of the intellectual property rights issue, which appears to be a fairly routine matter in standards development, TR-42.13 could be on its way to finalizing FOCIS 18.
We will continue to keep you updated on this specification's progress, in this magazine and on our website, cablinginstall.com.
---
Patrick McLaughlin is our chief editor.