From the June 2015 Issue of Cabling Installation & Maintenance Magazine
Single-jacket micro distribution

NanoCore Single-Jacket Micro Distribution (Plenum) from Hitachi Cable America is RoHS- and REACH-compliant, flexible, and easy to handle, the company says. All multimode cables (with the exception of Om1), and all singlemode cables use bend-insensitive optical fibers, and each is color coded for easy identification. NanoCore Single-Jacket Micro Distribution (Plenum) is available with 6 through 144 fibers and has a small, lightweight construction suitable for installations in which space is at a premium.
The no-gel design makes installation quick, easy, and clean, Hitachi Cable America adds, with lightweight, flexible aramid yarns to enhance strength. "NanoCore Single-Jacket Micro Distribution (Plenum) has the smallest diameter and some of the highest fiber counts with the reliability necessary for systems with high uptime expectations," the company says, adding it is ideal for MTP/MPO-style connectors and high-density installations.
Hitachi Cable America Inc.
hca.hitachi-cable.com
Atlas-X1 Preterminated Copper Trunk Cables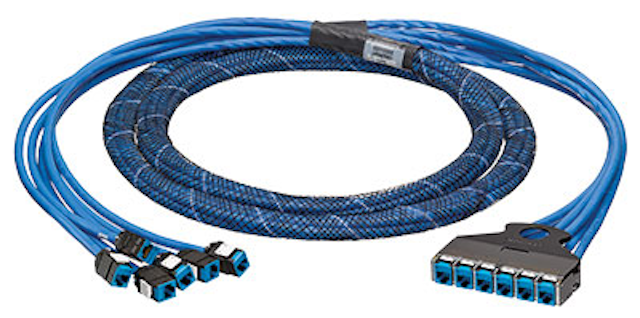 Leviton trunk cables are now available preterminated with new Atlas-X1 component-rated connectors and e2XHD cassettes, "creating the ideal solution for data centers and other applications where speed of deployment is critical," the company notes. "The new trunks-along with Leviton's wide selection of fiber trunks and cable assemblies-can be custom configured for length, jacket type, and more."
The preterminated Atlas-X1 Category 6A and Category 6 connectors include patented Retention Force Technology, which protects against tine damage and increases system longevity, Leviton explains. The trunks also offer the option of having shutters on the connectors to protect against dust and other contaminants during installation.
"Every trunk is 100-percent factory tested, with test results available for each link," the company adds. The trunk cables quickly snap into high-density e2XHD patch panels.
Leviton
leviton.com/configurator
Skinny-Trunk fiber trunks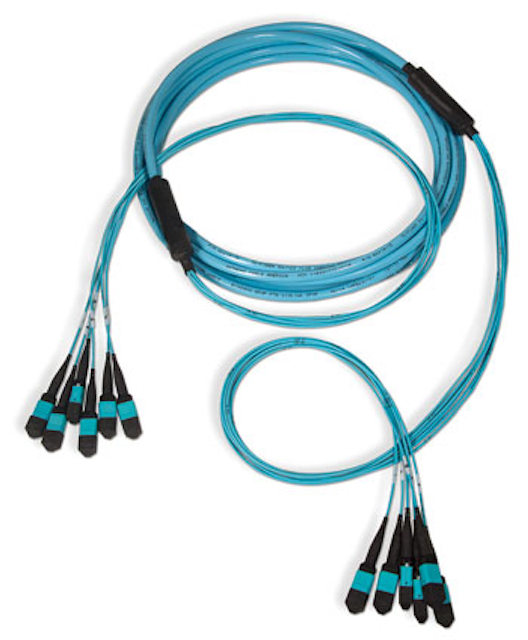 CABLExpress Skinny-Trunk fiber-optic trunks have been reduced in diameter and weight, by 18 percent and 47 percent respectively, across all fiber counts. "These enhancements enable increased capacity and ease of cable management in layer one infrastructure systems, while allowing for a decreased bend radius," the company states. "In addition, the MTP breakout legs have been reduced by 33 percent, from 3 mm to 2 mm. The MTP connector features a high-precision thermoplastic ferrule, designed to lower insertion loss, allowing connections to be made while meeting or exceeding loss budgets."
The fiber-optic trunks are available with customizable legs, lengths, and breakouts, with options from 4- to 144-fiber count. CABLExpress Skinny-Trunk cabling is factory-terminated and tested to ensure optimal performance, the company adds.
CABLExpress
cablexpress.com
Flexible, crush-proof fiber trunks support Super Bowl week

TiniFiber explains the National Football League (NFL) called on its fiber trunks in consecutive years: "In 2014, the NFL was searching for an armored fiber-optic trunk cable solution that provided the smallest outer diameter that could stand high pedestrian and vehicle traffic during the weeklong outdoor events. The NFL needed a highly crush-proof, rugged, tremendous-strength, flexible, high-quality cable, and with the smallest OD fiber armor. They turned to TiniFiber for the solution to fit in tight spaces without crimping or breaking."
The company explains that the league used the TiniFiber Trunk again in 2015 in Phoenix, host city of the Super Bowl. The product used in 2015 "had a mix of 144 strands of multimode and singlemode fiber," TiniFiber says. "The TiniFiber Trunk solution allows the user the ability to provide multimode and singlemode in a single jacket. Additionally, the strand count for this project was designed for 144."
TiniFiber
tinifiber.com
Flexible plenum- and riser-rated trunk cables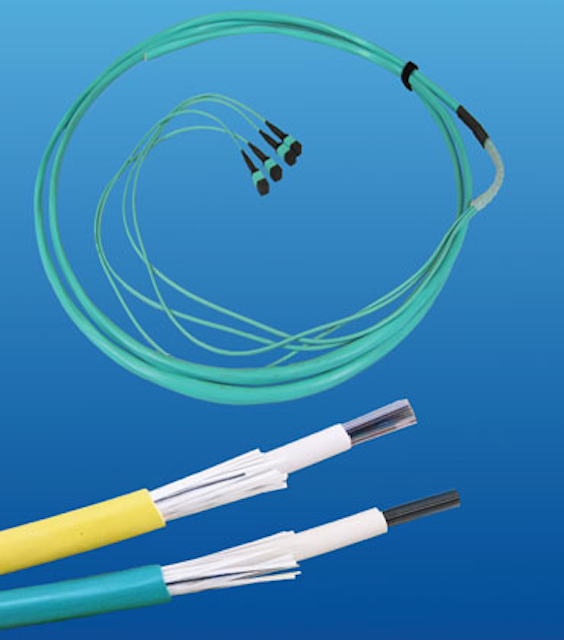 Flexible Plenum Rated and Flexible Riser Rated ribbon trunk cables "are integral components of Sumitomo Electric Lightwave's 4th Level Data Center and Enterprise Network's end-to-end and integrated optical fiber and connectivity solutions," the company states. "Offering customers the ability to construct their own trunk cable solutions that fit within their particular network vision, Sumitomo provides cables that can be built at exact lengths and terminated with MPO or other splice-on connector types on-site, or can quickly deliver the cables as preterminated assemblies."
Sumitomo says the trunk cables differ from others by exhibiting the following characteristics. 1) Easy Split & Peel ribbon technology, which eliminates tools; 2) Flexibility and bendability, designed for easy installation in space-constrained areas. Sumitomo adds that the trunk cables benefit from the company's connectivity and fiber manufacturing leadership to deliver precise-length assemblies quickly, customized, and with broad connector options.
Sumitomo Electric Lightwave
sumitomoelectric.om
Low-loss MPO trunks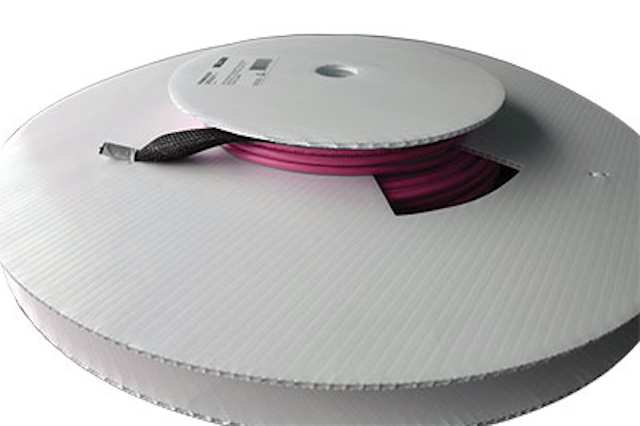 Belden describes its low-loss MPO trunks as "the foundation of easier, faster, and better preterminated fiber connectivity solutions, which are revolutionizing the data center." The company adds that users of the trunks can "capitalize on best-in-class Om4 0.2-dB maximum insertion loss performance to enable 2-, 3-, 4- and even 5-point architectures at max reach."
The company adds that Mini-Distribution cable reduces cable tray loading with up to a 35 percent reduction in outside diameter, and 60 percent reduction in weight. "Further eliminate high bit-error rates due to accidental mixing of fiber grades within channels," Belden declares. "Erika violet-colored Om4 easily differentiates from aqua Om3." Additionally, Belden's data-center-ready packaging allows users to avoid unnecessary site contamination because it is cleanroom-safe and free of fibrous material like traditional cardboard. The products can be ordered using the company's SmartPart numbering.
Belden
belden.com