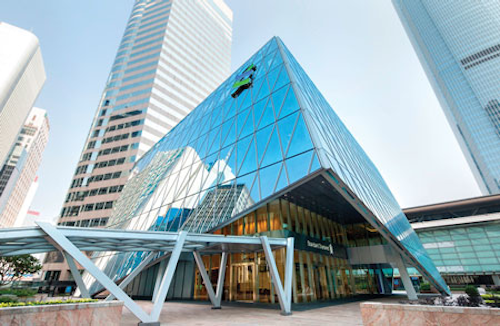 Asia's Standard Chartered opts for CommScope's Redwood intelligent building platform
The international bank Standard Chartered announced that it chose CommScope's Redwood building intelligence platform within two new office buildings in Asia to achieve significant energy savings, improve the workplace experience, and capture advanced occupancy data. According to a press release, "after an exhaustive vendor search, project teams at Standard Chartered locations at Changi Business Park II in Singapore and The Forum in Hong Kong found the Redwood building intelligence platform to be the best option to provide energy savings through efficient LED lighting."
CommScope says the Redwood system provides sensory network data that enables the bank to better understand both its office space occupancy and energy usage. "Part of our brand promise focuses on the legacy we leave behind for future generations - and that is more than just wealth," avers Denis McGowan, global head, Workplace, CRES, Standard Chartered. "Since the Redwood solution has been operational, we know the Forum now uses approximately 60 percent less energy with six percent fewer lighting fixtures. In Singapore, we anticipate saving almost $100,000 USD during our first year of occupation. This has enabled us to make great strides toward our 2019 energy and sustainability targets."
CommScope notes that the deployed Redwood system operates through a high-density sensor network providing real-time reporting by fixture, group, floor and building. The LED lighting can be controlled using the online Redwood management software or through a mobile device, offering occupants the option to digitally interact with the building.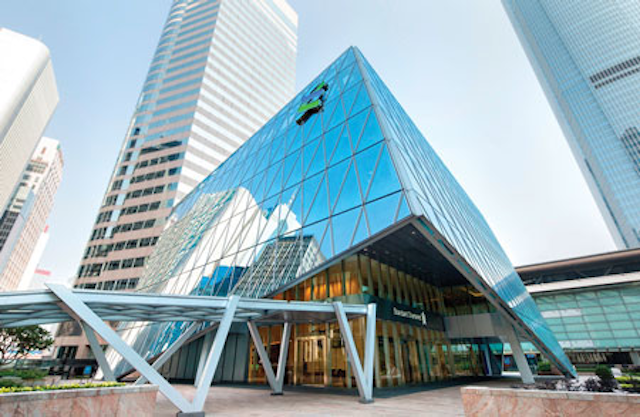 "We see many organizations working very hard to find ways to increase their operational efficiency, and it's amazing to see the reaction when we tell them that a probable solution can be found right above their heads," says Ispran Kandasamy, vice president of Enterprise Sales, Asia-Pacific, CommScope. "By using the data set obtainable from the Redwood sensor network, organizations can streamline their lighting, HVAC and occupancy usage within the building - ultimately seeing a significant reduction in operational costs."
When collecting temperature, light and motion data from the Redwood sensors, organizations can gain valuable insight into the occupancy of the building as well as other building systems. For example, Standard Chartered uses the sensors to turn audio-visual systems on and off in certain conference rooms at the Forum. The bank is already using the sensor data at the Forum to monitor space utilization and is in the process of deploying Redwood desk-level sensors in Singapore as part of its strategy to make better-informed real estate and workspace decisions.
"With the Redwood solution, we can accomplish significant savings in our lighting energy consumption and gather the vital data needed to make better decisions about optimizing our environmental footprint," concludes Standard Charter's McGowan. "We have just started down the path of seeing the outcome of our work with Redwood, and we look forward to optimizing the sensors to better manage our HVAC, and using the motion sensing technology as another layer of building security."
Standard Chartered selected CommScope-certified PartnerPRO Network provider Xin Networks to design, install and maintain the Redwood systems in both locations.
Oklahoma State Fair Park upgrades to Aruba's 802.11ac WiFi
Aruba Networks, an HP company, announced that the 435-acre State Fair Park (SFP) in Oklahoma City, Oklahoma, is using Aruba's Gigabit wireless infrastructure to bring high-speed mobility to over two million visitors and vendors of the approximately 200 events it manages each year. Best known for the Oklahoma State Fair, the SFP facility also acts as a large public venue for tourism, hosting numerous events each week for a variety of vendors and their visitors.
The SFP is a significant contributor to Oklahoma City's economy, generating more than $300 million in direct spending for the city. For the 802.11ac WiFi upgrade, Oklahoma SFP is using a full suite of Aruba solutions, including the Aruba ClearPass Policy Management platform, which provides secure authentication and onboarding of mobile devices for SFP's employees, vendors and guests, as well as the Meridian Mobile App Platform for SFP's new mobile app, launched in September of 2014.
"SFP's previous infrastructure, which combined multiple, disparate systems, wasn't conducive to mobility and couldn't keep up with the needs of the organization," said an Aruba Networks representative. "For internal operations, SFP needed to allow employees to remain productive as they move throughout the organization's 435 acres and 28 structures. SFP also needed reliable wireless connectivity to enable the ticket office to scan tickets at the gates, allow food service operations to conduct point-of-sale (PoS) transactions and connect guard shacks for security operations. SFP's event vendors and visitors were also increasingly demanding reliable, high-speed wireless connectivity, and the organization's previous system required visitors to walk to the SFP offices to obtain an access code for the network, which was both inefficient and inconvenient for the guests."
Working with partner RFIP, Inc. of Oklahoma City, SFP evaluated a number of solutions and ultimately selected Aruba Networks for a complete network upgrade. For the project, SFP deployed Aruba's 220 Series indoor and 270 Series outdoor 802.11ac access points, as well as the company's 7200 Series Mobility Controllers, Mobility Access Switches, AirWave network management suite, and the ClearPass Policy Management platform. The organization also implemented Aruba's Meridian Mobile App platform to create the Oklahoma State Fair App, which gives visitors State Fair Park information and enhanced capabilities including navigation to direct them to areas of interest such as concessions.
"With our new Aruba infrastructure, we now have reliable, high-speed coverage across all of our buildings and a large portion of our grounds and barn facilities," said Jason Eddy, VP of Information Technology for SFP. "Many of the issues we were having went away, public usage of the network has increased, and I rarely get any support calls now."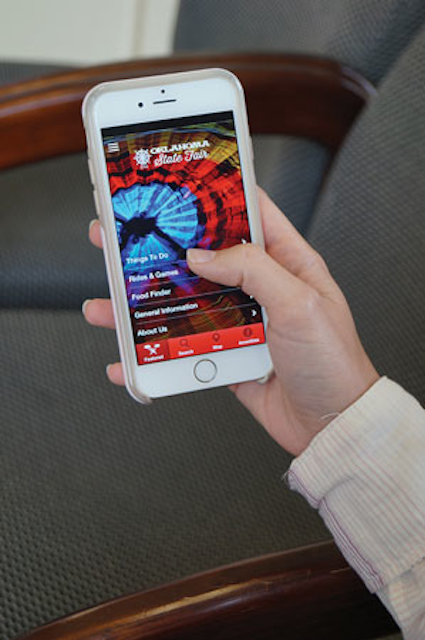 Eddy also noted that the AirWave suite is critical for SFP's one-person IT department. "While we still have assistance from our partner, RFIP, on the management front, I use AirWave for visibility into network usage - to determine if there's a load on the system, where and how people are connecting and which devices are being used. I love the visual RF and being able to quickly log in and see all of the APs and how many devices are connecting to them, and to detect any rogue APs. AirWave is really where I spend most of my time."
Aruba says the SFP has also found its ClearPass technology to be a crucial tool for securely onboarding and authenticating devices on the network and in particular, allowing guests to connect without the inconvenience of obtaining a login code from the SFP offices. The organization currently offers different levels of access, and different plans for vendors and exhibitors who typically require access for substantial periods - and for the public, who typically just need access for a few hours.
Future plans include better mobile engagement options for visitors. SFP recognizes the potential of its mobile app to provide visitors with valuable information, and is considering the addition of the Aruba Beacons extension to help deliver more location and contextual information. The SFP's operators are also evaluating how the combination of Aruba's ClearPass and Meridian Mobile App platforms can allow for advertising and push notifications, specifically as value-add for their vendors.
"A good example of where we could utilize push notifications is the Oklahoma City Home and Garden Show," notes Scott Munz, VP of marketing and public relations for SFP. "It's managed by a national company that does home and garden shows across the country and has hundreds of vendors. It would be great if one of their vendors could push notifications out to visitors as they enter the specific building where the vendor is located, offering 10 percent off all purchases if they come in and buy within a specific timeframe. That's just one example of where we can take the mobile app now that we have the Aruba infrastructure in place."
In late Spring 2016, SFP also plans to open a new 290,000-square-foot expo center which will include just over 200,000 square feet of contiguous floor space, as well as kitchen and catering facilities, a lobby, box office and meeting rooms. According to Munz, the new building will allow SFP to house a new level of tradeshows and flat-floor shows. The building is already under construction and SFP plans to expand their current Aruba network into the new space.
"Ultimately, we want to provide a state-of-the-art experience at State Fair Park," said Munz. "To do that, we need to provide specific amenities and meet certain expectations. The Aruba infrastructure has definitely delivered the foundation we need to accomplish this. By providing high quality WiFi, ensuring secure device onboarding and offering better engagement through the mobile app, we're well on our way to achieving our goals."
Leviton unveils Opt-X UHDX fiber-optic enclosure system
To meet the needs of data center and IT managers, Leviton has released its new Opt-X UHDX fiber-optic enclosure system.
The company contends that "data centers, equipment rooms and central offices increasingly require an ultra-high-density interconnect or cross-connect solution that minimizes rack space in a frame or cabinet, but maintains network manageability. [Such] operations [may] require: ultra-high-density connectivity, with up to 144 fibers with LC connectors or 1,728 fibers with MTP connectors, in a 1RU enclosure to maximize available rack space; easy access to patch cord connections in dense applications without interfering with surrounding fibers; accessibility to rear cable pathways and trunks for simple maintenance and reconfiguration; clear port identification with ID labels that are easy to apply, remove and update during moves, adds and changes; and a user-friendly design that supports one-person installation and operation."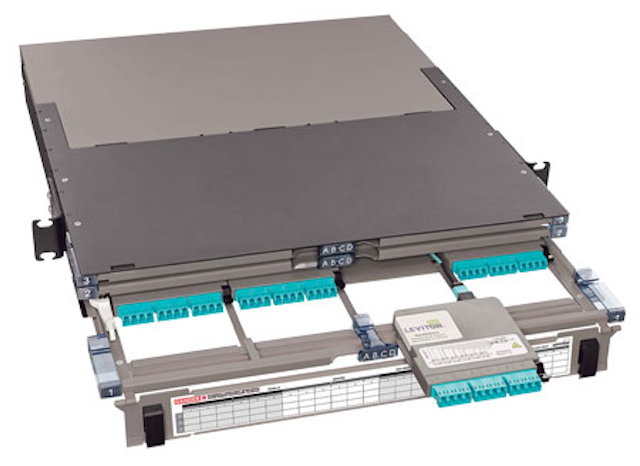 Leviton says the Opt-X UHDX Enclosure meets all of these requirements and is available in 1RU, 2RU and 4RU sizes. Engineered with individual sliding trays, hinged doors, clear front and back port identification, one-handed operation of trays and cassettes, and refined cable management capabilities, the UHDX enclosure supports network manageability in ultra-high-density enterprise and data center environments, the company asserts.
"The UHDX is an extension of our popular Opt-X HD fiber-optic system, using Leviton HDX cassettes to provide the highest fiber density for data center patching," says Tony Yuen, Leviton's senior product manager, fiber systems. Yuen adds, "Additionally, when combined with the Berk-Tek Micro Data Center Plenum (MDP) fiber trunks, which use the industry's smallest outside diameter cable, this ultra-high-density system lets you optimize space while easing management of cable assemblies."
Leviton notes that the UHDX components - enclosures, cassettes, cords, cable management and trunking accessories - are engineered to work together for a consistent solution in all areas of the network. The systems is designed to allow IT managers to maximize rack space, minimize cable pathways and deploy networks faster with the flexibility of a system that can grow or scale to meet emerging business needs.
"The HDX cassette used in the Opt-X UHDX Enclosure is the same cassette used in the Opt-X HD Enclosure and HDF3168 Fiber Patching Frame, so IT managers and administrators can work with the same form factor throughout their entire network," adds Leviton's Yuen.
"Whether it's in the main distribution area with the HDF3168 patching into spine switches, or in the horizontal distribution area or equipment distribution area with Opt-X UHDX enclosures patching into leaf or top-of-rack switches, the HDX cassettes offer complete reliability and coverage."