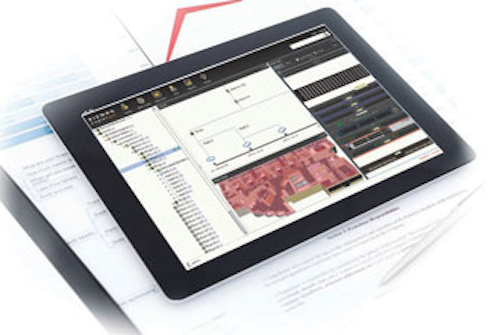 From the May, 2015 Issue of Cabling Installation & Maintenance Magazine
On one end of the spectrum, affixing labels to cables and ports remains a best practice. On the other end, the use of intelligence in system administration appears boundless.
By Patrick McLaughlin
Approximately four years after its completion, the ANSI/TIA-606-B Administration Standard for Telecommunications Infrastructure remains the North American benchmark for the complete labeling and identification of installed cabling circuits. The 606-B standard uses the identification scheme that originally was specified in the first addendum to the predecessor ANSI/TIA-606-A standard. It also covers telecommunications spaces and areas including cabling subsystems, inter-building systems, grounding and bonding systems and others that had not previously been included in a TIA administration standard.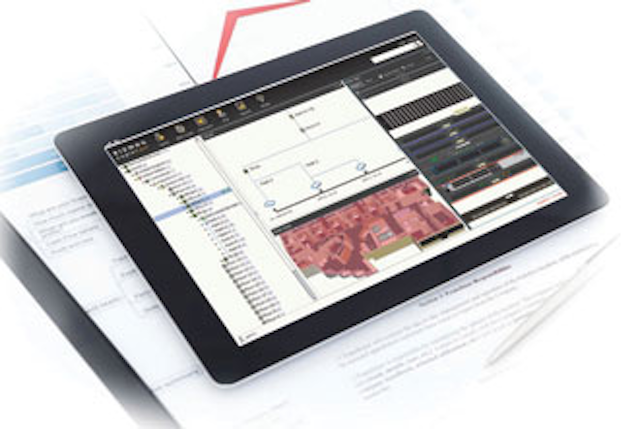 EagleEye Connect software is the latest addition to Siemon's MapIT G2 Automated Infrastructure Management system. Depicted in this image is the solution's navigation-tree display, which shows the hierarchical relationship of all network assets down to the port and device level.
As Todd Fries of HellermannTyton (www.hellermanntyton.us) explained in an article published shortly after 606-B's completion, the standard identifies four classes of administration (see "ANSI/TIA-606-B standard approved for publication," April 2012). The larger and more complex a network, the higher-number class associated with it. For example, Class 1 covers locations in which a single equipment room is the only telecommunications space, while Class 2 covers a building in which multiple telecommunications rooms are present. Class 3 refers to a multi-building campus environment, and Class 4 is a multi-site (multi-campus) network.
Advanced labeling
As Fries said at the time, 606-B represents "the culmination of years of work by many experts, installers, engineers and customers to make the best system possible … It is a paradigm that will continue to develop and change the way we think about administration and labeling."
It's a fair statement to say in the years since ANSI/TIA-606-B was published, and certainly since the time it was a work-in-progress, the way of everyday working has changed for many of the professionals who design, install and administer cabling systems. Specifically, the use of mobile communications devices as common work tools is more prevalent now than it was when 606-B was under development. Accordingly, multiple providers of label-producing equipment have built mobile applications to enable field workers to use their smartphones or tablets to accomplish labeling tasks.
In February 2014, HellermannTyton introduced TagPrint Xpress Data, a mobile app that serves as a reference guide for 606-B and also as a labeling tool designed specifically for data centers. At the time of the app's release, the company explained, "The app provides an easy guide through the TIA-606-B labeling administration standard for telecommunications infrastructure and allows for ultra-efficient wireless printing of required labels. Any label formats currently used in the data center, or any TIA-606-B-compliant labels, can be printed using the app … Designed for use with HellermannTyton thermal-transfer printers, the app turns a mobile device into a wireless mobile print command center, eliminating the need for a laptop or desktop computer."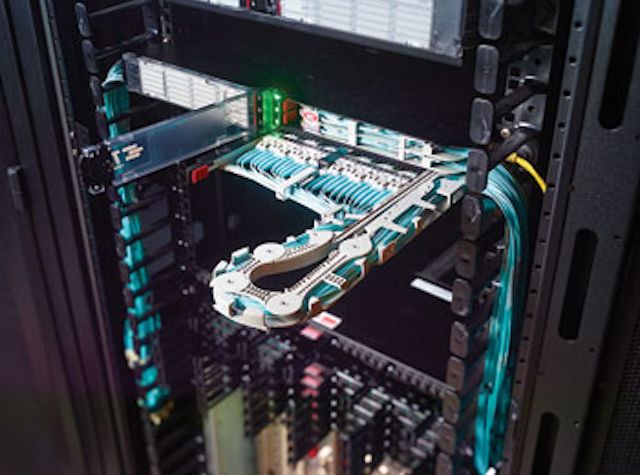 This high-density equipment panel from TE Connectivity includes Quareo's connection-point identification (CPID) capability. Shown here is one of the panel's abilities to ease the physical administration of connected cables. This cable-management arm acts as a routing guide. When the user closes the panel's door (seen on the left), the cable-management arm closes back into the unit.
Later that year Epson America (www.epson.com) introduced a Datacom and Cable Labeling mobile app for smartphones and tablets. The company said the app enables "users to quickly create labels for new and existing network installations from the convenience of their mobile devices. The app comes preloaded with label templates for patch panels, cable wrap, faceplate and cable flag labels. All app-based label templates support the TIA-606-B labeling standard, providing a convenient way to align the labeling of their network hardware to the specification."
Automated management
An addendum to the 606-B standard is under development, and as of February 2015 was nearing the final balloting stages before approval within TIA. The addendum will address automated infrastructure management (AIM) systems and, according to TIA, will be produced in harmony with an existing international standard also covering AIM.
When announcing a call for participation in the development of ANSI/TIA-606-B-1, the TIA's TR-42.6 Engineering Committee on Telecommunications Infrastructure and Equipment Administration commented, "The purpose of this addendum is to update the core functions, auxiliary functions, and usage recommendations for AIM systems specified in TIA-606-B to harmonize with ISO/IEC 14763-2-1 Implementation and Operation of Customer Premises Cabling Part 2: Planning and Installation--Amendment for Inclusion of AIM Systems, and ISO/IEC 18598 Automated Infrastructure Management Systems--Requirements, Data Exchange and Applications."
On its Standards Informant blog, Siemon (www.siemon.com) explains that ISO/IEC 18598 "will specify requirements and recommendations for AIM systems used to manage complex cabling installations. These [AIM] systems can contribute to operational efficiency and deliver benefits related to cabling infrastructure and connected-device administration, facilitation of IT and other management processes and systems (e.g. intelligent building systems), asset tracking and management, and event notifications and alerts that assist with physical network security. AIM systems … are commonly referred to as 'intelligent patching systems.'"
In mid-April Siemon introduced EagleEye Connect, an AIM software system it characterizes as "the central interface for Siemon's MapIT G2 AIM System." When making the announcement on April 13, the company explained, "EagleEye Connect is a server-based software solution that collects, monitors and stores network intelligence data from innovative MapIT G2 Master Control Panels and Smart Patch Panels." This intelligent capability is available in multiple copper patch panels and fiber enclosures from Siemon.
Tony Veatch, director of product management for Siemon, summed up the value proposition for AIM and EagleEye Connect in particular: "With security a top concern and downtime primarily caused by IT personnel making errors when configuring changes, today's IT leaders need nonstop monitoring of all IT assets and methods to improve accuracy and productivity. We have designed EagleEye Connect with enhanced security features that prevent loss of data and help to ensure compliance with security regulations like HIPAA and Sarbanes Oxley. That, combined with the ability to speed response time and improve accuracy of moves, adds and changes, significantly reduces downtime and operating expense. This software's ability to document assets in real time also allows our customers to maximize utilization of their switch ports and rack space for reduced capital expenditure."
EagleEye includes a reporting function that facilitates planning for growth or changes, Siemon further explained, including inventory and capacity reports to show available ports and rack space. The software system can be accessed anywhere via a web browser. At the time of its release, Siemon pointed out the following attributes and capabilities.
Navigation tree showing hierarchical relationship of all network assets down to the port and device level
Realistic graphical views of floors with device locations and front-and-back views of racks with patch connections
Graphical end-to-end circuit traces from the switch port to the end device
Real-time database with autodiscovery
Round-the-clock monitoring and alerts of unauthorized connections/disconnections and movement of IT equipment and devices
Work-order management
An intelligent physical-layer management system that has been available since 2011 recently was updated and upgraded to serve higher-density connectivity environments. Quareo from TE Connectivity (www.te.com) incorporates what TE calls connection point identification (CPID) technology--"a means of allowing physical layer network connection events to be automatically discovered and documented without any technician intervention," the company says. "CPID is enabled by adding a chip to the connectors used within the network." TE offers Quareo CPID intelligence in LC-, MPO-, Category 6- and 6A-based cabling systems. Each chip is factory-installed and programmed with the critical parameters for the cabling assembly.
Identifying connection points
Damon DeBenedictis, business development manager for managed connectivity in the Americas region for TE Connectivity, explained the CPID chip contains data akin to "born-on" information. "It includes the assembly's catalog number, whether it is a copper or fiber cable, its performance rating," he said. Quareo CPID panels contain similar information, DeBenedictis added. Quareo-enabled panels have the ability to discover all port activity, read data from CPID connectors, and they include visible LEDs for guided workflow and activity confirmation. "The CPID chip keeps count of the number of times the port has been plugged into," DeBenedictis noted.
The CPID technology enables network administrators to know the status of each port, and certain detailed information about the ports. Specifically, an administrator can immediately know which of the following three states any port is in: 1) available; 2) connected, and the connection's specifics when a CPID assembly is plugged in; or 3) connected to an assembly that does not contain CPID.
TE Connectivity has made some recent updates to Quareo, including the introduction of middleware that allows users to integrate Quareo intelligence into their own data center infrastructure management (DCIM) software. Quareo includes its own software package built-in, and the recently introduced middleware accommodates any user who has a DCIM system and prefers not to add the Quareo-specific software in addition to their existing DCIM.
More recently the company added an optical distribution frame (ODF) and a high-density equipment panel to the Quareo product line. "The new products expand options for central office and data center network architects who want to implement physical layer management to gain an accurate, real-time view of the physical network," TE Connectivity said when announcing the additions in March.
The NG4access ODF "provides superior access to high-density fiber terminations up to 3,456 fibers per frame," the company said. "With innovations in access trays, universal adapter packs, cabled modules and MPO modules, installing and maintaining large amounts of fiber can be done faster, easier and less expensively than previous ODF solutions available on the market." The NG4access is most likely to be deployed in a data center's main distribution area, the company explained.
The equipment area is likely to be where data center and central office administrators deploy the other new addition to the Quareo product line--the high-density equipment panel. It is a 1RU panel with six access trays, each of which has a mounting location for holding one LC or MPO adapter pack, or MPO module or cabled module. A single tray can serve up to 24 LC fiber connections or 8 MPO fiber connections. At full capacity, the high-density equipment panel will hold up to 144 LC, 576 12-fiber MPO, or 1,152 24-fiber MPO fiber connections. The company said, "With many different adapter packs and modules, this allows for quick modular deployment for 10, 40 and 100 Gigabit Ethernet links, which can be mixed in the same high-density equipment panel chassis. These modules can be changed or upgraded without disturbing adjacent cables."
Cable-management and administration capabilities are among the panel's key characteristics. DeBenedictis explained, "The fiber connections are housed in a cable-management arm, which acts as a guide. When the user closes the panel door, the arm closes back into the unit." The same cable-management capability exists in the front and back of the panel.
In the often-complicated realm of managing and administering a cabling infrastructure, solutions can be found in products as relatively simple as wrap-around labels, and as advanced as built-in intelligent chips. These capabilities, and every one in between, can play a role in keeping a network up and running.
Patrick McLaughlin is our chief editor.
More CIM Articles
Archived CIM Issues