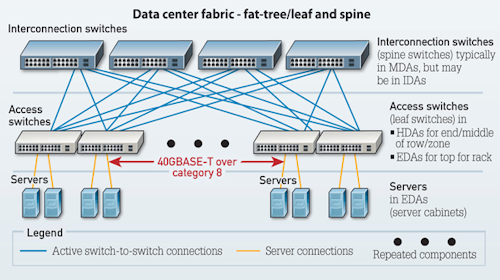 From the March, 2015 Issue of Cabling Installation & Maintenance Magazine
The hand-in-glove relationship between Category 8 and 40GBase-T will have multiple applications in the data center.
The specifications under development by the Telecommunications Industry Association (TIA; www.tiaonline.org) for Category 8 cabling systems-ANSI/TIA-568-C.2-1-are breaking the proverbial mold for TIA twisted-pair cabling specs in that the channel distance specified within the standard will be 30 meters, not the 100-meter distance specified in its predecessor standards and to which the industry has become accustomed. The reasoning behind a 30-meter channel is fairly straightforward, and the implications of that distance hold promise for the timeframe in which Category 8 cabling may be deployed and put to use in networks.
Category 8 cabling will be a hand-in-glove fit (that's this author's characterization only) with the also-in-development 40GBase-T Ethernet specification of the Institute of Electrical and Electronics Engineers (IEEE; www.ieee.org). As such, Category 8 will be installed in data centers for server-to-switch connections, including top-of-rack (ToR) and end-of-row (EoR) architectures for which 30 meters is sufficient distance.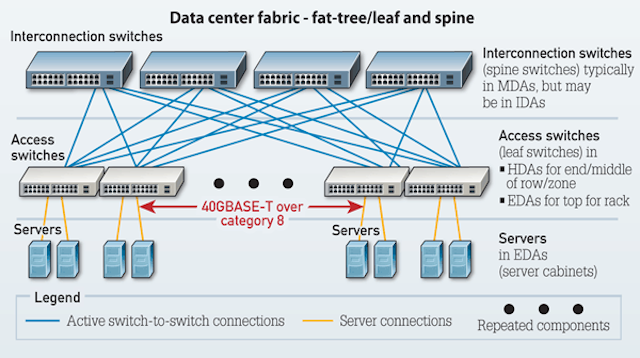 This image shows in red the potential application of 40GBase-T over Category 8 cabling in a fat-tree/leaf-spine switching architecture in a data center. The original illustration is from ANSI/TIA-942-A-1. The notation in red was added when this graphic was presented to IEEE P 802.3bq in July 2014. That presentation included several similar illustrations, all of which highlighted the use of 40GBase-T over Category 8 cabling for server-to-switch connections in various data center architectures.
In a Panduit Connections blog post titled "Reaching for 40GBase-T," Panduit's solutions marketing manager for high-speed data transport solutions Tom Kovanic addressed the 30-meter issue. He explained, in part, "When developing a new networking standard, several attributes need to be balanced to optimize its implementation. To optimize the implementation of 40GBase-T, the IEEE P802.3bq appears to have settled on a reach of 30 meters. This is a tradeoff between power dissipation of the silicon physical layer (PHY) integrated circuit driving the cable, the complexity of the PHY which would impact cost, the implementation of the channel, and the reach of the link." The full post, which can be found at panduitblog.com, asks whether or not 30 meters is long enough-then provides detailed reasons why the answer is yes.
At a meeting of the IEEE P802.3bq 40GBase-T Task Force in July 2014, Anixter's vice president of technology, Andy Jimenez, presented on the advantages and use cases of 40GBase-T. A portion of that presentation addressed the goals of the Category 8 standard, which include the support of EoR and ToR deployments in the data center. One slide in particular within that presentation (which is available for viewing and download through the IEEE website) states, "40GBase-T will work anywhere in a data center where 30-meter connections will reach. This includes: anywhere in the classic three-level hierarchy [access switch/aggregation switch/core switch]; for the fat-tree/leaf-and-spine/interconnected fat-tree fabric architecture; for full-mesh, interconnected meshes, and centralized switch; for virtual switch." Diagrams within that presentation indicate that 40GBase-T over Category 8 cabling can serve in each of those setups/fabrics as connection points between the servers and the first-level switches. The illustration in this article is taken from that presentation.
Jimenez's presentation indicates that CommScope's Masood Shariff and Panduit's Frank Straka also were contributors to it. Jimenez and Straka have co-chaired the effort within TIA's TR-42.7 Subcommittee to produce the near-complete TIA document Telecommunications Systems Bulletin TSB-5019 High Performance Structured Cabling (HPSC) Applications. The document will provide usage details for deploying Category 8 structured cabling in data centers-likely including the connections just described.
The reach of 40GBase-T to 30 meters might be regarded as the manifestation of lessons learned from the IEEE's development of 10GBase-T. David Chalupsky, who chairs the Ethernet Alliance Base-T Subcommittee and the IEEE P802.3bq 40GBase-T Task Force, has pointed out, "With server-to-switch connections as the target use for 40GBase-T, 30-meter reach was seen as sufficient for installations using middle-of-row or end-of-row placement for switching equipment."
Additionally, in 2013 Anixter produced a one-page technology brief that explained how the lessons learned from the development of 10GBase-T were likely to be applied to 40G. It says that both 40GBase-T and Category 8 "build on the lessons learned from the existing IEEE 802.1an 10GBase-T standard: reasonable power consumption and physical form factor. Both were mitigating factors in the broad approval of 10GBase-T technology in the market because increased heat dissipation on the higher powered chipsets and reduced port count on the networking switches made 10GBase-T less attractive than alternatives such as SFP+ and optical interfaces from a price-versus-performance point of view.
"In order to address these issues, the IEEE, TIA and ISO committees have gained consensus to reduce the maximum supported cabling channel length to 30 meters to make sure that the power footprint for 40GBase-T chipsets are minimized," Anixter's document continues. "Surveys by both the TIA and IEEE organizations have shown that 30 meters will support the majority of data center architectures when using twisted-pair cabling."
As David Chalupsky pointed out in last month's issue, , in an article titled "IEEE to study new Base-T data rates for data centers and enterprise applications," there's also a likelihood that 25GBase-T specifications will ride along with the 40GBase-T standard, using Category 8 as a supporting infrastructure. Chalupsky stated, "Although first defined for 40GBase-T, Category 8 is also anticipated to be the target channel for 25GBase-T, which raises some interesting points. Analysis to date of 25GBase-T on Category 8 has shown that it is generally an easier problem to solve than running 10 Gbits/sec on 100 meters of Category 6A. This means that the cost per bit, and power per bit, of 25GBase-T products could decline quickly to rather economic levels."
From several angles, the hard lessons learned during the development and market entrance of 10GBase-T appear to hold promise for Category 8 and the applications it will support.
Patrick McLaughlin is our chief editor.