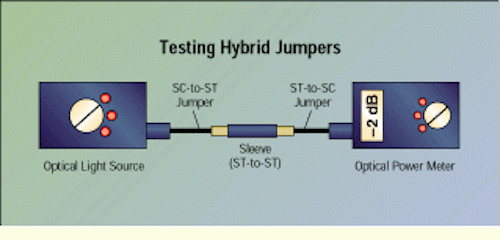 Larry Johnson
The Light Brigade Inc.
Problem
Hybrid jumpers are used to connect an optical-loss test set to an optical fiber terminated with connectors different from those resident on the test set--for example, SC-to-ST. Ideally, jumpers should not affect test results, but if they are defective or if their connectors are scratched or contaminated, they may make the loss measurement performed on the fiber link inaccurate.
Solution
A program of inspection, cleaning and testing can ensure hybrid jumpers do not degrade the performance of the optical-loss test set.
Procedure
1) Ensure the jumper`s fiber type and size are the same as those of the fiber link under test--for example, 62.5/125-micron multimode fiber. Also, make sure the numerical apertures of the two fibers match; otherwise, the jumpers will create excessive loss.
2) Inspect the connectors at each end of the hybrid jumpers. Make sure they are of high quality and that their endfaces are properly polished.
3) Inspect the jumper cables. If they show signs of having been stretched, tied in knots, kinked, stepped on or otherwise abused, discard them. They are unlikely to function properly.
4) Test the jumpers before use by connecting the jumper pair using a sleeve. Then connect one end of the connected pair to a light source and the other end to a power meter. Take a reference loss reading, which can be subtracted from the end-to-end fiber loss of the link. Remove the sleeve, and you are ready to connect the two jumpers to the fiber link.
5) When testing a series of fibers, inspect the jumper connectors between each test and carefully clean them when any contamination is observed.
6) While testing, watch for a steady increase in optical loss over a series of tests. This indicates that your jumpers may be contaminated (or, alternatively, that the light-source power level is drifting).
7) Record the loss measured for the jumper pair for future reference.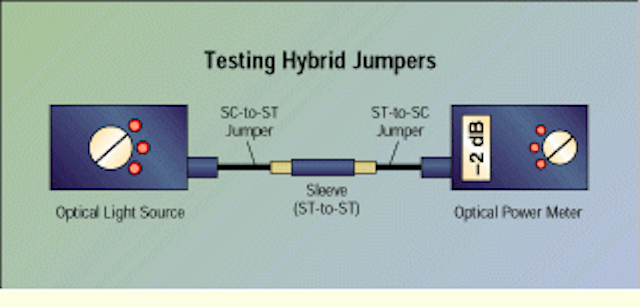 Click here to enlarge image
Testing hybrid jumpers before use provides a reference loss reading that can be zeroed out of later test results.