Larry Johnson, The Light Brigade Inc.
Problem
No matter what type of fiber-optic patch cord or jumper you own, it always seems to tie itself into knots when stored. If jumpers are stored carelessly, their minimum bend radius can be exceeded, connectors can be parted from fibers and it may be impossible to find the particular jumper you are looking for.
Solution
Keeping your jumpers neatly organized serves several purposes:
- You can control minimum bend radius.
- It helps to keep jumper dustcaps in place.
- Organization by fiber size and connector type permits easy access.
- Mating sleeves are properly stored.
- Inventory control is simplified.
Boxing jumpers simplifies maintenance, reduces the frequency of replacement and repair, permits readily visible inventory coding and provides quick access to the jumpers.
Procedure
1) Use videotape holders or boxes to store your jumpers. Transparent holders permit quick visual identification of the proper item.
2) Label the side of each box to identify connector type?for example, ST-SC for a hybrid jumper and ST-ST for a common jumper.
3) Include colored dots as part of your labeling scheme so you can organize your jumpers by fiber type. Adhesive-backed dots in a variety of colors can be found at office supply and arts and crafts stores.
4) Coil the jumpers and place them in the boxes along with the appropriate sleeve. (Alternatively, the sleeve can be stored in a separate box.)
5) Normally, up to four jumpers can be placed in a single box, depending on connector size. Fiber distributed data interface and Escon connectors are larger, however; a maximum of two per box is recommended for these types.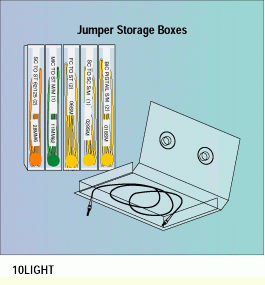 Click here to enlarge image
Videotape storage boxes make practical, easy-to-organize holders for optical patch cords and jumpers.
Larry Johnson is president of The Light Brigade Inc., Kent, WA.