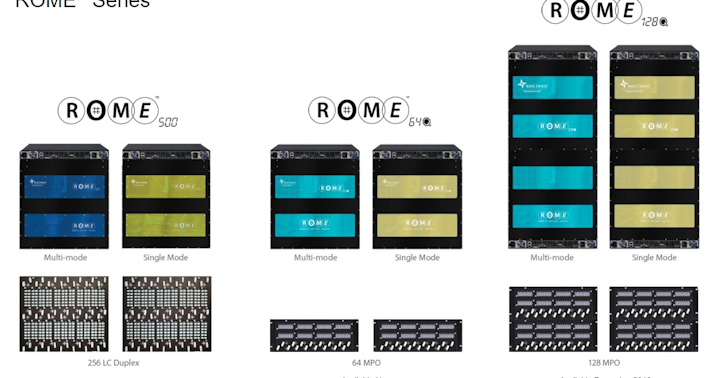 On Nov. 9, Wave2Wave Solution, a speciaist in physical layer automation, announced two new products in its ROME family of robotic fiber switches, the ROME 64Q and 128Q. The two new products provide direct MPO patch panel interfaces, incorporating eight fiber any to any connections, to support the growing number of high speed fiber links in data centers.
Per the company, "Multiple-Fiber Push-On/Pull-off (MPO) connectivity is playing an important role in data centers as a means to deploy higher speed interfaces cost effectively. Driven by increasing bandwidth demands, a growing number of data center operators are moving to 40 Gigabit Ethernet and 100 Gigabit Ethernet connectivity. Because each MPO port simultaneously connects 8 fibers this approach delivers an effective way to easily connect QSFP+ transceivers that are delivering these high speed connections."
Wave2Wave integrates MXC connector into data center optical backplanes
The ROME 64Q has 64 MPO ports with each port connecting 8 fibers (a total of 512 fiber connections) and the ROME 128Q has 128 MPO ports (a total of 1024 fiber connections) in an Any-to-Any configuration.
"We are seeing increased use of high-density cabling in data centers," said David Wang, President and CEO, Wave2Wave Solution. "Space in data centers is already tight and MPO cabling provides a cost-effective way to deliver higher speed connectivity. The ROME 64Q and 128Q have been designed to support this need and bring the benefits of physical layer automation to MPO configured data center networks."
The company attests that its robotic fiber switches at the optical layer automate the process of configuring and reconfiguring physical optical connections. This removes the need for manual intervention so the way the physical network is configured is completely changed with the robots able to make a connection in seconds.
Wave2Wave adds QSFP28 copper-based direct attached cable to data center fabric family
Massive investments in fiber and in the automation of critical network functions through software defined networking have led to huge improvements in performance. However, automation has been missing from the physical layer. With its ROME robotic fiber switches, Wave2Wave contends that it "closes the automation gap and extends software defined networking and automation to the physical layer fiber network, delivering increased performance, flexibility and reduced operating costs."
For more information, visit www.wave-2-wave.com.