32-fiber singlemode lensed MPO connector
Sumitomo Electric Industries developed the expanded-beam MPO connector that it says is less sensitive to debris and does not require a physical-contact connection.
Mar 20th, 2015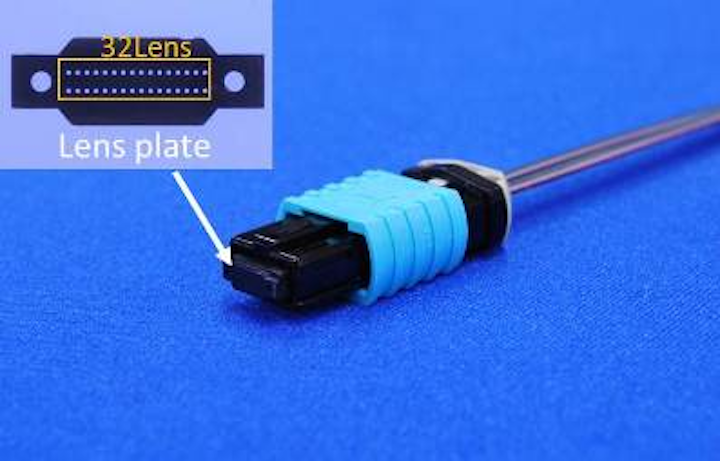 Sumitomo Electric Industries has developed a 32-fiber singlemode expanded-beam, lensed MPO connector, and will introduce the connector at the OFC exhibition being held March 24-26. When announcing the new connector, Sumitomo said, "Physical-contact (PC) connectors require careful endface cleaning before mating because the beam diameter at the fiber endface is only 0.01 mm [and] accordingly sensitive to minute debris. As fiber counts increase, pressing force must be increased to maintain PC connection for all fibers." As a result of these characteristics, the ability to easily mate connectors may be impaired, and the connector's mechanical reliability may suffer.
"The newly developed singlemode multi-fiber lensed connector has flat surface lenses embedded at the end surface of the singlemode fibers, and expand the beam from the singlemode fibers," the company explained. This expanded beam enables the connector to be less sensitive to debris and, because expanded-beam connectors do not required a physical-contact connection between fibers, "the mating force can be greatly reduced," Sumitomo said, "which allows easy connecting even in high fiber counts such as 32 or more."
Sumitomo says this 32-fiber singlemode MPO connector came to fruition thanks to the company's state-of-the-art precision molding technology and the flat-surface lens technology it has developed.