Fiber distribution hub can go above or below ground
Clearfield's FieldSmart Makwa FDH can be a 432 crossconnect fiber distribution hub or a 288-port PON hub, offering broadband service providers with deployment-location options.
Mar 23rd, 2015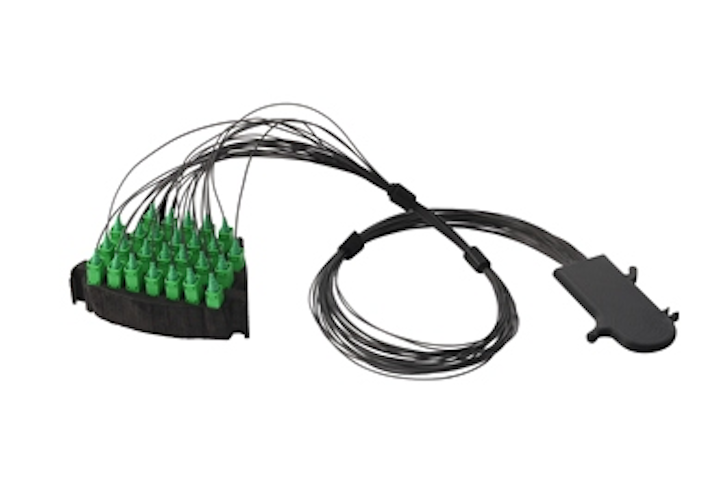 Clearfield has announced the FieldSmart Makwa Fiber Distribution Hub (FDH), which can be deployed either above or below ground. Clearfield says the Makwa FDH is "environmentally protected, versatile, scalable, damage-resistant, easily accessible and cost-effective." The company further explains the fiber distribution hub was built from the ground-up and inside a sealed closure, and is the smallest 288-port passive optical network (PON) or 432 crossconnect FDH. "Enclosed in a black impact- and UV-resistant thermoplastic material, the product will withstand all outside-plant environments, above or below grade," Clearfield states. "With a removable top cover, all of the fibers are protected and fully accessible for service changes and maintenance. With the ability to be housed in a 24x36x24-inch vault or handhole, FieldSmart Makwa can be placed in any below-grade environment including the boulevard or area between the curb and sidewalk. As this space is typically owned by the municipality, only a single permit is required, expediting the preconstruction engineering process."
Johnny Hill, Clearfield's chief operating officer, commented, "Communities are mandating that the products providing service to the area be hidden or out-of-sight. The size, weight, and cost of existing solutions and their lack of moisture control have prohibited them from being placed underground. The FieldSmart Makwa provides the broadband service provider the choice of where to deploy, without sacrificing performance or access, at a cost less than a traditional metal cabinet."
A key component of the Makwa FDH is Clearview Black (pictured above), a cassette that incorporates the flexibility and scalability of Clearfield's Clearview Classic and Clearview Blue cassettes, but also reduces the overall footprint of the fiber-management element, lowers real-estate costs, and improves density "without compromising critical design elements of access, bend-radius protection, physical fiber protection and route-path diversity," the company explains. Clearview Black provides up to 24 ports of connectivity, and multiples to meet specific port density and application needs. It supports standard configurations and all fiber-construction types.
"Engineered to reduce the cost of gigabit deployment, Clearview Black's integrated splice tray removes the need to dedicate a separate chassis space or splice enclosure while providing optimal protection and space utilization," according to Clearfield. "Tool-less, snap-together constructions make service turnup time faster. Ribbonizing allows quicker troubleshooting and restoration of affected fibers, as 12 fibers are ribbonized only where the splicing needs to occur—providing single-circuit access as necessary. Clearfield's disposable ribbonizing tool efficiently organizes and prepares loose-tube fibers to facilitate mass fusion splicing."
The WaveSmart High Density (HD) Splitter (pictured below) uses "a 75-percent smaller package with smaller-diameter legs, resulting in 70 percent less cable pile-up than traditional packaging," the company notes. "Internal fiber management and termination principles that have been field-tested by Clearfield in temperature and weather extremes, ranging from Alaska to Jamaica, are maintained."
Clearfield adds that the FieldSmart Makwa weighs less than half that of a splice case, and fraction of a traditional above-grade FDH. Makwa is "easily accessible to the service technician for maintenance, repair and service turnup," the company emphasizes. "Prewired for growth and high scalability, additional subscribers can be turned up by simply installing a preconnectorized fiber cable to complete the circuit."
Hill added, "The explosion in consumer demand for gigabit broadband has been hampered with recent challenges associated with municipal permitting and provider pole access. While some fiber management providers are answering this call by offering engineering services to their service-provider community, at Clearfield we believe the more innovative approach is to reduce the amount of pre-construction engineering time and skill required. The FieldSmart Makwa is one of these labor-light product line designs."
FieldSmart Makwa will ship for general availability beginning July 1. The Makwa is compatible with all elements of the Clearfield product line, including FieldShield Pushable Fiber and Microduct, FieldShield SmartTerminals, and the CraftSmart line of below-grade vaults.