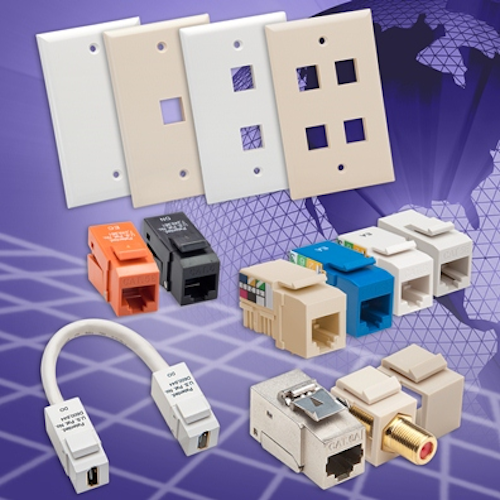 Platinum Tools recently announced it has expanded its structured cabling solutions portfolio to include keystone jacks, couplers, and multi-port wallplates for data, voice, and video infrastructure systems. The keystone jacks and couplers for Category 3, 5e, 6, and 6A applications are color-coded to make T568A/B wiring easy, the company said. "They feature 50-micron gold contacts, meet or exceed TIA category standards, are compatible with industry-standard wallplates, and are RoHS-compliant and UL-listed," Platinum said.
John Phillips, product manager with Platinum Tools, commented, "Quite simply we have complete connectivity solutions for your entire network … With keystone jacks, couplers, and multi-port wallplates complementing our existing popular products such as EZ-SnapJack, our catalog has exactly what the installer needs for virtually any and every application."
Phillips noted that the new wallplates "are compatible with most industry-standard keystone jacks and EZ-SnapJacks, and are engineered to prevent possible fracturing from over-tightening screws." The 1-, 2-, and 4-port plates also are UL- and RoHS-compliant; they are one-piece, single-gang units that are 4.5x2.75 inches in dimension. They include color-matching mounting screws and are designed to fit standard single-gang outlet boxes.
The company's structured cabling product set can be deployed in a number of environments for different applications, as Phillips also explained. "Our reusable, time-saving EZ-SnapJack has been designed to fit industry-standard wallplates and is perfect for new or retrofit commercial network and home-automation installations," he said. "Depending on specific needs and circumstances and with the convergence in our marketplace, our newly expanded structured cabling solutions alongside the EZ-SnapJack and other options allow the low-voltage installer to quickly install a keystone jack correctly each time. This will save the installer time and money associated with revisiting the jobsite to fix the common problem of poor connector terminations and poorly installed mounts and fixtures."