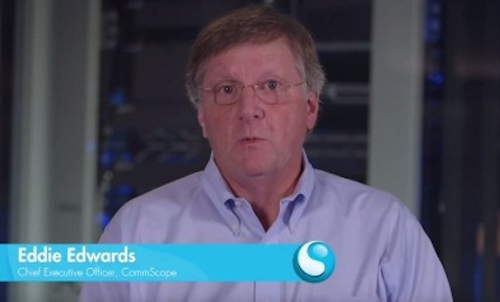 CommScope Holding Company announced on August 28 that it completed its previously announced acquisition of TE Connectivity's telecom, enterprise and wireless businesses. The all-cash transaction was valued at approximately $3 billion; when announcing the deal's completion, CommScope said it "strengthens CommScope's position as a leading communications infrastructure provider with deeper resources to meet the world's growing demand for network bandwidth.
"This transaction creates a stronger company with greater innovation, employee talent and overall capabilities to serve customers," CommScope added, saying it does so in the following four areas.
Indoor and outdoor wireless networks
Data centers and central offices
Connected and efficient buildings
Access and backhaul networks
Eddie Edwards, CommScope's president and chief executive officer, commented, "We are excited to move forward as one company positioned for continued success. Together we look to accelerate industry innovation, solve more wired and wireless network challenges, and better serve customers in more markets around the world. By uniting our complementary solutions, technologies and geographic and market coverage, we have created a stronger platform for competing successfully around the world. With this acquisition we will have significant new opportunities for future sales growth and cost efficiencies to strengthen CommScope's financial foundation. The addition of the TE businesses is expected to immediately contribute to our profitable growth."
For the near-term, the TE Connectivity broadband network solutions (BNS) businesses will be operated as one of CommScope's business segments, alongside the existing CommScope segments of wireless, enterprise and broadband. David Redfern will continue in his current role as leader of the BNS segment and will report to CommScope chief operating officer Randy Crenshaw.
The company said it expects to "realize more than $150 million in annual synergies in 2018, which includes more than $50 million in 2016"—across all areas of the company including sales, marketing, general and administration, operations, and research-and-development. It added that it expects the transaction to be 20percent accretive in 2016 on a pro forma basis.
"The new CommScope has approximately 25,000 employees, with a more significant presence in all major geographic regions," CommScope noted. "Pro forma net sales for the 12-month period ended June 30, 2015 were approximately $5.3 billion and pro forma adjusted EBITDA excluding anticipated synergies was approximately $1 billion. The company now holds a portfolio of approximately 9,800 patents and patent applications, with research-and-development investment of more than $200 million a year.
Edwards, along with Peter Karlsson, senior vice president of global sales, and Mark Olson, chief financial officer, delivered a message to CommScope customers, partners, shareholders and other stakeholders via YouTube, which can be viewed below.