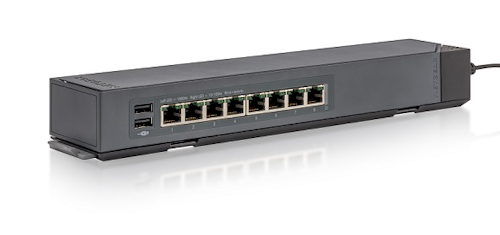 At the 2015 International CES tradeshow (Jan. 6-9) in Las Vegas, Netgear (NASDAQ: NTGR) launched a new family of network switches in 8-port and 16-port Gigabit Ethernet models, dubbed the ProSAFE Click Switch line.

The ProSAFE Click Switch is billed as a Gigabit Ethernet switch for small office or home use, with an industry-first bracket mounting system for easy and attractive installation. Available in either 8- or 16-Gigabit port configurations, the switch's slim design and internal power supply enable users to organize wires, secure cables, eliminate bulky power adapters, and improve the overall appearance of wiring closets, training facilities, lab benches, conference rooms, and home offices.
"This is a must-have product for today's Internet of Things home with its myriad connected devices. We put a lot of thought into the design of the ProSAFE Click Switch to make it extraordinarily flexible to meet your needs in the office as well as at home," comments Peter Newton, senior director of product management of Netgear's commercial business unit.
The unique "1-2-3-4 click mounting system" of the ProSAFE Click Switch enables optimal placement and cable management in locations where other switches will not go. Users simply attach the bracket to a wall, under a table, or even to a pole and "click" the switch into it ("like a ski boot onto a ski," notes the company). The switch bracket offers both vertical and horizontal orientations so that the ports can face either outwards or sideways, creating four mounting options: (1) vertical/side mount, (2) vertical/rear mount, (3) horizontal/side mount, and (4) horizontal/rear mount.

In addition, the bracket is designed to work with cable ties, Velcro brand fasteners, straps, screws, or any other mounting system so that placement options are virtually unlimited. The Click Switch cable strap can be used to collect the usual spaghetti mess of cables and attach them neatly to the bracket or to the wall.

Newton adds, "While we can't yet completely eliminate all cords from your home entertainment center or wiring closet, our Click Switches tame the ugly rat's nest of cabling behind the cabinet. Their innovative features and thoughtful design, combined with our industry-leading ProSAFE warranty policy, offer an unbeatable value for your connected network."

Both Click Switches offer the same intelligent management features of Netgear ProSAFE Gigabit Plus Switches, such as monitoring, traffic prioritization, port trunking, cable testing, and VLAN support. An added bonus to the 8-port version of the Click Switch is its inclusion of two USB ports for quick and easy charging of tablets, smartphones, and other devices. For more information, visit www.netgear.com/clickswitch.