Siemon expands ruggedized connectivity product line
The company's new ruggedized G2 LC fiber adapters, Category 6 UTP patch cords, and DIN rail patch panels are profiled.

Sep 16th, 2015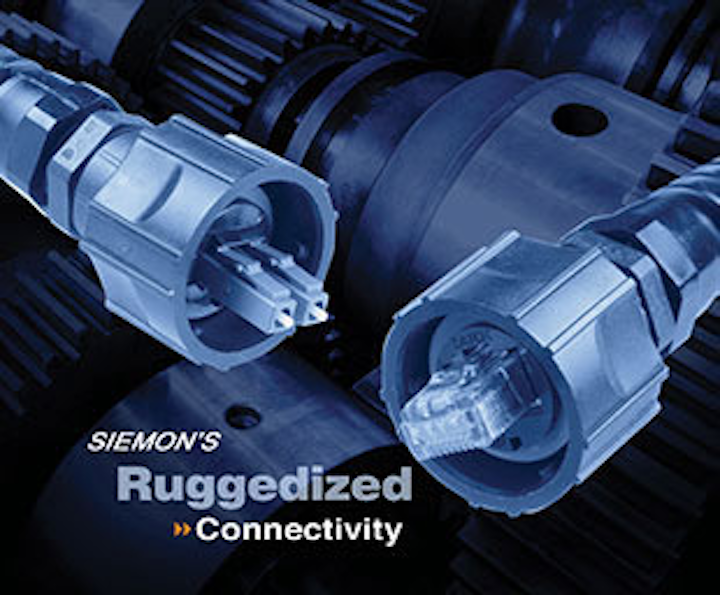 Global network infrastructure specialist Siemon has announced an expansion of its Ruggedized Connectivity product line for harsh environments, including the company's new ruggedized G2 LC fiber adapters; ruggedized Category 6 UTP patch cords; and DIN rail patch panels:

-- An addition to Siemon's existing Ruggedized LC Fiber Solution, the new Gen2 (G2) Ruggedized LC adapters combine the premium performance of Siemon's LC fiber connectivity with durable, proven IP66/IP67 ruggedized shells to provide a best-in-class fiber connectivity solution for harsh environments, asserts the company.

Like Siemon's current G2 Ruggedized Z-MAX copper outlets, the G2 Ruggedized LC adapters are inserted from the front with the locking nut positioned behind the faceplate. This allows the use of an aggressive locking nut that is easier to fully tighten without the use of tools. Compatible with all Siemon Ruggedized surface mount boxes and stainless steel faceplates, the G2 Ruggedized LC adapters are available in both bulkhead and inline (coupler) options to support installation in a wide range of environments. A G2 Ruggedized outlet dust cap is also available for protecting unused outlets following installation.

(All of the company's Ruggedized LC adapters also now feature ceramic alignment sleeves that provide a tighter tolerance for optimum core-to-core alignment when mating. With the growing demand of OM3 and OM4 multimode fiber, Siemon has also expanded its Ruggedized LC offering to include aqua LC adapters to identify OM3 or OM4 fiber connections.)

-- Siemon's new Ruggedized Category 6 UTP patch cords are constructed using a flame-retardant thermoplastic elastomer (TPE) outer jacket over a polyvinyl chloride (PVC) inner jacket that allows for a 60% greater temperature range than standard commercial-grade cords. They are available with a Ruggedized IP66/IP67 plug on one end and either a Ruggedized IP66/IP67 or standard modular RJ45 plug on the other end.

Combined with a -40 to 75°C (-40 to 167°F) temperature range, high flex construction, oil resistant jacket and an indoor/outdoor rating, these cords are ideal for providing end-to-end category 6 channel performance in harsh environments such as outdoor kiosks and security cameras.

-- Ideal for mounting inside control cabinets, equipment enclosures or onto other standard 35 mm DIN rails, Siemon's new DIN rail patch panels offer quick and easy patching for fiber or copper-based Industrial Ethernet applications, and feature an angled design for low-profile cable routing. They include a single opening that accepts up to four Siemon MAX or Z-MAX copper RJ45-based outlets, as well as a version that accepts Siemon RIC adapter plates for fiber connectivity.

"While manufacturing environments are rapidly migrating to Industrial Ethernet, the ever increasing amount of connected devices is also causing a demand for everyday network access in non-industrial harsh environments such as outdoor eateries, laboratories, hospitals, warehouses, theme parks and a variety of other venues," commented Dave Valentukonis, cabling support systems business unit manager for Siemon.
He continued, "Many of these harsher environments may be subjected to dust, moisture, temperature extremes, contaminants and other factors that can adversely impact standard commercial-grade networking infrastructure components. By continually expanding our Ruggedized fiber and copper connectivity offering, Siemon ensures the protection of valuable connections and allows LANs to reliably extend into these environments without compromising on bandwidth and performance."

Learn more about Siemon's Ruggedized Connectivity products.