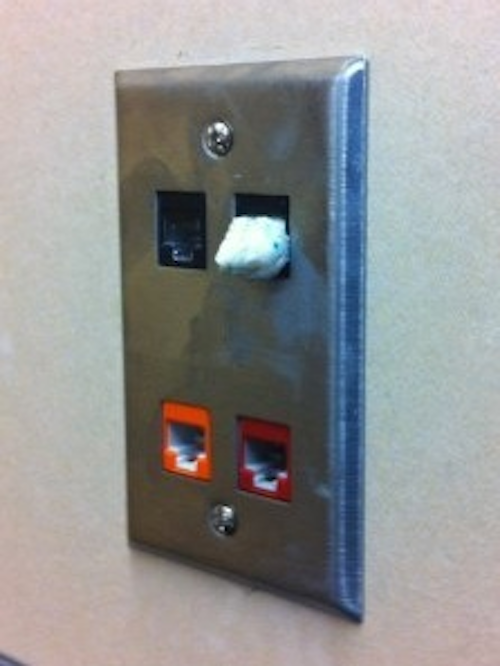 In a recent blog post, Siemon global marketing communications manager Brian Duval asked, "What's the worst thing you've found stuck in a network port?" He provided his own answer to that question, along with some accompanying photographs—"including gum in an elementary school outlet, the remnants of a USB phone charger jammed into an airport kiosk port, and my personal favorite: a half-smoked cigarette in a TR patch panel, left by a tech who obviously planned to smoke the rest of it later."
Duval included photos of the elementary-school and airport examples. The post also served as Siemon's call for cabling industry professionals to share their similar stories and images via Twitter. Individuals who Tweet their stories to @siemoncabling and include the hashtag #siemonlockit will receive a gift pack that includes a few samples of the company's LockIT outlet lock. U.S.-based Tweeters who include a photo of the foreign-object-stuck-in-a-port also will receive a Siemon bucket seat and hard hat.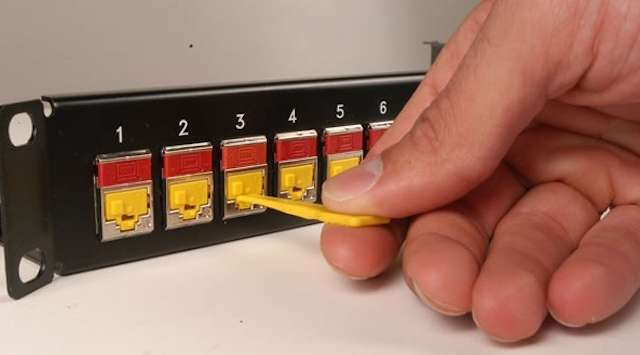 According to Siemon, the LockIT Outlet Lock (pictured immediately above) "fits securely into any standards-compliant RJ45 outlet or LC fiber adapter to block access to the port. It locks flush within the outlet or adapter opening to provide a clean, attractive appearance without obstructing adjacent ports or protruding beyond the outlet face. The outlet or adapter lock may be safely removed only by using the LockIT universal key."
You can find more information on the LockIT Outlet Lock here and visit Siemon's Twitter page here.